Another preseason game, another iteration of the Good, Bad, the Ugly, and the….. Jessica Lucas! Yes, that's right. I've decided on this year's celebrity, and that definitely won't change by next week. If you don't know who Jessica Lucas is, watch Gotham. She plays Tabitha. You're welcome. (Also, this is definitely recency bias, since I've been binging Gotham to catch back up on the show.)
I know you've probably all ingested all the game review that you want, but we all know that my articles are a little different than others, so let's get into it!
The Good!
Can we just acknowledge the fact that Lamar Jackson has shown improvement? I know, I know, it's the 'cool' thing to do for likes or clicks or whatever, but honestly, just stop. I'm not a Lamarsexual, but the improvements are clear. He's improved outside the numbers, his foundation and mechanics are a lot better than they were in 2018, and it looks like the game has slowed down for him. For two weeks in a row, I've watched him and liked what I've seen. Am I saying he's a proficient passer? Absolutely not. Am I saying he's right around where he should be in Year Two? I absolutely am. 
Therefore, he earns the only spot in 'The Good' category. If he continues along this progression arc, I expect him to have a 62%-ish completion percentage in 2019, which is more than enough when you combine it with the rushing stats for the team. He completed 60% of his passes on Thursday night, albeit in a small sample size, but most importantly, he took care of the ball. He didn't have extremely errant throws, made decisions quickly, and escaped pressure well.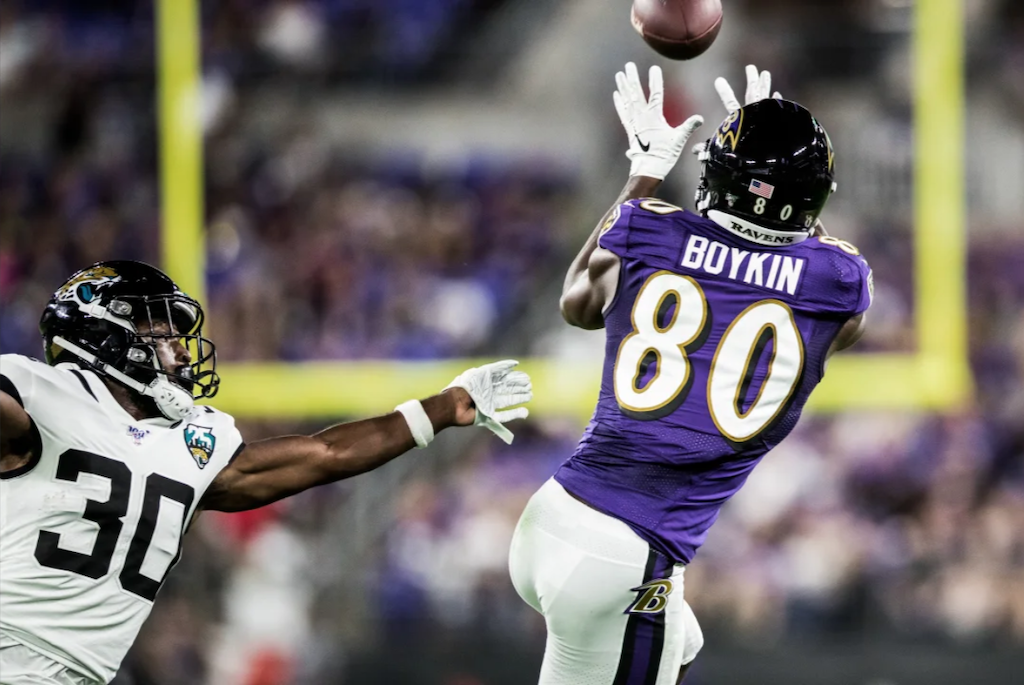 The Bad!
Miles Boykin was… disappointing… on Thursday. He didn't even register on the box score, and there's a guy on that box score (Hayden Hurst) who registered a whopping -1 yard. Boykin did what appeared to be a 180 from his strong recovery against the Jaguars – at least then he ended on a high note. This time, however, he started slow, and ended slow. 
Kenneth Dixon got banged up on his first play, which is pretty on-brand for him. To his credit, he did come back, and ran the ball five more times for a whopping 2.3 YPC. Although he had a strong showing in 2018, and in Week 1 of the preseason, I'm having a hard time seeing a path to a roster spot for him, especially given the need for talent at more important positions such as offensive line and slot cornerback.
The pass rush was almost non-existent on Thursday night, and that doesn't bode well. Matthew Judon had a sack, but outside of a UDFA defensive end whose name I can't spell or pronounce, none of the other edge rushers had any impact. Alvin Jones had a sack from the interior as well, which helps him find a path at a barren position, but the pass rush needs to be decent at least in order to help what should be a top-tier secondary unit.
The Ugly.
This doesn't have to do with the actual game, but it's still the ugliest thing that came from Thursday night. The Ravens have potentially lost Tavon Young for the season due to a disc issue in his neck. While Tavon is still getting opinions and forming a decision about whether he will get season-ending neck surgery or not, either way the Ravens will be without him for at least a large part of the season.
But the Ravens are deep at cornerback, they say. Yes, well, they're not deep at nickel corner, so this presents a problem. Refer to my Chicken Box article this week for an explanation on that one. Or, watch this video.
Best wishes go out to Tavon, whatever his decision. He's quickly becoming a premiere slot corner in this league, and hopefully he recovers quickly. Not just for the team, that would be selfish. But seriously…
The Meg.. nope.. Chloe.. Wait… The Jessica Lucas!
The award this week is going to be split into two different players, one because he did very well, and the other because he did well, but also because he's my ride or die.
That's right. I'm talking about Chris Moore. He led the team with four receptions on four targets (that's a 100% catch percentage folks) and 54 yards, with a 13.5 YPR average. Oh, right, and he had a touchdown in there. He showed improved separation, understanding of routes, and of course hands. A lot of Ravens fans think he won't make the team, because they're still stuck on some bad drops he had in 2016 and 2017, when he was primarily a special teams player. Those Ravens fans may want to hide their heads in the sand, because he is officially a lock to make the 2019 roster. I, admittedly, am higher on Moore than some (most), but he's beginning to show himself worthy of that faith.
The other player worthy of the award this week, is none other than Justice Hill. He averaged 4.9 YPC on 10 carries (that's 49 yards, did that math in my head) and threw in a score for good measure. He absolutely bulldozed some defensive players while doing it, adding a previously unseen layer to his game. On top of his screen-tearing speed, he's showing that he's not afraid to fight through contact, which is good for his career in the NFL. The 2019 4th-round draft pick will see himself a lot of meaningful snaps if he keeps showing talent like he has the past two weeks.
That's it for this week, folks. Agree? Disagree? Either way, come find me on Twitter, @ChibsRSR, and don't forget to read all the other awesome content right here on Russell Street Report.