Ravens Preseason Win Streak Continues
The Ravens preseason win streak is alive and well.
Make it 16 straight for the Ravens.
16 preseason wins in a row.
16 days till the regular season starts.
#16 had a catch for 9 yards (Jaylen Smith with the #Chemistry).
It's just a game of 16's!
As much as the final score doesn't matter in these games, it's still great to see our guys get W's. I do think it has an impact on the room. Things are always more positive when you're winning games, preseason or not.
Let's break it down.
[Related Article: Knee Jerk Reactions to Ravens 26-15 win]
Offense – Overall: B+
Wow, an offense that actually finishes drives with touchdowns!? Someone pinch me!
On the real, it was great to see the Ravens get more 6's than 3's tonight and it was even better to see a passing game with some really nice flashes of playmaking ability. Mark Andrews, Miles Boykin, Hollywood Brown…when's the last time we had this many young guys actually making plays? Ever?
Quarterback – A
QB CONTROVERSY!!!!
Okay, maybe not so much a controversy, but Trace McSorley definitely made people re-think the idea of trying to hide him on the practice squad for a year.
McSorley finished 19/28 for 203 yards, 2 TD, 0 INT, a passer rating of 112.7, 0 fumbles and added a rushing TD.
That's a stat line you can take home and put on your momma's fridge!
Overall, McSorley looked a lot better. His strikes to Michael Floyd and Jaleel Scott had the right amount of touch on them and were absolutely NFL-calibre throws. In fact, both of them were perfectly placed.
So far through 3 games, McSorley has shown that he's a rookie, but he's also showing that he can learn quickly and put some nice touch on the ball. Mark my words, he will not last on the practice squad.
Running back – D+
Tough sledding for the running back group tonight.
Full disclosure, evaluating the performance of our backs is probably one of the hardest. It's so reliant on the offensive line, especially in an offense that uses a lot of gap power and traps.
Nonetheless, they're getting a low grade. The bulk of the 40 yards rushing tonight come from a 12-yard scamper by De'Lance Turner on 3rd & 26 (13:30 – 3rd) when the defense was in a prevent. Legit, all 5'8, 180 pounds of me could have gotten at least 4 yards.
Justice Hill had no run room and his biggest highlight was a 13-yard boomer that was brought back. Other than that it was basically +/- 1 yard gains all night.
The group gets a low grade based off production, but the run blocking did them no favors either.
Wide Receiver – A-
Marquise 'Hollywood' Brown did not waste any time showing Ravens fans what he can do. And man, I have to say it…what a relief.
Yes, it was only 3 catches. Yes, it was only for 17 total yards. But, what a 3 catches for 17 yards night! Brown hauled in a nice high pointed ball for 5 yards (1:53 – 1st) and had a beautiful haul on another 5 yard out route where the ball was right there when Brown cut and looked back, but his focus brought the ball in (13:42 – 2nd). Plenty to be excited about for this young man and it's great to see the Ravens trying to get the ball in his hand early, even if one of those times was a beautiful Brandon Graham TFL on a rather telegraphed jet sweep.
But folks, again, we need to talk about Miles Boykin. He's a frustrating evaluation. One minute he's hauling in a beautiful comeback route, dropping his shoulder and rumbling for 44 yards (2:31 – 1st), and the next minute he's dropping a gimmie on a crossing route (13:48 – 2nd). Now, to be fair, that wasn't as easy a pass as it should have been and the long strides likely led to a lack of focus on the ball when reaching back, but still, c'mon man!
The other Ravens pass catcher to stand out was Jaleel Scott. Scott had 2 catches for 11 yards, but one of them was a beautiful TD grab on a back shoulder fade. Scott perfectly maneuvered his body, extended his arms and hauled in the pass. That's exactly what he needs to show the coaching staff to prove he's worthy of a roster spot.
Oh yeah, Michael Floyd, great game from him and I appreciate those plays, but I still don't think he has a hope in making the final 53.
Oh yeah x2, that Chris Moore guy…still has a 100% catch rate in the preseason. 8 targets, 8 catches. So that's positive.
Overall, minus the Boykin drop, I thought the WRs played great together as a group.
Offensive Line – B-
If I were to grade their run blocking, it'd be an F.
If I were to grade their pass blocking, it'd be an A.
Given that the offense produced 3 TDs tonight, I'll settle in the middle with a B- with a slight bump.
The run blocking was atrocious all night, with very little push coming up front. James Hurst was harassed in the run game and even the backups were struggling to get push, which is an area that has been successful the last 2 games.
Orlando Brown Jr. also struggled tonight. From my eyes, he looks a little slower, both off the ball and in his kick slide, and isn't playing with the same bend in his lower body as last year. Not a great look.
Luckily though, they kept the pocket relatively clean. McSorley wasn't taken down for a sack and he was only hit 2 times from my count (one of them was ugly, full disclosure).
In a game that featured the passing attack, I think that gives the grade a worthy bump out of the C territory.
Tight Ends – B
Not that he needed to justify it, but in case some didn't fully understand why we call Mark Andrews 'Mandrews', the 25-yard rumble with 4 men on his back (13:08 – 2nd) was all the evidence we needed.
Even Hayden Hurst had a nice pluck for a 10-yard gain.
Not a lot of production, but the TE group didn't see a lot of work. Bump in the grade for Andrews being a Mandrews.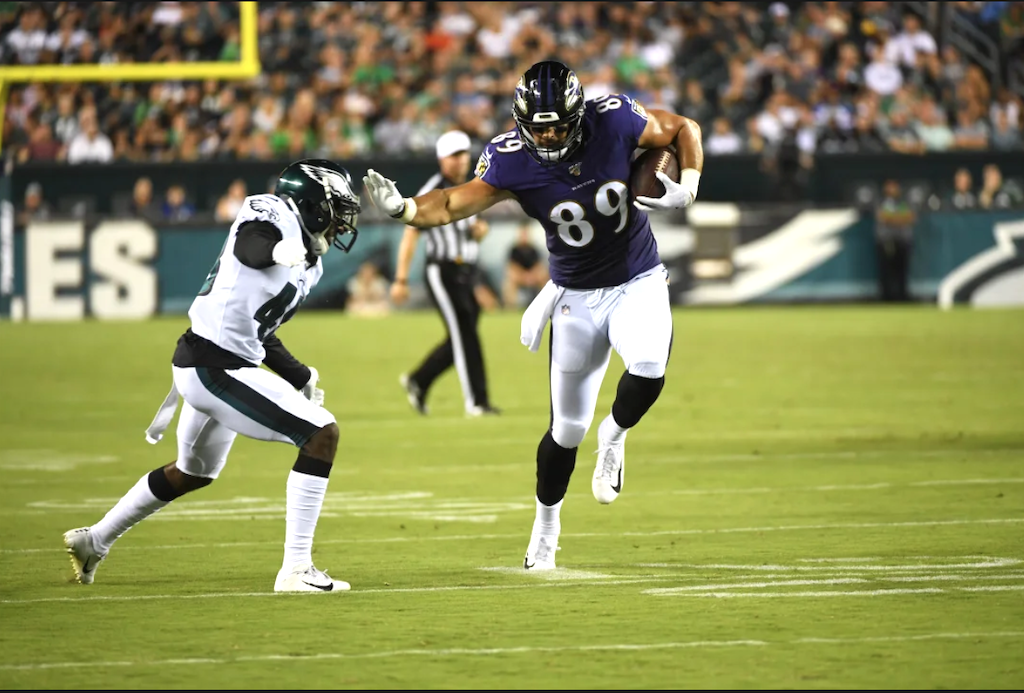 Defense – B
Defensive Line – B-
Let's start with the pass rush. It certainly looks like Tim Williams is the most natural looking rusher at Terrell Suggs' old RUSH OLB position. He has an array of moves (including a really nice push-pull he used to get inside the RT on one snap), he has good burst and he has a high motor.
It didn't result in production from T-Will tonight, but based on the film, he's looking like the best rusher we have for that spot. Pernell McPhee may be the penciled in as the starter, but Williams should see a lot of pass situations.
Tyus Bowser has also been a little more impressive and may be a guy to throw in on passing situations to get some production. He finished with a sack, but to be fair McCown had to hold the ball longer than you would have liked, so some may classify it as a coverage sack, but nonetheless Bowser beat his man and got there.
Patrick Ricard had another game where he made an impact. In fact, he was the starting DT tonight in the 3T spot opposite Michael Pierce. He did give up his game on 3rd and 6 on the first drive that went for 11 yards (14:23 – 1st), but he also blew up a play action screen that resulted in a loss of 10 on 1st down (7:49 – 1st). Given how he was deployed, he's obviously a lock (and he played great on offense again, including one snap where he was split out in the slot).
One guy to touch on from a disappointment perspective is Zach Sieler. He had a lot of people talking, but he just isn't making an impact in games. He could very well be a PS guy or a cut, if the Ravens want to keep 6 DL.
The line gets a bump for stifling the Eagles run game, but a bit of a knock for not generating much of a pass rush.
Linebackers – A-
So, Patrick Onwuasor is good. Alright, that's stating the obvious at this point, but he has a knack for impressing me every game. No different tonight. He finished with 2 tackles and a 0.5 sack (shared with Brandon Carr) in limited snaps tonight. He's going to have a big year. You've been warned.
If you don't say 'boom shacka Alaka' every time Otaro Alaka makes a play then you're not doing it right! Alaka continues to get noticed and really filled in well for an absent Chris Board tonight. He definitely is a downhill LB, but that's not a bad skillset to pair with Board and compliment Peanut and Kenny Young. It was also noteworthy that it looked like Alaka came in to play beside Young when Peanut went out, suggesting he's higher than the other UDFA's and Alvin Jones on the depth chart.
Speaking of Young, he also stood out for me, including a nice run stuff on Corey Clement on 3rd and 3 (11:55, 1st). It's looking like replacing CJ Mosley is going to be okay after all.
Solid night from the LB group, including some nice pass coverage snaps as well.
Defensive Backs – C+
I was left pretty unimpressed with the DB group, but to be fair my expectations are always sky high. There were some highlight plays:
– Marlon Humphrey TFL on Clement (13:39 – 1st)
– Cyrus Jones PBU on a screen pass attempt (2:47 – 1st)
– Chuck Clark and Deshon Elliott combine for a PDU (14:04 – 2nd)
However, overall, I didn't think they were as sticky as I would have liked to have seen, especially Maurice Canady who seemed to get picked on a little bit on the outside.
JJ Arcagea-Whiteside, who was selected with the Ravens 2nd round pick they sent in the trade to move up for Lamar Jackson, scorched them bringing in 8 balls for 9 targets, 104 yards, 1 TD. His TD catch involved a beautiful inside head fake that made Jean-Baptise bite hard and get the separation. Man that would really hurt if he was your draft crush…oh wait he was my draft crush? Yeah it really hurts.
One guy that I was happier with tonight was Cyrus Jones. He looked better in coverage from the slot, which is great as the Ravens try to recover from the loss of Tavon Young.
Deshon Elliott also stood out a few times, including a few plays where he laid the hammer down. He led the team with 5 tackles.
Overall, the DBs have had better days, but to be fair, a lot of the work came against back-ups and not the starters.
Special Teams – A
It's a subtle thing to note, but kickoff coverage was a lot better tonight. The Ravens gave up 2 big returns in each of the first 2 preseason games, so it's encouraging to see some improvement there.
Justin Tucker made both of his kicks.
Wash. Rinse. Repeat.
Officiating – F
Hands down one of the worse officiated games I've seen in quite some time.
The Ravens were flagged 9 times and the Eagles 15. I wasn't sure if I was watching a football game or Will Ferrell doing the ribbon dance in the movie Old School.
The Deshon Elliott penalty for lowering the head to initiate contact at 11:27 of the 3rd quarter was the worst I've seen of that call so far. Not even exaggerating…he literally hit shoulder to shoulder. It's pathetic.
This was a flag. This.

When I said the NFL was going to kill their own product like the MLB did, I wasn't playing. pic.twitter.com/uRToSNcF6z

— Kip Smithers (@Chughes612) August 23, 2019
Shawn Hochuli and his crew should probably attend a rule clinic. Because this was bad.
Game Ball
Have yourself a game Trace McSorley! The kid earned it with a very impressive performance that gives him a big bump in his odds for the final 53.