Baker Mayfield: A Train Wreck? Nope!
Print this article
On August 30, 2019, I posted an article titled, "Baker Mayfield is a Train Wreck". I expected push back from Browns fans but not to the level that they brought it, vulgar or otherwise. In the spirit of fairness, I offered to post a rebuttal guest blog. At 1AM this morning one arrived in my inbox. Here it is, completed unedited courtesy of Quentin Congress. ~ Tony Lombardi
**********
Submitted by Quentin Congress, Talkin' & Grubbin Media
@TalknGrubb
Friday evening, I was cruising through my Twitter page for the latest sports news as well as other things, and I saw this article from Tony pop up on my Twitter feed from a Browns fan that I follow. The headline read, "BAKER MAYFIELD IS A TRAIN WRECK…AND WE'RE ALL WAITING FOR IT TO HAPPEN." When I saw the headline my first thought was, "What kind of B.S. asinine article is this?" After I read it, if were to close my eyes I would swear that I was reading or hearing something straight out of the Colin Cowherd handbook. And, we all know that Cowherd can't stand Baker because Baker checked Colin on his own Fox Sports 1 show last year.
At the beginning of his blog, Tony ridiculously called Baker "a coddled athlete" that has been enabled most of his life. He also said that he has never been held accountable for his actions, and proceeded to call him a train wreck that everyone outside of Cleveland wants to see crash and burn. Yes, Baker has done some stuff wrong, but Tony makes it as if it's the worst thing that any QB or NFL player can do. Baker has never been brought up on murder charges or got into domestic disputes in elevators with his wife.
Now, he also mentioned Mayfield's 2017 arrest, where he was intoxicated, run from the cops and was tackled by them. The only person he hurt was himself. He wasn't operating a vehicle where he could've not only harmed or killed himself, but could've done those same things to others. And, he poked fun at himself later because he realized how dumb he looked. I always say, "Laugh at yourself so people will laugh with you, not at you." I think he has learned his lesson because after that he didn't get into any more legal trouble for the remainder of his college career and he hasn't gotten into any trouble while playing in the NFL while other players have done worse.
Meanwhile, NFL players such as Ben Roethlisberger were accused by not one but two women of sexual assault. Back in the late '90s, Michael Irvin nearly stabbed a barber to death (he was trying to give him a whole new meaning of the word "cut"). Rae Carruth was just released late last year after serving 18 years in prison for orchestrating the hit on his child's mother. Ray Lewis was brought up murder charges, and the only reason he got out of it because he snitched on his two friends.
Some of the stuff that Baker gets scrutinized for is blown out of proportion via the media or fans. For example, Tony brought up his transfer from Texas Tech to Oklahoma. Mayfield felt his situation wasn't right at Texas Tech so he decided to transfer to another school. A lot of college football players make that move every year; some players switch schools for less. If you're gonna criticize Baker for doing what many college players have done for years then you need to go after them equally. Like many college athletes that change schools, Baker bet on himself. Obviously, it paid off for him because he won the Heisman, led the Sooners to the College Football Playoffs and became the #1 pick in the 2018 NFL Draft.
Just like the crotch grabbing during the Kansas game two years ago was a young man immature moment. We've all done immature things when we were Baker's age. If you say you didn't then I have a bridge and a few empty lots to sell you. And, Baker planting the Oklahoma flag in middle of the "O" at Ohio State was taken out of context. He was just pumped after winning a big game on the road. Ohio State's "D" should've been planting him into the ground that night by sacking him. I read in comments section where some people were comparing him to Johnny Manziel, that comparison is very irrelevant. The only thing they have in common is their similar in height (Baker 6'1", Manziel 6'0"). Johnny didn't give a damn about football, Baker does. Baker wants to get better as a football player while Johnny was arrogant and thought he had it all down. Baker never went to Vegas in the middle of the season while the team had a game coming up. Baker is loved by his teammates while Johnny wasn't anyone's favorite teammate. 
And, now everyone's favorite Mayfield criticism: his relationship with Hue Jackson. Tony, sports media analysts and fans alike have heavily criticized Baker for dissing Hue Jackson after the Browns fired him last season. But, a lot of you don't know the whole story behind the scenes. Most of you are going by what see and/or hear on ESPN and Fox Sports 1 sports shows. He called Jackson "fake" after he took a job with the Browns' in-state rival Cincinnati Bengals after he was let go. But, a lot of you forget that Hue was on a huge media tour throwing his former players under the bus. Hue also tried to absolve himself of the Browns' failures during his tenure. Also, he told Baker on their HBO Hard Knocks episode last year that he was going to be the No. 2 quarterback behind Tyrod Taylor.
He didn't even give him the opportunity to take snaps with the ones to see what he's made of. Plus, Hue made it worst by breaking the news on national TV; he should've kept that private. Some even defended him by saying that he shouldn't have been fired; the man went 3-36-1 while he was the Browns head coach. He should've been fired after that the season where they went 0-16. If you were an owner, and your coach had that type of record; you'd get rid of him immediately. So, Baker didn't dis Hue; he treated Hue the way he treated him while he was with the Browns.
The only thing I didn't agree with Baker on was how he spoke about Duke Johnson's trade request at training camp. He shouldn't have said what he said to the media. Baker should have talked to Duke behind closed doors. After his comments, the veterans on the team confronted Baker about his comments and nothing was said after that. Tony, why are you making it such a big issue? Baker made a mistake, his teammates called him out on it privately and it was handled. End of story. All teams have their issues on and off the field, this wasn't any different. Also, Tony was wrong about Duke wanting to get paid; he had just signed a 3-year extensions with the Browns. He was just entering his first year in that deal. Duke was upset when the Browns signed Kareem Hunt because he felt that the team was being disloyal to him.
People criticized Mayfield when a video blew up on social media last month, where he was shot gunned (not chugged) a beer during a Cleveland Indians game. Tony blew it out of proportion by saying that the Indians are enabling him. They were just showing support to a player on one of their brother teams in their city. It's no different if they show Earl Thomas on the big screen at an Orioles games, A.J. Green at a Reds game or Big Ben at a Pirates game. I could see Tony's point if he would had shot gunned three, four or five beers, but it was just one beer. It's no different when Tom Brady and Aaron Rodgers chugged beers.
A lot of you want these NFL quarterbacks to be like politicians or as Colin Cowherd said "quarterback-ial". You want them to be quiet with their heads down, and be complimentary in the media. You hold them to higher standards than politicians. These players aren't politicians or hold any public office, they're athletes. In a roundabout way, we need a Baker Mayfield in the NFL today. You need that QB that's cocky or confident. He is already a polarizing figure; you either love him or hate him there is no in-between. You either are rooting for him or against him. All quarterbacks can't be the same if they were then there would be no variety in the sport.
Baker is far from a train wreck. He hasn't done anything that has reflected badly on himself, his family or the Browns. Mayfield hasn't committed any crimes like some NFL players or had substance abuse issues either. I'm not saying Baker is perfect or he isn't fallible. But, he definitely isn't "a petulant child with a gross sense of entitlement" either. He didn't walk on the field his rookie year and felt that the starting QB job was his without putting the work in. He sat back, kept his mouth shut, studied the playbook and did what he was asked. Then when the opportunity presented itself, Baker took advantage of it. There are athletes who have done much worse and a lot of you don't deem their actions "unsavory."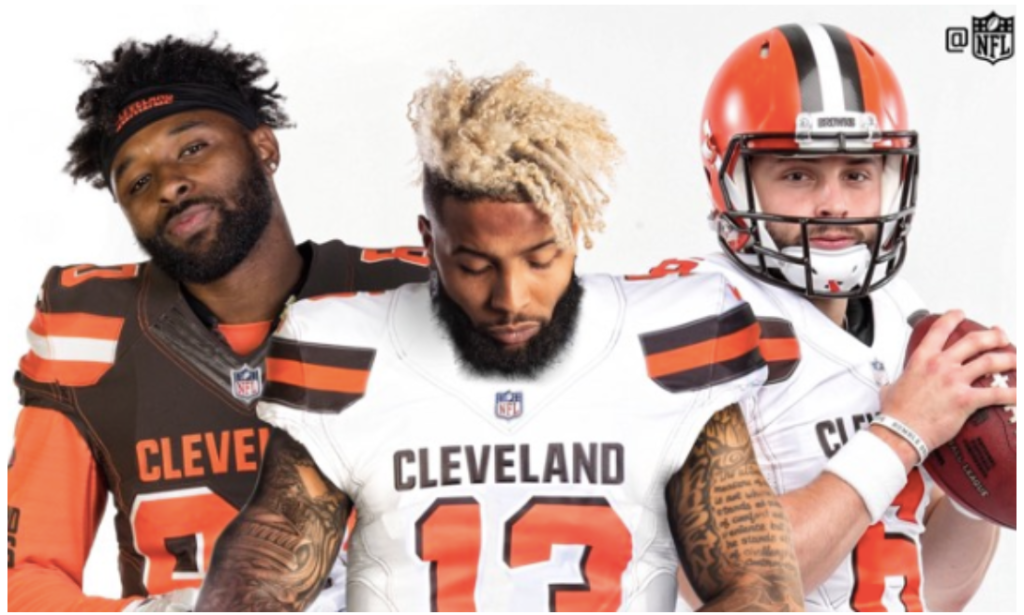 Raven fans as well as AFC North fans talk trash about Baker and the Browns because deep down you're scared that are coming up and you know it. You guys were so used to making fun of the Browns and looking at them as an "easy win" on the schedule for so long. Now, this team has added a lot of talent to the team you can't count them as an easy win anymore. Plus, you can't deny that Baker came in and had a strong rookie season. Also, Baker went 3-2-1 against the AFC North including a win against the Ravens. Baker will only get better in his 2nd year especially with wide receivers like Odell Beckham, Jr. and Jarvis Landry. Raven fans can't accept that this isn't the Browns team that they used to dominate anymore. But, Raven fans, AFC North fans and other NFL fans better get used to it because Baker is for real and so are the Browns.