This Sunday in Miami will mark the first time the Ravens rookies might see the field for an NFL regular-season game.
This group consists of:
— WR Marquise "Hollywood" Brown
— WR Miles Boykin
— OG Ben Powers
— OG Patrick Mekari
— RB Justice Hill
— QB Trace McSorley
— LB Jaylon Ferguson
— LB Otaro Alaka
— DL Daylon Mack
Each week, we'll take a look at the rookie class and predict what to expect in the upcoming game in terms of production and usage. 
WR Hollywood Brown
Given Brown's limited snaps in the preseason (only saw offensive snaps in PS3), I don't expect Week One in Miami is going to be a big "Welcome to the NFL" party for the first round rookie. I do expect Brown to see a handful of snaps (25% of O snaps), but targets may be limited to the second half when I believe the Ravens have control of the game and the clock. We won't call it trash time, but you get the point. 
What will be interesting to watch is Brown's usage in the return game, as he's recently been practicing with the punt return unit, as well as taking a few reps at the role in PS4 (2 fumbles, neither lost). I don't necessarily expect Brown to drop back for any returns versus Miami, barring a blowout scenario where we could possibly see him late in the game simply for reps in a surefire win. 
Projected Stat Line: 4 targets, 3 receptions, 36 yards (20 long), 0 TD
WR Miles Boykin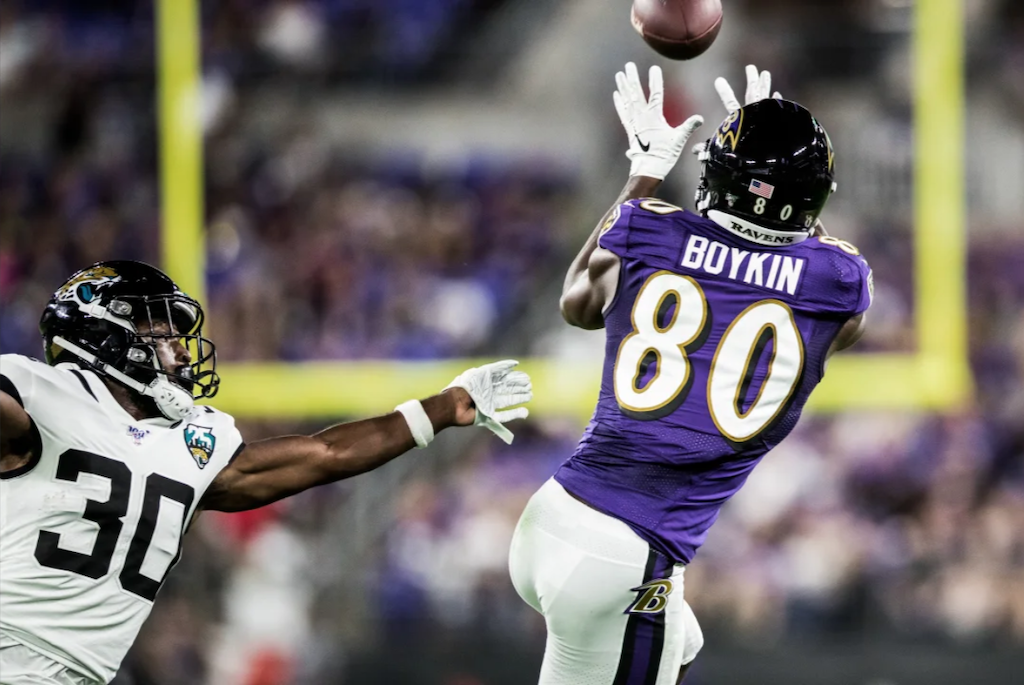 While I'm projecting only 25% of offensive snaps for the first round rookie wideout, the 3rd round receiver in Boykin has been hot since Day One of training camp, and I expect this to continue into Week One. Boykin may not start (I, for one, tend to believe Harbs favors starting vets over rookies as much as possible), but he'll see at least 50% of offensive snaps in this game. Like Brown, that number may be inflated a bit more due to a huge lead in Q4 and the Ravens wanting the rookies to get more live game action while resting vets, but it'll be deserved for the impressive big body receiver from Notre Dame. 
The only thing that could derail Boykin's production this weekend would be drops. Harbs will sit you for drops, so hopefully we don't see what Boykin appeared to have an issue with during the preseason in stretches. 
Projected Stat Line: 7 targets, 5 receptions, 60 yards, 1 TD
QB Trace McSorley
Not much to talk about here in terms of expected production, but I'll be curious to see:
1. if McSorley is the active QB2 because I don't think all 3 QB's will be active.
2. if he is active, whether or not we'll see him used as an "offensive weapon."
I think there's a chance we see Trace take a direct handoff and run with it in the first half, but I also think it's possible Lamar takes a seat in Q4 up big and McSorley takes the final drive or two. 
Projected Stat Line: 3 of 5 for 23 yards passing, 18 yards rushing
OLB Jaylon Ferguson
Ferguson is going to be an interesting rookie to watch early on this season. He's still very young (21) and raw with a sole bull rush in his repertoire of pass rush moves. That being said, as the preseason rolled on Ferguson got more looks and earlier looks in games. 
I don't expect to see a ton of snaps for the self-proclaimed "sack daddy," but I do think he will see the field at some capacity and have at least one notable play on the day. Let's call it 15% of defensive snaps, which I believe will continue to grow as the season rolls on. 
Projected Stat Line: 1 Pressure, 1 Tackle
RB Justice Hill
Hill may be the fourth player most likely to run the ball on Sunday (yes, I included Lamar Jackson in there), but I expect him to get a decent amount of carries and targets. During camp, the Ravens tinkered with a ton of split back formations where they'd motion one back to split wide- this is where I think we'll see a good bit of Hill's success come Sunday. 
Miami should expect to see Hill in on about 20% of O snaps, but when he's out there it'll be for a reason, be it in the pass game or rushing attempt. Look for second half opportunities to jump as well.
Projected Stat Line: 5 carries for 22 yards, 3 receptions for 18 yards
OG Ben Powers
This will go either one of two ways — Powers starts and plays out, or 2nd year OG/C Bradley Bozeman takes control of the LG slot and Powers is merely an observer. 
Unfortunately for Powers, I think the latter is what we'll see. Honestly, with Bozeman in I'm not upset, but I do believe the LG spot belongs to Powers by midseason.
Projection: Bench
OG Patrick Mekari
While Mekari impressed fans in stretches during camp and the preseason, I think he'll show up as a weekly inactive, with Week One being no different. 
Projection: IA
DL Daylon Mack
Mack quietly impressed me during the month of August, and with only five defensive lineman on the Ravens roster? I expect a steady rotation that includes the rookie being sprinkled in fairly consistently. 
With that in mind, I think Mack will  surprise some folks in Week One as he finds his way into the backfield- a rarity for the Ravens who have great run stuff abilities in Brandon Williams and Michael Pierce, but fail to generate inside pressure. 
Projected Stat Line: 3 tackles, 1 sack
LB Otaro Alaka
While I remain high on Alaka's ceiling, I'm also realistic and know that he's likely another inactive come Sunday. I think his use will be sparse, barring injuries, for the 2019 season. 
Projection: IA