Will Eric DeCosta Era Start 1-0?
Print this article
All the stats, quotes, notes and more you need to get ready for Ravens-Dolphins, in this week's Crab Bag!
KNOW THY ENEMY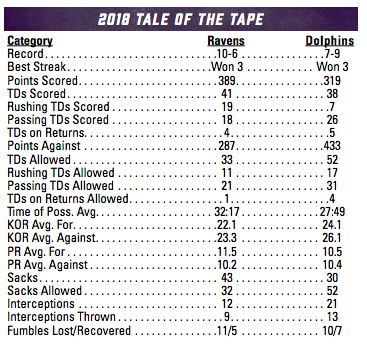 SERIES HISTORY
QUOTE OF THE WEEK
RB Mark Ingram II on why people are drawn to QB Lamar Jackson:
"He doesn't think he's better than anybody or that anybody needs to put him on some type of pedestal. He's a hard worker, and he wants to be great. Anybody can relate to that. You have to put in the work, and hopefully, you want to be the best at what you're doing, which he does. He's relatable, personable and down to Earth. He has that hunger, and he has that drive. He's just one of the guys, and that's what you respect about him, that's what you love about him."
HEY, YOU LOOK FAMILIAR! ~ Key Connections
Baltimore CB Marlon Humphrey's father, Bobby, played running back for the Dolphins in 1992, recording 102 carries for 471 yards and 54 receptions for 507 yards.
Ravens senior advisor to player engagement O.J. Brigance entered the NFL with the Miami Dolphins as a free agent. He played four seasons (1996-99) in Miami, appearing in 60 games (adding five playoff games). Brigance was voted team captain twice in four years with the Dolphins, and his teammates selected him as the Ed Block Courage Award recipient in 1999.
Dolphins director of personnel analytics Eugene Shen worked in the Ravens' analytics department from 2014-18.
Baltimore senior VP of football operations Pat Moriarty spent training camp (RB) with the Dolphins in 1981.
Ravens QB Lamar Jackson hails from Pompano Beach, FL, just 30 minutes from Hard Rock Stadium. Jackson attended Boynton Beach HS, where he was a four-star prospect in the state of Florida. Jackson received a key to the city in 2017.
Baltimore WR Marquise "Hollywood" Brown is a native of Hollywood, FL. He attended Chaminade-Madonna HS, located 25 minutes from Miami, lettering in football and track. • The Ravens have a number of other players from Florida: ILB Chris Board (Orlando), TE Hayden Hurst (Jacksonville), OLB Pernell McPhee (Pahokee), WR/RS Chris Moore (Tampa) and WR Seth Roberts (McClay).
Ravens assistant special teams coach T.J. Weist served as the offensive coordinator/wide receivers coach at South Florida in 2016. Weist was promoted to interim head coach after the regular season and led the Bulls to a 46-39 victory in OT over South Carolina in the 2016 Birmingham Bowl.
Ravens Southeast area scout Andrew Raphael attended the University of Miami. He worked as a student assistant to the national recruiting coordinator for the Hurricanes during the 2010 season, and he currently resides in Delray Beach, FL.
AND ONE LAST THING…
*stats and quotes provided by Baltimore Ravens