NFL Fans Flagged by Fashion Police
Print this article
This is where I do my usual intro. Except I have no intro. And if I add too many more words, my editor will hunt me down like Liam Neeson in [name any Liam Neeson movie] just like the fashion police may be hunting down some of you. More on that in a bit.
But without further adieu, let's a-do this thang!
Around The League
The NFL these days has more drama and storylines than the Days of Our Lives… 
Here's what Week 2 brings us.
-The AB News: I will make like the Patriots and stay silent on this matter… other than to say he's a lunatic, a piece of shit, and should be suspended until further notice from the NFL. But of course the Patriots are not going to release AB or make any statement to hurt the fragile ego of the NFL's most fragile player, right? After all, the Pats have a history of defending and hiding troubled players (and owners) from the media and scrutiny… but other than that, I'll stay silent.
-OBJ Time! Last week Odell Beckham Jr. was fined by the NFL for wearing some stupid expensive watch during the game. Instead of opting to change his way (shocking) he's made a statement that he'll continue to eat the fines weekly and wear his time piece that does absolutely nothing for him in terms of the game itself. It's only a matter of time until he goes down on a tackle and the watch breaks and he loses his temper per usual. Here's to hoping it happens Week 4!
-Darnold's Mono: Jets second year QB Sam Darnold was diagnosed with mono this week and will be out 'a few weeks.' Call me a skeptic but that's a bogus timeframe. Anybody who knows how to use Google can figure out that mononucleosis can run 4-8 weeks and the main reason for avoiding contact sports is due to kidney and spleen sensitivity that, upon contact, can lead to complications including internal bleeding. So Sammy should be sitting a month- or more- not just a week or two. 
-Torrey's Retirement: While the one-time Ravens' retirement may be but a blip on most folks radar, Torrey Smith has always been a part of Baltimore for me. He'll continue to contribute to the Baltimore community in his post-NFL life, and as a Ravens fan and a fan of just all around great human beings, I wish nothing but the best for the Super Bowl champ and his family. 
About Last Week…
Ravens 59 / Fins 10
What a statement game by the Ravens to start the season! It was literally one of those 'what can go right, will go right' games for Baltimore, and every question mark seems to have a definitive answer found in those 60 minutes.
Is Earl Thomas still Earl Thomas?
You betcha!
Has Lamar Jackson's accuracy improved?
Absolutely!
Will the rookie receivers actually look like viable targets for the first time since Torrey Smith?
Sweet baby Jesus, they sure did!
Is the defense still a strong unit after losing 3 starters?
Umm… maybe even stronger??
Ultimately, the Ravens did to the Dolphins the same thing they did to the Bills in the 2018 season opener. The defense was both electrifying and stout, the offense put on a show (breaking some records along the way), and even Special Teams showed up to make their contributions (fake punt, recovered muffed punt).
Lamar Jackson (17/20 325 yards, 5 touchdown PASSES) has shown that he's not the same guy that he was in 2018, and this Ravens passing attack is something teams need to concern themselves with. Meanwhile the rushing attack is just as potent, and really created a pick-your-poison type atmosphere for the Fins defense.
As for the Ravens defense, what didn't they do right on Sunday? Picked off both quarterbacks, 3 sacks (so, so many more QB hits and pressures), and held Miami to 179 total yards of offense. 
Will we see more of the same this Sunday as the Ravens welcome Terrell Suggs (weird) and the Cardinals to town?
This Week: Cards @ Ravens (-13.5)
Embrace the awkwardness that is this picture. If you don't do it now, it'll sting worse come Sunday at 1pm…
How many storylines can you fit into one game? You have Lamar Jackson versus Kyler Murray as the new faces of the NFL (I don't believe in QB v QB but the narrative exists), Terrell Suggs returning to Baltimore where he spent his entire career until 2019 when he signed with the Cardinals, first overall pick Kyler Murray and Kliff Kingsbury looking to win their first game after a tie last week, the Ravens offense looking to prove last week's explosion versus the Dolphins wasn't a fluke…
Oh, and maybe somebody will talk about Maxx Williams in Arizona now too.
Ultimately, the Ravens being favored by nearly 2 touchdowns is very telling of what Vegas thinks of these two franchises in 2019. But let's step it back for a moment and quasi-breakdown the matchup. 
For the Ravens defense, they're facing what looks to be an offensive line that could be as anemic as the Fins line they saw last week. To compound issues for Arizona, they lost offensive lineman Dan Gilbert to a torn ACL, making the unit as thin and as uncomfortably possible for the Cards and Kyler Murray. 
Speaking of Murray, the Ravens will be looking to improve upon their 10-1 home record against rookie signal callers under the Harbaugh regime (Mitch Trubisky is the outlier). Murray has speed and accuracy… something he'll need plenty of with the sieve offensive line blocking for him. Last week at home against the Lions, Murray started cold.. stayed cold… then suddenly woke up in the 4th quarter and overtime when Matt Patricia's defense floundered and gave up an 18 point lead (note: not Matt Stafford's fault). Murray totaled 308 yards and a pair of TDs with a pick… it took him 54 PAs at a 53.7% completion clip to make that happen.
I don't expect the Ravens to be as kind to Kliff and Kyler. 
Offensively, the Ravens face a better pass rush than they did last week against Miami, and yes… the return of T Sizzle. Suggs had a pair of sacks last week, along with Chandler Jones' sack and a fumble recovery. The Ravens offensive line will have a tough task to face with these two on the edge, but regardless of the pressure, the secondary allowed a good 385 yards through the air, with 131 of it coming from rookie TE TJ Hockenson… Andrews and Hurst will feast.
The run defense, however, is a sieve. Yes, the Lions only averaged 3.6 ypc, but their run game is not anywhere close to the level of Baltimore's ground game. Look for the Ravens to exploit the run defense of Arizona, and work the hell out of the play action on Sunday.
I'm looking at a lesser blowout, but a blowout nonetheless. Lamar will throw for 3 touchdowns (Brown, Andrews, Andrews), with a pair of scores on the ground by Ingram once again. The defense holds Kyler to under 200 passing yards, coupled with 4 sacks and 2 picks. It's over by Q3.
Ravens 41
Cards 13
Rank Em!
With the Ravens home opener this Sunday, I promised I'd discuss the major no-no's in regards to attire of fans, so that's the direction we're heading with our Top-5 this week. The football fashion police are in the house!
Top 5 Fan Attire Faux Pas
5. Wearing the jersey of a team not playing. This drives me nuts. I don't care if you're going to the game as a 'casual fan,' but you need to either wear apparel or colors for a specific team, or wear nothing team affiliated at all. Don't show up to a Ravens/Steelers game wearing a Skins jersey, and even worse? Don't do it wearing apparel from an entirely different sport! 
4. Tucked in jerseys. Leave it untucked, the way the Lord intended jerseys to be worn. Tucking in jerseys is such a geriatric thing to do. You may as well strap on the Velcro Reebok's', click that fanny pack on and grab some binoculars if you plan on tucking in your jersey. You're probably the only person in the stadium that still buys Cracker Jacks, aren't you?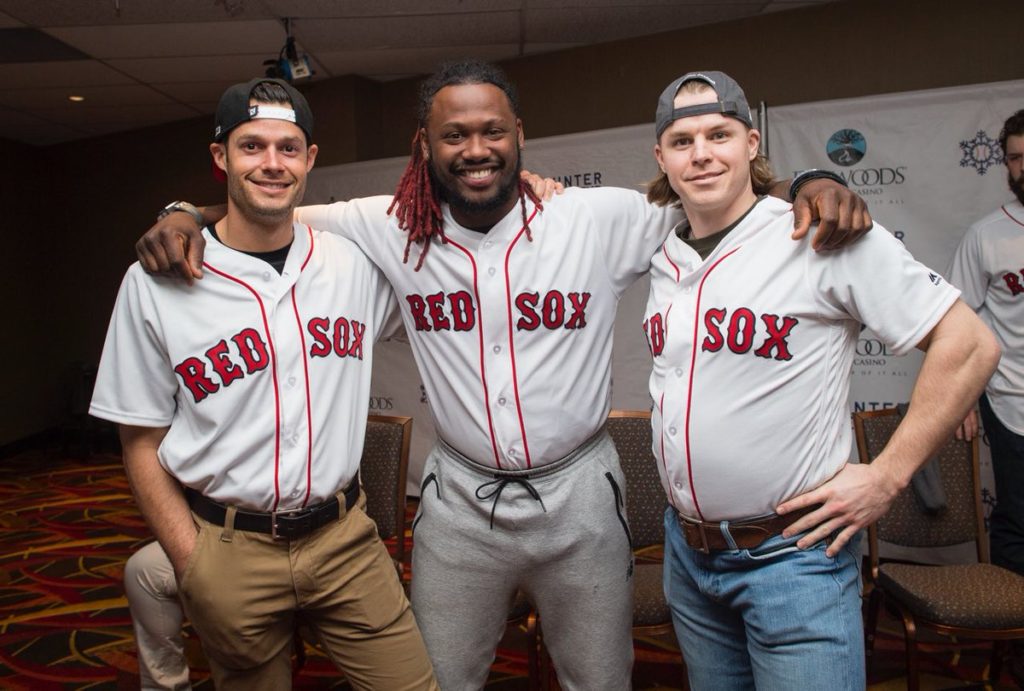 3. Purple camo pants. I know, this used to be a thing. In the 90's. And it was fine then, but this is 2019 and for the sake of your children and grandchildren, please stop wearing these pants. The cargo pant is dead. Camo pants are also expired. Combining the two with a purple/grey/black thing going on… I mean it's not even camo! What are you camouflaging into? A Jackson Pollock painting? Just wear normal pants like the rest of society. And if you really think you need the extra cargo pockets, just go hang with tucked jersey guy so you can use his fanny pack…
2. Idiotic Custom Jerseys. Notice how I didn't say "ALL" custom jerseys? Some are legit. The best I've seen this year has to be a #8 Lamar jersey with "OMAR COMIN" on the nameplate. And I'm also fine with your own name on the plate. But there are some folks… why do you want a "I'M HERS" and "HE'S MINE" nameplate as a couple? Do you share a Facebook page too? Or "MR LUCKY" which clearly isn't 100% accurate as a season ticket holder, or else the Ravens would be winning every home game, right? 
1. Signed jerseys. Autographed sports memorabilia is meant to be framed and hung, or sold- not worn. You don't diminish the value of a 2000 Super Bowl jersey signed by the entire defense by wearing it to games and risking a beer spill or the jackass behind you dumping his nachos on your back when he jumps up to celebrate a touchdown. Save yourself both the heartache and embarrassment and keep that gem in your man cave, not on your hairy, sweaty back, you heathen.