Why Did Ravens Go Away from Run in KC?
Print this article
Running with the Ravens – Week 2
The Coordinators is a two-part weekly recap of the Ravens offensive scheme brought to you through a collaborative effort by:
Do you have questions? Ask us on twitter using #AskTheCoordinators and we'll address them in an article!
Happy Tuesday folks! We're switching things up a little bit this week. We're going to do some Running with the Ravens today before we Air it Out to keep you on your toes.
Many thought the running game was a key area that the Ravens could use to their advantage to find success on Sunday. Well, they weren't necessarily wrong, but the running game was underutilized, despite being extremely effective.
Let's break it down.
Run-Pass Splits
As we discussed last week, there was a lot of talk going into the season about how often Lamar would pass.
Well, it's safe to say no one saw this type of run-pass split coming. Even though Lamar only threw the ball 43 times, there were still 50 pass plays called to only 28 run plays.
The run-pass split when we break it down by quarter tells an interesting story.
The most eye-popping statistic is the first half discrepancy between runs and passes, especially when you consider the Ravens started the game scoring first.
Many felt the team abandoned the run game in the first half, and it's hard to disagree with that assessment.
In the first quarter the Ravens had five rushing attempts and two QB scrambles for 53 yards (7.57 average) and a TD, which is pretty successful.
When the Ravens got the ball back in the 2nd quarter the score was only 7-6 Kansas City. On that drive they turned the ball over on downs and called five passes to three runs. Kansas City scored and on the next two drives Baltimore had the large discrepancy of nine passes to four runs.
Greg Roman has been awesome and this is simply an observation, but it is interesting to note that once KC went up they turned to the passing game, despite the running game having success.
Coming out in the 3rd quarter the script changed. The Ravens seemed to go back to the basics and turned 10 carries into 80 yards and another score. In fact, here's the play log to start the quarter that led to another Mark Ingram touchdown:
That's coming out the gate with some serious ground and pound mentality.
We'll get into the pass game in our next article this week, but just to highlight the key takeaway with the play calling: Lamar got a lot more comfortable with the running game being the catalyst for the offense. He went 3/5 for 44 yards in the 3rd quarter followed by 11/19 for 148 yards in the 4th quarter.
The point here is not that Lamar Jackson needs the running game to be successful, but rather that the running game is an essential element to get different looks for the defense and open up the rest of the field for him to throw to.
When the Ravens started running, the DB's were pulled up closer to the line and Lamar took advantage. For example, his pass yards per attempt doubled in the second half.
Running with the Ravens
Take a second and just look back at that YPC category again…
Ain't it beautiful?
Mark Ingram and Gus Edwards showed that they can co-exist on Sunday, which is great news for Ravens fans. This isn't necessarily surprising given that Edwards shared carries with Kenneth Dixon last year and Ingram, of course, shared carries with Alvin Kamara in New Orleans.
I know fantasy football owners don't love it, but I've always been a fan of having a couple of guys that can come in fresh and provide a different look. Edwards and Ingram do have a similar violent running style, but keeping them fresh is essential.
Lamar Jackson of course, provided some key highlights in the run game, snatching some ankles and keeping the read option effective.
Running Game by Direction
Getting back to the basics for the Ravens also meant running behind their powerful run blocking on the right side of the line led by Marshal Yanda and Orlando Brown Jr.
This is more in line with how the Ravens approached the run game last year. If we go back to the 'back to basics' approach to start the 3rd quarter, we should highlight that of those eight runs that led to the Ingram 19-yard touchdown, five of them were to the right side with one up the middle and two to the left. Again, the Ravens coaches came out and said let's go back to what has worked in the past and get the team comfortable. It sure worked.
Let's take a look at what hole was the best to run behind:
Brown Jr. got a pretty low grade from PFF for his run blocking, which came in at 57.6. Based on our charting, I had to go ahead and ask for a little clarification given how successful runs behind Brown were.
@PFF @PFF_Gordon Can I get some details behind #Ravens Orlando Brown Jr. grade?

Here's the breakdown of the run direction by hole

Runs behind Brown were extremely effective and he sealed the edge well in outside zone.

Any thing that knocked his grade down?#RavensFlock pic.twitter.com/5uG8A0RLFt

— Cole Jackson (@ColeJacksonRSR) September 24, 2019
Luckily before releasing this article I got a response from Gordon McGuinness clarifying Brown's grade.
From looking at his grade breakdown he didn't have many upgrades or downgrades so it's effectively an average performance. I've not watched it back myself, but a lot of those seal blocks are blocks you expect a tackle to make because of leverage, so they don't receive big boosts

— Gordon McGuinness (@PFF_Gordon) September 24, 2019
When grading run plays, you have to understand the play type and what the role is of each blocker in that play. What Gordon is saying here is that Brown didn't receive extra marks (i.e. +'s) because of how much the Ravens ran to the tackle or end. In those scenarios he is simply making his block that is asked of him and that doesn't result in a lot of + marks, the way PFF grades.
The grade reflects an 'average' grade and shouldn't be taken as poor play. While I still think it didn't do Brown's game justice, it is a reasonable explanation from PFF.
Running Game by Run Type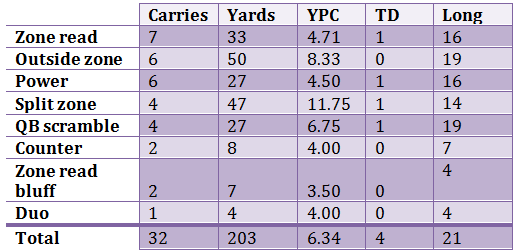 To continue on the thought about getting to the edges, perhaps the biggest takeaway from the run plays used on Sunday was the heavy use of outside zone.
If you recall from Week 1 against Miami, I noted that it was surprising to see so much outside zone used after that not being a focal point in 2018.
However, Baltimore saw a lot of success once again by pushing the ball to the edges. One of the key factors in the Ravens' blocking scheme has been the effectiveness from the TE group to seal the edges. Hayden Hurst and Nick Boyle have made some key blocks when the ball has either been aimed at the edge or bounced outside. Perhaps the biggest standout in the run game when the ball goes to the edge has been the blocks from the Ravens #1 slot receiver, Willie Snead.
This was a highlight outside zone play where Yanda shows tremendous effort on his reach block to provide a double with Brown at the point of attack. Snead also disrupts two defenders:
The Ravens employed a pretty zone heavy approach vs the Chiefs. By my count, they had 28 called runs (4 other runs were QB scrambles) & 19 of those were zone concepts. 19/176/6.3 ypc/1 TD. Here, Ingram rips off 21 yds on outside zone. Gotta love those WRs blocking downfield. pic.twitter.com/csT4ItWWjD

— michael crawford (@abukari) September 23, 2019
Snead also made another key block on Ingram's 19-yard run, which came on a split zone concept:
The split zone concept shows up again on Ingram's 19 yd TD run. Again, good displacement by the OL. Watch Yanda get to level 2 and do enough to take LB53 out of the play. I highlighted Snead because one of the keys to big running plays is WRs blocking downfield. pic.twitter.com/KtYyw0pQqE

— michael crawford (@abukari) September 23, 2019
Speaking of split zone, that concept showed a lot of success on Sunday, but perhaps one of the most interesting notes on our use of split zone was that it was combined with outside zone footwork from the offensive line.
This will be an interesting trend to follow now that we've seen success from outside zone in multiple weeks.
It was certainly a zone approach on Sunday, which means the offensive line deserves a lot of credit. They were getting the push at the point of attack that is required to execute zone.
As you can see from the charting, there really wasn't a concept that didn't work for the Ravens though. It was a very strong game in all aspects of the running game, which led to this output:
We've finished our run game charting. One of the key takeaways from Sunday's context is that the #Ravens didn't give up a negative run on 32 attempts.

In fact, only 5 of 32 attempts were for less than 3 yards. Dominating performance that was underutilized.#RavensFlock

— Cole Jackson (@ColeJacksonRSR) September 24, 2019
Personnel + Formations
One of the big takeaways from the offensive game plan from Sunday was the deployment of Patrick Ricard. In Weeks 1 and 2, Ricard had 24 and 25 snaps, respectively. In Week 3, he only logged 11 (seven on rush attempts and four on pass attempts).
Why is this significant? In both weeks, the Ravens showed success running out of both 21 and 22 personnel in a ground and pound fashion.
I think this speaks to the game plan, and the fact that the Ravens went away from the tendencies they showed in the first two games.
They used 11 personnel in the run game, which is very intriguing because it leads to more spread formations, which can empty the box and something I wanted to see more of last week when the Cardinals were loading the box. This could have been a factor with the use of outside zone. By spreading guys out of the box by using three WR, they can use outside zone (OZ) to push the ball away from the front 7 and into the DBs.
All of their OZ runs were out of 11 personnel. To contrast, they didn't run a single power concept out of 11 personnel and instead used 12, 21, 22 and 23. 
Your OT executing the primary lead block in that outside zone is essential and I think the success we saw with OZ out of 11 personnel speaks to Brown's game at RT. Of those six OZ runs out of 11 personnel, five went behind Brown to either the right tackle or right end.
Moving Forward
The Cleveland Browns are coming to town and bringing a run defense that has allowed 102 yards per game in three contests to start the year.
On paper, their front 7 looks impressive, but it hasn't played out as expected.
What should the approach be? Exactly what it was to start the 3rd quarter. Go back to the basics and pound the rock. Use the Greg Roman approach by marrying your zone scheme with your power scheme and move the ball.
I have zero concerns that the Ravens can find success on the ground at M&T.