Ravens Find Open Field on the Ground
Print this article
Running with the Ravens – Week 4
The Coordinators is a two-part weekly recap of the Ravens offensive scheme brought to you through a collaborative effort by:
 I know, friends, it's been a rough start to the work week. It's never easy even after a win, but let's be real, it's even harder after losing to the Cleveland Browns.
Don't let that keep you down though. The Coordinators are here to distract you as we break down the running attack from Sunday's contest.
Sit back, grab a coffee, grab a beer, do what you gotta do. Let's get into it!
Run-Pass Splits
The play calling once again called for a heavy passing attack in the 4th quarter as Lamar Jackson tried to lead the Ravens back from a deficit.
Q1 – Q3 showed a lot more balance than the final outcome.
That looks much more like what we were expecting from the Greg Roman offensive attack in terms of play calling.
So, you must be asking yourself, what in the heck went wrong? I mean, the numbers don't look bad.
I agree, and the reality is that the Ravens really became their own worst enemy on Sunday. Sacks and mistakes killed the first three drives:
— Drive 1: 2nd & 8 sack setting up 3rd and 16.
— Drive 2: on the CLE 46 3rd and 7 sack setting up 4th and 14 on the BAL 47.
— Drive 3: 3rd and 7 on the 50 – Lamar hit Chris Moore, but he didn't stay in bounds.
The second half wasn't much better. The defense collapsed after holding Cleveland to 10 points, but a fumble, a failed 4th down conversion and 2 interceptions ended non-scoring drives.
The positive to take away from this is that they still moved the ball well. The story of the 2019 offense will ultimately be correcting the mistakes. Based on what we have seen through 4 games (crazy to think that 25% of the season is already gone) this offensive unit has the talent and I think Greg Roman commands the unit well.
Running with the Ravens
Week 4 saw yet another efficient rushing attack from the Ravens. The YPC looked great last week and this week is no different.
Mark Ingram continued his solid play, but the guy that has stood out is Gus Edwards, who is again showing the hammer mentality that Ravens fans were treated to in 2018.
There was a lot of talk about Edwards and trusting another UDFA after previous seasons where the Ravens put trust in guys like Alex Collins and Terrence West to be #1 guys.
I don't mean to imply that Edwards would have regressed, but the alternative approach of bringing in a solid veteran back (on a beautiful contract, for what its worth) and allowing Edwards to continue in a committee as the #2 is paying immediate dividends.
The word 'disappointment' would be premature, but I think a lot of Raven fans expected more out of Justice Hill.
To be fair to Hill, he hasn't gotten a lot of opportunities and Ingram and Edwards have been outstanding.
Hill is a guy to keep an eye on as his carries could ramp up out of nowhere if the Ravens are looking for a spark. His usage has been a little surprising. He's a guy you want to get out in space, but his 2 carries on Sunday came from a zone read (which naturally goes up the middle if the RB gets the ball) and a power.
Given Hill's game breaking speed, combined with the success using outside zone in the past few weeks, it'd be nice if they tried to get him to the edge and allow him to do what he can do and use his speed and shiftiness to make guys miss.
Running Game by Direction
I know what you are thinking, and no, that is not a typo.
Call it a statistical anomaly. I had to go back and check the chart a few times to make sure it was correct.
It didn't matter where the Ravens were going on Sunday, they were getting 6 yards! 
In all seriousness, this is one of those stats that stand out from an offensive play calling perspective as something super positive. Obviously this isn't going to happen often, but when you can show your opponent (and future opponents) that you can run anywhere and have success it does a lot in the ongoing chess match between offensive coordinators and defensive coordinators.
To break it down further, let's take a look at the gap assignment of the run:
It should come to no surprise, as always, that running behind Marshal Yanda is an effective way to move the ball on the ground.
The other standout was running behind both Matt Skura and Bradley Bozeman. They haven't been the most consistent, but the statistics show that running anywhere in the interior wasn't a bad choice on Sunday.
An analysis of their games would tell us more, but just looking purely at the statistics, there wasn't a major liability in terms of where the Ravens ran the ball, which, again, is a great tendency breaker for an opponent to have to plan for.
Running Game by Run Type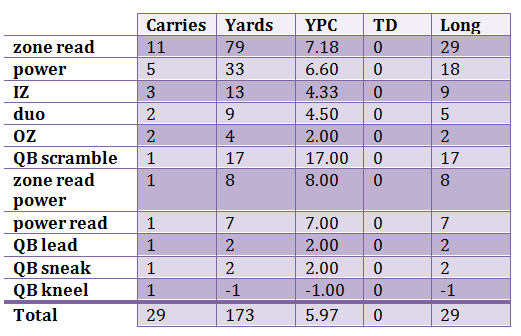 Looking at the play types used on Sunday allows you to reminisce of the 2018 season when Jackson took over as QB1. We haven't seen the zone read used as much since then.
Strategically speaking, it's not a bad approach. The Cleveland defensive line is very solid and their LB's are above average. The zone read is great at forcing defenders to hesitate as they come off the ball. Not only are they reading the direction, but they have to assess whether the hand off occurred or not.
Inside and outside zone were not very effective outside of the 9 yard run Ingram run at Q2, 11:32.
This is a departure from last week where the Ravens utilized a zone heavy approach. That said, this is the beauty of the way Roman runs his scheme. He has three major concepts: inside/outside zone, read option and power run. Not only are they different blocking schemes, but to the defense they look quite different, which impacts the game plan.
This allows Roman to use a variety of looks and find what's working in a game. For example, the Ravens began the game with zone reads and inside zone as the primary concepts. However, at Q2, 4:47 they needed to mix it up and they called a power left that went for 9 yards.
The other thing this scheme does is allow Roman to innovate with how he uses his guys. Let's get into the film.
@ColeJacksonRSR thought this was a cool wrinkle to the read game. The leave Vernon unblocked (read key), pull Boyle back-side showing the split zone action but they bull Bozeman to block the play-side iLB. pic.twitter.com/cgOR8i8BwB

— michael crawford (@abukari) October 1, 2019
This is a blocking scheme we haven't seen so far this year. Nick Boyle crosses to the backside like you would expect the TE to do in a split zone. At first glance, it looks like a normal split zone until you notice that Brown blocked down from the RT position and Bozeman pulled to the playside, which is a power blocking scheme.
This is a good example of how Roman can match concepts. It's a zone read where Vernon (#54) pulls himself out of position to read Lamar, but it also has a split zone blocking pattern rom the TE which could throw off the backside player (#95 pulls up to read), but it's a power pull from Bozeman that serves as the lead blocker.
That is some truly impressive stuff from Roman.
I know the focus has been on Lamar's development as a passer, and he's definitely improved in that area, but man he's so much fun to watch as a runner. pic.twitter.com/ksBWyoyJyW

— michael crawford (@abukari) October 1, 2019
This is the type of play that makes the read option so dangerous. It's not like some QBs where the read on the QB is a little lazy. You cannot afford to do that with Lamar's legs. I also love how he got down at the end of this play to avoid taking a hit.
I mean this is just so good pic.twitter.com/W8VpyOsjAX

— michael crawford (@abukari) October 1, 2019
I have to throw this in because he really does look like a video game.
and you know how much I love power read pic.twitter.com/npbSuxmGbO

— michael crawford (@abukari) October 1, 2019
Lastly we have the power read. While I don't love sending Lamar up the middle, it is very noticeable in this play that how the defense follows Ingram and creates the hole. If Vernon doesn't come back to make that diving tackle it's an even bigger gain.
Personnel + Formations
The personnel deployment was similar to the previous week with a heavy dose of 11 personnel.
It also marked another light day on the offense from Patrick Ricard.
It is easy to see why though. When you're averaging 6.62 and 9.33 from 11 and 12 personnel you have to go with it.
As it has been shown in previous weeks, it can be a helpful tool in spread out the defense and can lead to some easy running lanes.
Moving Forward
The rivalry with the Pittsburgh Steelers is like no other.
Personally when I think about the running game, I go back to the days of Jamal Lewis against Jerome Bettis, sitting on my couch as a kid with my old man and watching two teams swing until someone landed the knockout punch.
Well the game has changed, but I think we could still see a run-heavy approach on Sunday.
The Steelers defense is still coming together after acquiring MInkah Fitzpatrick, but their front 7 looks quite solid. They allowed 73 yards on 19 carries to the Bengals, but were thrashed the week earlier by the 49ers, who ran for 168 yards on 40 carries.
A home game against another division rival calls for getting settled early. Use the running game to be a catalyst for the deep passing game that saw success early in the season.