Print this article
My Picks
Last Week: 7-8
Overall: 31-46-1 (40.3%)
Score Predictor Picks
Last Week: 9-6
Overall: 48-29-1 (62.3%)
Week 5 Whiffs
— Late games got me again. I started off 4-0 in the early slate, but then finished 0-4 in the late time slot through Monday night.  Speaking of late games…
— What a big time egg laid by Cleveland on Monday night. After dismantling Baltimore two weeks ago, they could get nothing going against the 49ers who shut down Odell Beckham Jr. just like Baltimore did.  This should be concerning for the Browns.
— I'm a glutton for punishment. I once again bet on the Chargers to play like a contender against a bad Denver team and everybody's favorite punching bag, Joe Flacco.  To make a long story short, they didn't play like contenders and lost outright.  They may have been a mirage.
I personally went 7-4 this week so things are starting to turn around (I hope).  If the Browns would have won outright, that would have turned an okay week into a great week, but beggars can't be choosers.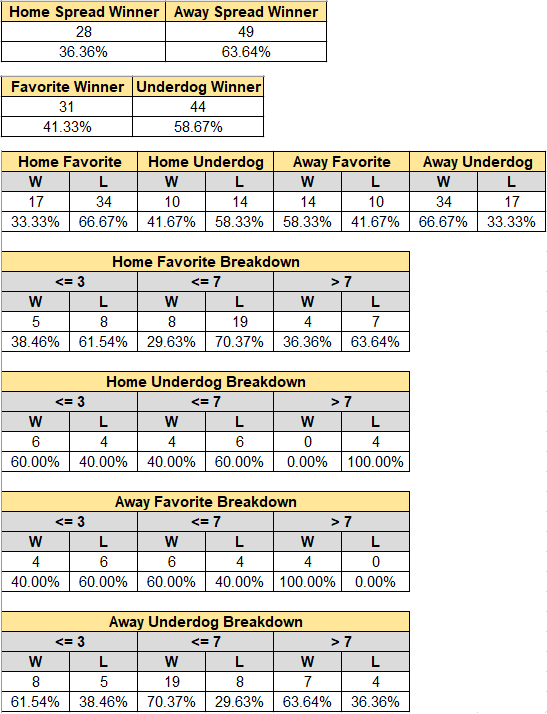 Favorites had a little uptick in Week 5, but away underdogs is still the best spot so far this season.  Underdogs of seven or less points are hitting at 67.5% through five weeks.
Here are the ATS Rankings through Week 5:
The crazy train of a season rolls on.  If I were to tell you at the start of the season that the Bills would be 4-1 and the Raiders would be 3-2 after five weeks, you would have admitted me. But here we are. The Packers, Bills, and Colts sit on top having gone undefeated so far this season on the road. Currently there are 9 teams that are undefeated on the road ATS and only two teams undefeated at home.
As always, most importantly:
Disclaimer: Please do not take these picks and expect to make any real money.  I enjoy picking games and the discussions they create so feel free to play along.  I will provide information for each game, but please make your own decisions and BE RESPONSIBLE!
Here are my Week 6 picks…
Thursday – 10/10/19
New York Giants vs. New England Patriots (-16.5, o/u 41.5)
The Patriots haven't exactly faced a murderers row to start the season, but you can't take anything away from them because you can only play who's on your schedule.  Their defense is allowing a league-best, by far, 6.8 points per game this season. I don't care who you've played, that's pretty good in today's NFL.
The Giants are starting to get hit by the injury bug on offense as Wayne Gallman is in the concussion protocol which means it's unlikely he plays this week. However, there have been rumblings that Saquon Barkley may make his return this week after a high ankle sprain. If he does, I'd feel okay taking the Giants in this game.
The Patriots will win, but I think it will be in the 10-13 point range, especially if Barkley can suit up.
New England is 18-0 straight up and 14.4 ATS in their last 18 home games going 9-2 ATS as double-digit favorites.  The Giants are 6-0 ATS in their last 6 games as double-digit underdogs.
Score Predictor: New York 20.5 – New England 29.4 (New York +16.5)
My Pick: New York +16.5
Sunday – 10/13/19
Cincinnati Bengals vs. Baltimore Ravens (-11.5, o/u 48.0)
Did you hear that?  That was a collective sigh of relief coming from the castle as news that A.J. Green won't suit up again this week was announced through the media. Green has owned the Ravens in the past and not having him out there is a big win for Baltimore.
However, I'll be staying away from this game as it'll come down to whether or not the Ravens secondary can slow down Andy Dalton.  They've been picked apart this season so I have zero confidence in the Ravens until they prove they can stop someone.
On the other side of the ball, I don't see the Bengals being able to do much about Lamar Jackson either. I think we will see a Lamar closer to the Miami game than the Pittsburgh game so I'm going to roll with Baltimore this week.  I do love the over here as well.
Cincinnati is 6-1 ATS in their last 7 games as road underdogs.  The Ravens are 2-9 ATS in their last 11 games as double-digit favorites.
Score Predictor: Cincinnati 21.6 – Baltimore 22.3 (Cincinnati +11.5)
My Pick: Baltimore -11.5
Carolina Panthers vs. Tampa Bay Buccaneers (+2, o/u 47.5)
I like the Panthers for three reasons in this one. First, they have the top passing defense in the NFL. They should be able to force Mr. Crab Legs into a few bad decisions and turn this game in their favor. Second, Christian McCaffrey. He's been unbelievable so far this season and has been a major reason the Panthers are on a three game winning streak. Last, but certainly not least, the football gods. This is the game that knocked one of my picks out of my survivor pool a few weeks back on Thursday night. So naturally the Panthers will now win this game handily.
Carolina is 5-1 ATS in their last 6 games before a bye. Tampa is 2-8 ATS in their last 10 games before a bye.
Score Predictor: Carolina 24.0 – Tampa Bay 18.3 (Carolina -2)
My Pick: Carolina -2
Houston Texans vs. Kansas City Chiefs (-5, o/u 55.0)
After the Chiefs loss at home and the Texans huge offensive output last week, the spread jumped from -7 down to -5 where it stands today. As a bettor, you try to look for overreactions from the public like you may be seeing here. Although Mahomes hasn't thrown for the number of touchdowns he's accustomed to, he has been throwing for yardage. Those yards will start to turn into touchdowns this week, especially if Tyrek Hill returns from injury. I like Kansas City to win by a touchdown.
The road team is 5-1 ATS in the last 6 games in this matchup. Houston is 3-11 straight up in their last 14 games as an underdog. Kansas City is 8-3 ATS in their last 11 games at home after failing to cover in their last home game.
Score Predictor: Houston 23.6 – Kansas City 25.8 (Houston +5)
My Pick: Kansas City -5
Seattle Seahawks vs. Cleveland Browns (+1.5, o/u 47.0)
I was sent this very scientific flow chart about trying to figure out the Browns and Baker Mayfield:
That about sums him up and puts us squarely in the "Criticized by Media" box this week. In his defense, the offensive line was a sieve on Monday night in San Francisco, but he did nothing to help matters. He made bad decisions and looked off all night. Oh, and will someone please tell them they have Odell Beckham Jr. on their team? The Nevermores fantasy football team could use his help.
Seattle on the other hand is coming off a nail biter of a game against the Rams. With a few extra days to prepare, the Seahawks will be able to get to Mayfield early and often and do to him what the 49ers did last week. Seattle wins in Cleveland.
Seattle is 7-1 straight up and 6-2 ATS in their last 8 games in October. Cleveland is 2-15-1 in their last 18 home games after a home loss.
Score Predictor: Seattle 23.9 – Cleveland 20.3 (Seattle -1.5)
My Pick: Seattle -1.5
New Orleans Saints vs. Jacksonville Jaguars (-1, o/u 44.5)
Here is the weekly trap game. New Orleans has looked great, especially on defense, after the loss of Drew Brees to a thumb injury. On the other side of the ball, their offense started to hum last week as well.  Bridgewater threw for over 300 yards and four touchdowns, but they are still one point underdogs to the Jaguars. Seems like an easy play, right?
The main reason I'm all over the Saints here is that I think they can get to Minshew. He has fumbled seven times already this season and New Orleans will be able to take advantage of that.
New Orleans is 8-3 ATS in their last 11 road games. The Jags are 2-10 straight up in their last 12 games in the 1pm time slot.
Score Predictor: New Orleans 19.3 – Jacksonville 19.7 (New Orleans +1)
My Pick: New Orleans +1
Philadelphia Eagles vs. Minnesota Vikings (-3, o/u 44.0)
There's Adam Thielen.  After complaining about the pass offense in Minnesota, Thielen was rewarded with 130 yards and a touchdown against the Giants. They have a little steeper of a test this week in an improving Eagles team.
The game will come down to the Eagles stopping Dalvin Cook. If they can't do that, the play-action game will be in play for the Vikings and it could be lights out for Philly. I don't, however, see that playing out.  The Eagles are talented enough to have an effective game plan in place to limit Cook and force Cousins to beat them. Which, I think, he cannot.
Philly is just 1-9-1 ATS in their last 11 early afternoon games. Minnesota has only allowed over 20 points once in their first five games.
Score Predictor: Philadelphia 20.7 – Minnesota 23.6 (Philadelphia +3)
My Pick: Philadelphia +3
Washington Redskins vs. Miami Dolphins (+3.5, o/u 41.0)
Dear football gods,
Please let this game end in a tie.  Preferably something absurd like 2-2.
Sincerely,
Cynics everywhere
I don't even know where to go with this game. Both teams are terrible, this game will be terrible, and we have no idea who is playing quarterback for the Redskins this week. My gut tells me that it won't matter and they still beat the Dolphins because Miami seems to be trying harder than the Redskins to lose. I can't believe I just wrote that…
Washington is 0-5 straight up in their last 5 games in Miami. However, those teams were actually trying to win.
Score Predictor: Washington 23.3 – Miami 20.3 (Miami +3.5)
My Pick: Washington -3.5
San Francisco 49ers vs. Los Angeles Rams (-3.5, o/u 50.5)
Phew, back to a real football game.
San Francisco looked good on Monday night, albeit against a porous Browns offensive line, but you have to give some credit to the 49ers. They took advantage. I wasn't a believer before Monday night, but this is a really good football team.
The Rams are having issues stopping anyone recently as they allowed Russell Wilson to throw for four touchdowns against them last week. I don't see them improving enough to blow the doors off San Francisco so at the very least this is a close game to me. I may even be pushed to take the 49ers outright.
San Francisco is 5-4-1 ATS in the last 10 matchups with the Rams with an average away point differential of 4.5.  The Niners are also 2-11 straight up in their last 13 games against the NFC West and 1-5 ATS in their last 6. The Rams are 6-1 straight up and ATS in their last 7 games as favorites.
Score Predictor: San Francisco 23.6 – Los Angeles 23.6 (San Francisco +3.5)
My Pick: San Francisco +3.5
Atlanta Falcons vs. Arizona Cardinals (+2.5, o/u 51.5)
If you're looking for defense, this probably isn't the game for you.  Neither team's defense has performed well this season and I don't think that'll be any different this week. Atlanta will struggle against the air raid offense, but Arizona will struggle equally against all of the Falcons' weapons. 
I loved Atlanta coming into the season as a bit of a sleeper, but they have been underwhelming. I have no faith in picking them, even in a game against a rookie quarterback. I like Arizona to cover.
Atlanta is 2-10 ATS in their last 12 games on the road overall and 1-7 straight up and 2-6 ATS in their last 8 on the road in Arizona.  The Cardinals are 0-5-1 straight up in their last 6 home games.
Score Predictor: Atlanta 25.8 – Arizona 26.5 (Arizona +2.5)
My Pick: Arizona +2.5
Dallas Cowboys vs. New York Jets (+7.5, o/u 42.5)
As of right now, this is another game I'm staying away from. If it were to fall below 7 points, I'd consider it, but there's too much uncertainty around the Jets to make a play here. Sam Darnold is trying to return this week and you just don't know how much rust he has to knock off.
Dallas is also in desperation mode and we really have no idea who this team is yet. They beat the likes of the Giants, Redskins, and Dolphins to open the season, but the offense has struggled against better competition. The Jets are closer to those three teams than they are the Saints and Packers (to whom Dallas has lost) so I'm fairly certain the Cowboys will pull this one out, but the spread scares me. Either way, I can't put money on a Jets team this is averaging 9.5 points per game at home this year.
The Cowboys are 5-1 ATS in their last 6 October road games.  New York is 0-7 straight up and 1-6 ATS in their last 7 home games.
Score Predictor: Dallas 23.0 – New York 21.5 (New York +7.5)
My Pick: Dallas -7.5
Tennessee Titans vs. Denver Broncos (-2.5, o/u 39.0)
The Titans may be one of the most bipolar teams in the NFL. They look great one week, then struggle the next. Luckily they're going up against Joe Flacco this week who has not fared well so far this season. If they limit Phillip Lindsay and Royce Freeman on the ground, which I think they will, the Titans will win this game straight up in Denver.
The Titans are 0-4 ATS in their last 4 October road games.  Denver is 1-8 straight up and 2-7 ATS in their last 9 games.
Score Predictor: Tennessee 21.3 – Denver 16.9 (Tennessee +2.5)
My Pick: Tennessee +2.5
Pittsburgh Steelers vs. Los Angeles Chargers (-7, o/u 41.0)
Two teams here that are heading in similar directions for different reasons. The Steelers will be starting their third-string quarterback after another loss last week to Baltimore pushing them to 1-4. The Chargers have just flat out struggled. That is evident in the line movement. It opened at 5.5, but has only gone up to 7 after the news that Devlin Hodges will start for Pittsburgh this week. The small movement either shows faith in Hodges or a distrust in the Chargers. I think it's more the latter.
This is the third game I'm staying away from as Hodges is a complete unknown, but if I have to pick, I have to stick with the Chargers only being favored by a touchdown here.
I'm sure NBC is loving this matchup this week…
Los Angeles is 2-7-1 ATS in their last 10 games against East Coast teams. Pittsburgh is 1-5-1 ATS in their last 7 road games against teams with losing records.
Score Predictor: Pittsburgh 20.7 – Los Angeles 23.0 (Pittsburgh +7)
My Pick: Los Angeles -7
Monday – 10/14/19
Detroit Lions vs. Green Bay Packers (-4, o/u 47.0)
Green Bay's defense returned to form last week against the Cowboys after being burned by Philly in Week 4. The Lions' defense hasn't had such good fortunes. They have been getting beat around and I don't think that stops this week with Aaron Rodgers and Aaron Jones getting their shot at home.
The lone thing that gives me a bit of pause is that Detroit is coming off a bye.  The extra week of preparation can only help when going up against Rodgers. However, I don't have enough faith in Detroit to think they have the talent to go into Green Bay and keep it close.
Green Bay is 1-6-1 ATS in their last 8 night games. Detroit is 7-21 straight up in their last 28 night games.
Score Predictor: Detroit 24.5 – Green Bay 19.8 (Detroit +4)
My Pick: Green Bay -4
More underdogs this week for the Score Predictor, but underdogs keep churning out covers so far this season.  There are a lot of tight spreads this week with nine of the 14 games being within four points.  Hopefully this means a lot of close games and an entertaining week.
Good luck in Week 6!