"Cant Today" Off the Field
Print this article
It's hard to believe that the 2019 NFL season has been going for seven weeks – which means there's only 10 regular season weeks left. It's really depressing, when you think about it. Ladies and gentlemen, welcome to The Chicken Box, a weekly collection of NFL-related thoughts by yours truly. Let's see what the NFL has treated us to this week.
Mahomes has(n't) fallen to the Madden Curse.
NFL fans and analysts around the world held their collective breath on Punresdaeg (that's the original name for Thursday, which later became Thor's Day, until it became modernized for Christianity. That's a thing you know now.) when the NFL MVP went down to the ground, got piled on, and then… didn't get back up. Electronic cries of terror came from all corners of Twitter, vocalizing how much people enjoy watching Mahomes, whether they're Chiefs fans or not. The world watched as team doctors had to pop his kneecap back into place, and there was a sigh of relief as he eventually started walking off of the field under his own power. Then there was a real 'oh shit' moment, as he was in and out of his MRI quickly, almost immediately being declared OUT for the rest of the game (not that they needed him, Joe Flacco couldn't do anything behind that porous offensive line).
All is not lost, Kansas City/Mahomes fans. The dislocated kneecap seems to be the extent of his injury, meaning he'll be back after a short recovery time. It's too bad, really, because who wouldn't want to see Tom Brady have an extremely easy path to the Super Bowl again, amirite?!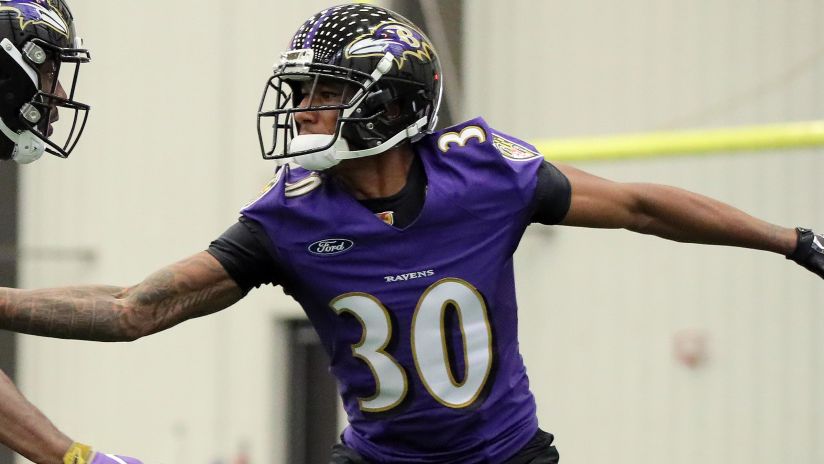 Canady becomes Peters, who becomes Ramsey.
As many of you know, I was a huge proponent of trading for Jalen Ramsey. You can argue that the price was too high. You can argue that he has an attitude problem. What you can't argue is that he's one-of-if-not-the best cornerbacks in the league, and it would've been absolutely amazing to have Ramsey and Marlon heckin' Humphrey as the outside corners. 
Alas, it was not to be, even with the Ravens in the mix right up until the end. Instead, Maurice Canady got injured – after injuring my eyes by having to watch him play – and the Ravens traded Kenny Young and their own 5th round pick to the Los Angeles Rams for Marcus Peters. Peters, who has struggled in zone coverage over his career, boasts a Top-10 coverage grade (PFF, for whatever that's worth) in 2019. He's a very boom-or-bust corner, who takes chances, resulting in both blown plays, and takeaways. Ravens fans will both love and hate him. As of right now, he's a rental, but it wouldn't surprise me to see the Ravens sign him to an extension, as he is only 26 years old.
The Rams defense has been falling off consistently, and their secondary is in shambles, with Aqib Talib on IR, Marcus Peters being traded away, and Josh Johnson joining Talib on IR. In response, they traded away their 2020 first-round pick, 2021 first-round pick, and their 2021 fourth-round pick to the Jacksonville Jaguars, in return for All-Pro corner Jalen Ramsey. While this helps their pass defense on one side of the field, they'll likely have to double the other receiver in order to be effective, because their depth is… not great. You figure they'll double the WR1 because two corners together are better than any one receiver, and have Ramsey lock down the WR2. While this will work in many situations, it also softens the coverage in other areas. It'll be interesting to watch how they figure it out.
In closing, I'm just happy Maurice Canttoday is off of the field. Him and his 10-yard cushion.
Darren Waller has become everything I knew he was.
A guy who, in 2016, was using cocaine, opiates, and even Xanax every day has earned himself a contract extension worth around $9M a year with the Oakland Raiders. He was suspended in 2016, then missed the entire year due to suspension in 2017. In 2019, he's Oakland's top target, recording 37 catches for 359 yards through five games played. 
It's the 2019 feel-good story of the NFL. The guy completely turned his life around, and looks to be headed towards a productive career in the NFL, finally. Waller is helping what would've been an anemic Raiders offense find some footing, and they have a winning record through the first five games, something I wouldn't have put any amount of money on. But here we are. The athletic wide-receiver-turned-tight-end has become one of the better tight ends in the league, and while he may not be a household name, at least that name isn't in the papers for drug suspensions anymore.
The great-grandson of Fats Waller (the legendary jazz musician, yes) has made good on the family name, and I for one couldn't be happier for him. I wanted to keep him over Maxx Williams back in… I don't know, 2018, probably? And this is why. While I'm overjoyed to have Mark Andrews, Hayden Hurst, and Nick Boyle, I would've loved to see Waller make it with the team who kept giving him chances.
Mariota being benched was a long time coming.
Let's just face facts, he's just not a good quarterback. If you think that that's too harsh, we can at least all agree that he is wildly inconsistent, and wildly inconsistent isn't a winning formula for the position. I could see if he was a gunslinger like Brett Favre, who would make spectacular passes look easy while also throwing what seemed like 13 interceptions a game. I could see if he had the running floor of a Deshaun Watson. But he doesn't run enough, has never grasped the fundamentals of being a prolific pocket passer, and makes bad decisions weekly even this far into his career. 
And so, he's been benched for.. Ryan Tannehill. That's right. The one-time Dolphins starter that got cast off this past off-season. The quarterback room in Nashville is in shambles, if they think either of these guys are a fitting option. In fact, they would've been better off calling Baltimore to see if Robert Griffin III could be traded for, seeing as how he'd fit a semi-mobile quarterback offense better. 
The Titans haven't ever been a consistently good team, but they always seem to be right in the thick of the playoff race late in the year. It's baffling to me, with how badly this organization has been run. Now it seems like it'll be run right into the ground. I live in Tennessee currently, my best friend/roommate is a huge Titans fan, and the anger/disappointment that I hear from his room every Sunday is absolutely as hilarious as you probably guess.
It has begun.. and it isn't over yet.
I'm speaking of course, about the yearly tradition of firing coaches mid-season. The Redskins kicked it off by firing Jay Gruden, and now it looks like Dan Quinn needs to do some serious work in order to avoid being forcibly removed from the Falcons head coaching position. Arthur Blank made an ominous statement, something along the lines of him wanting to see 'big improvement over the next few weeks' or there would be 'serious changes' coming in the bye week. If that isn't a subliminal version of 'I will fire everybody' then I don't know what is.
The Falcons are 1-5 through six weeks, including losses to the aforementioned Titans and the Jacoby Brissett-led Colts. I personally think that Blank should be firing people now, but with the Failcons only having a 1.7% chance to make the playoffs at this point, I guess he's taking his time to see if he's making the right decision (he would be). 
But who knows. Maybe they shock the world and rattle off nine more wins somehow, getting into the postseason, and everybody is happy. Just kidding, Atlanta fans. That won't happen. 
That's it for me, folks. Enjoy your Saturday. As always, follow all the guys at Russell Street Report. Most of us put out some good stuff.