Print this article
We're here folks. The only guaranteed week of stress free football that we have as Ravens fans. For the ones who read this that aren't Ravens fans, your time is coming, or already has. 
Regardless of stress level, this article aims to make you chuckle, shake your head, or maybe just roll your eyes. This is the Chicken Box, an amalgamation of random NFL-related thoughts from around the league over the past week. Let's get into it.
Josh Gordon is back on the market (soon).
The long-troubled – and talented – wideout suffered an injury against the Giants, re-aggravating his knee. As a result, the undefeated New England Patriots placed him on injured reserve with the intention of waiving him later. This will make Gordon eligible to get healthy and play for another team this season – including signing with a contender that could use him for a late-season push. 
The Patriots got good production out of Gordon. In 17 games, he caught 60 passes for 1,007 yards (16.7YPR average) as well as four touchdowns. If a team can sign him to a veteran minimum (or at least an inexpensive contract) they should be more than happy with about 60 yards per game with the possibility of a score. While he isn't nearly as good as he used to be, he's still a threat in the passing game. I mean, he's gotta be a better option than Antonio Brown, right?
Let's not act like…
The Patriots or 49ers have had challenging schedules. 
The 49ers have had the easiest strength of schedule in the NFL. The second easiest? That's right. The other undefeated team, up there in New England. With that being said, maybe we take their undefeated records with a grain of salt – regardless of the fact that you can only play who's on your schedule. The 49ers scored nine whole points against the Washington Redskins, who aren't exactly world-beaters. The Patriots struggled against the Bills.
An interesting side note – take a look at the Bills' schedule this season so far. At 5-1 (with that loss being the aforementioned game against the Patriots), you could very easily throw them into that pretender-contender category so far. The same category that the Baltimore Ravens were in before they absolutely throttled the Seattle Seahawks in Week 7.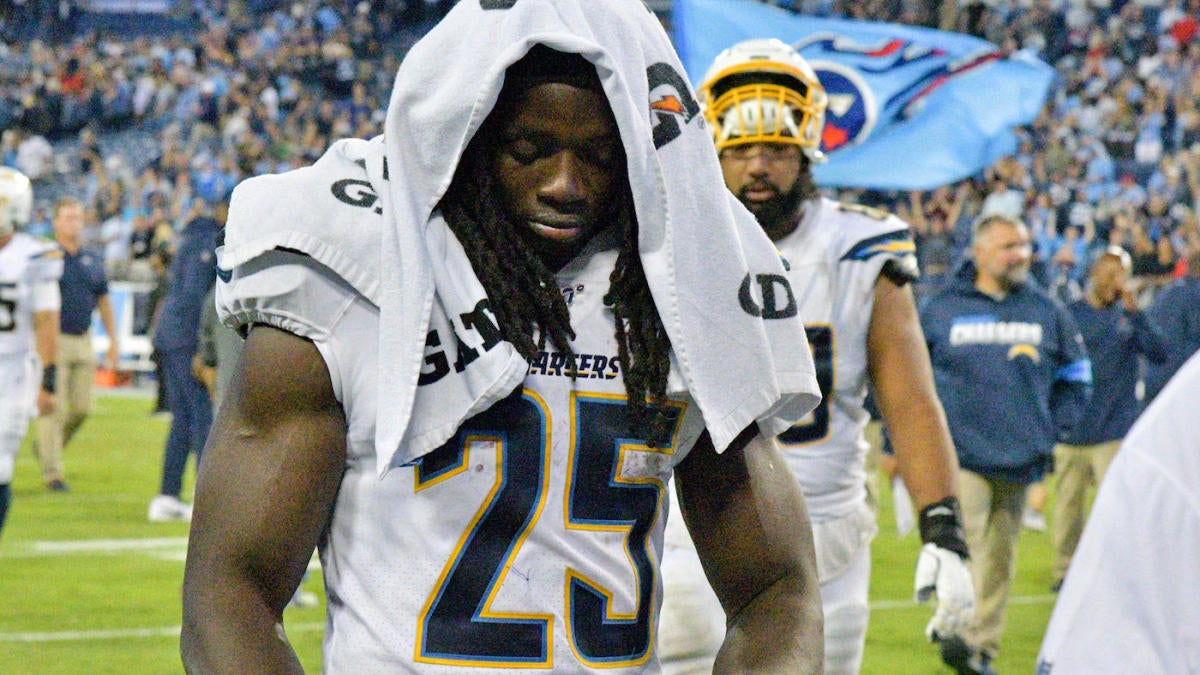 The Chargers should've traded Melvin Gordon.
They ignored some fairly decent offers for the once-stud running back, during his holdout. Then he came back, and everybody expected him to return to form.
Instead, over the last three games, he has a 2.3 YPC average. He's carried the ball 36 times, for a putrid 81 yards and no touchdowns. The Chargers are a surprising 2-5, losing the last three games to absolutely amazing teams such as the Titans, Steelers, and Broncos. For those keeping score at home, those are all teams with losing records.
Gordon isn't making a difference to this team, and now the Chargers have shown that he isn't the same player that he used to be, and effectively killed their chances at any kind of worthy draft capital.
How very Chargers of them.
As an added note, Gordon shouldn't be playing for himself, either. He's damaging his free agency value with every bad game he has.
Injuries have deprived us of a great matchup.
I'm speaking of course, of the possibility of Patrick Mahomes versus Aaron Rodgers.
Most of you will remember that I spoke on the Mahomes injury in my last article, and how Mahomes shouldn't miss too much time. But he will miss this game at least, along with about half of the Chiefs starters, which is disappointing to say the least.
The Chiefs were the darling of the preseason and early season, until they dropped two straight, and then Mahomes went out with the injury. The Packers have been on fire, with Rodgers playing some of the best football of his career. Both teams have improved defenses, which used to be their weaknesses. So it was shaping up to be an absolute beauty fo a game, and now we get a matchup with a lopsided advantage.
I'm not really happy about that. I don't think many other football fans are either. 
In Closing..
Normally these articles consist of five NFL-related thoughts, but this has been a relatively quiet week. If you think I've missed something, feel free to argue on the Twitter, @LateRoundCorner. As always be sure to follow @RussellSTReport, as well as all of our writers and contributors!
See you after the bye!