Ravens Run Patriots out of Baltimore
Print this article
The Coordinators is a two-part weekly recap of the Ravens offensive scheme brought to you through a collaborative effort by:
Going into the Week 9 matchup with the Patriots, it looked like one of the critical areas that the Ravens could gain an advantage was through the ground game. The interior line of the Patriots is the weak link of the defense and well, someone told me the Ravens have a good run game.
Okay, I told myself that by doing a weekly article on the ground game, but nonetheless, the run game serves as the catalyst of the offense. The Patriots were run into the ground before being run out of the city of Baltimore and back to Boston and it just doesn't get much sweeter than that.
The Coordinators are here to break it all down for you, let's get it!
Pacing the Ravens Offense
Before we get into the rushing offense, I wanted to take the opportunity to check out the 16 game projection based on the first eight games. The formula is simple: take everyone's statistics and multiple by two to see what it could look like through 16 games.
*M. Brown has missed 2 games
Yes, you read that correctly, Lamar Jackson is on pace for 4,900 total yards and 34 touchdowns. If that isn't MVP worthy, I don't know what it is.
What really stands out is that even though Lamar is stealing some of the thunder in the ground game, Mark Ingram is still on pace for almost 1200 yards and 10 scores, which is exactly what Ravens fans were hoping for when he was signed. Consider the fact that he signed a $5M/year deal and it's beyond a bargain. Gus Edwards is also looking at some healthy production with over 500 yards.
In the pass game, it's projected that Mark Andrews is a top tight end in the league, and to be completely honest, a top pass-catcher when even considering WRs.
Marquise Brown is looking at a rookie season of strong production and that's factoring in two more missed games in this projection. Note: that's not because I'm predicting an injury, I merely just multiplied six games of production. If we factor in his game average to add those two additional games in the projection (for 14 total games played this year), Brown would have a line of 56 catches, 872 yards and 7 TD. That would be a very encouraging rookie season.
The most disappointing are Miles Boykin and Hayden Hurst from my perspective. Willie Snead would turn out a line that is in line with my expectations, but Boykin and Hurst just aren't more than accessory pieces. Factor in that one is a rookie and the other is a sophomore, and it's not anything to panic about, but nonetheless, it's below my expectations.
Running with the Ravens
Lamar stole the show by racking up two of the three touchdowns on the ground, but Ingram's violent running style really stood out.
In fact, this was Lamar's lowest 2nd lowest YPC game of the year. The only game that was lower was his three rushes for six yards in week 1 against Miami. All other performances have been 5 yards per carry or more.
Lamar still did Lamar Jackson things and made himself look like a video game.
Ludicrous Lamar Jackson pic.twitter.com/86GaRSCmuR

— Matt Waldman (@MattWaldman) November 4, 2019
Our friend, Matt Waldman, breaks it down well, but I mean, seriously, how do you defend that? You basically just hope you take the right lane, but Lamar's anticipation is so good that he reads running lanes with precision.
BIG BOY NO LITTLE BOY @markingram21 pic.twitter.com/Os8pvyR6Jg

— Baltimore Ravens (@Ravens) November 4, 2019
This is the type of run I was hoping we'd get with Ingram. Just a downhill running style with the pick-me-up to break away from defenders.
Gus Edwards wasn't overly efficient, but once again he provided some strong running when needed. He's proving to be a great complement to Ingram and he really fits the read option with his power running style and acceleration into the designed gap.
Run Game Approach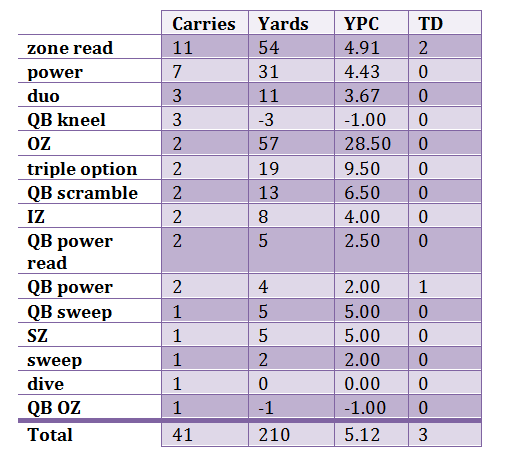 The Ravens leaned heavily on the zone read and the power run, both of which, had strong outputs against the Patriots.
Going into this contest, all of the talk was on how the Pats could slow down Jackson and take him out of the game. It makes you wonder if the Ravens used that against them, especially when you consider that they ran two option pitch plays.
By taking the focus on Lamar and forcing the defense to read him, it opened up several opportunities, including the option pitch, which saw success:
Option Football = Numbers.. Check out Orlando Brown Jr. (78) climbing to the 2nd level. Stalk block by the receiver, 42 running his feet after contact. 8 and 21 are pretty good too! Every play is a new team effort! #spreadoffense pic.twitter.com/KDvotHG3VO

— SpreadOffense.com (@SpreadOffense) November 4, 2019
Everyone's favorite NCAA play, the power option. #53 is forced to pick his poison. Either he goes straight to Lamar and forces the pitch or he brackets Ingram and allows a cutback lane for Lamar to keep it.
Two other things stand out on this play: first off, Orlando Brown Jr. shows off his savvy run blocking by sealing the play side ILB. It looks like he was aiming for the play side safety (whom Patrick Ricard ends up blocking), but when he sees him out of reach, he turns back and seals. This has been a trend with Brown that I've noted in previous weeks. He's a big mauler, but he's getting very good at making smart blocks to just seal his man and take him out of the game. Sometimes the best block isn't the pancake, it's just taking your man out of the play.
The other thing that stands out is Ricard, who reads the safety perfectly and just takes him to the sideline to allow a gap.
Ricard stood out in this game and has quickly proven how important he is for this scheme. Here's another where Ricard drives his man home and opens up a lane:
Check out the blocks by Boyle & Ricard on Lamar's 3yd TD run. Boyle bangs the hip of the 4 tech, drives him inside then climbs to LB51. Looks like the 55 is playing the dive so Ricard has the leverage to drive him further inside but still a good finish to the block. Medieval! pic.twitter.com/82jZPw7gBt

— michael crawford (@abukari) November 4, 2019
This wasn't a lead block, but you can see from this play that #58 (Jamie Collins) was the read by Lamar. Collins committed to Edwards and gave the outside lane to Jackson. Why this Ricard block is important is because you can see if Collins chose to defend Jackson and stays further outside then Edwards has an easy lane with Ricard washing his man out and Boyle seals the LB.
This play is very interesting because it certainly appears that no matter who Collins read, the blocking was so good up front that it was a TD whether it was Lamar or Gus taking the ball. That's textbook forcing your opponent to pick their poison.
Greg Roman's use of the Diamond
The diamond formation has been one of the unique innovations in Greg Roman's scheme. Let's take a closer look at it.
Ingram gains 14 yds on one of my favorite plays the Ravens run. Power is a staple of Roman's run game but I love when they run it from the pistol diamond formation with the read action. pic.twitter.com/JYD2FMjdHX

— michael crawford (@abukari) November 4, 2019
This is run out of the diamond (Hurst is on the opposite side of the formation from Boyle, off camera). Boyle cuts across the formation to serve as the lead blocker on #54, Bozeman makes a crucial L2 block on #52 and it sends Ingram straight into the gap.
On the very next play, the Ravens come out with this:
Roman comes right back to the same formation on the next play. They run it to the right this time and when the iLBs react inside to the dive back (Edwards), Lamar keeps it, gets the edge and gets upfield for 18 yds. pic.twitter.com/9qEUAsNgiQ

— michael crawford (@abukari) November 4, 2019
The same formation, the same look, but Jackson keeps it on the read option as the ILBs both go to the same gap, which is a major miscue of theirs. Boyle is still the lead blocker, but this time he's going into the open field and reads #54 coming back to the play.
When your forcing ILBs to go to the same gap, you know you're creating confusion among the defense. This is the power of option football and the key is having the proper read, which is something Jackson does exceptionally well. You force your opponent to pick their own poison.
Michael provided some scheme-related notes on the diamond formation:
— The diamond is an even-set formation, so there is so no true strong side of the formation.
— Pre-snap read allows the QB to determine which side gives you the best leverage or read and allows for you to flip the play.
— Creates opportunities for max protection in the pass game.
— If a team stacks the box and plays 1-high, it creates a 1-on-1 outside for the WR.
— By using the double lead with both TEs serving as lead blockers, the offense has more leverage in the read option with two ball-carrying options.
Yeah, you can tell Michael has coached before…he even wrote this on a whiteboard and sent it to me. Heck, I'm surprised it wasn't on a clipboard too!
Moving Forward
In the first meeting with the Bengals, the Ravens accumulated 269 yards on the ground and two scores, including 152 yards from Lamar.
The Bengals slowed Ingram down with only 52 yards on 13 carries and a score, but Edwards and Justice Hill added some production with 34 and 31 yards, respectively.
It was a true committee approach and against a Bengals team that seems to lack an identity, it's smart to mix up the personnel and play calling.
Many are going to call this a trap game. Coming off an emotional win and playing a division rival, coming off a bye week, who hasn't won a game yet, I can see why.
However, the key is sticking to the identity of this Baltimore Ravens offense. It begins and ends with the ground game. A varied approach with a committee is a great way to keep the Bengals off balance and keep the sticks moving.