Print this article
My Picks
Last Week: 7-7
Overall: 73-100-3 (42.2%)
Score Predictor Picks
Last Week: 8-6
Overall: 102-71-3 (59.0%)
(*The Score Predictor is a tool I created that takes over a decade's worth of score and spread data to predict the final score of each game. It places higher weights on more recent games as well as games against the opponent that week. Ultimately, it outputs a final home team and away team score that is used to make a pick against the spread.)
Week 12 Whiffs
— The Falcons couldn't stop anyone early in the season and then hold the Panthers and Saints to only field goals in Weeks 9 and 10. Then they give up 35 to the Bucs in Week 11. This sums up the NFL.
— Green Bay had a chance to move into a tie for the top spot in the NFC and were demolished by the 49ers. Maybe this San Francisco defense is that good.
— Detroit lost to the Redskins. I don't need to go on.
Back-to-back solid weeks for the first time this year after hitting my three-team parlay of Tennessee, Seattle, and Cleveland. Now we head into my personal favorite week of the year with the Thanksgiving games. I shouldn't be too overly excited though with my 2-10 Thursday night game record so far this year. I'll try and turn that around with the three game lineup on Turkey Day.
Here are how the numbers break down and the ATS rankings through 12 weeks:
As always, most importantly:
Disclaimer: Please do not take these picks and expect to make any real money. I enjoy picking games and the discussions they create so feel free to play along. I will provide information for each game, but please make your own decisions and BE RESPONSIBLE!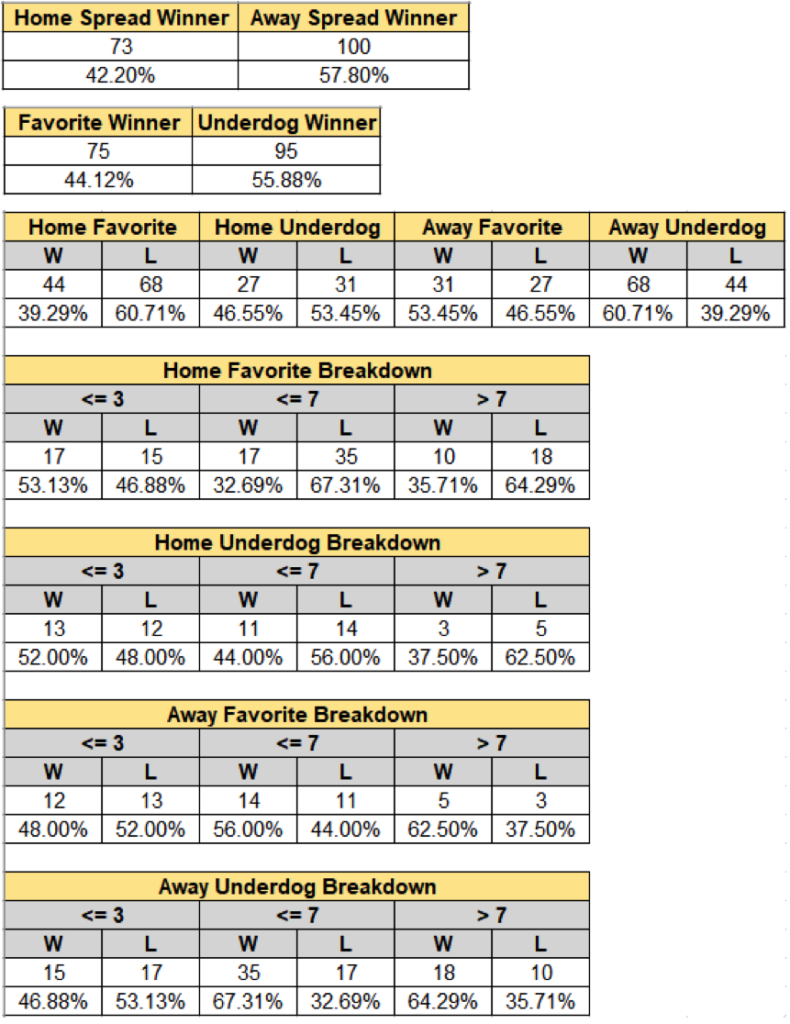 Here are my Week 13 picks…
Thursday – 11/28/19
Chicago Bears vs. Detroit Lions (+3.5, o/u 38.5)
We start Thanksgiving with what I think is an easy one. The Lions lost to the Redskins in Week 12 and head into this game with more uncertainty at the quarterback position with Jeff Driskel being limited in practice with a hamstring injury. That should allow the Bears to do as they please on defense and severely limit this Lions' attack.
Mitch Trubisky will do enough on the offensive side of the ball to cover the points easily.
Chicago is 1-4 ATS in their last 5 road games. The Lions are 2-6 ATS in their last 8 home games.
Score Predictor: Chicago 21.9 – Detroit 23.1 (Detroit +3.5)
My Pick: Chicago -3.5
Buffalo Bills vs. Dallas Cowboys (-7, o/u 45.5)
This game will come down to how the Cowboys and their coaching staff react to the asinine comments by their owner/mock general manager. There's no quicker way to derail a team than throw the entire coaching staff under the bus after a close loss on the road to a team that rarely loses at home. I could also argue though, that this will bring that locker room together. I'm not going to pretend to be close enough to the Cowboys to know how they'll react, but at the end of the day, they're still sitting atop the NFC East with a clear shot at a home playoff game. That, by itself, should motivate them.
As for Buffalo, I'll say this again this week: they have only beaten one team with a winning record (Tennessee) and that was at a time when the Titans were on the struggle bus. Until they take down a contender, they themselves, are not one. Dallas wins and covers.
Buffalo is 4-0-1 ATS on the road this season with a 7.2 average point differential. Dallas is 3-2 ATS at home with a 11.2 average point differential.
Score Predictor: Buffalo 21.4 – Dallas 23.1 (Buffalo +7)
My Pick: Dallas -7
New Orleans Saints vs. Atlanta Falcons (+7, o/u 49.0)
Atlanta came back to earth against Jameis Winston in Week 12 and with the Saints being embarrassed in Week 10 against those same Falcons, I see a blowout on the horizon. Drew Brees will be out for revenge and he'll get it on Thursday night in a big way as we all slip into our tryptophan comas. Saints win by double-digits.
After 6 straight ATS covers, the Saints are 1-2 ATS in their last 3 games. Atlanta is 1-4 ATS at home this season with a -11.4 average point differential.
Score Predictor: New Orleans 25.7 – Atlanta 25.6 (Atlanta +7)
My Pick: New Orleans -7
Sunday – 12/1/19
San Francisco 49ers vs. Baltimore Ravens (-6, o/u 46.0)
This matchup is the most interesting of the week across the NFL. It's strength vs. strength in the 49ers defense against the Ravens offense. What the Ravens have proven so far this season is that you can throw opposing team stats and rankings out the window because none of us have ever seen an offensive machine like the Ravens have produced this season.
Can the 49ers stop the Ravens? Sure. They have the best defense in the NFL and if Lamar Jackson is going to get slowed down, it's going to be this week.
Should we expect that to happen? I don't think so. With more than a season's worth of tape on Jackson, it's proven to be extremely difficult, if not impossible, to stop him. So as I said last week, until someone stops the Ravens offense, how can you bet against them?
From a spread perspective, this one is very interesting. On the surface, it looks high to me and it's been driven up by early sharp money. It opened at -4.5 and has already gone up to -6 due to money flowing in on Baltimore after their impressive win against the Rams.
I'm going to stay away from this one when throwing my money around. If Baltimore is the hottest team in the NFL, San Francisco is a close second. The reason I lean Ravens though, is not because of Lamar, but because of their defense. The 49ers' defense will keep Lamar and the offense under their 29.8 average points at home, but I have the Ravens' defense keeping the 49ers to 13 or less points. I like the Ravens 24-13.
Baltimore is 2-3 ATS at home this season with a 9.6 average point differential. The 49ers are 3-2 ATS on the road this season with a 12.6 average point differential.
Score Predictor: San Francisco 21.1 – Baltimore 22.0 (San Francisco +6)
My Pick: Baltimore -6
New York Jets vs. Cincinnati Bengals (+3.5, o/u 41.0)
Andy Dalton will get the call again for the Bengals after the Ryan Finley experiment failed. This will basically be a job interview game for Dalton as he's likely to be traded or released after the season. If he plays well, he could get picked up by a contender next season, but that's a big if. The Bengals were bad with him earlier in the season so there's no reason to think this week will be different.
Recently, the Jets have been beating up on teams that they're supposed to be beating up on. That should continue in Week 13 against Cincinnati. Since losing to Miami, the Jets have won three straight both straight up and ATS scoring 34 points in each game.
Cincinnati will stay on pace for the top pick in the draft and lose big. If you can hop on the Jets at this number, do it.
The Jets are 2-6 ATS in their last 8 games against the AFC. Cincinnati is 1-9-1 ATS in their last 11 home games.
Score Predictor: New York 23.1 – Cincinnati 21.9 (Cincinnati +3.5)
My Pick: New York -3.5
Philadelphia Eagles vs. Miami Dolphins (+9.5, o/u 45.0)
After five straight Miami covers, they've dropped their last two games ATS to Buffalo and Cleveland. Philly hasn't been much better as they're just 4-7 ATS this season and have totaled just 41 points over their past 3 games.
In that latest 3 game stretch, it started against two solid defenses in Chicago and New England so you can argue for those performances. Then, last week against the Seahawks happened. Seattle's defense has struggled this season and the Eagles could only score 9 points at home. That is concerning.
Luckily, they get Miami this week in a chance to right the ship a bit and stay within striking distance of the Cowboys ahead of their 12/22 showdown that will most likely be for the NFC East.
Philadelphia is 2-3 ATS on the road this season giving up 27.8 points per game. The Dolphins are 2-4 ATS at home this year with an average point differential of -20.3.
Score Predictor: Philadelphia 25.3 – Miami 21.7 (Miami +9.5)
My Pick: Philadelphia -9.5
Tennessee Titans vs. Indianapolis Colts (-2.5, o/u 43.5)
I'm going to make it 7-for-7 with this game going against the score predictor. Tennessee has been one of the hotter teams in the NFL over the past month of the season after Ryan Tannehill took over under center. They'll get the Colts this week who will be without Marlon Mack and Eric Ebron who was placed on season-ending IR this week. The loss of Ebron will be a big one for the Colts as his presence as a receiver was something that could keep defenses off-balance a bit. Without him, the Titans will have one less weapon to contend with and will win outright.
Indianapolis is 7-3 ATS in their last 10 games against the Titans with a 9.3 average home point differential. Tennessee is 4-1 straight up and ATS in their last 5 games.
Score Predictor: Tennessee 19.5 – Indianapolis 25.3 (Indianapolis -2.5)
My Pick: Tennessee +2.5
Washington Redskins vs. Carolina Panthers (-10, o/u 40.5)
Carolina comes into this one looking to end a three game losing skid. They'll serve up a heavy dose of Christian McCaffrey and Washington will have no answer as Haskins is harassed all day and throws a few picks. Carolina wins and wins big.
Carolina is 6-4 ATS in their last 10 games. The Redskins are 2-3 ATS on the road this season with a -10.0 average point differential.
Score Predictor: Washington 17.9 – Carolina 21.5 (Washington +10)
My Pick: Carolina -10
Green Bay Packers vs. New York Giants (+6.5, o/u 45.5)
Green Bay was dealt a blow in their hopes for a first round bye with a 37-8 drubbing at the hands of the 49ers last week. Aaron Rodgers was held to only 104 passing yards and will bounce back in a big way against the Giants who have a -7.2 average home point differential.
The Packers will get Aaron Jones involved early and often and ride him and Rodgers to the easy victory.
Green Bay is 6-0 ATS in their last 6 games after an ATS loss. The Giants are 1-8 straight up and ATS in their last 9 games as home underdogs.
Score Predictor: Green Bay 25.0 – New York 29.9 (New York +6.5)
My Pick: Green Bay -6.5
Cleveland Browns vs. Pittsburgh Steelers (+2, o/u 40.0)
This was another interesting spread this week. Cleveland dismantled the Steelers two weeks ago and the Steelers have all kinds of quarterback issues at the moment, yet it's just a 2-point spread.
The Browns are going to make the playoffs. Something that sounded crazy a few weeks ago is now taking shape as the rest of their schedule is fairly soft (excluding the Ravens game). If they can navigate to 9-7 somehow, I think they're in. They'll take their next step toward that 9-7 against the Steelers this week in what could be a brutal game after how the last one ended.
I love Cleveland in this spot.
Cleveland is 7-2 ATS in their last 9 games against the AFC North. The Steelers are 1-6 ATS in their last 7 December home games.
Score Predictor: Cleveland 18.6 – Pittsburgh 27.7 (Pittsburgh +2)
My Pick: Cleveland -2
Tampa Bay Buccaneers vs. Jacksonville Jaguars (-1, o/u 48.5)
Tampa Bay may have the best wide receiving duo in the league with Mike Evans and Chris Godwin. If they had a steady quarterback at the helm, they could be a very dangerous team. They also currently rank second in the league in rushing yards allowed per game, which will be troublesome for the Jaguars this week. They won't be able to get Leonard Fournette going on the ground, and the Jacksonville offense will sputter.
In what is basically a pick-em, I like Tampa to win this game.
Tampa Bay is 1-6 ATS in their last 7 games. The Jaguars are 2-6 straight up and ATS in their last 8 games as a favorite.
Score Predictor: Tampa Bay 23.0 – Jacksonville 22.1 (Tampa Bay +1)
My Pick: Tampa Bay +1
Los Angeles Rams vs. Arizona Cardinals (+3, o/u 47.5)
The Rams' playoff hopes took a major hit with their loss at home against the Ravens. They now are two games out of a wildcard berth with five to play.
I like to think most players in the NFL are prideful guys. When they go out and get kicked around like they did against Baltimore, they want to come out the next week and prove that was a fluke. That's what I think happens against Arizona. Aaron Donald will make up for being nearly absent from the box score and Jalen Ramsey picks off Kyler Murray one time. Rams make a statement of their own and keep their slim playoff hopes alive.
The Rams are 6-1 ATS in their last 7 road games. Arizona is 8-3 ATS on the season, but 2 of their 3 ATS losses have come at home.
Score Predictor: Los Angeles 21.8 – Arizona 19.1 (Arizona +3)
My Pick: Los Angeles -3
Oakland Raiders vs. Kansas City Chiefs (-10, o/u 51.0)
Just like the Rams, Oakland laid an egg last week as they looked ahead to the Chiefs. Now they sit at 6-5 in a crowded AFC wildcard race.
Kansas City is coming off their bye, which couldn't have come at a better time for Patrick Mahomes. The Chiefs will win this game, but Josh Jacobs of the Raiders will keep it close. His ability to run downhill against a weak Kansas City defense will make the Chiefs' faithful want to throw Xanax in their barbeque, but they'll end up on top this week. Just not by ten points.
Oakland is 0-6 straight up and 1-5 ATS in their last 6 games in Kansas City. The Chiefs are 6-2 ATS in their last 8 home games against the AFC West.
Score Predictor: Oakland 18.2 – Kansas City 27.1 (Oakland +10)
My Pick: Oakland +10
Los Angeles Chargers vs. Denver Broncos (+2.5, o/u 38.5)
I'm going to lean toward my "favorite" team this season for one reason: The Chargers are getting back one of my favorite players of the 2018 draft in Derwin James. His presence alone will have a huge impact to the backend of the Chargers' defense. If you couple that with the fact that Drew Lock may be making his first NFL start this week, it all lines up for a Los Angeles cover.
It's hard to throw out home vs. road stats for the Chargers because every game they play is basically a road game, but in true road games, they are 2-3 ATS with a 2.6 average point differential. Denver is 3-2 ATS at home this season with a -1.4 average point differential.
Score Predictor: Los Angeles 18.7 – Denver 21.0 (Denver +2.5)
My Pick: Los Angeles -2.5
New England Patriots vs. Houston Texans (+3, o/u 44.5)
This game will come down to one thing. Can the Texans protect Deshaun Watson? If they can, they'll be able to hang in with the Patriots and potentially win this one at home, but they haven't shown they can do that consistently yet this season.
That said, I just have a gut feeling that's telling me this game will be close. Her majesty's struggles this season can't be overlooked in a game with so much on the line for both teams. I'm by no means confident in this pick, but I'll take Houston to cover in a close game that comes down to who has the ball last.
Houston is 1-5 straight up and ATS in their last 6 games as home underdogs. The Patriots are 11-4 ATS in their last 15 games.
Score Predictor: New England 29.2 – Houston 22.1 (New England -3)
My Pick: Houston +3
Monday – 12/2/19
Minnesota Vikings vs. Seattle Seahawks (-3, o/u 49.0)
I always have a soft spot for good teams coming off their bye week and that's exactly what we have here in the Vikings. They're coming in having won six of seven and in a tie for the NFC North lead.
The Seahawks need a win here as well if they want to keep pace with the 49ers and ultimately have a shot at the division and the top seed in the NFC. Needless to say, both teams have a lot on the line in this one and it should be a great game.
Just like the Sunday night game, I'm not overly confident and this game could go either way, but I'm leaning Vikings because their offense has the weapons that can cause issues for this Seattle defense that can be taken advantage of. I look for a heavy dose of Dalvin Cook and the Vikings cover in another close game.
Minnesota is 1-6 straight up and ATs in their last 7 games as an underdog. The Seahawks are 1-5 ATS int heir last 6 games as a home favorite.
Score Predictor: Minnesota 25.1 – Seattle 24.6 (Minnesota +3)
My Pick: Minnesota +3
I've gone 5-0 with my top picks the past two weeks so I'm going to hopefully stay hot as we head into the holiday. I love five games this week: Chicago (-3), New Orleans (-7), Jets (-3.5), Cleveland (-2), and Rams (-3). I don't normally like taking all favorites, but with spreads as low as some of these games this week, you're trying just to hit straight up winners as in most cases, those will cover. So far this season, straight up winners have also won ATS in 77.8% of matchups.
I hope everyone has a Happy Thanksgiving and good luck in Week 13!