RavensFlock is Spreading Its Wings
Print this article
RavensFlock Expands Boundaries
The boundaries of the RavensFlock continue to expand. Today we touch down with more Displaced Ravens fans.
LT Andrew Szoch: I'm in the Navy. I would not consider myself displaced at the moment, but spent 3 years In Japan, where we were somewhere in the middle of the Pacific until at least late November every year. Let me tell you, it takes dedication to wake up on a carrier, at 2 am, to see if the ship decided to show a Ravens game that day. If the game wasn't showing, I'd watch the score tickers on the bottom of the screen since internet isn't fast enough to keep up with play by play. If a game came on, it made my week – even in 2015 (5-11). I was one of maybe 5 people who routinely got up for the games. All I can say is thank you to the Ravens organization – seeing our men play and that normalcy underway does more than you even know.
Neil Harold: Well done to my fellow UK Ravens! I live in Wales so great to see the Welsh dragon present in Baltimore along with the Scottish Saltire as I was born in Kircaldy, Fife! Have made it to two Ravens games in the US from Wales. First was the home win against the Saints in 2010 and, during the play-offs a few seasons later, was in Foxboro for the AFC Championship game against New England.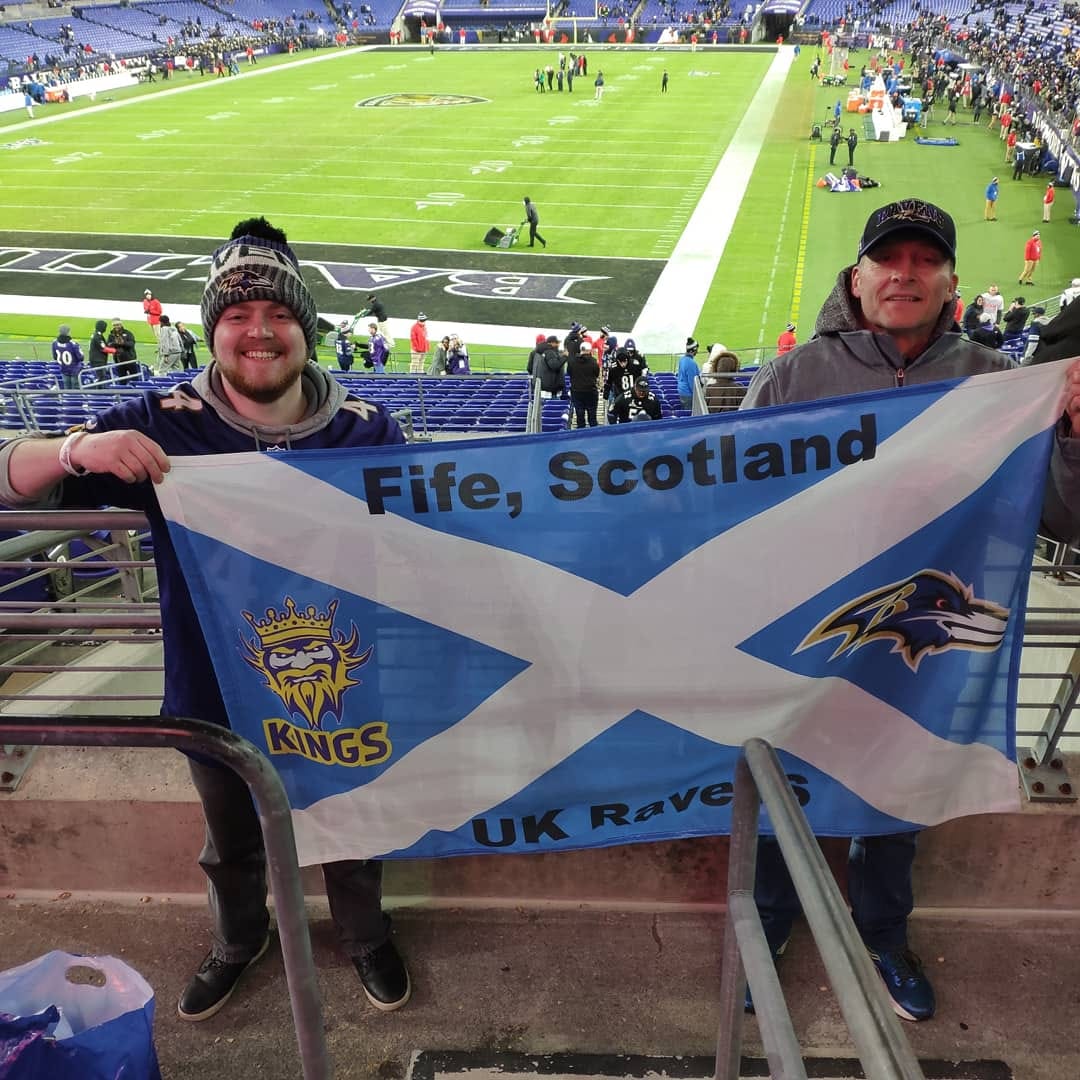 [Related Article: What Did We Learn About The Ravens?]
Daniel Murphy: Traveling from Scotland for that Sunday night game Vs the Patriots was worth every penny. Me and my flag will be back again someday!!
Ernesto Mendez: Repping Purple in Berlin, Germany
Scott Hoffman: I was in Boston on business a few years ago and Googled "Ravens bars near me" not really expecting any results. I landed on the FB page of Ravens Nation North – Boston, MA and was BLOWN AWAY at the decor (it could be almost any establishment in Federal Hill or off of Boston Street) and especially the number of Ravens fans in the place.
Jennifer Egan Siler: We're lucky in Tampa/St Pete with a strong Ravens Roost and a few options for Ravens bars where we get audio feed with the game. I'm in Iceland this weekend and researching which bars had the Sunday ticket was first and foremost on my trip here! We will be watching tomorrow 💜🏈💜🏈
Bob Prater: We moved to Lakewood ranch outside Sarasota. If the games aren't national, we go to geckos which is a Ravens bar not too far away. Plus, we are rocking our ravens golf cart in our neighborhood.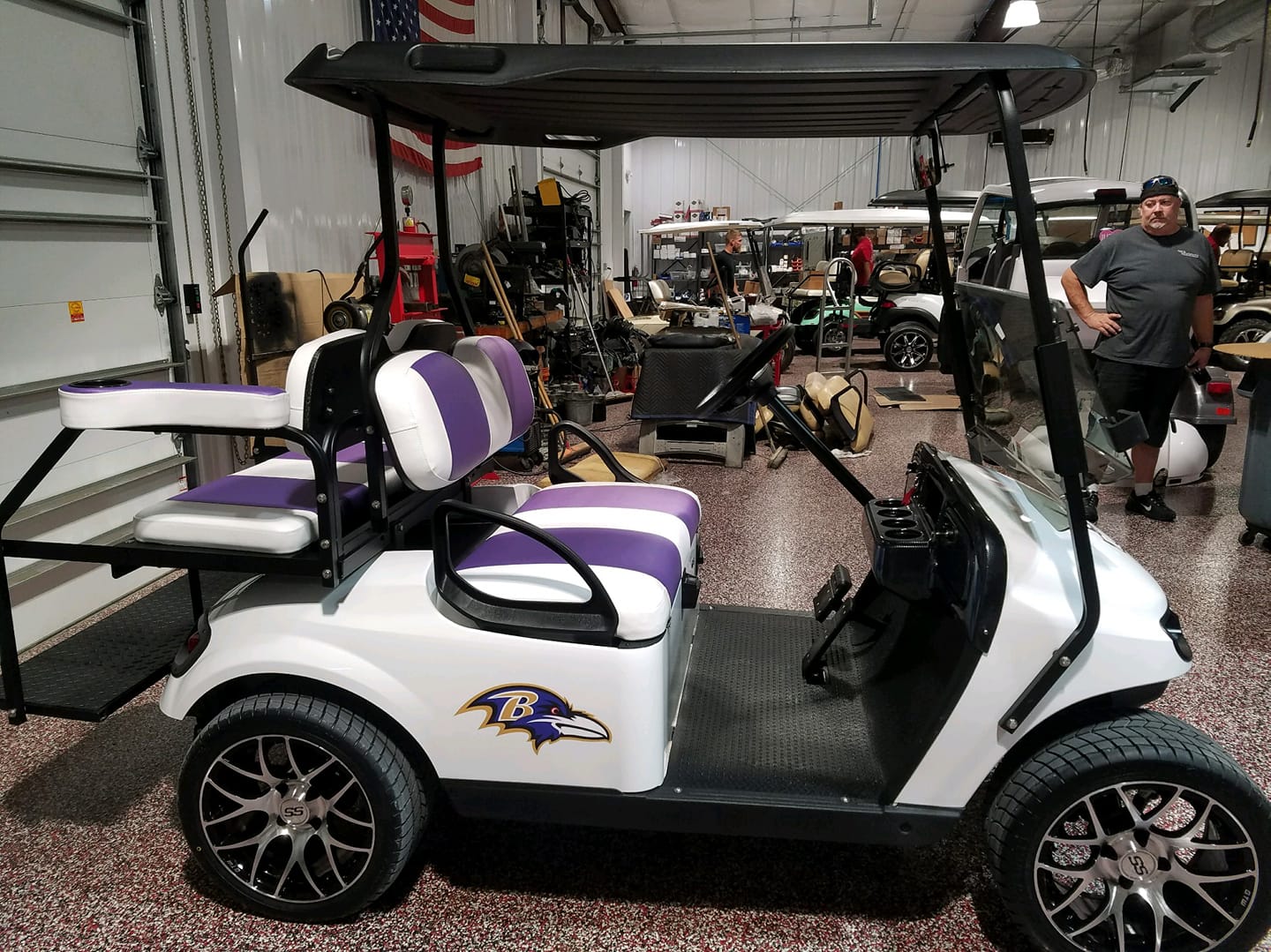 Amy Bedell: I am a DP fan in the middle Patriots territory. I have had snide remarks, rude messages after games, and people trying to "convert" me. I started watching football in 2002 and just fell in love with Ravens defense. Visited the city in 2007 and it just cemented it for me.
Micheal Mac An TSagart: In Ireland and pay for Gamepass to watch Ravens games, then they black it out when it's on Sky Sports 😭
Lisa Schaffner: I am a Flocker who grew up in New Hampshire and who, since living in Baltimore from 2000 until 2006, has lived in Portland, Oregon; Cleveland, Ohio and now Pittsburgh, Pennsylvania. We've always Sunday ticket and a Ravens flag flying proudly over our deck or front porch. I'm a proud diehard Ravens fan!
Thank you RavensFlock!