In Baltimore, We Go for It on 4th Down
Print this article
The Coordinators is a two-part weekly recap of the Ravens offensive scheme brought to you through a collaborative effort by:
One of the primary storylines around the Ravens' dominance on offense has been the use of analytics and their ability to convert on 4th down.
Analytics has always been a tricky subject in sports culture. On one hand, statistics are relevant and can help you make decisions. On the other, there are intangibles and gut feelings that analytics don't measure.
The new school seems to say you trust your analytics, while the old school says "you don't score a touchdown with an 'analytic.'"
Nevertheless, what the Ravens are doing on 4th down is truly remarkable. Today The Coordinators are going to jump into not only how successful they've been, but also how exactly they're going about this success with their playcalling.
4th Down Statistics across the 2019 Season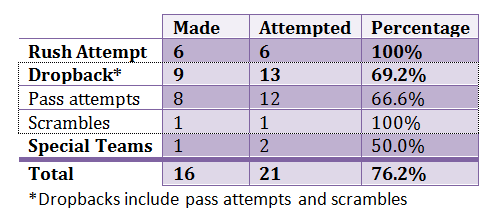 The Ravens are currently the top-ranked team in 4th down conversions in the NFL at 76.2%. That's almost a full 10% ahead of the 2nd highest conversion rate, with the Denver Broncos and Atlanta Falcons coming in 66.7%. This is even more impressive when you consider they they are tied for the 3rd most 4th down attempts in the league with 21. The Dolphins and Giants have both attempted 27, while the Bengals have attempted 23 (interestingly, those teams have done it because they spend so much time trailing, while the Ravens obviously do not). 
The most interesting takeaway from the play calling on 4th down has been the heavy dose of dropbacks called. The Ravens have leaned heavily on their power run game and in situations where the team is looking at 4th and 4 or less, they've had no issues mixing it up.
The other standout is that only one of the dropbacks on 4th down has resulted in a scramble. With Lamar Jackson's skillset, you might expect him to drop back and find a running lane to exploit, but it really speaks to his ability to go through his progressions and shows that he considers himself a pocket passer.
Called Run Plays
Let's take a look at the play choice on 4th down run calls.
It's no question that in a big moment the Ravens priority is to put the ball in the hands of #8 and it's hard to blame them. The QB power, in particular has been an effective go-to, leading to the big touchdown in Seattle.
Lamar Jackson takes it himself on 4th and 2!@Ravens take the lead in Seattle. #BALvsSEA @lj_era8

📺: FOX
📱: NFL app // Yahoo Sports app
Watch free on mobile: https://t.co/wAXJCleXiU pic.twitter.com/VWrCYdQiO3

— NFL (@NFL) October 20, 2019
One thing to consider about the QB power is that it actually got off to a slow start in terms of being a go-to play in a big moment. Rewind back to the Kansas City game and it was the play call on the Ravens' two-point conversion after their first touchdown. It got swallowed up and left the Ravens at six points. If you recall, this was the play that sparked the analytics discussion among fans and media. KC committed a penalty, moving the ball from the two to the one, and pushing Harbaugh to go for the two points.
One of the key notes is that the Ravens only opted to run on 4th down when there were one or two yards to go. This isn't entirely surprising, especially when two of the six were QB sneaks. It is interesting though, the two runs that were not Lamar Jackson runs were both carried by Gus Edwards. Given his pedal down, hammer mentality, it does make a lot of sense to trust him with those yards.
Called Dropback Plays
When we take a look at the dropbacks, we can use a plot chart, created by fellow Coordinator, Josh (@Yoshi2052) to show where Lamar's passes are going.
Note: These are Lamar's pass attempts on 4th down only. The discrepancy in the numbers is because RGIII is 1/1 on 4th down, when he threw a TD to Mark Andrews against Miami on 4th and 3 in the 4th quarter.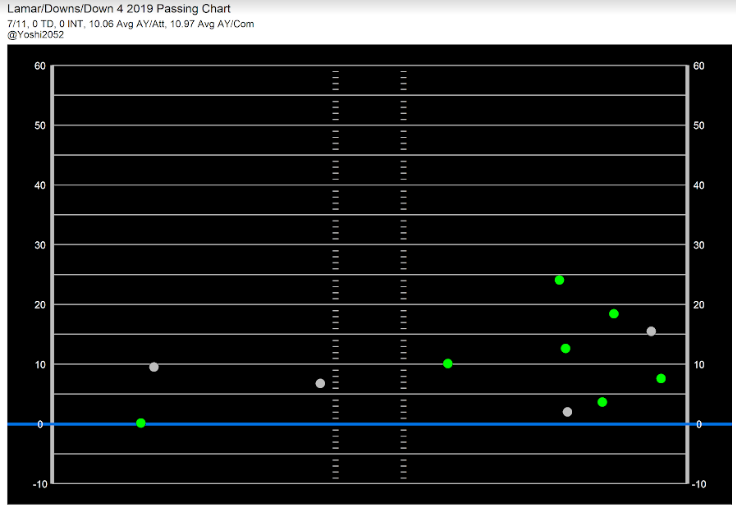 That is a very impressive resume. In particular, Lamar has four of his completions going for 10 or more air yards, despite the fact that none of the fourth-down attempts have required more than five yards to convert.
I personally really like this approach in terms of designing and executing plays. It's easy for defenders to sit on the 1st down marker. Instead, the Ravens push the ball down the field in these scenarios to keep the defense off kilter.
So who's catching the ball on these conversions?

To nobody's surprise, Mark Andrews paces the group in targets and catches. However, one thing to note is Hayden Hurst's impact. His catch rate through 14 games is 79.4%, so it makes sense that he's a nice safety blanket on 4th down.
It's also encouraging for Jackson's development to see the ball spread. You can run into issues where young quarterbacks (heck, even veteran quarterbacks) will stare down their favorite option in big-moment plays, but the tape and the numbers show that Lamar simply goes through his progressions. Of course, 1st read on most plays will be Brown and Andrews, but Jackson trusts his guys enough to go through the progressions and find the open man.
Wrap Up
The numbers back up the Ravens' aggressive approach on 4th down. Their play-calling is also very encouraging if you're analyzing an offense. The Ravens offense is equipped to beat you in a variety of ways and defenses know it.
The number of dropbacks is very encouraging for getting plays on film as well. When the Ravens line up, you naturally will expect a run given what the strength of their unit is, but just when you gear up and put your defenders in the box, Lamar drops back and finds someone over the middle…or according to the graphic, over to the right.
Ravens fans are going to be treated to a lot more of this moving forward:
On a 4th and 1, the Ravens punt team was coming on the field.

Lamar Jackson told them to go back to the sideline.

They then converted the first down with a 36-yard play.
(via @thecheckdown) pic.twitter.com/9EX1kl0exz

— FOX Sports: NFL (@NFLonFOX) December 13, 2019
And John Harbaugh has proven he wants that smoke:
"Hell yeah, Coach, let's go for it!"@Lj_era8 was all-in on 4th down 😤

(via @Ravens) pic.twitter.com/cKDzpCNMpz

— Bleacher Report (@BleacherReport) October 21, 2019
In Baltimore, we go for it.