2020 NFL Draft: Ravens Team needs
Print this article
Lamar Jackson and the Baltimore Ravens have given fans an early Christmas present, in the form of meaningless Week 17 football combined with a first-round bye.
As such, I'm going to take this opportunity to discuss team needs in the upcoming draft. More than a few Ravens fans have told me that I shouldn't be looking to the draft yet, since the postseason is still ahead of us. To them, I say: commence draft season.
I love the draft, guys. It's honestly my favorite time of the football year, regardless of how well the team has done. Something about watching kids who play for their lives, unfairly judging them, and then trolling fans of teams that make 'bad' picks…it just warms my heart.
Moving on. The Baltimore Ravens look like the best team in the NFL. That being said, they are not without their faults, and have some holes that need to be filled. Some of them will be filled through NFL Free Agency, but all smart football fans know that the great teams are built through the draft – as evidenced by the nine Ravens-drafted players included in their record-tying twelve Pro Bowlers this year.
In this article, I'll take a look at which holes I think are the biggest, and throw around some names that I think could fill those holes to some extent.
Let's begin!

The Biggest Hole: EDGE/Pass Rush
Matt Judon has played himself into a Za'Darius Smith-like contract this year and is likely to be franchise tagged by the Ravens if they can't reach a deal, because they simply cannot let him walk away. Behind him, they have Jaylon Ferguson, who is growing as a player each week, and Tyus Bowser, who has unfortunately reached a much lower ceiling than originally predicted. (Pernell McPhee is on IR. Who knows if they bring him back for 2020.)
Long story short, they need help. The Ravens have blitzed right around 50% of the time and still aren't getting consistent pressure (at least in the form of sacks). While they have a very good secondary that can cover for long periods of time, the unreliable rush creates inconsistent play on the backend sometimes. 
Getting a K'Lavon Chaisson (LSU), Terrell Lewis (Alabama), or Yetur Gross-Matos (Penn State) early in the draft would bolster the pass rush immediately. However, knowing that the Ravens have been great at developing linebackers, they could opt to target guys later in the draft. Some middle-round names that I would look at include: Jabari Zuniga of the Florida Gators, Khalid Kareem (Fighting Irish), and Alton Robinson (Syracuse).
Shoring up the pass rush would not only help the defensive front, it would help the secondary as well, transforming their play from 'great' to 'elite'.
Next Man Up: Inside Linebacker
Pass rush doesn't only come from the edge, and a lot of teams like to run inside, so naturally you'll want to make sure the inside linebacker talent is on par with those outside. Josh Bynes and L.J. Fort have played well since being signed off the street, but the top end of this draft class is stacked with talent.
Imagine Kenneth Murray in Wink's 1ILB sets. Dylan Moses smacking James Connor in the mouth. Imagine a perfect world, where Isaiah Simmons falls to Baltimore, much like Derwin James did in 2018 (even though they didn't take him – knife twist). 
Chris Board was supposedly ILB1 in the preseason – he's now a special teams stalwart. Patrick Onwuasor has made leaps and bounds, but he's a WILL at heart. Any of the three guys I just named would make good-to-great MIKE linebackers, both in the run game and creating pressure.
Don't want an ILB with the first pick? Fine, go with Zach Baun out of Wisconsin, or take a Troy Dye (Oregon) in the fourth. Jordyn Brooks out of Texas Tech could be an immediate impact player, and he likely costs you a late third. 
Like I said earlier, the top end of this class is where the long-term players are. Wink's scheme isn't heavily dependent on an inside linebacker being elite, but if you can add an elite player, especially for a team picking very late in the draft? Valuation be damned, you do it.
A Sneaky Need: Cornerback
'But Chibs, you just said that the secondary was great!'
You are correct. They are. However.
Marcus Peters is in a contract year, though I'd expect him to be re-signed. Tavon Young is under contract, but needs to stay healthy. Jimmy Smith's contract is up, and he won't be back unless it's on a team-friendly deal. Brandon Carr is a cut candidate. Anthony Averett isn't who I thought he'd be. Iman Marshall has yet to see the field. 
And above all, you absolutely draft a cornerback every single year.
In 19-of-27 mock drafts I did, between The Draft Network and First-Pick, Ohio State's Jeffrey Okudah fell to the Ravens at 32. I'm not saying that they would absolutely take him if that happened, but they absolutely should if it happened. Trevon Diggs (Alabama, and brother of that Diggs) is also very enticing in R1/2. Paulson Adebo (Stanford) could likely be had in the second, and would be huge value if he fell that far. 
However, this cornerback class is absolutely stacked, so if an early corner isn't your thing? How about AJ Terrell out of Clemson in the fourth? Bryce Hall (Virginia) in the fifth (I assume he falls because of injury, and speed concerns). Or my personal favorite: Nebraska's Lamar Jackson (wouldn't that be something?) in the sixth (he'll fall because he's a corner who's the size of a safety, so he doesn't necessarily have a home at the next level).
As an added argument for my point: they need to find a backup slot corner. Marlon Humphrey has played admirably given his complete lack of experience at the position, but in case Tavon Young can't stay healthy in 2020, they should probably have a guy with the prerequisites to play the position well.
Let's Get Offensive: Linemen
The Baltimore offensive line has been one of the best in football in 2019.
However, Marshal Yanda is getting up there in age, and could very well decide to go out on top should the Ravens hoist the Lombardi in just over a month's time. Left Guard is still shaky. Matt Skura played very well up until he got injured, but you're not going to tell me that you wouldn't immediately replace him with Tyler Biadasz if given the opportunity.
It's not necessarily the big need that a lot of us thought it would be. But with the run-heavy offense that the Ravens are employing in 2019, and likely to employ as long as Lamar Jackson (the QB, not the CB) is there, upgrades along the line are always welcome.
Some names to watch (early and late): Solomon Kindley (UGA), Shane Lemieux (Oregon), Trey Smith of the Tennesee Volunteers can also play tackle, relieving Baltimore of the need to keep James Hurst, Ben Bredeson (Michigan), and Logan Stenberg out of Kentucky.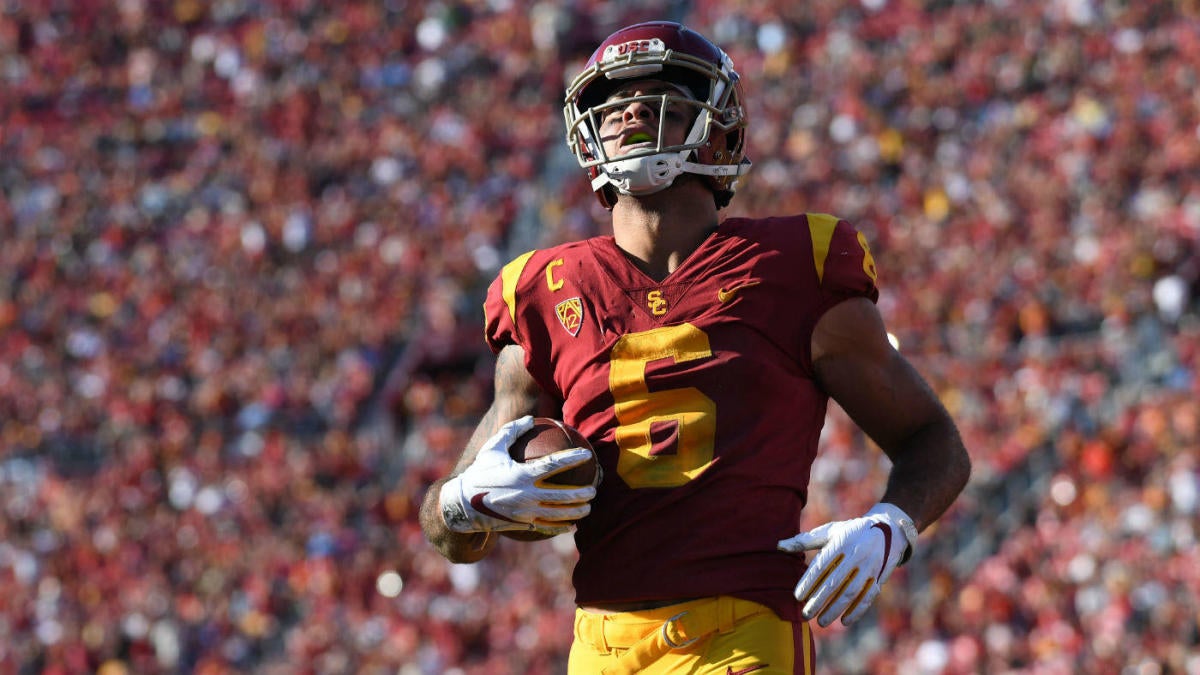 Pass-Catchers that aren't Tight Ends
Listen, Marquise Brown is blossoming into a complete receiver, not just the deep threat that everybody had him labeled as. Miles Boykin has made some appearances. Willie Snead is ol' reliable underneath. Seth Roberts is Willie Snead lite. 
However, the Ravens are still lacking a big, explosive outside threat. I wouldn't advocate taking a wideout in the first round unless CeeDee Lamb (Oklahoma) or Tee Higgins (Clemson) is there for the taking. But if USC prospect Michael Pittman, Jr. is available in the fourth? Sign me up. Laviska Shenault, Jr. from Colorado in the late second? Give it to me. Brandon Ayiuk (ASU) makes sense in the third.
I'm not against a late-round flier on a wideout either, since the Ravens actually have weapons for once. If a late-round guy is your thing, check out 6'6″, 220lb Collin Johnson of the Longhorns, or Denzel Mims out of Baylor. Like the cornerback class, the wide receiver class is extremely deep, and if you could get a Nico Collins (Michigan) in the sixth, you'd feel good about it. 
Luxury Pick: Running Back
Mark Ingram has had a career year. Gus Edwards is his normal bulldozing self. Justice Hill is rounding into a weapon. So why do the Ravens want another running back?
Ohio State – JK Dobbins, Proj. Rd. 2.
ASU – Eno Benjamin, Proj. Rd. 4.
Boston College – AJ Dillon, Proj. Rd. 6.
Arizona – JJ Taylor, Proj. Rd. 5.
That's why. 
I'm not advocating for them to take a running back early. I'm not necessarily advocating for them to take a running back at all. But Ingram, as great as he's been in 2019, is 30 years old. In a fairly deep running back class, maybe they decide to look for the 'next man up' sooner rather than later.
In Closing
There are other directions that the Ravens could go, namely iDL. Quarterback is off of the table, as are LS, K, P, and TE. So, I'd expect the Ravens to double-dip into at least one of the positions I named – likely EDGE. 
Are there any prospects you'd like to see a breakdown of, this off-season? Come find me on Twitter, or sound off in the comments!
To all of the followers, friends, co-workers, trolls, and long-time-readers-first-time-commentors, happy holidays, from me and mine to you and yours.