Ravens Top-10 Of The Decade
Print this article
Yesterday, we brought you our Bottom-10 of the Decade for the Ravens. 
While that was quite a trip down memory lane, 24 hours has been entirely too long to dwell on that negativity, and in order to ensure Ravens fans go into 2020 on a high note, we're now ready to look back at the ten biggest Ravens moments of the past decade (2010-2019). 
While I legitimately feel you could fill seven or eight of those slots with ankle breaking moves by Lamar Jackson over the past two seasons, we'll try to space it out over the entire decade (I can think of one immaculate stretch of games that's sure to qualify here).
Alright Flockers! Let's do this!
10. Torrey's Inspirational Performance (2012)
This moment isn't necessarily about the game (one the Ravens won 31-30 over the Patriots), or the stat sheet; it's about a family surrounding one of their own after a tragic loss. Less than 24 hours before the Ravens were to kick off against the New England Patriots in a Week 3 rematch of the 2011 AFC Championship Game, Torrey Smith received a devastating phone call – his younger brother, Tevin Jones, lost his life in a motorcycle accident. I cannot imagine the hurt Torrey felt in that moment, but having his family on the field lift him up – from the support of his coaches, to the prayers and love felt from his teammates – Torrey opted to take the field Sunday night against New England, in what became one of the most emotional games I've ever witnessed.
Torrey lit up the score sheet with six receptions, 127 yards and two touchdowns, the second of which cut the Ravens' deficit from nine to two, and put the Ravens in prime position for a two-minute drill and a game-winning field goal. The pure emotion and passion in this game was felt by all – including the fans in the stands chanting Torrey's name throughout the game – and I'll never forget it. 
9. Pummeling Pittsburgh (2011)
So this 35-7 victory was great on three levels, which is why it ends up in our Top-10 of the decade:
For starters, it's always fantastic to beat Pittsburgh, but for the Ravens to do it on the home opener of the 2011 season, and to do it in such a skull-drag way? *chefs kiss*
Then there was ol' Rashard Mendenhall… remember him? Do you by chance remember Mendenhall, in May of 2011, publicly proclaiming that… yanno what? I won't paraphrase – here's the words from his deleted tweets in regards to Osama bin Laden & 9/11:
"What kind of person celebrates death? It's amazing how people can HATE a man they have never heard speak. We have only heard one side…"

"We'll never know what really happened. I just have a hard time believing a plane could take a skyscraper down demolition style."
WOW. So for this 9/11 conspiracy theorist to be held to 45 yards on 12 carries with two fumbles, as his team got manhandled on September 11th was, once again *chef kiss*
I said three levels, right? So check this (thanks to Zach Friedman):
Worth noting too that the 35-7 Steelers win in 2011 was the beginning of the Seven Nation Army chant at home games. Don't think it's ever been as booming as in that game either.

— Zach Friedman (@ZachFriedman) December 27, 2019
8. Smitty Stiff-Arms Pac Man (2014)
We don't have to talk about the final score of this one, but one play in this game lives in infamy for the Ravens franchise.
Down 15-10 with six minutes left in the game, and pinned in a 3rd and 14 back on their own 20, Joe Flacco hit Steve Smith Sr. who took off down the sidelines, where Adam 'Pac Man' Jones caught up to the veteran wideout. And then… well, this happened:
Did we mention this was Smitty's Ravens debut? Six receptions, 118 yards and that monster stiff arm/touchdown remains a top moment of the decade for Baltimore.
7. Punishing the Pats in the Wild Card (2010)
While this moment was *technically* part of the 2009 season, the game took place January 10th, 2010 so we're putting this momentous game into the decade for sure. 
The 9-7 Wild Card Ravens headed north to Foxboro to take on the 10-6 AFC East Champion New England Patriots. Everybody knows what type of environment you're heading into when you go to Foxboro in January, and the vast majority of pundits had picked the Ravens to lose this Wild Card game…
Seventeen seconds into the game, Ray Rice was celebrating in the end zone and Baltimore never looked back. The Patriots went on to turn the ball over three straight times, with Baltimore capitalizing each and every time to the tune of a 24-0 lead, en route to a 33-14 victory that not only moved the Ravens into the next round of the playoffs, but also marked Baltimore's first victory ever against the Patriots franchise.
Oh, and one more special moment here: 14-year-old Matthew Costello called the first play of this game, in what was a wild, and inspiring story.
6. Sizzle Knee INT (2015)
I loved this play and it remains my defensive equivalent to an OBJ one-handed grab-type play. 
In the 2014 Wild Card round, the Ravens were hosted by the Pittsburgh Steelers at Heinz Field. With Baltimore up 23-15 halfway through the 4th quarter, Ben Roethlisberger had dropped back on a 3rd and 4, and apparently missed his target because Sizzle did this:
The Ravens went on to win the game 30-17 after a Flacco touchdown pass extended the lead right after that Sizzle pick. The few towels that found their way to Baltimore instantly became tissues for Yinz tears.
5. 2019 Ravens Offense (2019)
You can put this higher, but numbers 2-5 for me are all relatively interchangeable. 
Every aspect of this Ravens offense in 2019 has been masterful, dominating, and record-setting. The Ravens set the NFL regular season rushing record (3,296 yards), became the only NFL team to average 200+ rushing and passing yards on the season, and oh by the way, led the NFL in the following categories: Points (531), 1st Downs (386), Passing Touchdowns (37), Rushing Yards (3,296), Yards Per Carry (5.5), Scoring Percentage (51.8% of offensive drives), Average Drive Time (3:21), Average Plays Per Drive (6.58) and Average Points Per Drive (2.95).
WOW.
Then there's Lamar Jackson.
He broke the Ravens record for most passing touchdowns in a season (36), broke the NFL QB rushing record (1,206 yards), was a 5-time NFL Offensive Player of the Week, and is primed to run away with the 2019 NFL MVP award. 
But what I love the most for Lamar is the progress across the board: he improved his completion percentage by 8% from 2018 to 2019, only took six more sacks in more than double the amount of starts that he had last season (seven versus 15 starts), and drastically decreased his fumbles & interception rate. He's improved markedly in every facet of his game, and as long as he's under center? The ceiling for this Ravens offense is unimaginable. 
4. Hey Diddle Diddle, Ray Rice Up The Middle (2012)
Nobody likes to be in a 4th & 29 scenario – especially not down 13-10 with less than 2 minutes to go in a game… on the road.
And yet, there the Ravens were, with all of Joe Flacco's deep targets covered up and only one option: Ray Rice on a dump off. 
Don't pretend you didn't yell at the screen "WHAT THE HELL, JOE?!" But it only took some quick feet by Rice & a crucial, crushing block by Anquan Boldin, to spring Rice for the first down that led to a game-tying field goal, en route to a 16-13 victory in the most crucial season by the Ravens of the decade (I swear, it's coming!).
3. Mile High Miracle (2013)

Yep. This play gets its own number in the countdown. 
Why?
Because it stands on it's own as amazing moment that lives in infamy. That's why! But let's set the scene: Ravens down 28-35 in the Divisional Round against the Broncos. 3rd & 3 from their own 30, with only 41 seconds left in the game. And then? There was this:
Flacco completed the most miraculous pass in franchise history, Jacoby Jones became immortalized as a Ravens icon, Justin Tucker went on to win the game in Overtime 38-35, and John Elway cried all the horse tears in the world…
2. Drafting Lamar Jackson (2018)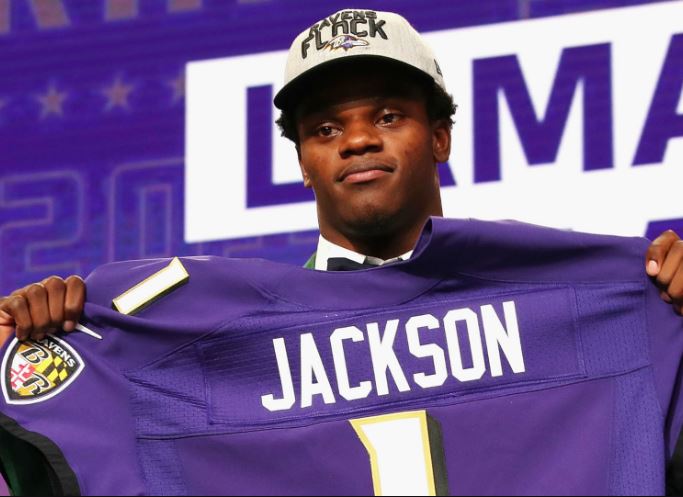 It may be 'recency bias' but I truly believe that drafting Lamar Jackson is the 2nd most monumental moment for the Ravens in the past decade. 
Fans in Baltimore had become restless with a stagnancy and complacency from a Ravens franchise that annually ran out teams in that 9-7 down to 7-9 range, with draft classes chock full of 'safe' picks that never panned out, and mediocrity becoming the new norm. The franchise needed a shake up badly, and many eyes were on the quarterback position, where Joe Flacco post-ACL just seemed like a different player.
Enter the 2018 draft, and the beginning of major changes in Baltimore. 
The Ravens moved down from their original slotted pick, and ended up taking Hayden Hurst… a pick that received mixed reviews. But just when Ravens fans thought their night was done, the Ravens made one more move…trading back into Round One (thank you, Philadelphia Eagles), and drafting quarterback Lamar Jackson. 
Despite how you may have felt about the pick in the heat of that moment (Lord knows 2018 showed us a fan base divided), I'd be willing to bet today you look back on that very moment and realize how monumental that moment has proven, and will continue to prove for this franchise in the long run.
1. Super Bowl Run (2012-13)

I'll be honest… if you didn't see this coming, then you're a dang fool!
I know, we already threw the Mile High Miracle out there, but it truly stands alone as a major event in Ravens history, regardless of whether or not the Ravens went on to win the Super Bowl that season. 
However, the Super Bowl run in it's entirety truly deserves the top spot in our Top-10 Ravens moments of the decade. 
I don't even know where to start with this one, because every moment was special for our franchise. Just think about it:
Wild Card Round: Exorcising the demons of a Colts franchise that once belonged to Baltimore, with a 24-9 victory.
Divisional Round: Throwing a Mile High Miracle right in the horse face of John Elway's team.
Conference Championship: dismantling the Patriots and holding Brady to 29 of 54 and two turnovers with 21 unanswered Ravens points in the second half.
Super Bowl: the Blackout shifting momentum, but the Ravens never faltering en route to a 34-31 victory.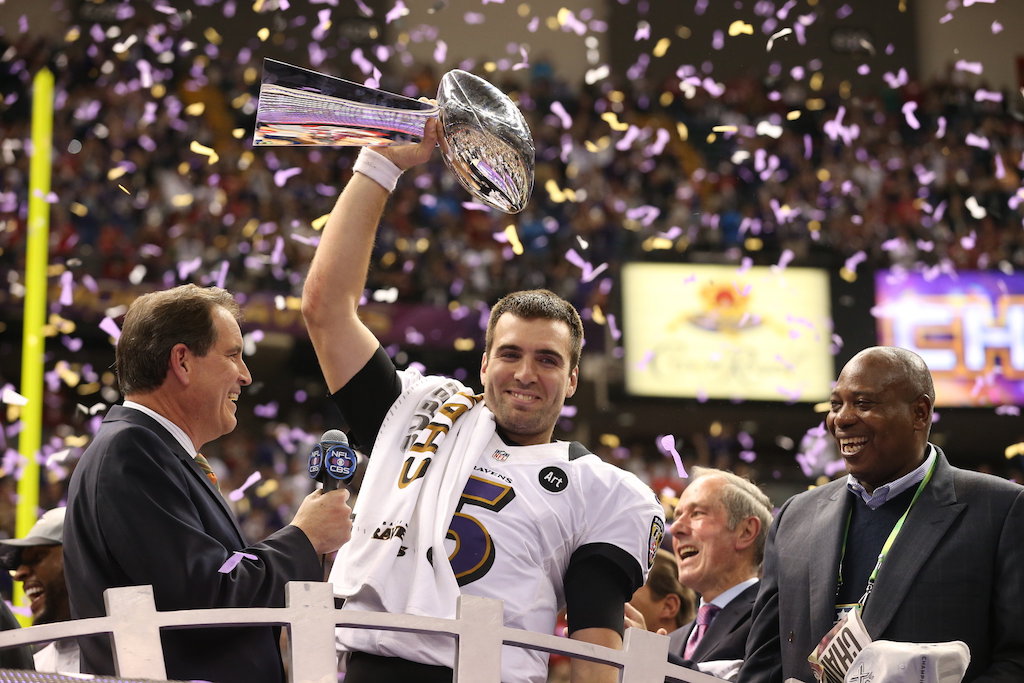 Let's also throw in Joe Flacco's epic post-season run of 11 touchdown passes to 0 interceptions, Ray Lewis' final ride into the sunset and the infamous Ed Reed rendition of Eddie Money's "Two Tickets To Paradise" and this moment, without a doubt, was the pinnacle of the Ravens last decade. 
…
Here's to an equally amazing 2020 and beyond, starting with another historic run in January, Flockers!