Any Given Sunday (or Saturday)
Print this article
Why The Ravens Will Defeat The Titans
By Rob Palma
The Fear
The Ravens can lose on any given Sunday (or this Saturday). The offense can come out of the bye playing out of sync football. Freak injuries can happen to anyone. Dean Pees can rejuvenate and improve his anti-Greg Roman Super Bowl XLVII defense. The Titans are the "hot team" after all. However, despite all of those "could be" scenarios, and despite the fact that I'm nervous for every Ravens game because it's in my nature, here is why I think the Ravens will win their divisional game against the Titans and progress to the AFC Championship.
[Related Article: Titans Are Familiar Playoff Foes]
The Counter Argument
It is often mentioned whether or not a bye week is beneficial because it can allow a team to lose momentum. Although this may be true for some teams, the Ravens under John Harbaugh have historically been great after any period of extended rest, be it the bye week, the mini bye following TNF, or after the summer to open the season.
While some teams rely on momentum, when it comes to Baltimore, I'll take the extra week of preparation for Harbaugh and Co. Not to mention they've already self- admittedly spent more time looking at the Titans as they were only one of the possible opponents they hadn't faced. Furthermore, the Titans are heading into their third road game in a row. They finished the regular season traveling to Houston, then had to travel to New England six days later to play a physical game where they only put up 14 points of offense, and now they travel to M&T Bank.
Meanwhile, the Ravens Defense is going to be oh so fresh and energized. I'll take the rested defensive line over the offensive line playing their third road game in a row. Sidebar – An interesting defense that I would like to see would be a 4-4 front with Williams, Ellis, Peko and Pierce inside, Ferguson and Judon on the edges, Clark playing ILB next to Bynes, Thomas and Carr at safety, and All-Pros Marlon Humphrey and Marcus Peters at corner. If our rested defensive line can win at the point of attack and they can shut down Henry, I trust Wink to dial up the right play calls against a one-dimensional Ryan Tannehill.
The Cold Hard Facts
According to NFL.com, Tennessee finished 21st in total defense allowing 20.7 PPG and 359.5 YPG. They finished 24th against the pass and 12th against the run. Not only are these numbers far short of spectacular, but a closer look at the numbers reveals an even better matchup for Baltimore. Despite the Ravens run-heavy offense, they have actually struggled more against teams with better pass defense such as SF, BUF, KC, PIT, and CLE, who all rank in the top 10 in pass defense, according to NFL.com. This is most likely because talented secondaries allow for more flexibility with the front seven against the run or because teams can take advantage of the Ravens in 3rd and long scenarios.
As for Tennessee's 12th ranked run defense, they have not played a rushing offense like the Baltimore Ravens because this ain't your Jamal Lewis Ravens run game. New England and Houston each had top five run defenses before they played Baltimore and that didn't work out so well for them. That's because this run game is so unique with its concepts and motions. Not to mention the fact that the Titans have never played Lamar Jackson before, and adjusting to his speed and heroics in and of itself is a challenge for any defense. I believe that with the Ravens offense's extra time to prepare combined with the talent level of an exhausted Tennessee defense, Baltimore should be able to move the ball effectively and score points on the Titans. And if that is the case, things should fall into place on the other side of the ball.
There is no denying the fact that the Ravens have struggled to stop the run at times this year, and in fact lost them games against KC and, even more so, Cleveland. However, despite this occasional chink in the armor (the other being the lack of pass rush), the Ravens have done a lot to solve the problem. For starters, as we saw with the rematch against the Browns, this is a different defense than the one that started the year. Since those two dark weeks, the inside linebacking corps has gone from Onwuasor and Kenny Young to LJ Fort and Bynes. Peko and Ellis have been added to double the depth at interior defensive line. Jimmy Smith is back to replace Anthony Averett and Marcus Peters now plays instead of Maurice Canady. And quite frankly, Chuck Clark's knowledge of the defense makes him an upgrade over Tony Jefferson.
The Ravens also like to run a ton of Nickel and Dime packages (broken down well by this blog), which are personnel groupings that will always be more vulnerable against the run. But with the Tennessee Titans, if you stop Derrick Henry, you stop their offense. I expect Wink to game plan accordingly with the right personnel groups to shut down Henry first and foremost. And if the Ravens offense performs the way I predict, the Defense will only need to focus on Henry for a few quarters before Tennessee is forced to start throwing the ball to play catch up.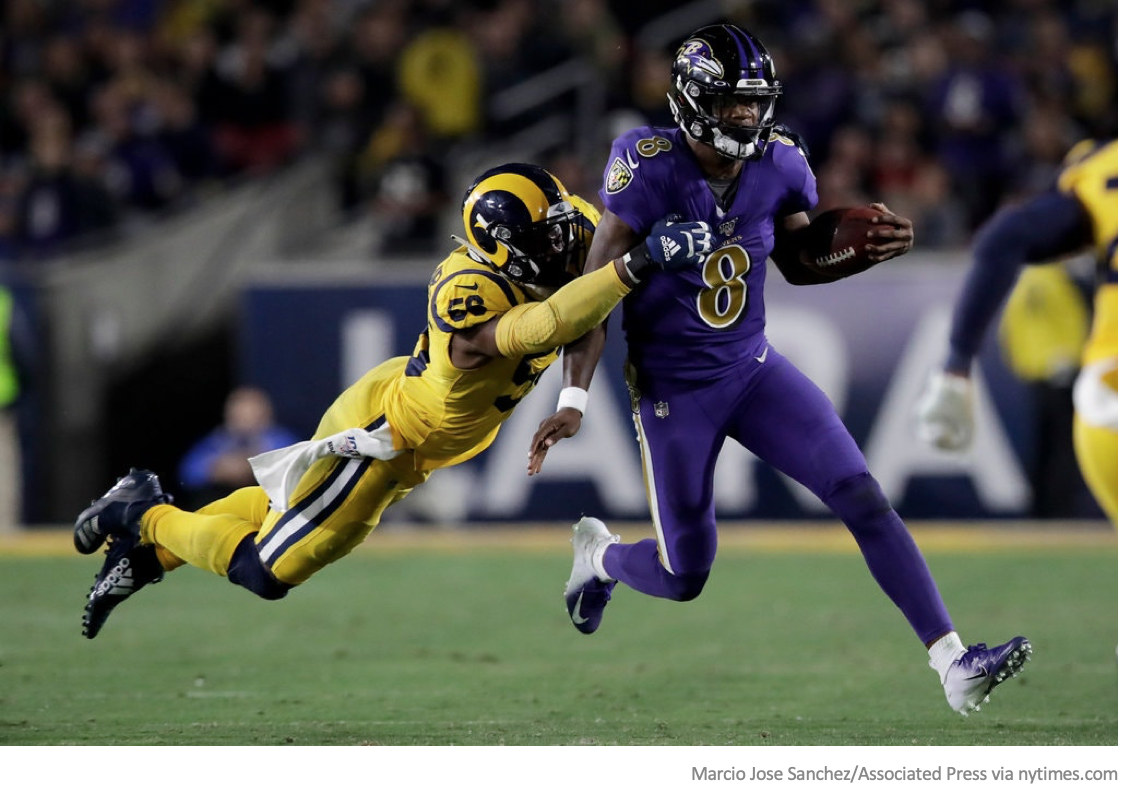 The Perspective
As I mentioned, it's in my nature to worry about this game until it's over. Any given Sunday. But I hope when that moment comes, I'm screaming in celebration after enjoying a few too many beers… THAT SAID, even when I put my emotions aside, my logic and knowledge of this team tells me the Baltimore Ravens are going to defeat the Tennessee Titans this Saturday night. CAW!
Score Prediction
Ravens 27, Titans 16