Print this article
UPDATED: February 12, 2020
The 2019 season ended far too soon for the Ravens, when what appeared to be a magical run to a Super Bowl championship came to a grinding halt at the hands of the Tennessee Titans and RB Derrick Henry. Now, comes an offseason that is beginning too early, but that for the first time in years, comes with an optimistic Salary Cap picture. 
There is still plenty of work to do, but with a young roster and the soon-to-be MVP at the helm, there are certainly plenty of reasons for optimism.
PLAYERS UNDER CONTRACT
The Ravens currently have the following 51 players under contract for 2020 (with Cap Numbers indicated):
QBs (3):  Lamar Jackson ($2.583M); Robert Griffin, III ($2.5M): Trace McSorley ($625K)
RBs (2):  Mark Ingram ($5.333M); Justice Hill ($770K)
FBs (1):  Patrick Ricard ($5.633M)
WRs (6):  Willie Snead ($5.412M); Marquise Brown ($2.679M); Miles Boykin ($865K); Jaleel Scott ($805K); Sean Modster ($510K); Antoine Wesley ($510K)
TE (4):   Nick Boyle ($6.833M); Hayden Hurst ($3.009M); Mark Andrews ($925K); Charles Scarff ($510K)
OL (10):  Ronnie Stanley ($12.866M); Marshal Yanda ($11M); James Hurst ($5.25M); Orlando Brown ($935K); Ben Powers ($759K); Bradley Bozeman ($689K); OT Andre Smith ($685K); G Will Holden ($660K); C/G Patrick Mekari ($588K): RJ Prince ($510K)
DL (4):  Brandon Williams ($14.17M); Chris Wormley ($2.372M); DE Ufomba Kamalu ($660K); Daylon Mack ($660K); 
LBs (7):  LJ Fort ($3.25M); Tyus Bowser ($1.774M); Jaylon Ferguson ($884K); CJ Board ($661K); Otaro Alaka ($588K); Aaron Adeoye ($510K); Michael Onuoha ($510K)
CBs (7):  Marcus Peters ($15M); Tavon Young ($8M); Brandon Carr ($7M); Marlon Humphrey ($3.769M); Anthony Averett ($825K); Iman Marshall ($754K); Terrell Bonds ($510K)
S (4):  Earl Thomas ($15M); Tony Jefferson ($11.657M); Chuck Clark ($3.419M); Deshon Elliott ($699K)
ST (3):  Justin Tucker ($5.1M); Sam Koch ($3.25M); Morgan Cox ($1.24M);
The above 51 players are under contract for a total Rule of 51 Salary Cap commitment (which includes dead money from players no longer on the team) of $176,022,344. See full Cap Spreadsheet HERE. 
Initial projections indicate that the 2020 Salary Cap is expected to see roughly the same increase in the Cap as in recent years, jumping the Cap up to somewhere between $197-201M (up from this year's $188.2M Cap). These initial projections by the NFL Management Council have historically been on the lower end, so the Cap may well be on the high end of that range. For the purposes of this projection, though, we will use the upper end of that range – $200M – for our projection and hope that this will provide the lower end of the Ravens Cap prospects.
So, using the figure of $200M for the estimated Cap, the Ravens will initially have around $23,977,656 in Cap space, accounting for the 51 players presently under contract. 
This will be the basis for early reports on the status of the Ravens' Salary Cap, and sounds great, but it's important to keep in mind that this number is based on just the 51 players that are presently under contract and nowhere near representative of the team's Cap with a full roster and with the other factors that will be explained below.
So, between now and Wednesday, March 18th at 4:00 p.m., when the new league year and free agency begin, the Ravens have some interesting decisions to be made.
PRACTICE SQUAD FREE AGENTS (FAs)
The Ravens usually re-sign most of their Practice Squad players to "Future" contracts for the following year.  So far this year, they have already done so with 9 of the former Practice Squad players. Five – OT Marcus Applefield, FB Christopher Ezeala, CB Byron Marshall, RB Paul Perkins and S Denzel Rice – remain unsigned. It remains possible that the Ravens will sign some of those players (or some other players) to future contracts over the next couple of weeks.
2019 SALARY CAP CARRYOVER
Under the terms of the CBA, teams are allowed to carry over excess Salary Cap space from one year to the next. Thanks to the spree of contract extensions before and during the 2019 season, the Ravens finished the 2019 season with just $445,198 in available Cap space. According to NFLPA records, the Ravens have elected to carry that amount into 2020.  This will increase the Ravens available 2020 Cap space by that amount.
OTHER SALARY CAP ADJUSTMENTS
WORKOUT BONUS ADJUSTMENT: All teams will have an adjustment of $676,800 added to their Cap for team workout bonuses. This number is essentially the total amount of CBA-mandated workout bonuses that could be earned by the players in the offseason. This amount is a debit from the Cap. Once training camp begins, this debit will be removed and the actual amount of workout bonuses earned by the players will be added onto the Cap.
INCENTIVE ADJUSTMENTS: The Ravens' 2020 Cap may also see adjustments for incentives earned that didn't count against the 2019 Cap ("Not Likely To Be Earned" incentives) but that were actually earned and incentives that did count against the 2019 Cap ("Likely To Be Earned" incentives) but weren't earned.
Over the last few years, the Ravens have often used NLTBE incentives as a way of lessening the present year's Cap number, especially in years with tighter Caps. More recently, though, as the prospects of their Cap woes starting to lessen, the Ravens have used fewer incentives in their deals.
Unfortunately, incentives are not widely reported, so the amount of these incentive adjustments is usually not disclosed until the beginning of the 2020 league year in March.
Over the past five years, the Ravens have averaged closed to $4M in negative adjustments, due mostly to NLTBE incentives that were earned in the prior year. 
For now, we will use $2M as an estimated negative incentives adjustment for 2020, understanding that it could be more or less than that amount.
PROVEN PERFORMANCE ESCALATOR: The 2011 CBA mandated 4-year contracts for all draft picks, which eliminated a player's chance to receive the higher-paying RFA tender in their 4th year. To offset this, the new CBA implemented the Proven Performance Escalator (PPE), which allows lower draft picks (3rd through 7th rounds) to receive an upgrade salary that is equivalent to the low RFA tender if the player performed well over the 1st 3 years of his contract. The player's "performance" is measured by playing time, so the escalator is earned if the player either (1) plays in 35% of offensive or defensive snaps in 2 of the player's first 3 seasons or (2) plays in 35% of the cumulative snaps over his first three seasons. 
The Ravens only have two players drafted in 2018 who are still playing under the terms of their rookie contracts – DE Chris Wormley and S Chuck Clark.
By garnering over 35% of the snaps in both 2018 and 2019, Wormley earned the PPE and, as such, they will see their base salary jump from $834K to approximately $2.147M.
Clark, on the other hand, only achieved over 35% of the snaps in 2019 and only accrued 34.1% of the snaps over the 3 year period, so he failed to earn the PPE (EDIT: However, Clark has since signed a $15.3M, 3-year contract extensions, so it still worked out pretty well for him).
Do keep in mind, though, that the PPE is not guaranteed, so if the player is released or traded, the PPE will have zero effect on the Ravens' Salary Cap.
EXCLUSIVE RIGHTS FREE AGENTS (ERFAs)
These players must be tendered contracts of the league minimum, based on the player's length of service in the league ($510K, $585K or $660K). Once tendered, these players are fully under the team's control and are not free to negotiate with other teams.
The Ravens have three players who are Exclusive Rights Free Agents (ERFAs):
RB Gus Edwards
OT Randin Crecelius
In past years, because of the minimal cost and minimal impact on the Salary Cap and because offseason roster can include up to 90 players, the Ravens usually have tendered all of their ERFAs.
RESTRICTED FREE AGENTS (RFAs)
These are players whose contracts have expired and who have three years of accrued service time. The team must tender the player with an RFA offer. Once tendered, another team can sign the player to a RFA offer sheet, but the Ravens then have seven days to match that offer sheet and retain the player under the terms of that offer sheet. If the Ravens were to choose not to match the offer sheet, they would then receive compensation based on the level of RFA tender made to the player.
There are three possible RFA tenders: 1st Round Tender, 2nd Round Tender and the Low Tender.
* 1st Round Tender:  allows the team to receive compensation of a 1st round – $4.683M (est)
* 2nd Round Tender:  allows the team to receive compensation of 2nd round pick – $3.289M (est)
* Low Tender: allows the team to receive compensation of a draft pick equal to the round in which the player was originally drafted or the Right of First Refusal (ROFR) for an undrafted player – $2.152M (est)
The above Tender amounts just estimates at this point. Under the terms of the CBA, the RFA Tender amounts increase at the same rate as the overall Salary Cap, with the minimum increase being 5%. An increase in the Salary Cap from $188.2M to $200M would represent an 6.27% increase in the Cap, so the above estimates for the RFA tenders are based on that 6.27% increase.
The Ravens have two players who are pending Restricted Free Agents (RFAs), with their draft pick compensation:
C Matt Skura (UDFA)
It's very likely that the Ravens will use an RFA tender on Skura, who was an undrafted free agent when he entered the NFL. Before his season-ending injury, it seemed almost certain that the Ravens would need to use the 2nd Round RFA tender on Skura in order to secure his services for 2020. Now, however, given the recent reports on the severity of his knee injury, it seems likely that the Ravens will only use the low ROFR tender on Skura. As an undrafted free agent coming out of college, there would be no draft compensation if Skura received an offer sheet from another team and the Ravens declined to match, but given his recovery timeline (return around training camp), it seems unlikely that any team would make an offer without knowing that he has fully recovered and that the knee injury isn't going to be a lingering issue.
As they have at times in the past, it seems likely that the Ravens will non-tender Ehinger, but may perhaps try and sign him to a lesser contract.
PROJECTED ADJUSTED TEAM CAP AND RULE OF 51 SALARY CAP COMMITMENT
Based on all of the above, it is estimated that the Ravens will have an Adjusted Team Salary Cap of $197,768,398.  The team's Adjusted Cap consists of the projected league-wide Salary Cap of $200M, plus the carryover of the 2019 excess Cap space of $445,198, less adjustments for workout bonuses ($676,800) and the incentives adjustment (est. to be $2M).
Presently, the Ravens have 51 players under contract, but assuming they tender Skura with the low RFA tender and tender all of their ERFAs, they would have 55 players under contract or tendered.
During the offseason, though, when roster can balloon to up to 90 players, only the highest 51 Salary Cap numbers (and all 2020 bonus prorations and all dead money from released players) are counted for Salary Cap purposes. This is called the "Rule of 51".
[Related: Ask the Cap Man – What's the Rule of 51?]
As such, the Ravens' estimated Rule of 51 number – including the above factors (including the PPE) and the projected ERFA and RFA tenders – would be a Cap commitment of approximately $179,814,344. See the "2020 Projected Cap" tab here.
When compared with the team's Adjusted Cap of $197,768,398, this would leave the Ravens projected to be $19,954,054 under the Salary Cap. 
Again, this is just an early estimate and done before the Ravens make other roster moves that will create additional Salary Cap space or make additions that will strengthen the roster. 
UNRESTRICTED FREE AGENTS (UFAs)
The following 17 players are Unrestricted Free Agents (UFAs) and will be free to sign with other teams if they haven't re-signed with the Ravens before Free Agency begins on March 18th at 4:00 p.m.:
LB Josh Bynes
DT Justin Ellis
OLB Matt Judon
OLB Pernell McPhee
WR Chris Moore
DT Domata Peko
WR Seth Roberts
CB Jimmy Smith
WR De'Anthony Thomas
S Bryden Trawick
DT Jihad Ward
The only candidate for the Franchise Tag is OLB Matthew Judon. After having lost OLB Za'Darius Smith as a free agent last offseason, the Ravens may be inclined to secure Judon's return in 2020 by using the Franchise Tag if necessary. It is anticipated that the franchise tag for Linebackers will be in the $16M range. 
2020 DRAFT PICKS
The Ravens are expected to have 9 draft picks in the 2020 draft. They presently have four (4) of their own round picks (1st, 2nd 3rd, 4th), as well as New England's 4th (Jermaine Eluemunor trade), Minnesota's 5th (Kaare Vedvik trade) and the Jets' 7th (Alex Lewis trade). The Ravens traded their own 5th (Marcus Peters' trade), 6th (part of the Eluemunor trade) and 7th (2018 Montgomery trade).  The Ravens are expected to receive a two 4th round Compensatory draft picks for the losses of C.J. Mosley and John Brown. It is possible that the Comp pick for Mosley could be a 3rd round Comp pick, but his season lost to injury appears to have turned a sure 3rd round Comp into a likely 4th rounder.
So, the Ravens' present draft picks are 1st, 2nd, 3rd, 4th, 4th, 4th, 4th, 5th and 7th.
Based on their present draft position, the Ravens will likely have a rookie Cap of somewhere around $8M depending on their final record. While that number won't factor into their initial Cap calculations, it is something that the team will be very mindful of as they otherwise build their roster.
[Related: How Does the Rookie Salary Cap Work?]
EXTENSION/RELEASE/RESTRUCTURE
As the above indicates, the Ravens are going to be in their best starting Cap position in years. That said, they will likely make moves to create some additional Salary Cap space in order to be able to re-sign players and/or sign other players to the roster. There are three primary ways of creating additional Salary Cap space – (1) signing players to contract extensions to lessen their 2020 Cap number, (2) releasing/trading players and/or (3) restructuring contracts.
EXTENSION: An extension is generally used when a player has a large base salary and is in the later years of his contract. An extension will allow the team to turn much of that large base salary (and often, more) into a Signing Bonus to go along with new years that are added to the contract. This essentially works to reduce the player's present Cap number. Of course, it takes two to tango and teams and players often don't see eye-to-eye on value, so extensions aren't always a foregone conclusion. 
Presently, there is one prime candidate for a contract extension, OT Ronnie Stanley. Coming off of a Pro-Bowl season, Stanley is presently slated to earn the 5th Year Option salary of $12.866M. A contract extension for Stanley would normally reduced Stanley's Cap number, but this year, because it is the last year of the present CBA, an extension would likely not create much in the way of Cap space and may perhaps even cost the Ravens an extra million or two in Cap space.  This is because of the 30% Rule which dictates that any contract extending past the last year of the CBA cannot have an increase in salary (excluding bonus prorations) of more than 30% of the last capped year's salary.  This rule is in place so that teams don't try and backload huge amounts of salary into uncapped year or into future years when they expect a new CBA to cover such a huge salary.
So, getting Stanley locked up long term this offseason is likely a primary goal for the Ravens, but it's not going to be done for Salary Cap reasons.
Other potential candidates for an extension would be CB Marlon Humphrey and S Chuck Clark, but again, an extension would be done, not to create Cap space, but to get the player locked up long term. 
RELEASE/TRADE: The below chart includes players who have most often been discussed by fans as candidates for release and lays out the Salary Cap implications of the release or trade (both are treated the same for Cap purposes) of those players: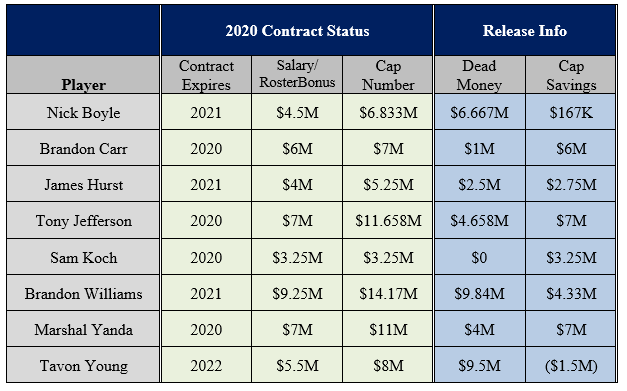 Please note that since 2020 in presently set to be the final year of the 2011 CBA, there is no post-June 1 release Cap relief available this year. This option may return if a new CBA is agreed upon in the next couple of months, but that would probably have to occur before March 18th (the scheduled 1st day of the 2020 league year).
While creating Cap space isn't has imperative as it has been in past years, the Ravens do have a few players who could be on the cutting block.
JEFFERSON: This one seems pretty obvious. Barring a major surprise, the Ravens are going to release Jefferson in early March. With the emergence of Chuck Clark – especially his ability to set the defense – Jefferson is now expendable. Releasing Jefferson will create $7M in Cap space.
CARR: This one will probably end the same, but is less obvious. With Jimmy Smith set to become a UFA and likely to end up signing elsewhere, it's possible the Ravens will decide to keep Carr as a versatile reserve. It's also possible the Ravens approach Carr about taking a pay cut in order to stay. On the other hand, if the Ravens re-sign Jimmy Smith, you'd have to assume that Carr is probably a goner.
WILLIAMS: Many Ravens fans have been trying to cut Williams for years, but from a Cap perspective, such a move would have been Cap suicide. Not to mention that the Ravens run defense always seems to suffer when Williams is injured. For the first time, the release of Williams does create decent Cap savings ($4.33M), but still comes with sizeable amount of dead money ($9.84M) that makes it unlikely that the Ravens will be moving on from Williams this offseason.
J. HURST: Hurst is another player that fans have seemed eager to jettison, but when he was called upon this season, Hurst performed well enough at left tackle. Hurst's salary ($4M) and 2020 Cap number ($5.25M) are still very reasonable for a player who can provide solid depth at several positions on the Oline and with only $2.75M in Cap relief, cutting Hurst at this time doesn't seem likely.  However, that does not mean that Hurst will make the 53-man roster in September and if he isn't good enough, the Ravens will gladly take the accompanying Cap relief.
RESTRUCTURE: The main drawback of constantly restructuring contracts is that it often becomes a vicious cycle that forces the team to continue and continue to restructure deals year after year. The Ravens have been stuck in this cycle over the last couple of years and those restructures have created some bloated Cap numbers (Williams, Jefferson) that aren't easy to get away from.
This year, though, for the first time in a long time, the Ravens shouldn't need to restructure any deals to create needed Cap space. 
OUTLOOK
At this time last year, many Ravens fans were giddy about the prospects of the Ravens being projected to have over $100M in Cap space in 2020.  While it was true at the time, that was before the signing of 2019 free agents (Earl Thomas, Mark Ingram) and before the 2019 draft. It was also before the Ravens starting signing many of their own players (Tavon Young, Nick Boyle, Justin Tucker, Marshal Yanda, Willie Snead, L.J. Fort, Patrick Ricard, Marcus Peters) to contract extensions. If not for those extensions, most of those players would have been free agents this coming March. So, in essence, the Ravens 2020 offseason really began last Spring when the Ravens started re-signing those players. That, of course, means that there is far less Cap space to work with now, but only because they have already gotten a lot of work done.
Still, it is far better than most years and it puts the Ravens in a position to make further improvements to their roster.
The Salary Cap is a puzzle, and the Ravens' Front Office will likely use a combination of the above maneuvers to create the Cap space necessary to address the team's pressing roster issues.
This year, though, it appears that, for the first time is many years, the Ravens will have a lot more Cap flexibility to address their needs and will likely have ample Cap space when free agency begins in mid-March.
As always, the months of February, March and April will once again be an interesting time for the Ravens as the look to tweak their roster in hopes of finally getting over the hump and on to the Super Bowl.