Michigan Guard Ben Bredeson
Print this article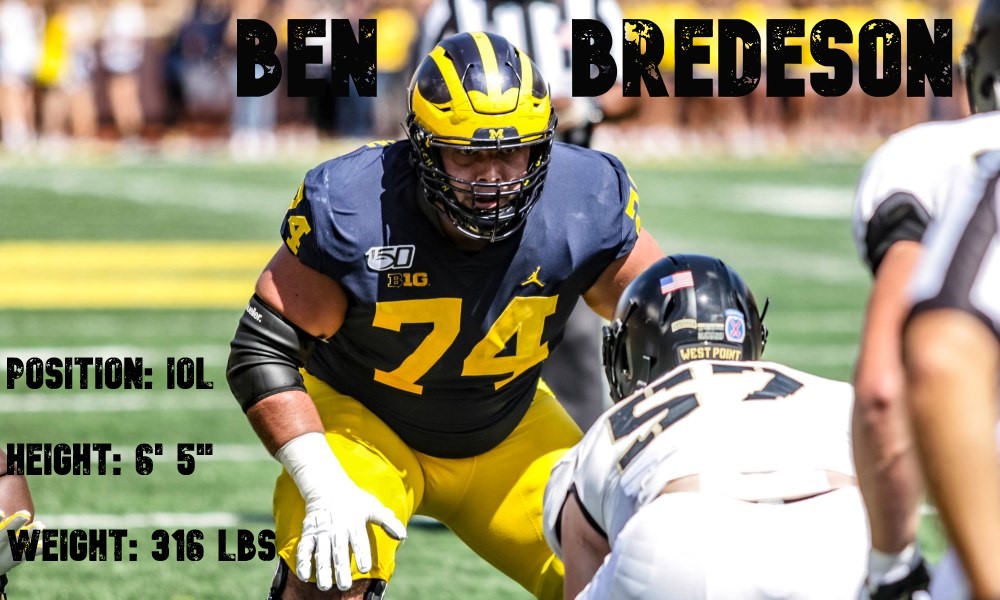 Name: Ben Bredeson
Position: OG 
Height: 6'5
Weight: 316 lbs
School: Michigan
Year: Senior
Ben Bredeson was a four-year lynchpin of the Wolverines offensive line. He started eight games as a true freshman at left guard, earning Freshman All-American status, and remained there through the rest of his career, earning captain status for his junior and senior seasons. In his senior year, Bredeson earned third-team Associated Press All-American and first-team all-conference recognition. 
Strengths
The first thing that stands out about Bredeson is he has prototypical size and mass through all parts of his body with broad shoulders, a wide lower body and a strong middle with no bad weight being carried. In pass protection, Bredeson plays with sound technique, using very strong footwork and an extremely powerful punch to stifle defenders. He throws down a strong achor with enough quickness to counter pass rush moves throughout the block transition.
[See All Our Scouting Reports at Ravens Draft Central]
In the run game, Bredeson can be relied upon to pave the way for the ball carrier and he does well to take smart angles at defenders that covers for some of his athletic limitations. Bredeson also plays with the mean streak that you look for in a player. He may not have very fast foot speed, but he does show natural bend in his ankles, knees and hips, which allows him to sink low and gain leverage in space when initiating contact.
His intangibles include his leadership role with the Wolverines and his durability through his college career. 
Best Trait: Prototypical body type and hand usage.
Weaknesses
Bredeson does come with some limitations, as he's not the best athlete and will likely test a lower on agility drills. In combination blocks, he relies on taking smart angles and using his technique to mask his lateral movement limitations. When he was asked to pull in space on screens, he struggled to move to the side if defenders were trying to outrun him to a spot. His foot speed could cause issues with blitzing LBs and speed-based interior rushers who can neutralize his strong hands. Despite having a few weaknesses, there isn't anything about his game that stands out as being extremely bad. Bredeson shows strong awareness of his weaknesses and uses a high level of football IQ to make up for them.
Worst Trait: Athleticism.
Ravens Fit
Bredeson is pretty scheme diverse, but in the context of the Ravens considering a left guard, I think it's a really good fit. Michigan used a blend of schemes and Bredeson was a mainstay at LG for them through his entire career. He could add a boost in pass protection with his strong fundamentals and also boost their ability to run inside zone to the left as it would be run behind him. 
He shows enough ability in space to be able to pull on the power right runs behind Marshal Yanda that the Ravens love to run. Bredeson would be a great fit and pairs nicely with Ben Powers if you're looking for a pair of complementary guards to go with the bookends in Ronnie Stanley and Orlando Brown Jr. 
Player Comparison
Kevin Zeitler – Zeitler was another prototypically-sized guard, who was labelled with the 'may not be athletic enough' tag. Similar to Bredeson though, he showed the correct bend in his lower body combined with his football IQ to make plays in space.  
Draft Grade
2nd round
I'm extremely impressed with Bredeson as a prospect. He is so technically sound and negative reps on film are hard to come by. There's no reason to think he won't be a starter in the NFL. Pre-Combine his value in mock drafts seems to be coming later, but I expect his stock to rise as more people dive into his tape.