Kenneth Murray, ILB, Oklahoma
Print this article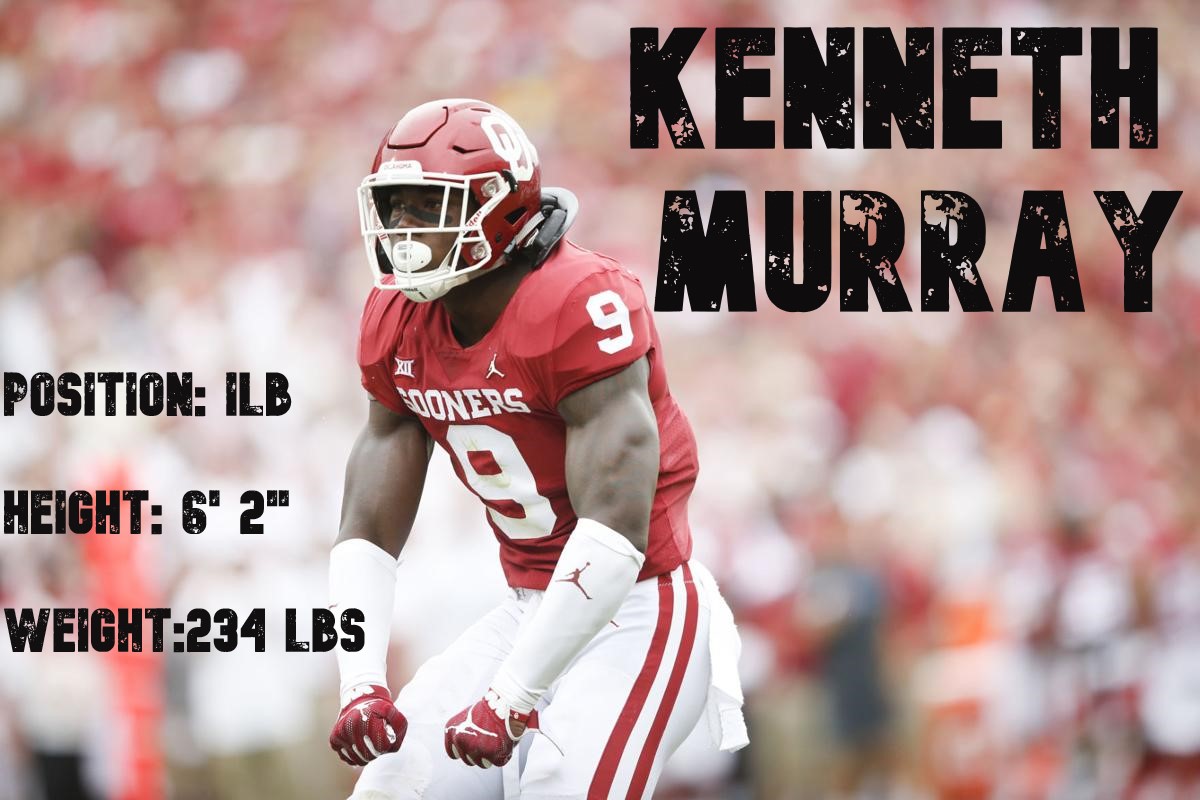 Name: Kenneth Murray
Position: ILB
School: Oklahoma
Year: Junior
2019 stats: 102 tackles, 17 TFL, 4.5 sacks
Career stats: 325 tackles, 36.5 TFL, 9.5 sacks
Kenneth Murray is a 6'2", 234 pound ILB from Missouri City, Texas. A starter since his freshman season at Oklahoma, Murray found immediate success and was named a Freshman All-American. Murray is a scheme-versatile ILB who could succeed in any NFL system.
Strengths
Murray is an athletic ILB who displays exceptional range. He possesses NFL-ready speed that allows him to be a real "sideline to sideline" defender. Murray uses his great burst and long arms to avoid blockers and get to the ball. He is an excellent blitzer who was occasionally asked to line up on the edge and rush the QB on obvious passing downs. Murray's athleticism and speed make him a very effective QB spy. In coverage, Murray has more than enough speed to stick with crossers. Murray's high effort and energy give him the potential to be a leader in the middle of an NFL defense.
Best Trait: Range
[See All Our Scouting Reports at Ravens Draft Central]
Weaknesses
Murray has instances in which he struggles to properly diagnose the play. His explosiveness and speed are usually huge assets, but they also cause him to occasionally run himself completely out of the play if he reads it incorrectly. Murray can get overwhelmed on inside run plays and needs to do a better job at taking on and shedding blocks. His use as a designated blitzer on obvious passing downs raises questions about Murray's cover ability.
While he has all the requisite physical traits for being a great cover LB, Murray needs a lot of experience in that area to prove that he can be a three-down ILB.
Worst Trait: Processing
Ravens Fit
At his best as a "run and chase" LB, Murray projects best as a WILL linebacker in the Ravens' base 3-4 defense. Until Murray proves that he can be trusted in coverage, he may need to be deployed as a blitzer or a spy to stay on the field on third down. With only two ILBs (L.J. Fort and Chris Board) currently under contract, the Ravens would look at Murray as a possible Week 1 starter. Murray's physical profile make him a candidate to be a great special teamer in the NFL.
Player Comparison
Rashaan Evans (TEN, 2018 – Present)
Like Murray, Evans possesses well above average speed and makes plays from sideline to sideline. Both players are excellent athletes who are better at getting around blocks than taking them on. In college, Murray and Evans were both excellent blitzers from their ILB position and occasionally from the edge in sub packages.
Draft Grade
1st Round
Kenneth Murray is a highly athletic ILB with true sideline to sideline range. If used correctly in the NFL, he could lead his team in tackles as a rookie. At this point in the draft process, Murray is in a battle with LSU LB Patrick Queen to be the second ILB selected. If the Ravens don't take Murray with their first pick, it is highly unlikely that they'll get another chance.