Print this article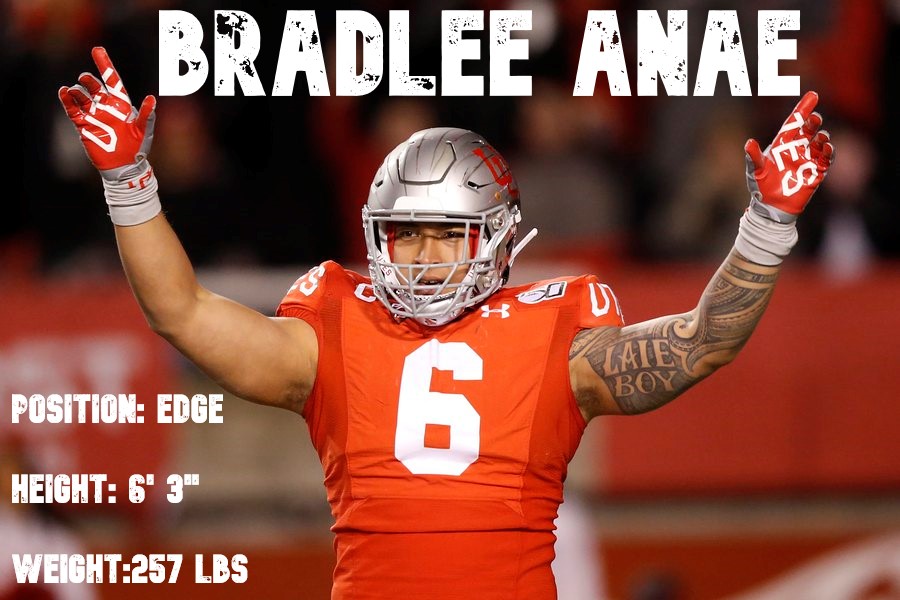 Name: Bradlee Anae
Position: EDGE
School: Utah
Year: Senior
2019 stats: 41 tackles, 14 TFL, 13 sacks
Career stats: 131 tackles, 40 TFL, 29.5 sacks
Bradlee Anae is a 6'3", 257-lb EDGE from Laie, Hawaii. At Utah, Anae was a team captain. He was a two-time first-team All-PAC 12 DE and a consensus All-American in 2019. He led his team in sacks in three seasons and left Utah as its all-time leader in sacks. Anae could be a sub package DE in an even front, but may be best suited as a standup 3-4 OLB in the NFL.
Strengths
Anae is a passionate, high-motor player who makes a ton of "effort plays." As a pass rusher, Anae does a good job timing the snap and getting off the line with urgency. He attacks the offensive tackle in front of him and stays on the attack. Anae uses the bull rush as a go-to move and flashes an effective "long arm." He has a nice arsenal of hand fighting techniques that he uses to win reps.
Against the run, Anae looks well-coached and plays with good technique. He's aggressive against the run and shows instances of shooting the gap to make the tackle for loss. He has displayed the ability to switch between a two-, three-and four-point stance as the situation requires. His consistent, high-level production at Utah points towards a developed player with a high floor.
Best Trait: Motor
Weaknesses
Anae is not a dynamic athlete and often relies on his great motor for the bulk of his production. Anae lacks the speed and bend to regularly win with an outside rush in the NFL. He lacks the length to create separation from offensive tackles. He too often relies on an inside spin that needs more development if Anae hopes to use it as a go-to pass rush counter in the NFL. Against the run, Anae sometimes struggles to diagnose the play and find the ball. He is stiff in space and isn't going to make many tackles in the open field. Anae does not provide much value in pass coverage.
Worst Trait: Play In Space
Ravens Fit
Anae would play as a 3-4 OLB for the Ravens. Due to his limited ability in coverage and in space, it is likely that he'd be used primarily as a pass rush specialist. In Baltimore, Anae would join a rotation of OLBs that would also include Tyus Bowser, Jaylon Ferguson and any pass rushers that the Ravens add in free agency. Anae would be expected to contribute on special teams.
Player Comparison
John Simon? (Bal 2013-14, Hou 2014-16, Ind 2017, NE 2018-current)
Like Simon, Anae is an undersized college DE with a great motor. Both Simon and Anae were college team captains praised for their work ethic and awarded with All-Conference honors for his production. Both players are roughly 260-lb players with below-average athleticism that are at their best when they are moving forward. While Simon, a 4th-round pick of the Ravens, was cut before his second year (and immediately re-signed to the practice squad before being signed from there by Houston), he's put together a nice six-year career to this point.
Draft Grade
3rd Round
Bradlee Anae is a highly experienced EDGE with a motor that doesn't quit. His experience, effort and technical ability give him a high floor in the NFL. He should, at a minimum, be a productive rotational pass rusher who can contribute on special teams. His limited athleticism and ability to play in space mean that he doesn't have huge upside. Anae will likely be selected on Day 2 of the NFL draft. The Ravens should have a few chances to select him if they decide not to select a pass rusher in the first round.