Leki Fotu, Defensive Line, Utah
Print this article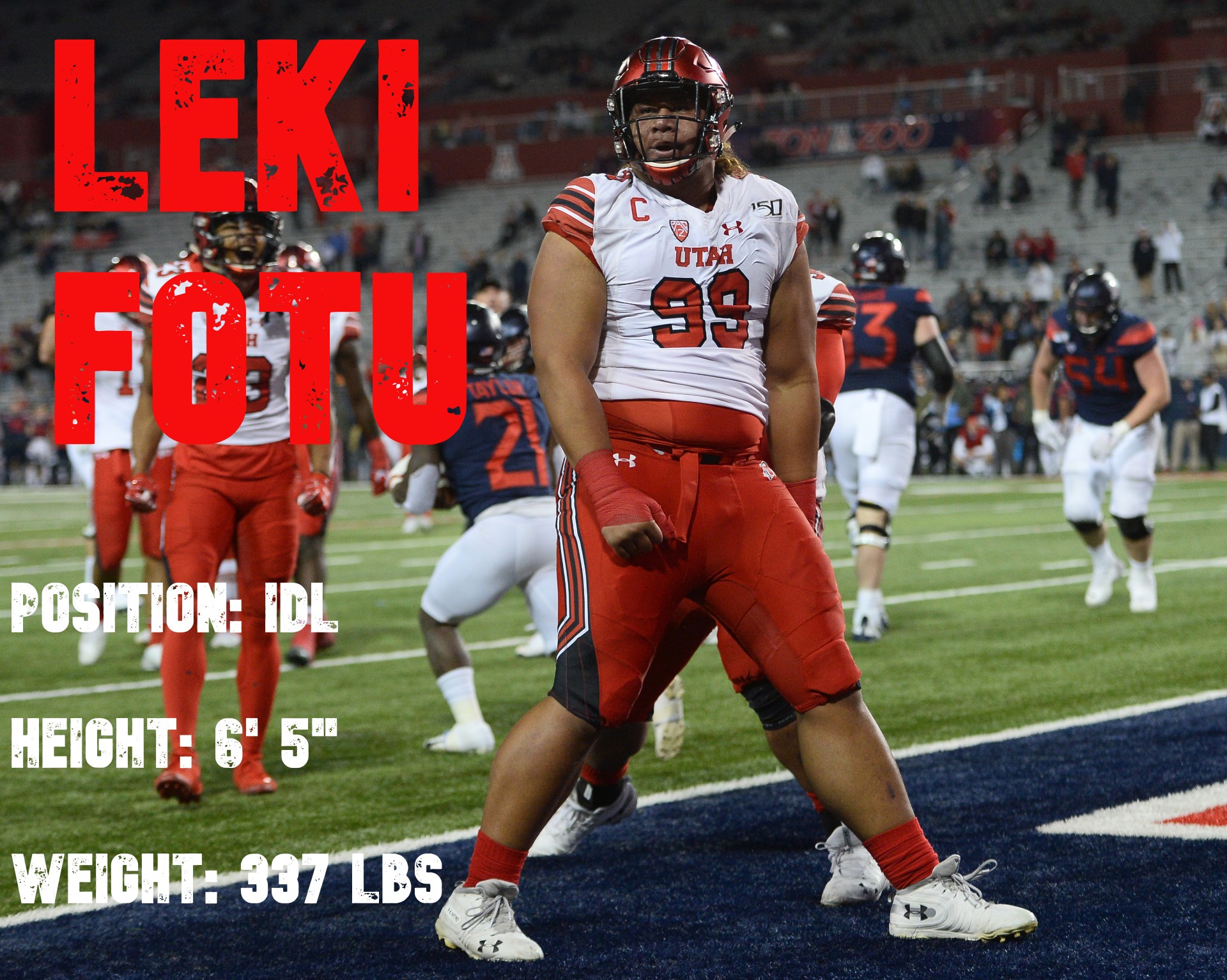 Name: Leki Fotu 
Position: IDL
Height: 6'5
Weight: 337 lbs
Senior Bowl Measurements: 6'5, 337 pounds, 10¼ hands, 33 ⅞ arms.
School: Utah
Year: Senior
2019 Stats: 29 tackles (10 solo), 9 TFL, 1.5 sacks, 2 PD, 1 FF
Career Stats: 45 games, 85 tackles (43 solo), 18 TFL, 4.5 sacks, 3 PF, 2 FF
Leki Fotu comes from a football family, originally from Tonga, with brothers having played at Arizona and Illinois, and his younger brother recently joining the Utes. Fotu began as a full time starter as a junior and never looked back, amassing All Pac-12 nods in both of his starting years and ending his 2019 senior season with All-American 2nd team honors from a number of outlets and 3rd team honors from the Associated Press.
Strengths
At 6'5″, 337-lbs, Fotu is a mammoth of a man and he backs that up with a strong anchor and the ability to eat double teams for breakfast, lunch and dinner. He displayed raw power in both his upper and lower body with an impressive ability to keep defenders off his chest with a powerful push at the point of attack and the strength to absorb double teams and stall their drive blocks, making it harder for combination blocks to work against the Utes.
As a run defender, he has a powerful bull rush that can make zone runs a nightmare against his side of the line. As a pass rusher, he shows a good first step for his size and has a strong motor throughout the rep. He didn't show a tremendous amount of pass rush moves, but even his bull rush is effective at pushing the pocket in the middle, especially if he's 1-on-1 with a center.
Best Trait: Strength/Anchor
Weaknesses
Being that big of a man does come with some limitations. Fotu shows a lot of stiffness in his body which leads to issues with fluidity. He doesn't change direction very well, which makes it difficult for him to read and react to the play, despite not showing mental processing issues (he processes well). If he has a straight line pursuit he finishes quite well, but if he has to chase and angle, he will struggle.
While he has a quick first step, it doesn't show on every play and the more tape you watch, the more inconsistent it appears (to the point where you're frustrated when it does shine because you want to see that ability more often). Due to the stiffness and being sometimes slow out of the blocks he can get stood up and struggle with pad level, though he's nearly impossible to drive block backwards. 
Worst Trait: Body fluidity
Ravens Fit
If the Ravens are looking for a high-floor replacement for a potentially departing Michael Pierce's run stopping abilities than Fotu makes a ton of sense. He can penetrate gaps and eat double teams, which are Pierce's best assets. However, if they're looking for juice up front to contribute to their pass rushing abilities inside, Fotu will need to develop that aspect of his game. He does have a lot of traits that can help him become that player. Building consistency out of his blocks and pairing his powerful upper body with a broader array of pass rush counters will allow him to take that next step. 
Player Comparison
D.J. Reader (Hou 2016-present)
Maybe it's recency bias after recently taking a look at Texans film to see Reader, who is a pending FA, but he stood out as a good comparison. Similar to Fotu, Reader was a big mammoth coming out of Clemson with a powerful anchor, strong hands, but lack of a pass rush plan. Reader has developed similarly to the way I think Fotu can.
Draft Grade
Round 4 
Fotu has a high floor with his run defense, but the lack of a pass rush ability drops his grade a bit.