Tyler Johnson, WR, Minnesota
Print this article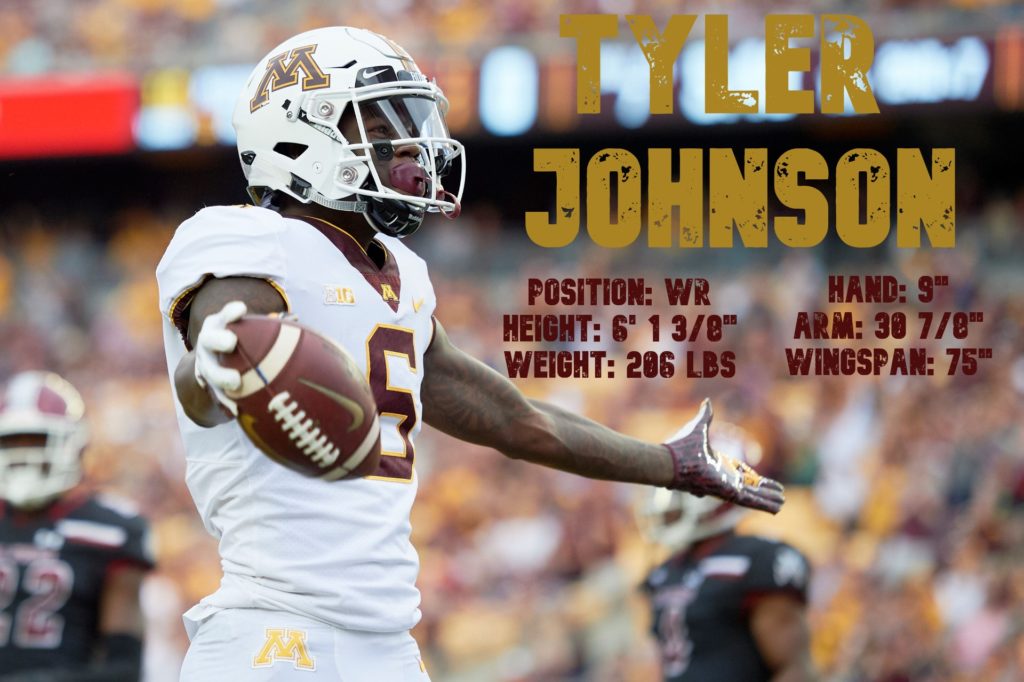 Name: Tyler Johnson
Position: Wide Receiver
Height: 6'2″
Weight: 206 lbs
School: Minnesota
Year: Senior
Tyler Johnson grabbed his only first-team All-Big Ten award this past season when he doubled down on his 1,169-yard 2018 with a 1,318-yard 2019. Minnesota looked to Johnson early and often, and he answered the call more often than not. Projecting as a slot wideout at the next level, his game lies in the middle of the field.
Strengths
As you can guess with a projected slot wideout, he finds the soft spots in the defense naturally, using his release and variations in route speed to open up separation routes. Playing mostly over the middle on short and intermediate routes, you can expect big hits and contested catches, and he's shown a propensity for playing through contact and wrestling away 50/50 balls. He's quick, but I wouldn't call him fast, although he does show a different kind of speed when asked to go on break routes.
Really like his hands on inaccurate throws, doesn't let a lot of balls get into his frame, instead attacking the ball. Has a good sense of when and how to break on his routes in order to create space.
Best trait: Hands
Weaknesses
Don't let this man play against press. The difference between his viability in zone versus his failures in press is a gaping maw. He needs to learn to be sharper with his routes in order to succeed against press. His functional strength is lacking, and even though he understands how to block, I'm not comfortable with his results outside of those against small slot corners. The fact that he's a 'new' wideout is readily apparent, especially against more physical defenders, and Johnson tends to play under his size. Scared, even.
He'll have to work on routes, physicality, and his press work at the next level in order to be a starting slot.
Worst trait: Play vs. Press
Ravens Fit
Not sure I love him as a replacement for Willie Snead, at least not yet. But if he can learn from Snead, as well as Coach Culley, then he'd project to be a speedy and relatively tough slot option for those times that Miles Boykin needs a rest. He'd be WR3 at best, assuming that the Ravens find a suitable X receiver.
Player Comparison
Mohamed Sanu (CIN 2012-2015, ATL 2016-2018, NE 2019-CUR) 
Much like Sanu, I don't know that Johnson will ever have eye-popping stats, or that he'll be 'the guy', but he'll be a consistently solid option as a WR3 with training. They're also built similarly with athletic profiles that look identical.
Projection
Day 3
In any other draft class, Johnson is likely a late third-rounder, but it's not going to shock me when we see him go in Round Four or Five. Depth of class really pushes some of these guys down the board, and it's not necessarily a knock on them.