Justin Madubuike, DT, Texas A&M
Print this article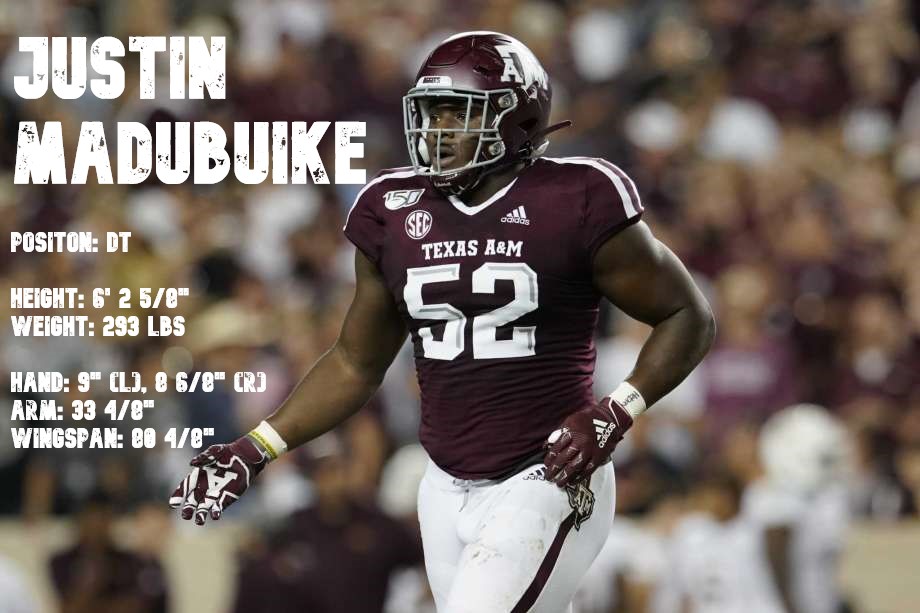 Name: Justin Madubuike
Position: IDL
Height: 6'3
Weight: 293 lbs
School: Texas A&M
Year: RS Junior
2019 Stats: 45 tackles (18 solo), 11.5 TFL (led team), 5.5 sacks (Led team), 1 FF
Career Stats: 34 games, 105 tackles (43 solo), 24.5 TFL, 11 sacks, 5 FF
Justin Madubuike was a highly coveted defensive lineman from McKinney, Texas. He was not only a star on the field, but also in the classroom and in the community. That success followed Madubuike to Texas A&M when he burst onto the scene as a redshirt sophomore in 2018. He finished the 2019 season as the team's Defensive MVP after leading the team in TFL and sacks.
Strengths
Madubuike adds to the list of IDL prospects who come with explosiveness as a gap penetrator. Madubuike has a very nice first step, but what's most impressive is his technique at the point of attack. He's able to knife into gaps with solid bend without compromising his pad level or positioning himself for an OL to turn his body. He uses powerful hands with a number of block shedding techniques to get off a block and make a play.
When he's able to come off a block I really like his ability to change direction and close the space on the ball carrier or the quarterback (mostly because of how much bend he has in his lower body). He brings some versatility as the Aggies would line him up all over the line and he attacked the edge on numerous occasions.
As a pass rusher I noticed a number of pass rush moves including a nice push-pull and a strong rip when he's low on a blocker. Consistent production with 5.5 sacks in each of the last two years for the Aggies is a good thing to see.
Best Trait: Explosiveness and bend
Weaknesses
The biggest area Madubuike struggled with on tape is his anchor taking on double teams. He's a little undersized for an interior linemen, which means he can get pushed when taking on a double team. That may limit him to being a 1-gap player at the next level or being more scheme specific, especially in a league that's seeing more and more zone blocking and double-and-shed approaches. His length didn't cause him a ton of problems at the CFB level, but it may be an issue against bigger, stronger NFL linemen, where his strong hands become more neutralized. 
Worst Trait: Anchor
[Related: See All Our Draft Prospect Scouting Reports at Ravens Draft Central]
Ravens Fit
The Ravens love versatile players in Wink Martindale's scheme and Madubuike would make a very nice addition as a 5T or 3T gap penetrator. The Ravens have needed a pass rushing interior presence for a while so from that perspective Madubuike fits the bill and his ability to slide up and down the line makes him a great fit.
Player Comparison
Malcolm Brown (NO '19, NE '15 – '18)
Draft Grade
Round 2 
Madubuike shows a lot of consistency on tape, and despite having some IDL prospects ahead of him, he should still be a target in the second round of the draft. If he fell to pick 60, it would be a very intriguing pick for Ravens GM Eric DeCosta.