Josiah Deguara, TE, Cincinnati
Print this article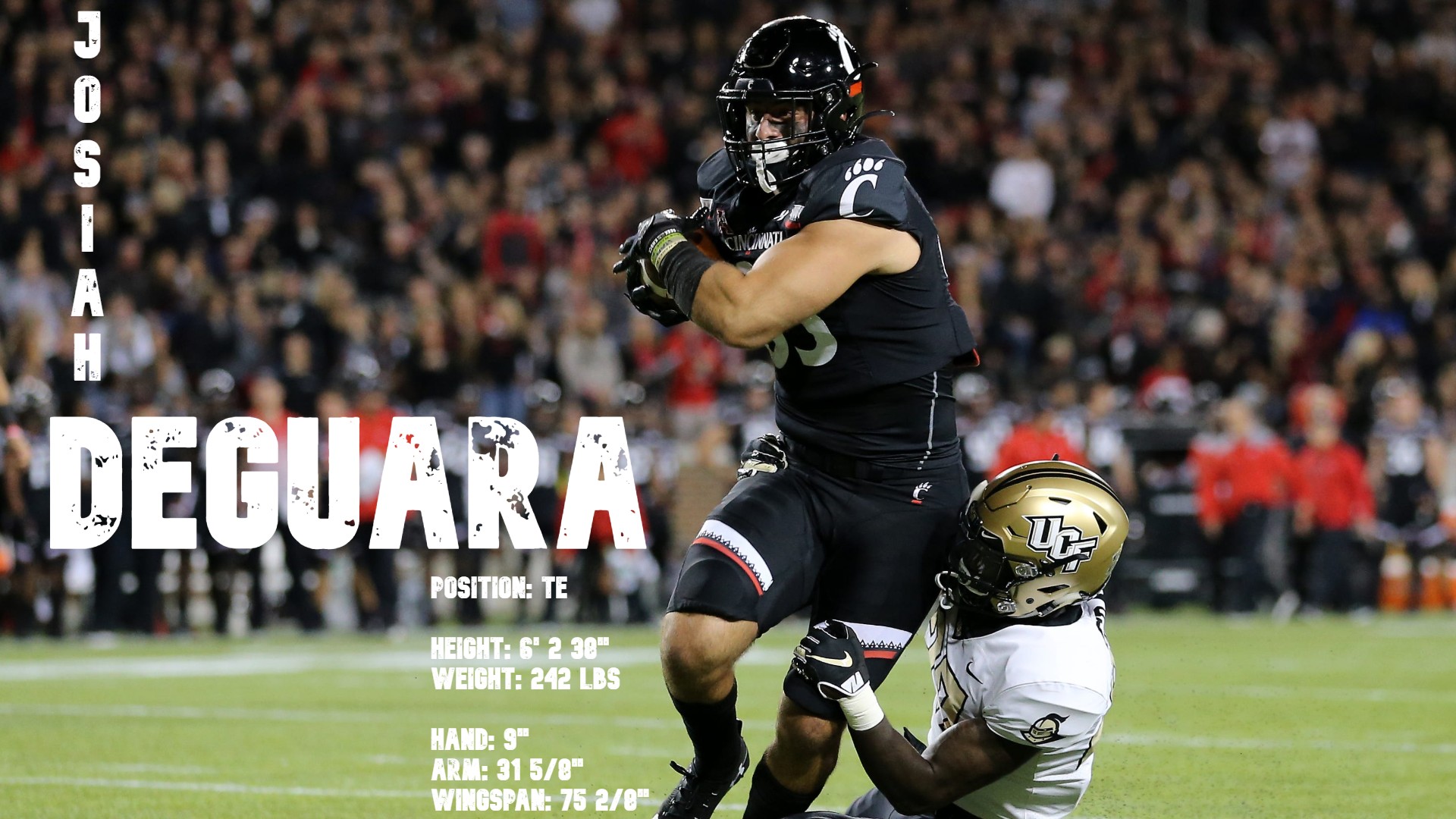 Name: Josiah Deguara
Position: TE
Height: 6'2''
Weight: 242lbs
School: Cincinatti
Year: Redshirt Senior
Josiah Deguara is being listed as fullback and tight end, depending on where you're viewing his draft profile. We're going to call him a TE, but with the idea that he's more of an H-back, move TE with the ability to do some FB duties as well. Deguara began his career with the Bearcats as a core STer before earning starting TE duties. He earned second-team All-AAC as a RS Junior with 38 catches, 468 yards and five TD. As a RS Senior he bumped his All-AAC title up to first team after adding 39 catches, 504 yards and seven TD along with some stellar blocking.
Strengths
The first thing that pops off of Josiah Deguara's tape is how much he moved around the Bearcats' offensive formation. He would be used in-line, as a move TE/H-Back and out in the slot (with or without motion into the backfield). He is a stellar run blocker who uses his square shoulders and aggressive demeanor, but has enough patience to allow his shoulders to stay in line with his feet when engaging a defender. His effort stands out on every play and he always brings something to the party.
As a receiver, he shows some nice hands and savvy route running (including some loose hips) with good awareness against zone coverage. He does a nice job of finding soft spots and absorbing contact after making a catch. He has some work to do in the receiving game, but his traits give you a lot of hope that these skills can be developed. Also an outstanding STer which is big for being the 3rd TE on the Ravens roster.
Best trait: Blocking/ Versatility/Special Teams
[See All Our Draft Prospect Profiles at Ravens Draft Central]
Weaknesses
Size and length are going to be the biggest issues that Deguara has to deal with and is a large part of why many are labeling him as a FB (More on that in 'Ravens fit' below). His size and length may make his abilities as an in-line blocker questionable. As a blocker, he needs to do a better job with his hand placement as they tend to be high, which can lead to holding, especially on seal blocks.
As a receiver, he doesn't play with enough physicality against man coverage at the top of his stem or in contested catch situations. 
Worst trait: Size and length
Ravens Fit
The good news for Deguara with regards to how he fits from a positional standpoint is that Greg Roman loves motion and uses it in almost every snap. That type of motion with a guy like Deguara puts him in a plus position as an H-back candidate behind Mark Andrews and Nick Boyle. The Ravens used Patrick Ricard in the slot where he'd motion through the backfield and take on some h-back duties, in addition to his FB alignments. The nice thing about pairing Deguara is you could have formations where you have Boyle in-line, Ricard at FB and use Deguara in motion to create some really nice blocking numbers.
So is Deguara a TE? I think with the way the Ravens use motion he'd be a TE on paper, but with the idea that he's going to be moving around and that includes getting him out in the flats or in the short part of the field in the passing game. The Ravens see more zone than most NFL teams and that is Deguara's bread and butter as a receiver. 
Player Comparison
Owen Daniels – (HOU 2006-2016; CHI 2013; BAL 2014; DEN 2015)
Projection
Rounds 4-5
Deguara is the perfect addition with a 4th round comp or the Ravens' 5th round pick. And yes, I want him in the purple and black.