Print this article
With the NFL Draft creeping ever so close, I think it's time we finally put the mock machine down, and have a real conversation.
Let's talk trades.
Without fail, the NFL draft will host a myriad of trades over the course of three days, but just what can we expect? Is there any way to look at the draft for indicators of predictability in what trades will be made, when they'll be made, and who will make them? And what about the Ravens? Can we truly make an educated guess on not only if (when) Eric DeCosta will make a trade(s), but also which direction he'll move the picks, and what that cost could look like?
The Process
To figure all of this out, I had to delve into the wonderful world of trades, and I'll be honest with you… we have data that dates all the way back to 2006. I'd love to pretend that this year or window has a particular significance in the trade world, but the honest reason is because we used the 2006-2016 window for our BPA+ discussion, along with EDC's 50/50 trade up topic, so I just carried the data I had from that window, and expanded through current day. 
While the historical data of 14 years is great, we'll also take some shorter term looks within a five-year window, as the understanding of GMs and Head Coaches moving around the league at a high frequency can change up plans over a longer spell.
Just one more rule!
All trades being discussed in this blog are Draft Day trades, involving only pick-for-pick transactions only. There's plenty of player-for-pick trades that tend to go down from the first day of free agency through the day of the draft (and then some), but let's take this one thing at a time!
Round 1 Movers & Shakers
Using that 2006-current stretch of data, the biggest movers were Cleveland (15), Denver (12), New England (11), and Baltimore (10), followed by Philly, San Francisco and Seattle (nine each). I'd say most of these make sense; Baltimore has been busy moving picks of late, New England is notorious for swapping picks (the national media won't let us forget), and Cleveland typically ends up with so many high picks it makes it easy for them to move down.
For a reference point of how high those teams are, the average across 32 NFL teams was 5.2 trades over this stretch. Cleveland essentially tripled the average.
Using a shorter-term outlook from 2015-2019, it's actually Seattle (six trades) leading the pack, followed by Baltimore, Cleveland, Green Bay and San Francisco, with four trades each. Very interesting that Denver and New England disappeared from the short-term window, but we'll get to that shortly.
The funny thing with Seattle is that their six trades all happened to be down the board (they have not traded up as far back as my data goes) which got me to thinking… which teams are the most likely to trade up or trade down?
Most Trades Up (2006-2019): Cleveland, Philly, San Fran (six each)

Most Trades Up (20015-2019): Atlanta, Buffalo, Chicago, Green Bay, Houston, Philly, San Fran tied (two each)
Most Trades Down (2006-2019): Cleveland (9), Seattle (9), New England (8), Denver (7)
Most Trades Down (2015-2019): Seattle (6), Baltimore (3), Cleveland (3)
Short-term being the focus, Cleveland and Baltimore acquiring picks seems to be the norm, while Philly and San Fran jumping up boards does too. 
Round 1 Complacency
On the flip side, there are teams that simply have no intention of moving around draft boards, unless a hefty package allows them to slide down, or they need a stud and are forced to move up. So what does this look like, both short and long term?
Fewest Trades Up (2006-2019): Carolina, Cincinnati, Seattle tied at 0.
Fewest Trades Up (2015-2019): 12 teams tied at 0.
Fewest Trades Down (2006-2019): Chicago, Detroit, LA Chargers, New Orleans, Houston, NY Jets Pittsburgh tied at 0.
Fewest Trades Down (2015-2019): 17 teams tied at 0.
Noticeably, there are far more teams on the low end of the trade spectrum, both in the long haul, and recently as well. There's one glaring team on this list, that hasn't made a trade up, or down, in the last five years that would surprise you…
The New England Patriots. 
In fact, the team that the national media always loves to pat on the back for draft day trades (they refer to as 'chess moves') hasn't made day one trade (remember, pick-for-pick) since 2013. 
Round 1 Trade Scenarios
When delving deeper into trades, I felt like breaking it out further is necessary, and it's really based on more questions. 
Do teams trade more often early in Round 1, or later? Which position is the most frequently traded up for?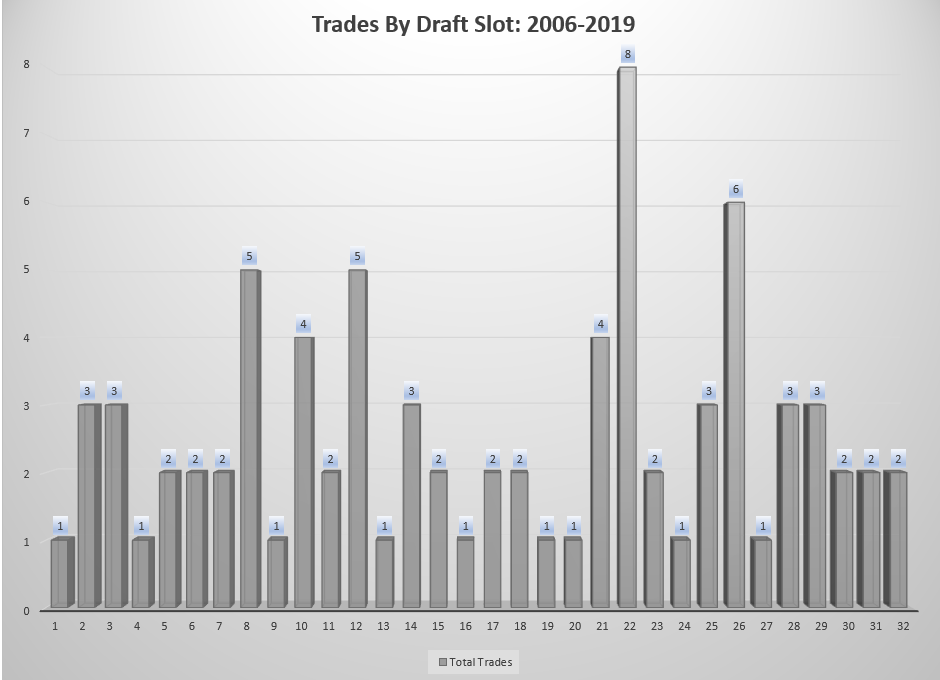 That pick 22 should look familiar – the Ravens traded out of that spot in both 2018 & 2019!
To be honest, I was a little shocked that only one team has traded out of the top spot (LA Rams traded up for Jared Goff in 2016), but let's be honest… pick by pick? This data doesn't mean a ton.
What if we broke it out by grouping picks?
Picks 1-8: 19
Picks 9-16: 19
Picks 17-24: 21
Picks 25-32: 21
Could this be more evenly spread??
Alright, alright so no trends here… maybe we try a different path here and look at the positional breakdown of players that teams are trading up for…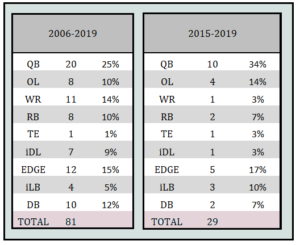 Look at that QB disparity! And really, in the recent five-year window it's even more glaring in favor of QBs! If you want to take this a step further, you could quickly look at O vs D:
2006-2019: 48 Offensive players, 33 Defensive players
2015-2019:18 Offensive players, 11 Defensive players
So it's safe to say that trade-ups lean towards the offensive side of the ball, notably quarterbacks… but let's take it a step further and combine our aforementioned slot groupings, along with these positional breakdowns in an effort to see if each position position favors a certain range.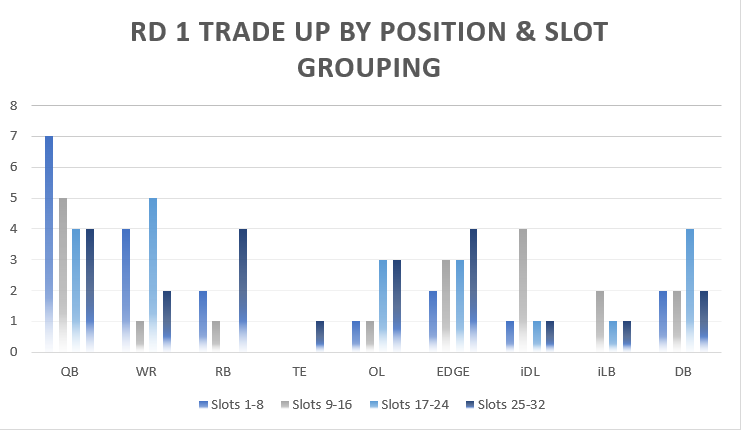 Quick takeaways:
QBs earlier but overall anywhere in the round because everybody needs a leader on O.
Who took the sole Tight End? BROWNS. Shocker.
Not many folks trading up for an inside linebacker, as expected (remember BPA+ mentioning 'impact positions?' iLB ain't it).
Wideout fluctuations are purely based on draft class. 2020 is a good one. I expect we'll see some teams trying to move up for WR again.
Running backs later on makes sense, as most teams aren't drafting running backs early on.
One more fun fact: Earliest RB a team traded up for?
Trent Richardson, when the Browns gave up a haul in 2012 to take ol' T-Rich at 3rd overall.
Oh, Cleveland…
Okay, okay just one more!
The Browns took two of the four QBs in the 17-24 block, both at 22…
Brady Quinn & Johnny Manziel.
Cleveland is surely the comic relief of the first night of the NFL draft!
What About The Ravens?
While the big picture is fun to look at, let's be real here: we care about how this trade stuff impacts the Ravens! Will they be picking at 28 overall? Or possibly sliding out of Round 1? MAYBE LEAP UP FOR A WIDEOUT!
I did mention earlier that I think the first round will showcase some trades, namely for a wideout, but unfortunately for any hopeful Flockers, I don't see Baltimore making the leap. 
Why? 
Quite simply because it doesn't fit the Ravens' tendencies over the years. Since 2006, the Ravens have made 10 trades in the first round, but most have been relatively modest. The highest up they moved was eight spots for Joe Flacco, and that happened after they dropped 18 spots from 8th overall – something they've done twice. In fact, here's the whole list of Round 1 trades by Baltimore, in terms of total spots moved.
(2006): Traded UP from 13 to 12 (Haloti Ngata)
(2008): Traded DOWN from 8 to 26
(2008): Traded UP from 26 to 18 (Joe Flacco)
(2009): Traded UP from 26 to 23 (Michael Oher)
(2010): Traded DOWN from 25 to 43 (Sergio Kindle)
(2012): Trade DOWN from 29 to 35 (Courtney Upshaw)
No first round trades from 2013 through 2017
(2018): Traded DOWN from 16 t0 22
(2018): Traded DOWN from 22 to 25 (Hayden Hurst)
(2018): Traded UP from 52 to 32 (Lamar Jackson)
(2019): Traded DOWN from22 to 25 (Hollywood Brown)
Funny thing here is that these (10) trades resulted in adding eight players, with the majority (5) on the offensive side of the ball, and no defensive players have been a trade up target (or at least landed) since Ngata in 2006. You would think for a franchise built around defense this would be closer to even at least. 
On the flip side, the Ravens have dropped out of Round 1 twice… ending up with Sergio Kindle and Courtney Upshaw. I know that not every draft is the same, but this is a precautionary tale of what a trade can do for a team. The added risk that several players you coulda/woulda/shoulda had are now off the board and you're stuck with a sub-par talent in the name of 'more darts' isn't always worth it. 
While this list is first round specific, let's take a 'broad' look at ALL THE RAVENS TRADES in the 2006-2019 range. 
— Round One: 10 trades- 4 UP/6 DOWN
— Round Two: 7 trades- 2 UP/5 DOWN
— Round Three: 6 trades- 4 UP/2 DOWN
— Rounds Four through Seven: 3 trades- 0 UP/3 DOWN
Overall in this time period, the Ravens have moved up the board only 10 times, compared to 15 moves down to acquire more draft capital. What's interesting here is that Round 3 doesn't follow the trend of the rest of the data, where the Ravens show more desire to move up the board than down. 
Out of curiosity, I wanted to see what those 'up' moves looked like…
— (2007) Ravens traded up from 101 to 86 (Marshal Yanda)
— (2011): Ravens traded up from 90 to 85 (Jah Reid)
— (2012): Ravens traded up from 91 to 84 (Bernard Pierce)
— (2018): Ravens traded up from 102 to 93 (Miles Boykin)
Nothing glaring in terms of success (I'd call it a 50/50 split here) but the moves of Yanda (15 spots up) and Boykin (9 spots up) show the Ravens are willing to go get their guy in Day 2 instead of waiting. Given the strength of the 2020 draft falls in Day 2? I expect we'll see another trade in this range as well. 
One more note here for the Ravens faithful, and something I've been asked about frequently: most common trade partners.
Again, using the 2006-2019 timeframe, and only looking at pick-for-pick trades, here's the top-tier trade partners for the Ravens: Jacksonville (3), New England, Philly, Denver, Tennessee, Minnesota and Seattle (T-2).
If you were to add in player-for-pick trades, the Vikes and Jags jump a cut above the rest, with multiple players coming to Baltimore from Jacksonville (Daryl Smith, Eugene Monroe) and the Vikes getting snowed on a Kaare Vedvik trade. I do find it interesting, however, that Baltimore isn't afraid to trade within the division too, having shipped out Chris Wormley to the Steelers this year for a 2021 pick, and a previous trade with the Browns that led to drafting Haloti Ngata. 
Potential Trade Costs For Baltimore
I love that we have a wide range of Ravens fans in terms of what they want to see in Day One. I ran a recent poll in regards to the Ravens pick at R1P28 and what we'd like to see them do with it. 
TRADE POLL!

Regardless of who could be there or won't be there, what would you do with the @Ravens pick at R1P28?

— AdamBMore (@AdamBMore) April 16, 2020
This is almost a perfect split! 
While we've spent months debating who the Ravens could draft at 28, let's look at the trade up and trade down options to see what the comparative cost and return would be, respectively. In order to do so, I think using historical data is more accurate than any trade calculator chart has proven. Of course, it also runs into factors like the strength of the draft class and position coveted in the trade up (we've broken that down already), but let's just look at the bare bones value of these picks for now. 
Above is the chart I used in a recent blog discussing EDC's statement that trading up is a "50/50" proposition, and includes all trades up the board with a starting point ranging from R1P25 through R1P32 (range around the Ravens pick at R1P28). 
Ideally, should the Ravens plan to trade up the board, the cost would look something like this
— Up 1-3 spots: R1P28 + R5P170
— Up 4-6 spots: R1P28 + R4P134
— Up 7-8 spots: R1P28 + R3P106
— Up 9-10 spots: R1P28 +R3P106 +R5P170
— Up 11-12 spots: R1P28 + R3P92 +R5P170
— Up 13-14 spots: R1P28 + R3P92 + R4P134
— Up 15-16 spots: R1P28 + R2P55 + R5P170
— Up 17-18 spots: R1P28 + R2P55 + R2P60 or R1P28 + R1F2021 + R3P92
Anything higher than this puts the Ravens inside the top-10, and while I don't think they're not considering this option at all? Let's just say we're looking at something closer to R1P28, R1F2021, R2P55 & R3P92 (based on the Julio Jones trade). I think based on how talented the Lamb/Juedy/Ruggs trio is, and how they're expected to all fall in the R1P10-R1P15 range, the price in here could be a bit higher than my projections, but I think these are safe bets across the board.
In terms of a trade down the boards, let's use similar historical data in the same range.
Before you start counting…18 trades up from this range (R1P24-R1P32) versus 24 trades down from this range. 
Worth noting how many teams in the 'trade up' category aren't willing to jump very high (22% jumped up 10+ picks) but teams willing to drop down in this range seem more inclined to take a dive (42% dropped 10+ picks), likely in the name of accumulating picks. In regards to those picks accumulated, some of these bigger drops include a future 2nd round pick, in lieu of more immediate impact in return. Based on how these values align, here's what I expect the Ravens can hope to recoup in a trade back, based on range.
— Down 1-3 spots: [trade down pick] + R5
— Down 4-8 spots: [trade down pick] + R4 
— Down 9-12 spots: [trade down pick] + R4 + R6/7
— Down 13-16 spots: [trade down pick] + R3 + R6/7
— Down 17-20 spots: [trade down pick] + R3 + R4 or [trade down pick] + R2F2021
These ranges are clearly going to vary based on the position a team is looking to move back into Round One for, but more often than not, it's because a team is looking at a premium player (quarterback, wide receiver, edge, etc) and want that 5th year option for team control purposes. If you get a team calling for a QB, expect a higher return, which is what I am hoping we'll see with the Ravens holding R1P28, and the likelihood that Jordan Love is still on the board. 
Could Carolina come calling? What about Indy? Maybe the Chargers go OT out of the gates and wait on QB until this point?
Should be some options here for the Ravens, but I think the biggest takeaway for Ravens fans on #TeamTradedown is that the return a lot of folks are expecting (an additional R3 pick) is going to be the result of a BIG trade down closer to middle of Round 2, not a meager trade down to R2P34 with the Colts. 
If you want the picks, you gotta pay!
Final Trade Predictions
Next week, I'll be releasing both a Ravens 7-Round Final Mock, along with a prediction of a full Round 1 mock, so I'm not giving too many details away here! But I will give some predictions based on this mountain of data, and while it's still all in flux (welcome to the wonderful world of human nature!), I think we're going to find that a few of this will be 'nailed it!' moments…
…or I'll whiff across the board and make a fool of myself. I'm good either way!
Prediction 1: We'll see a QB Trade in the top-5 picks.
Based on the frequency of QB trades in this range, I think it's safe to say Justin Herbert will find a home early in this draft, right after Burrow and Tua find their landing spots. 
Prediction 2: The run on Wide Receivers will start in Day 2, and we'll see multiple trades up the board to land falling talents.
Our model shows that wide receiver trades in Round One tend to happen the most in the 17-24 range, but as we mentioned earlier, the 'Big 3' will likely all go between picks 11-15. While Justin Jefferson is nearly a unanimous WR4 in this draft, the disparity between the next… call it 4-8 wideouts is fairly close. We'll see 4 wideouts go in the first 25 picks, then 10(!) go from late Round 1 through mid-Round 3. Multiple teams will make moves up the board for a coveted receiver falling. 
Prediction 3: The Ravens aren't moving from R1P28
I know, Eric DeCosta did plenty of moving last draft, and in Ozzie's final year he too had lots of early movement… but that won't be the case this year. EDC has 9 picks already. He doesn't necessarily need to add more pick, and already being at R1P28 means any move they make down is likely out of Round 1 altogether, and into Round 2. If he wants to add another Round 3 pick, he'd need to be dropping closer to R2P41+ and based on the teams picking here, I don't see any with glaring needs at the premium positions we listed before, or at least any willing to sell of a pair of Day 2 picks to make the leap. I also think the cost to move up is going to be too rich, and the Ravens will stand pat. 
Prediction 4: Baltimore will move around on Day 2. 
I think there's going to be a trade down in Round 2 with R2P60, and a trade up in Round 3 at R3P92, paired with the added capital received in the trade down from R2P60. This keeps the Ravens at 9 picks, and allows them to close the gap of 32 picks between R2P60 & R3P92, maybe closer to a 20 pick gap. Should the right guy tumble, this is a good place to be.
Prediction 5: R1P22 will once again get traded. 
The Vikings hold the 22nd and 25th picks in the first round of the draft. I very much see a scenario where they pair these two picks to move inside the top-10 for a stud player. I don't want to give away exactly who that is… but it won't make a lot of Ravens fans that were looking to jump up the board happy!
Right or wrong, trade up or down, here's to hoping for the best damn draft class EDC can provide our Ravens!