AB's Final 7-Round Ravens Mock
Print this article
Since this is my second year doing this, I'm going to say this is now my 'Annual' 7-Round Final Mock Draft for our Ravens. 
Last year I included trades, and you bet your ass I'm doing it again… just not right out of the gates. 
[Speaking of trades, check out my analysis of the draft-day trading floor here!]
For those looking for the Ravens to trade back and accumulate picks…prepare to be disappointed.
The Ravens could find a partner in the Colts (R2P34), Chargers (R2P37) or Panthers (R2P38), but ultimately, they'd only really net a Round 4 pick (possibly Round 3 if the Ravens included a Round 5 pick). In my head? It's not worth it. Based on the trade value, the Ravens won't get into the range of an additional R3 pick unless they plan to move back beyond R2P40.
Looking at the trade-compatible teams in that range, I'm not sure we can find a match that makes sense.
— Houston (R2P40): limited picks (no R1, single R2-3-4)
— Cleveland (R2P41): not giving the Browns a high pick
— Jacksonville (R2P42): have a pair of R1 picks already
— Chicago (R2P43): they draft broke (No R1, R2 x2, then nothing til R5)
— Indy (R2P44): also have R2P34 if they wanted to trade up to R1
It takes until R2P45 with Tampa – a 17 pick drop for Baltimore – to find a place that would actually make sense, especially if Tom Brady has any personnel say, as he had allegedly asked for with his new team.
For what it's worth, the furthest the Ravens have dropped from R1 to R2 in a trade was in 2010, when they dropped from R1P25 to R2P43… and drafted Sergio Kindle.
I'm not here for it. 
In regards to a trade up, I think the cost is just too rich. Let's be honest: we all want to trade up for studs. CeeDee Lamb, Jerry Jeudy, Javon Kinlaw, Isaiah Simmons, etc. Based on trade values – and assuming we've need to move up to R1P12 at least – we'd have to see R1P28, R2P55, and either R2P60 or potentially R1F2021. 
Again, not here for it. 
So let's start this thing at R1P28, and see where some Day 2 trades can take us!
Round 1 Pick 28
Selection: WR Michael Pittman Jr, USC
Coming in hot!! I expect many angry comments at this pick, about how stupid it is to take Pittman at 28, when he'd be available at 55 or 60… but that's not necessarily true. I think as fans, we fall victim to running so many mock draft simulations that we take those as gospel in terms of where a player should fall in the draft. 
Meanwhile, Pittman has steady been rising up big boards for analysts in the last month, to the point where he went from a solid Round 3 guy to as high as WR5 on more than a handful of boards.
Why?
For me it's pretty simple: he can do it all. MPJ (not to be confused with DPJ) can play the X, Y or Z, he's got great footwork and great route running, creates separation at multiple levels, and runs great routes. He's a willing (and proven) blocker, devoted to becoming a master of his craft, and hey: he's a special teams ace too! Pitty's biggest knock is a lack of speed and quick/sudden movement to separate, but in my opinion, he's making up for it with his route running and hand usage. 
A well-rounded, complementary receiver to Hollywood Brown & Miles Boykin, who you can move all over the field? SIGN. ME. UP.
Round 2 Pick 55
Selection: RB Clyde Edwards-Helaire, LSU
Let's face it: you already hated my mock after the first pick, so let's just go all in here with CEH at 55!
If you paid attention to my tweets & blogs, you'd know that I've been adamantly against an early running back… with one exception.
Flockers, meet the exception.
CEH is my Ray Rice v2.0 (on the field): shifty, elusive, low center of gravity, fantastic balance, powerful, reliable hands… dreamy as all hell. He'll still need to develop his pass pro game, but learning within this group of backs in Baltimore is literally the perfect scenario for him.
Round 3 Pick 69
Selection: EDGE Terrell Lewis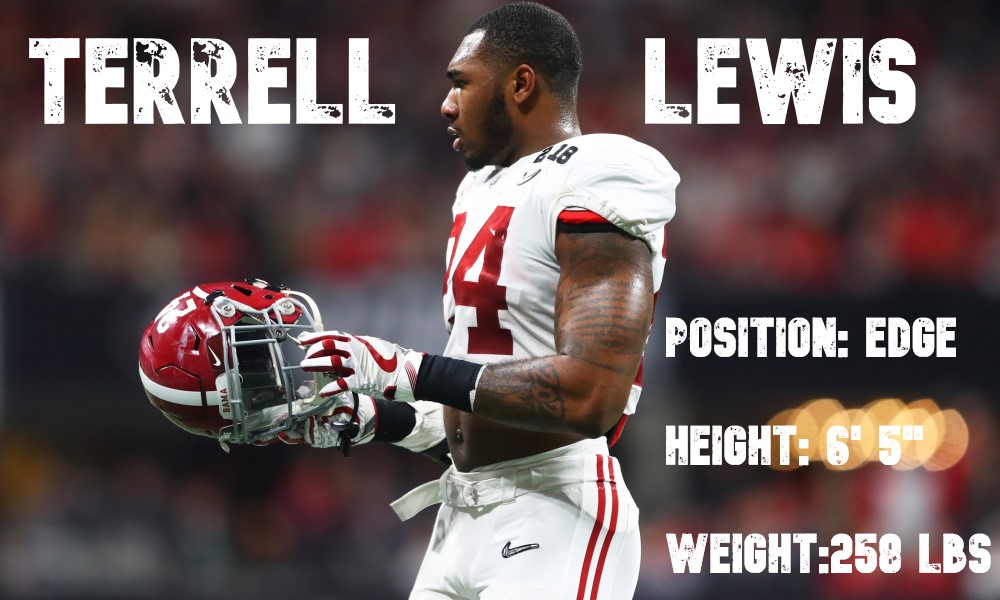 *TRADE: Baltimore sends R2P60 to Carolina for R3P69 & R5P148
A short drop of nine spots for Baltimore, but they're still able to land a stud pass rusher while picking up a 5th Rounder in the process. 
It's funny… I've been morally opposed to this pick for some time now, ranting on about 'injuries,' but honestly? I've been playing a little possum here. Yes, Lewis has had two major injuries (arm in '17, ACL in '18) but a clean 2019 looked great on the stat sheet: 31 tackles, 11.5 TFL, 6 sacks, 2 PBU. I have a sliding injury scale, and seeing a full recovery after that ACL gives me enough to take the leap of faith here. 
Oh, and for those ready to pounce on me with "there's no way he makes it out of Round 2!" be advised that in the year of the pandemic, physicals and follow-ups aren't as widespread as usual. Teams will let injury flagged players drop, and hopefully in this case, right into Baltimore's lap.
Round 3 Pick 92
Selection: iOL Ben Bredeson, Michigan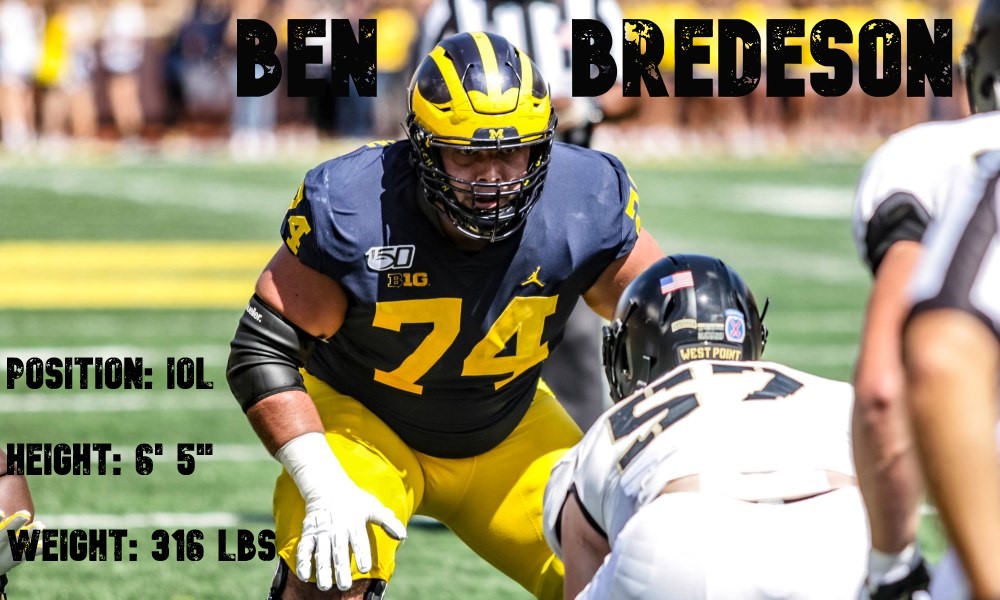 With a weak iOL class, and a huge need with the loss of Marshal Yanda, the Ravens need to be calculated on how they approach this position in the draft. I'm of the opinion it's really going to be Michigan C Cesar Ruiz in Round 1 if they want to find a Day 1 starter, or bust… okay, not 'bust' but beyond Ruiz, they're looking for a high-ceiling interior lineman to compete with the likes of Bradley Bozeman, Ben Powers, Patrick Mekari, etc. In this scenario, Ruiz was taken before the Ravens on Day 1, and thus they play the waiting game and take Ruiz's linemate in Ben Bredeson in Round 3.
I may not be some O-Line expert (hardly a novice) but I trust local RSR OL Guru, Cole Jackson, and his analysis of Bredeson. Based on Cole's breakdown, along with watching Bredeson in action, I truly believe this pick would allow Baltimore to start Bredeson at Left Guard in Week 1, with Ben Powers as the heir apparent to the Yanda throne.
That's right. A pair of "Big Ben's" at Guard for Baltimore. 
Round 3 Pick 100
Selection: CB Amik Robertson, LA Tech
*Trade: Baltimore sends R4P129 & R5P148 to New England for R3P100
Say what you want about trading with the Pats – the Ravens have done it multiple times in the past decade, including trading Jermaine Eluemenor to the Pats last offseason…
Baltimore makes a trade up and over their pick at 106 to draft Amik Robertson here, and it's really a solid pick. Admittedly, I wasn't on board with the idea of another corner before Day 3 of the draft, but our resident DB specialist (Chibstopher Telford) convinced me why it's  needed. Yes, Tavon Young is set to return, but it's really a funny thing that people don't talk about TY's missed time (17 GP in four years) and only focus on what he can do the few games he's been healthy. 
With this pick of Robertson, you get much needed slot depth (we have none, barring a Hump move inside again), and a player that could potentially find his way into the starting lineup at some point, even if Tavon manages to stay healthy. Robertson plays aggressive, tight coverage and plays with a physicality that mirrors what this Ravens Defense is all about. 
Round 3 Pick 106
Selection: iLB Logan Wilson, Wyoming
This mock is just full of guys that scream "Ravens" to me, and Logan Wilson is another one of those guys. 
When I looked at this iLB group in this draft, I specifically looked for three aspects of their games: tackling, coverage, and football intelligence. Yes, it's great to be a speedy 'sideline-to-sideline' linebacker, but I need to know my MIKE can cover his assignments, read the play as it develops, and can be counted on to make the tackle. 
Three boxes, three checks for Wilson. 
No-brainer pick at a position of direly needed depth.
Round 4 Pick 129
Selection: iDL Jordan Elliott, Missouri
The Ravens, in my opinion, don't really "need" another Interior D-Lineman in 2020, but in Day 3 of the draft, you're scooping up the falling talented players, regardless of need at this point, especially when you consider the amount of unknowns and players with two years or less left on their deal within the current Ravens D-Line group.
Jordan Elliott is one helluva run stuffing defender, but his pass rush is lacking (sounds like the typical Ravens DL pick!). Still, a steady progression in production over his college tenure, coupled with learning from some guy like Calais Campbell, could be the perfect situation for Elliott to develop into a starting caliber player by 2021/22. 
Round 4 Pick 143
Selection: WR Devin Duvernay, Texas
The Ravens shouldn't be content with a single wideout added in the draft, but I also think they don't need to burn a pair of early picks on WR. Having added Michael Pittman with their top pick, waiting until Day 3 of the draft would be ideal at this juncture, so for those thinking we grab a Lynn Bowden Jr? Sorry folks, he's long gone. 
Instead, I find myself gravitating towards Texas' Devin Duvernay as a developmental slot receiver to grow behind Willie Snead for a year, with potential to take the starting job in 2021. Duvernay isn't going to wow anybody (thus, Day 3 pick), but he's sure one helluva solid option here. Fantastic hands, deep speed, physicality after the catch. What more could you ask for?
Round 5 Pick 170
Selection: Thaddeus Moss
Yes, the 'Moss' name carries some weight, but let's be honest with ourselves: the Tight End crop in this draft is severely lacking to the point where I don't think TE1 (Cole Kmet) goes off the board until Round 3, which pushes the rest of the group down the boards.
As such, Thaddeus Moss, son of Vikings legend Randy Moss, falls to the Ravens in Round 5 of the NFL Draft. 
Moss is the exact player I would hope the Ravens would add in the absence of Hayden Hurst – block first, catch second. Sure, when called upon he's sure-handed in making the catch, but being a nasty blocking TE that gets a head full of steam and destroys anybody in his way? That's what I'm all about!
Oh, and he's now reunited with CEH, as he'll continue to open holes for him as well.
B-e-a-utiful!
Round 7 Pick 255
Selection: OT Calvin Throckmorton, Oregon
Okay so we're in the 7th Round, where typically I'd look for special teams players, but this year is unique. The UDFA market could be a challenge for most NFL teams who didn't get out to Pro Days and see these later round guys and fliers first hand. Because of the uncertainty late, I can see the Ravens specifically looking for captains, leaders, and guys with flexibility to move around… 
Enter Calvin Throckmorton. He's not a guy I'd ever expect to be a future starter for the Ravens, but he's a project that fits the mold of what Baltimore likes and needs on the O-Line: Throckmorton has been a starter at Oregon for four years and in that stretch, he'd started at Left Tackle, Center, Right Guard and Right Tackle for the Ducks. Smart kid, albeit limited physically, but a player the Ravens could take a swing on to mold into the next James Hurst on this offense. 
Thoughts, Flockers? 
Too risky going with Pittman-CEH early? Love the aggressive nature, despite some risky players?
Let us know in the vote!!