How the New Guys Fit on Offense
Print this article
The Ravens had the most prolific rushing attack in the history of the NFL last season, so therefore, the rich must get richer…right? With their 2nd Round Pick, the Ravens selected J.K. Dobbins, a running back out of Ohio State. In fact, half of their 10 selections were on the offensive side of the ball. The Ravens are a team seeking constant improvement, so hoping to shore up the offense is no big shock; what is interesting is how they will fit into an already commanding offense.
Add Dobbins, two receivers, and two linemen, and Lamar Jackson has even more weapons than he could hope for heading into Year 3.
J.K. Dobbins, RB, Ohio State
Dobbins is natural fit in the Ravens' rushing attack. In college, Ohio State ran the shotgun formation the vast majority of the time and incidentally, 57% of Dobbins' carries in 2019 were on RPO-designed plays. The Ravens ran the pistol formation the most in the NFL last season (230 times). Dobbins must have been identified by the Ravens brass as the perfect scheme fit back among the entire draft class. Here are some attributes that will help JK Dobbins thrive in the Ravens Offense:
Pass protection – Now, Dobbins has shown some inconsistencies from some of the film I have watched, but he has also shown flashes of using his size to the best of his ability. His inconsistency has arisen on plays where his effort can be put into question. Some coaching-up, including learning under Mark Ingram and Gus Edwards could provide Dobbins for what will be a necessary skill to master in the run-heavy Ravens offense.
Vision – Dobbins easily possesses the best vision of any running back in the 2020 Draft Class. Sometimes I feel like I'm watching Neo from the Matrix with the way that Dobbins sees holes before they even open up. The cuts he also makes up the field are both creative and efficient. He doesn't try to do too much.
Footwork – Balance, balance, balance. Dobbins can maneuver laterally extremely well and puts himself in position to recover from contact well by using his feet as leverage.
Outside zone experience – Ohio State liked to use the outside zone plays frequently, which works well as an RPO formation. Dobbins recognizes how to use his blocks to his utmost advantage and what he might lack for in upper echelon power, he makes up for in football intelligence.
Pick #55 of the 2020 #NFLDraft by the Baltimore Ravens JK Dobbins @Jkdobbins22 was clocked at 20.6 mph in a game.
Dobbins' verified Max Speed by @RecruitAlytics1 AND verified 100M time by @TrckFootball puts him in the top 1% of all HSFB players in terms of real speed #RA2010Club pic.twitter.com/YTsuBzW3Q8

— Recruiting Analytics (@RecruitAlytics1) April 25, 2020
Ball security – Here's something Ravens fans are going to love: Dobbins never fumbles. He keeps the ball high and tight to his chest, lowers his non-ball shoulder into the pad level, and turns his body through contact away from the defender. For God sake's, he only fumbles once every 170 touches!
Player Comp – Mark Ingram or Miles Sanders. I see why Eric DeCosta and Joe Hortiz targeted this guy. He does everything that Mark Ingram does. He sheds blocks, he has tremendous vision, and has enough elusiveness for his size to provide some versatility to be a three-down back.
This will be a running back by committee, just like last year. But, Dobbins helps to shoulder the load away from Mark Ingram as he ages and also reduces his injury risk.
Devin Duvernay, WR, Texas
Duvernay ran a sub 4.40 40-yard dash at the combine, led the nation in catches, and was the Texas High School state champ in the 100-meter dash…what's not to like? I'd like the Ravens to try Duvernay in the slot. He played over 700 snaps there in 2019, so he has a good feel for the spot.
Here is a GIF of Devin Duvernay owning Grant Delpit for all eternity pic.twitter.com/qKVYhh331x

— Buck Swope (@HelmetBoy_Texas) September 13, 2019
Gadget Player – Duvernay can basically do it all on offense. He's lined up in the slot. He's lined up outside. Hell…he's even been the running back on occasion. Admittedly, I wanted Laviska Shenault in the 2nd Round, because I thought he could fill that swiss-army knife role on the Ravens they lacked last season. Duvernay very well could be that role player. I expect him to see time on Special Teams as well. The Ravens have done this with receiver draft picks in the past like Chris Moore and Michael Campanaro and I see no reason they halt that trend now.
Great speed – Speed for a receiver is a requirement in today's NFL. Duvernay ran a 4.39 40-yard dash which further validates the 'track team' mantra the Ravens offense has been given. This is evident on not only his kick return ability, but more importantly the separation he showcases as a receiver. He seemed to always be open (led the nation in receptions), and this was due in part to his separating speed.
Adjusts to the ball – Duvernay has shown the ability to adjust to bad throws and I think this could be what caught the eye of the Ravens scouts. Jackson showcased an immense improvement in accuracy in 2019, but still tends to throw some balls off-target when he's on the run. Duvernay can adjust to that.
Player Comp – Dare I say Deebo Samuel? Both showcase return skills and gadget ability as a receiver. Oh yeah…Duvernay ran a faster 40-yard than Deebo and they're about the exact same size.
I really think the Ravens did their due diligence when reviewing this receiver class and probably identified Duvernay as a guy who could contribute immediate production. The Ravens front office is counting their blessings that Duvernay fell to the 3rd Round, but that's exactly what happens when there is a receiver class as deep this year's.
Tyre Phillips, OL, Mississippi State
This was my first head-scratcher of the draft. Phillips is big and stocky and moves that way. The lack of lateral movement tells me he won't be a starting NFL tackle. How he fits with the Ravens will probably be how James Hurst fit with the team. Maneuverability for Phillips may his calling card, or it's possible they see him slotting into (or at least competing for) the right guard spot. Whatever the case may be, I'm rooting for this guy, as he gives a phenomenal interview.
With the 106th overall selection in the 2020 NFL Draft, the Baltimore Ravens select…

Tyre Phillips, OT, Mississippi State pic.twitter.com/OEI9JqDoAQ

— PFF (@PFF) April 25, 2020
Competition level – Phillips faced some of the stiffest competition in all of college football in the SEC and fared well enough. Notably, Phillips faced Auburn, which included a defensive line featuring draft prospects Marlon Davidson and Nick Coe, and held his own.
Good technique – What Phillips lacks for in quickness, he makes up for with solid technique aided by a large frame. His technique on pulls is proficient and the Ravens will probably ask that of him if he's to crack the starting lineup.
Arm Length – Phillips' 35 1/8" arms were only bested by tackles Matt Peart (36 5/8") and Mehki Becton (35 5/8). For reference, Marshal Yanda has 32 ½"arms. Arm length is certainly a controversial measurement as some argue it doesn't necessarily translate to performance, but what it does showcase is the possibility that Phillips could still play Tackle and use his arm length to aid in protecting the edge. Phillips could also use his arm length to establish a wide base in lieu of lateral agility.
Player Comp – Kelechi Osemele. This former Ravens compares favorably to the newest Raven. They're both 6'5 330lbs and were extremely raw. Phillips hasn't played Division I ball for long having transferred from a JUCO school. This tells me he is still developing and at least has the frame that he could develop the talent.
Again, I am not high on this pick, but I trust that the Ravens are seeing something that I'm not. If nothing  else, it provides excellent depth that was so desperately needed on the interior of the offensive line.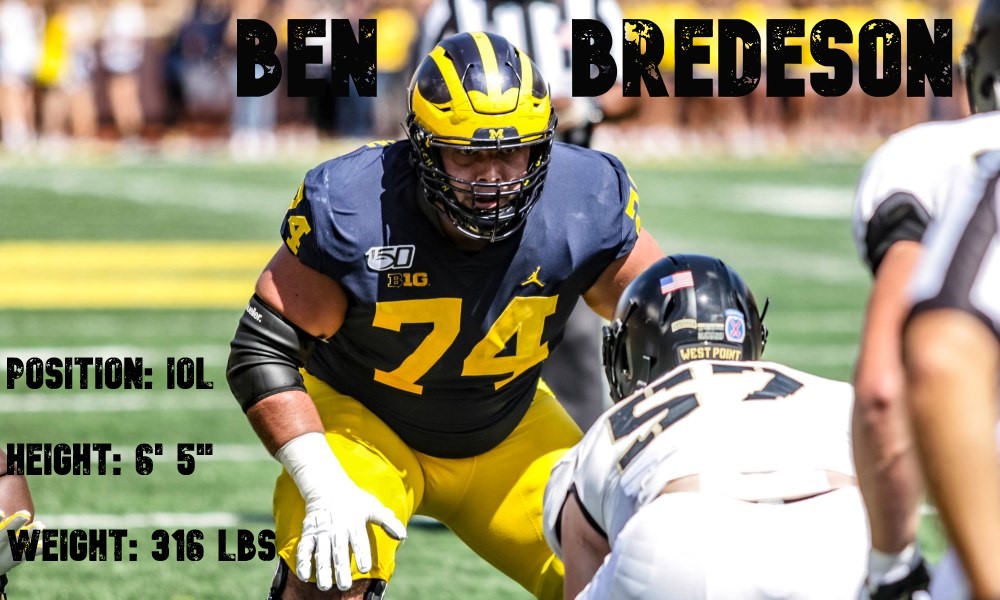 Ben Bredeson, OL, Michigan
Oh my, my RSR colleague, Cole Jackson's favorite player in the draft: Ben 'The Mauler' Bredeson. Okay, that isn't his actual nickname, but after watching his tape, that's what I call him. If you're really looking for Marshal Yanda's heir apparent, I think you have your man.
Run protection – Bredeson is exceptional at creating holes for the running back and uses his hips to create leverage and manhandle defenders.
Pass protection – I've seen on numerous occasions Bredeson excel with the use of combo blocks, giving the quarterback ample time to get the pass off. His awareness is also excellent, and you won't see him ever quit on a play. There were several plays on tape where Shea Patterson (Michigan QB) didn't have an open receiver, and yet Bredeson kept giving it his all and even tried to lend help to his fellow linemen.
Epenesa slayer – Bredeson seemed to fair well against most heavy competition, but one that stood out was Iowa's A.J. Epenesa. Bredeson performed an excellent cut block to Epenesa while Michigan was on the goal line and was called upon to defend the entire Iowa Front 7 and performed admirably. If this translates to the NFL, Bredeson is not only going to be a starting guard, but conservatively has Pro-Bowl ceiling.
Player Comp – Kevin Zeitler. This was actually Cole Jackson's player comp a month ago when he did Bredeson's player evaluation and I think it makes a lot of sense. They both have high football IQ and can really showcase effort throughout games.
No one could ever replace Yanda, a no-doubt Hall of Famer, but Ben Bredeson could be the next man up. This guy is a complete mauler and I was pleasantly surprised by the number of pancake blocks I saw on his tape.
James Proche, WR, SMU
Ah yes, my favorite player the Ravens drafted. This to some may be a bit of a surprise, but I'm speaking solely to the value at which they drafted Proche at pick 201. Proche is going to be a star for the Ravens and I mean that without hyperbole. I'm champing at the bit to see how Greg Roman incorporates Proche into this offense. Besides the clear special teams ability, Proche is the prototypical 'catch everything' wideout. I would trust him any day of the week if you needed 10 yards on a 3rd down.
James Proche, WR, SMU-

– Ridiculous hands
– Concentration
– Adjusting/Contested catches
– Tracking
– Slot WR at the next level
– Toughness over the MOF
– Smart route runner
– Competitive toughness
– Play maker
– Understands leverage through stem
– Quickness on releases#NFLDraft pic.twitter.com/X0DMPn5tiz

— Ryder (@RyderM25) April 20, 2020
Hands – Proche had just about some of the best hands of the entire wide receiver class. He doesn't just make spectacular circus catches (no shortage of those), but he makes the catches that every receiver should make. Proche had just a 2.05% drop rate in 437 career targets, so like Devin Duvernay, the Ravens should expect sure-handedness.
Outside receiver with the ability to go inside – James Proche sat primarily on the outside for SMU, but showed crazy good ability to run slant routes and use his speed burst to fly by linebackers. This could be key for Lamar Jackson as he loves to throw inside the hashes.
Screens – Proche offers the Ravens a skill with which they should take advantage. He can run screen plays with the best of them. Proche easily navigates the field using a good combination of patience and agility to move the sticks. This is something the Ravens have primarily done in the past with running backs, but now they have another option at their disposal.
Player Comp – Davante Adams. Okay, settle down, I'm not saying Proche is going to match Adam's production or caliber of play, but Adams runs about the most proficient slant routes in all of football. At 6'1, he isn't one of the larger NFL receivers but plays above his height and so does Proche.
I'm gushing over this guy, I know. But, I really believe in Proche's ability. He was a high productivity guy in college, which doesn't really factor into how I evaluate prospects, but if it's any indicator of how he'll play in the NFL, Ravens fans shouldn't be surprised if this player really shines in 2020. Proche has also shown a knack to win 50/50 balls, which for his size (5'11…if that), reminds me of Hollywood's ability to do the same. My bold prediction for Proche is that he will throw a pass at some point this season. He did so a couple times in college on trick plays, and why not try show something new to have other teams prepare for?
Eric DeCosta did the league dirty yet again. The 2020 draft on paper is looking better than his first one as GM in 2019 and I can't say I'm surprised. The Ravens consistently take the 'best player available' mindset and THAT is how you build a winning franchise. These offensive players will have a role to play in 2020 as the Ravens are in a 'win-now' mode. With a combination of speed, versatility, and football IQ, the Ravens already have a better offense and I think we'll look back 4-5 years and be glad that DeCosta & Company got Lamar the weapons to even further his development and build on an MVP season.