A Sit Down With Pat Ricard
Print this article
If you follow Ravens Pro Bowl Fullback Patrick Ricard on social media or ever had the chance to meet him, you know how approachable he is. Somehow a random Twitter reply I made to Pat last Monday about my favorite flavor of Gatorade, led to his participating in a phone interview that topped a couple of hours. It was a monster conversation with topics ranging from the Ravens' record-breaking 2019 season, the guidance and resources for the COVID-19 response, to his favorite parts of the Pro Bowl experience, a revelation about Pat's Undrafted Free Agent (UDFA) start with the Ravens, and much more.
[Ravens 2020 Undrafted Free Agents]
For those of you keeping score at home, Monday, April 20, 2020 was supposed to have been the start of Organized Team Activities (OTA). Instead, Ravens players did virtual workouts in their basements and garages. Nothing is awesome these days, and the virtual format of the NFL Draft this year hints at the games and events we may yet do without. But for now, I believe I "Forrest Gumped" my way into the only positive aspect of the growing list of sports cancellations due to the Novel Coronavirus.
"Disclaimer: This conversation went back and forth for almost 2 hours. I have paraphrased and/or combined some of Pat's statements where they intuitively supported his points, and to avoid repetition. The following is my best recollection of our conversation, and I have endeavored to faithfully represent Pat's tone and context. My narrative and comments to the reader are in italics and parentheses."
Hugh Nunn: Thanks very much for doing this. I can't believe a Twitter comment about Citrus Cooler Gatorade started this discussion. What's the deal with you and Ronnie Stanley stumping for Pineapple Mango? I've never even heard of that flavor.
Patrick Ricard: (Laughing) The Ravens have some sort of exclusive deal with Gatorade about the flavors they have, and we can't always get the Pineapple Mango, but most of the guys agree it's the best.
HN: I'll have to try and find some. It's great the way you and some of the other players are willing to engage on social media, as bad as some people get. I'm sure the conventional wisdom says to go the other way.
PR: Sure- they do get bad. But I still get excited when some players or rappers I follow engage with me. I know how it feels. Some players just stay away, but I've always been a regular, approachable guy. It's not hard to see what it means to the kids and fans when you hang out for just a moment to sign a jersey or have a quick chat.
HN: How are you and your family holding up through the COVID-19 response?
PR: Just like everyone, I hope. We're staying inside and following all the guidance. The Ravens team doctors conducted Zoom meetings with all the players and their families. They gave us all the facts and the do's and don'ts, and they took a lot of time to answer everyone's questions. But like everyone it's frustrating; beyond missing OTAs, Hayley and I just bought a place in Maryland, and couldn't move in there because there's no room for the home gym I set up here in the basement.
We got a few things but couldn't set up the new house. Hayley just graduated as a Physician's Assistant, and we don't know when or where it would be best for her to find a job. But we know how lucky we are that no one in our families have been really affected. I know someone who recently lost both of his parents to the Coronavirus within 6 minutes of each other. They had to have a virtual funeral.
HN: I can't even imagine that.
PR: Yeah. We're taking it seriously and following the guidance. I'm busier now that the iPad playbooks were delivered. And the Ravens Strength and Conditioning staff put together our individual workouts. I've been doing a lot of both.
HN: OK- football. Going back to the beginning, when did you realize you had the skills to play at the professional level?
PR: I don't want to sound cocky, but it was my Redshirt Freshman year at Maine.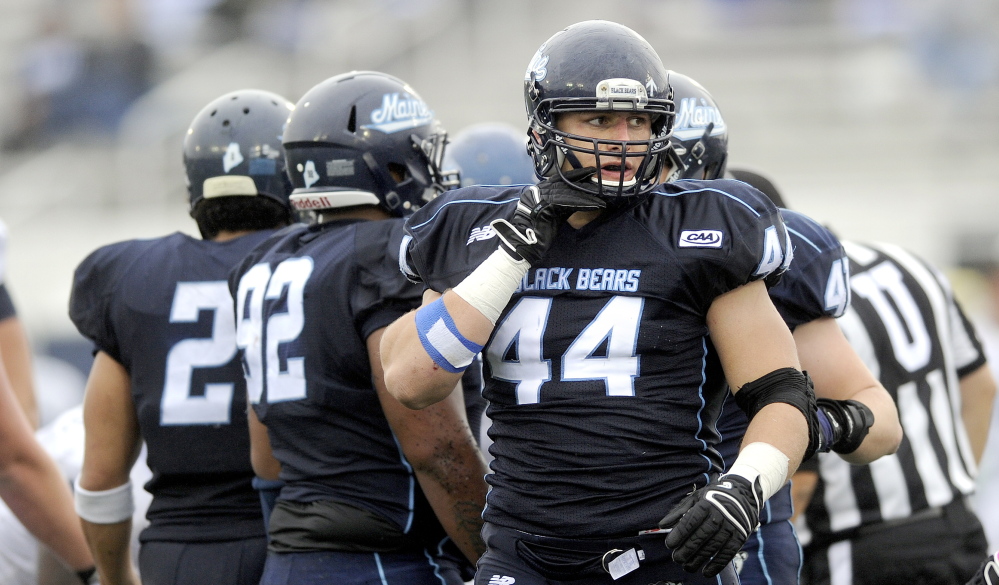 HN: I've heard of it happening earlier. My brother for instance; in High School he was a phenomenal athlete in both Lacrosse and Football. He was playing Corner against our archrivals and got torched for 4 Touchdowns by an underclassman named OJ McDuffie. That's when he knew the NFL was NOT his answer.
He WAS a Lacrosse recruit at Syracuse though…
PR: (Laughs) Yeah, I can see that. But I was going through our program, and one of the coaches pointed out a Colts Scout watching me work. That's when I realized I had a shot. But it wasn't just that moment. Maine is one of the schools in the FCS with a consistent number of guys getting drafted or making NFL squads, so I could see what those guys were doing. I pride myself on always being a sponge and asking all the questions. I learned a bunch of that stuff from my older brother. He started as a walk-on at Stonybrook up in New York. Then he earned a scholarship and eventually became a Captain. I paid a lot of attention to the way he worked and what his mindset was.
Ricard has described the start of his playing Fullback in many of his interviews. But here he talks about the first reps he took and the way he made sure the work he was doing stuck with the coaches. Pat was also candid about the reality of his chances to make the team and what it took.
PR: It was soon after Kyle (Juszczyk) signed with the 49ers, and we didn't have anyone who was a traditional Fullback. One day after practice, Greg Roman walked up and told me they wanted to try me out at Fullback. It was the first time we ever spoke. I hadn't played Fullback since High School, but it felt natural and I did a good job. I blocked Willie Henry, then climbed to the 2nd level and got the Mike (Middle Linebacker). I went over and stood next to Head Coach John Harbaugh and kind of waited for him to say something. He said it looked good, and I reminded him I'd played Fullback in High School. After that it became a regular thing.
But I'll be honest; I wasn't good enough that year to make the team just as a Defensive Lineman… maybe a Practice Squad somewhere. Playing Fullback opened a roster spot for me and I'm just grateful for the time everyone spent to help me learn. Not every team or coaching staff takes the interest ours does. I ask a ton of questions, and my position Coach is just patient with me. I'm always jumping back and forth during practices among Offense, Defense, and Special Teams. I know sometimes I ask the same things and he never calls me on it, just helps me and we move on. This staff is amazing.
One of my absolute favorite things about the Ravens is the way they use Undrafted Free Agents (UDFA). I look at it as a "12th man" part of the culture in Owings Mills. UDFAs have also been a steady source of both homegrown talent and Compensatory draft capital. And while Ricard wasn't aware of the streak of UDFAs making the final 53 (now at 16 consecutive years), he did shed some light on the Ravens' approach.
PR: I never heard anything about the Ravens' (UDFA) tradition until I was in camp. They recruited me like crazy my senior year at Maine. I got calls from the Defensive Coordinator, Position Coach, and the Scouts, and I knew they had solid interest. Then I got to camp and saw it up close. The coaching staff made it clear that everyone had a shot. Lots of teams talk about every position being up for grabs. But players can see the results with the Ravens having so many undrafted players make the team and do well. The players see that history and they buy in. Every player out there felt like they had to bring it every day. The veterans see and hear that too, and it keeps them working harder.
Ricard also gave a bit of insight on differences in the locker room over the last two seasons.
PR: We kept having to overcome injuries to key players in 2018. Tavon [Young] hurt his neck at the end of the preseason. We had to re-work the defense when first C.J. [Mosley] hurt his knee and then the offense when Joe [Flacco] got injured. Even though we were winning after Lamar stepped in, the change was constant. Coach Harbaugh was DEFINITELY more fun in 2019. Right from the start, you could tell he and the coaching staff were more in synch. We had a great camp and came out strong. Victory traditions got better last year too. Instead of the cakes we had in 2018 (which were awesome), they brought in food trucks from Jimmy's Seafood and a bunch of other places. It was before my extension, so I was all about taking some free food home (laughs). Coach Harbaugh just looked happier last season.
HN: How early did the conversation begin for your own extension?
PR: We started talking about it in the beginning of the season. Like I said, I had a great camp, and they let me know they were interested. It came together and I signed in December. That meant a lot to me, because I worked so hard, and especially because I was undrafted.
HN: It's also a big deal that both Coordinators are coming back.
PR: Definitely. Both Greg and Wink (Don "Wink" Martindale) were discussed for Head Coaching jobs after the regular season. They would have deserved it, but they're both coming back along with the whole coaching staff and the starters. First, Greg Roman is a genius. He designs his plays so you can run the same thing out of different formations and motions, just like you can run multiple different plays out of the same looks. We played some solid teams last year. And even the veteran defenders were sometimes just trying to figure out who had the ball. Lamar will make you pay if he gets a step or two, and even a second of hesitation gives him all the advantage he needs.
As for Wink, he gets more out of our guys than any coach I've been around. It sounds corny but he just keeps it real. Wink doesn't take it easy on anyone. He's all about accountability. He grades your play in front of the room and is just brutal when guys miss assignments or don't meet expectations. Guys take care of their end. We were all glad to hear they're both coming back.
HN: The staff is still in one piece, but can you talk about some of the players moving on to other teams?
PR: Chris Wormley and I were rookies together, and Michael Pierce was undrafted like I was. We got close from all the work we did under Wink. Wormley grew up as a Steelers fan and I'm happy that he gets to play for his childhood team. But I'm still going to talk shit to him when we play. Pierce as well. We all know he'll do well in Minnesota. I'll miss those guys, but it's good they are getting a chance to show what they can do in new places.
(Pause)
But losing Hayden Hurst was huge. All the stories are true about how close the Tight End room was, and how they just went everywhere together. It's tough to lose solid guys like him, but there just weren't enough reps to go around. I'm glad he's going to get the chance to be the guy down in Atlanta, where he'll also be closer to family. Hayden is fast and he's talented. He could have just as easily become the "go to" if not for his stress fracture at the beginning of 2018.
HN: My son got Hayden's autograph during the 2018 preseason. His first Ravens game at M&T was week 17 last year against the Steelers in the rain. Hurst had a great game and my son claimed him as his guy. We worked out a deal involving grades for a jersey. He was upset when Hayden got traded, but it's part of the deal.
PR: Oh, that's tough.
HN: Yeah- I told him lots of people root for players and not just teams these days. We'll see how it goes. On the positive side, the Ravens also added Calais Campbell and Derek Wolfe. Have you had much of a chance to talk to them yet?
PR: We were very happy to get Derek Wolfe after the Flocker deal came apart. I haven't met him yet, but Derek's been playing some great football in Denver. I got to hang out with Calais and his family at the Pro Bowl. He's a humble giant, with this big, deep voice. He plays Defensive End and 3 Technique and is going to help us on a bunch of levels.
Then we started talking about the 2019 season. I have to say, the 2019 regular season was the most fun I've ever had as a fan. The 1986 Orioles leading wire to wire is now a distant second… #TFdidAngelosfireDaveyJohnson
HN: The way you exploded into the 2019 season blowing out Miami and beating Arizona was awesome. But in both games, the Defense gave up some big chunks of yardage. The Kansas City game was the first real test. The loss wasn't a blowout, but I think the expectation was that Cleveland was our chance to right the ship. What happened against the Browns in week 4?
PR: You can say what you want about the Browns, but they have a bunch of talent on that roster. They'll do some damage if they ever get it figured out. And Nick Chubbs is a beast! I can't tell you how not fun he was to tackle in that game. Really it was their game plan though. Pat Mahomes and the Chiefs showed the Browns enough, and we couldn't do enough to stop them. I think we gave up like 400-500 yards through each of those games.
HN: Then EDC (GM, Eric DeCosta) started bringing in players to shore up the Defense. How did that go from your perspective?
PR: The Front Office did an amazing job finding those Free Agents like L.J. Fort, and then we got Marcus Peters. The common thread among them all was the veteran presence they brought. It worked and we started winning. But going into the Seattle game, we were still trying to figure out who we were.
Playing in front of that crowd… in the rain… we started to click.
HN: I wrote about that 4th down against Seattle. Scoring after pulling Justin Tucker off the field looked like the moment it all clicked for Lamar- and really the whole team. Did it feel that way to you?
PR: Absolutely- that 4th and 2 was the turning point. Lamar scored that touchdown and we didn't look back. We started putting longer drives together and the defense smothered them the rest of the game. We played some great teams down the stretch and kept winning… not just scraping by. We imposed our will and ended up breaking records.
HN: I was re-watching the week 10 Bengals game from last year and hadn't realized your destruction of Ryan Finley was your first sack.
PR: Yeah! I was close a bunch of times, and just wanted one sack. I felt like I got a good hit on him and the ball came out. Tyus Bowser grabbed it and scored. It was a great moment.
HN: The camera showed Finley as he was getting up off the carpet. He looked like he was reassessing some of his life decisions… not happy at all.
PR: like we said before, it was a lot of fun.
(Pause) Both of us knew what was next…
PR: And then the Tennessee game. It was just heartbreaking.
HN: Yeah. After the 4th quarter in the 2018 Wildcard game against the Chargers, we had the ball with a chance to win. That's all you can want… I felt like it wasn't totally out of reach this year until late. But yeah, heartbreaking. I walked out of M&T Bank Stadium, and just sat in my car for about 2 hours… staring at the traffic and processing what had just happened.
PR: Really? Wow.
HN: Yeah- Confession time here. I was at the Ravens last two playoff games; so I'm staying away until we win one…
PR: (Laughs) It's OK man… I was there too. Yeah, we moved the ball, but just couldn't make the plays when we needed them. And give respect to the Titans, they made all the plays they needed and took advantage when we didn't. And Derek Henry. It was horrible… and then it was over- the whole season.
Suddenly, we were in the locker room after the game with Coach Harbaugh giving us the "end of the season" speech. He started talking about coming in for our exit physicals, and working even harder next year… I kind of wasn't listening by that time. We had the expectation of going so much farther, and every year is different. It takes a huge amount of work to be successful in the league, and it took EVERYTHING this year. I didn't really want to think right then about starting all over. I was thankful to have a wedding to plan, so I wasn't just sitting around.
HN: Yes! Congratulations on your wedding. How did that whole thing go?
PR: It ended up fine, but we weren't sure exactly when we could do it because of the playoffs and the Pro Bowl. Hayley found this venue up in Connecticut we liked. They were booked a year in advance, but we found a way to make it work- got married on a Friday. We didn't care about the date, just wanted to be able to celebrate the right way. We had about 200 people there and it was a great time. Then we got up the next day and flew to Dubai, and then on to the Maldives for our Honeymoon. That place is amazing. I posted some pictures on Instagram of the villa we got on the water… just beautiful. It was nice to be far away.
HN: Congrats also on your first Pro Bowl! How did that leap come together?
PR: It really started at the end of 2018. I was inactive for the last month of the season, and there was talk in the offseason that I might not make the 2019 team. I just got this big chip on my shoulder coming into OTAs and ended up having my best camp yet. All year I just wanted to remove any doubt, and I think I did that. At some point, guys started telling me I was going to the Pro Bowl, and they turned out to be right. We all put a lot of work in.
HN: What was it like playing in the Pro Bowl? What was the best part of the trip?
PR: It was a little mixed… We would have much rather been playing in the Super Bowl, but it was a lot of fun down in Orlando. The NFL and the whole city put on a great event. And because we were running the AFC side, our entire staff was there with so many players getting their due after a great year. It made the whole thing that much more special. The game itself was a blast, and like I said, I got a chance to see Calais Campbell in action. He's so good! But I think my favorite part was having my whole family down there to share the experience.
It was just amazing to walk around with my brother and everyone who were with me through the whole journey… doing all the events and rubbing shoulders with some of the greats. As much time we spent signing autographs and interacting with fans, it was very cool that Universal Studios and part of Disney were open to just the players and their families. It was surreal to turn around and see Russell Wilson and Ciara, or at Universal Studios riding The Hulk with DeShaun Watson.
HN: Sounds amazing. Moving toward the 2020 season, we have the draft starting Thursday night. Any "Inside Baseball" you can give me for who the Ravens really want?
PR: (Laughs) Nope! I'm not on those calls, but I am looking forward to getting more players to help us go farther next year.
HN: I guess that's all I have. I'm sure I'll think of more to ask after the call, but thanks again. This was great!
PR: You're welcome! I enjoyed it. You guys take care.
I want to thank Pat again for his time last Monday evening. This interview-turned-conversation lasted much longer than we had initially discussed. Saying it made my day would be the understatement of the … whatever we are calling time now… but it was something I won't forget. You can follow (and interact with) Pat Ricard on Twitter and Instagram: @PRic508
Update: Sunday, 25 April. I thought of SEVERAL questions I wish I had asked… The 2020 NFL Draft is over. DeCosta and Co. delivered another superlative effort and found huge value at every turn. We have a new rookie class that includes 20 UDFAs hoping to follow the trail of breadcrumbs left by "Project Pat," Michael Pierce, and so many others. God- I love this team.
PS- I found a Hayden Hurst (Ravens) Jersey for my son on Fanatics… Anyone know what kind of Gatorade Hayden likes?