We currently live in a world of uncertainty.
Will we see the Baltimore Ravens play in 2020? Will we have a full season? How is the current state of the country going to affect future years of the NFL? In times like these, I think it's important that we have other things to think about. So, that's the goal of this article – which isn't really an article, because it isn't about any one topic.
Welcome to my brain. Where random topics flit around aimlessly, and I'm never quite sure how I got to the topic that I'm currently on.
Enjoy your stay.
It's Quiet.. Too Quiet.
The weird thing about a lot of fans is that during the 'dead season' they go radio silent. I don't understand the concept. Just because football isn't being played on a field doesn't mean that the season is over. Even when 'Draft SZN' is over, there are things to talk about. Questions to ask. Things to think about. Basically I'm just encouraging all who read this to keep their interest in the team and knowledge up-to-date, even if they think that the dead season means nothing is going on.
Here's Where It Gets Fun.. For Me.
Speaking of questions being asked, I have a couple.
Are we convinced that the Ravens are going to have the same kind of dominant offensive line in 2020? Marshal Yanda retiring was a huge hit, and I don't think enough people are taking that into consideration. It was a one-week conversation, and then it seems like everybody just kinda.. forgot. I trust the organization's ability to develop offensive linemen, but historically, rookie starters on the iOL are.. not great.
Of course, the Ravens have a Top-2 OT tandem, and there's that pesky Lamar Jackson for defenders to deal with, so maybe I'm worrying over nothing.
Next question – the run defense will unquestionably be better, with the additions of Calais Campbell, Derek Wolfe, Patrick Queen and Malik Harrison. However, are we really sold on the abilities of Jaylon Ferguson and Tyus Bowser opposite Matthew Judon? For that matter, are we sold on Judon himself? Over the past three seasons, a whopping 37% of his production has come in just six games. That's 48 total games, and more than a third of his production has come in six of them.
You'd like to see more consistency throughout the other games. That's all I'm saying.
As if Coronavirus Wasn't Enough..
A squirrel in the United States tested positive for the bubonic plague, and there's a new swine flu with pandemic qualities. That's it. That's the statement.
Renaming Marquise.
He's over 180 pounds now. I suppose I can't call him 'Fetus' anymore.
A dose of reality, though – Brown racked up 233 yards and two scores between Week 1 and 2. The rest of the season, he had just 351 yards, with five scores. Again, consistency.
I realize he had 126 yards in that game against Tennessee.
I just hope that with health comes consistency and reliability as a No. 1 option.
Favoritism From Vegas.
The Ravens are favored in every single game on the schedule in 2020. Yes, including against Kansas City.
Don't overthink it. Baltimore is likely going to be very good, but improving on a 14-2 season is extremely difficult, so let's forget about going undefeated. Expect regression in the W/L column.
(Which obviously means they'll go 15-1 because I'm wrong every time I say something like this. And the loss will be to somebody they should absolutely beat. Like the Giants. So I'll have to live with that shame in my house, which I share with a Giants fan.)
Attitude is Everything.
I absolutely love the response Lamar gave when asked about Patrick Mahomes' half-a-billion dollar contract.
'I have to win a Super Bowl. I have to get where he's at.'
Talk about a level-headed guy. Honestly, his attitude might be the most important part of who he is as a player.
I'm kidding – it's his ability as a quarterback.
If I Was Derrick Mason..
I'd take a moment to realize that the Ravens are a young franchise, and with that comes young fans. Most aren't aware of his existence on the Ravens, let alone what he did for them.
I know I've said it on Twitter, and on the Neutral Zone Infraction podcast, but I'm going to say it again.
He's the best wideout that the Ravens have ever had. Go watch his games before you argue, because you're wrong and should feel wrong.
Ketchup is the Worst.
…
Operating at Sub-Capacity is Sub-Optimal.
At the time of this article, the Ravens are deferring all PSLs until 2021, and they will only be allowing 14,000 fans at each game – in a stadium that can seat 70,000ish.
I get the 'why.' And I agree with the why.
However. I'm really interested in how they're going to compensate for crowd noise. Crowd noise is incredibly important in the NFL. Home field advantage is a real thing. Gordon and I discussed this on this week's episode of Neutral Zone Infraction, and he said something that made me perk up.
Apparently they give watchers an option when viewing the game at home – they can watch with or without crowd noise, which gives them an opportunity to hear the players more. I would very much like to have that option. I don't care about how much work it would be for the 'bleep button guy'.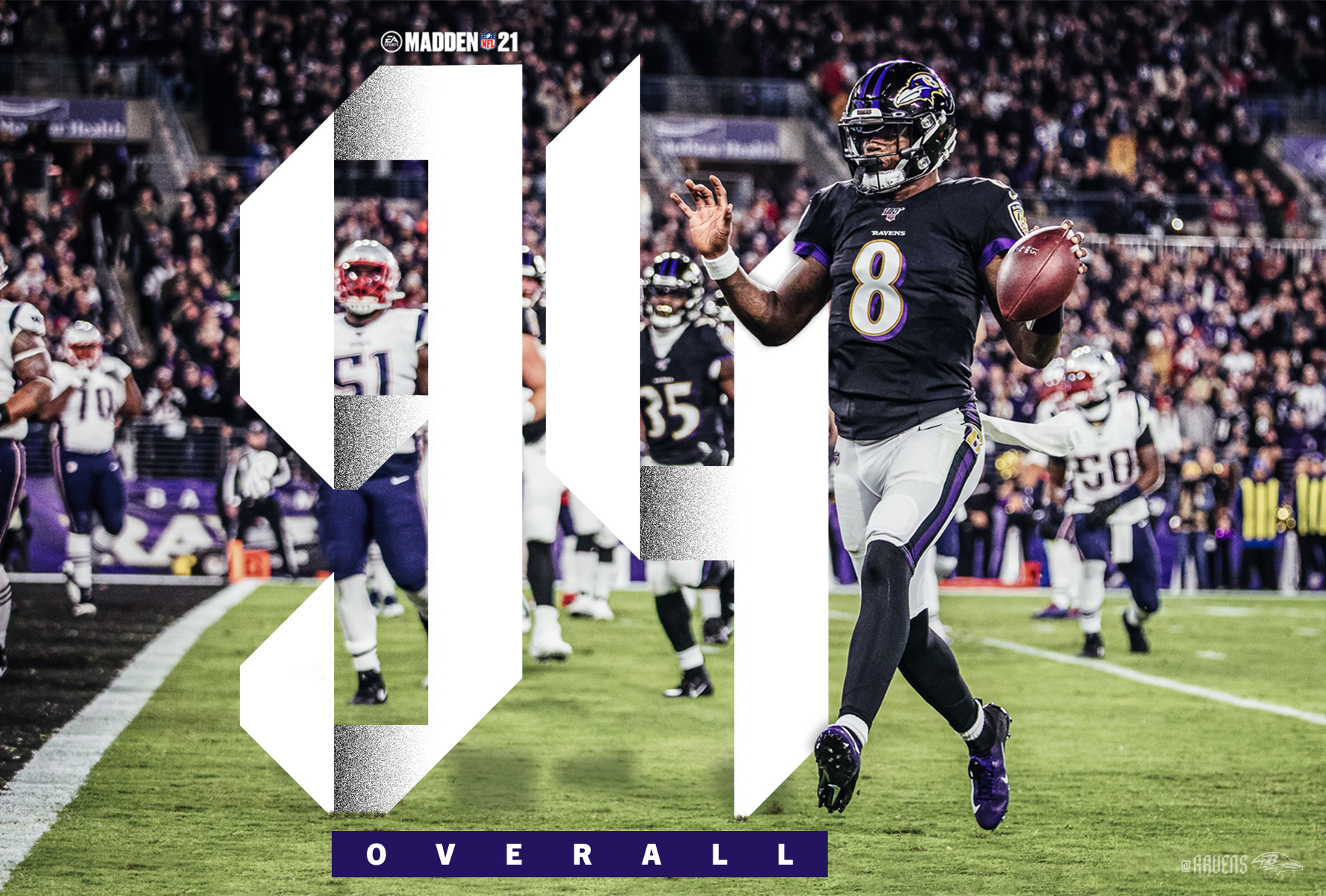 I Understand Madden Ratings..
..about as much as most people understand the compensatory pick formula, or how the salary cap works.
But hey, they can't fix bugs, or franchise mode, so you expect them to have ratings that make sense?
I'll just sit here and wait for Horizon Zero Dawn to release on PC.
That's the End of That.
I haven't written anything in awhile, so I figured it was time. These are just thoughts that I had rattling around in my brain, and I figured I'd share them with you. Don't forget to come fight with me on Twitter, and listen to Neutral Zone Infraction – not for me, but because Gordon is really smart.
If you are going to listen to NZI, be sure to leave a 5-star review on iTunes, and then leave a scathing review in the comments. Help us out while also complaining about whatever you have to complain about.
Until next time, Ravens fans.