Ravens Roundup: Dobbins is Ballin'
Print this article
J.K Dobbins is as advertised. And let's not forget how he arrived in Baltimore.
Recently I had a discussion with a colleague who lamented the departure of Hayden Hurst. The Ravens didn't want to part with Hurst but he forced their hand. He wants to be the go-to guy at his position and that simply wasn't going to happen here in Baltimore with Mark Andrews in town.
The Ravens are still looking to fill the void created by Hayden's departure and that's unlikely to happen from within. Free agent Delanie Walker remains available and he's very familiar with an offense piloted by Greg Roman given their days together in San Francisco. But for GM Eric DeCosta and the Ravens, it will always come down to "right player, right price".
The consolation prize for trading Hurst to Atlanta is Dobbins. The rookie RB who had first-round grades and was selected with the 55th overall pick, has been everything the Ravens expected and then some. Dobbins will be a star in the Ravens offense. He's quick with a burst, has great vision and he's decisive when toting the rock. Additionally, he's an accomplished receiver out of the backfield with great field awareness which was demonstrated over the weekend when he toe-tapped his way to a touchdown.
In days to come, there will be no lamenting Hurst's exodus.
JK Dobbins 🔥🔥🔥

— Mo (@LamarHeisman) August 23, 2020
No Justice For The Ravens?
Justice Hill has been sidelined with an injury during training camp and it's possible that he could be down and out for a bit. Yesterday the Ravens held tryouts for four running backs. They are thin at the position for now, given Hill's injury and that of Kenjon Barner who suffered a leg injury last Friday.
The Ravens recently invited four running backs in for a tryout, three of which have had some ties to the club in the past. The sole exception is Jon Hilliman out of Rutgers.
[Related Article: Ravens Camp Notes]
UDFA's
Given the abbreviated training camp and the absence of preseason games, it will be challenging for undrafted free agents this season to land on the final 53-man roster. Currently, the Ravens have an active streak of 16 consecutive seasons of a UDFA making it through the final cutdown day.
If the string is to continue in 2020, my money is on quarterback Tyler Huntley. The former Utah Ute has a good fastball and throws well on the run. He seems to keep his head up while outside the pocket to exploit bigger opportunities downfield. His mobility makes him a natural fit for the offense plus his production thus far, contrasted against Trace McSorley's camp struggles, makes Huntley the favorite to extend the Ravens UDFA streak to 17.
Where is Marshal?
For my money, Marshal Yanda is a first-ballot Hall of Famer. That said, it's unlikely that the 6'3", 305 pound, 8-time Pro Bowler will wear the gold jacket in his first year of eligibility. That just doesn't seem to be the way that the voting goes for interior offensive linemen.
Marshal was always committed to the Ravens. The consummate teammate and leader, Yanda was one of the first in Baltimore to coin the phrase, "Embrace the Grind". Apparently, Marshal is doing exactly that even in retirement while re-shaping his body in a near mind-blowing way. Check him out…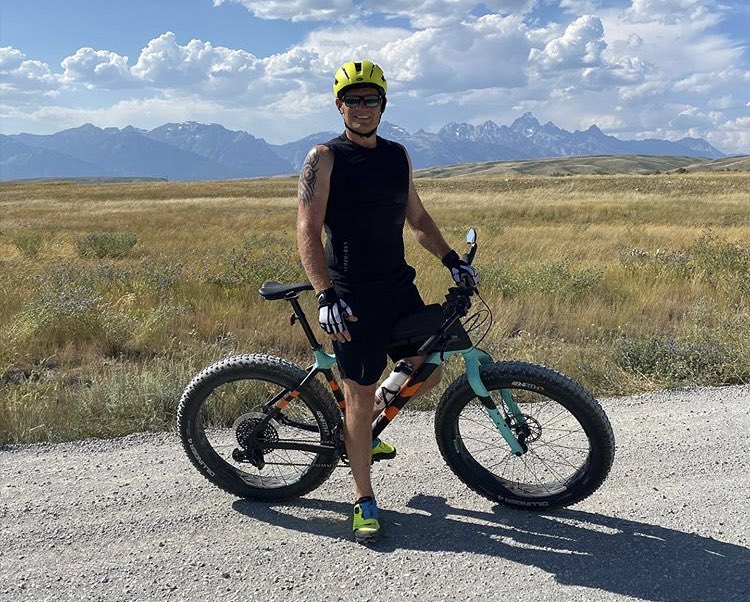 Hungry Like The Wolfe
Yesterday defensive lineman Derek Wolfe took the podium via Zoom conferencing and he was asked what one thing convinced him to become a Raven.
"Elvis Dumervil. I talked to Elvis Dumervil, and I was like, 'Hey, man. What do you think?' And he was like, 'Yes. Sign with them immediately.' So, he was like, 'You're going to love it there. It's your kind of place. They play your kind of ball. It's a defensive organization.' Even though we have a great offense right now, our defense is the backbone of this team and of this organization, really.

"Growing up in northeast Ohio, I got to watch the Ravens play football all the time, all their games were on. So, I got to watch that 2000 Ravens defense. Those were like my early years of football. So, that's how I learned how to play defense was from watching the Ravens and how they played flying to the ball, ripping the ball out, playing physical, being nasty and gritty and very humble – that's the kind of football I like to play."
This guy was born to be a Raven!
Roster Rules
To help teams adjust to all of the changes forced upon them by the pandemic, the NFL has provided some additional flexibility to help teams manage their rosters. You can look at the formal letter HERE, addressed to DeMaurice Smith, the players union Executive Director.
Admittedly, the details in this letter that you can read here blew my mind, so unless you are someone who actually reads all of the terms and conditions when you buy a new appliance, let me provide some of the highlights:
• Roster sizes remain at 53 but the active roster can expand to as many as 48 (up from 46) provided 8 of the players are offensive linemen. If not, then the active list can only consist of 47 players.
• Practice squads have been expanded to include 16 players and of those sixteen, teams can store up to 6 players regardless of their number of accrued seasons.
• Teams can protect up to 4 players on their practice squads so that other teams cannot poach desirable players. However, there is a window of opportunity for poachers that will exist between the end of a team's game and 4PM on Tuesday.
• Teams can store an unlimited number of players on Injured Reserve. Players can return to the active roster following 3 weeks on the adjusted IR.
Can't Touch This
Contact has been extremely limited in camp and consequently the line at the clubhouse cold tub following the first game is going to look like the drive thru at a Chick-fil-A. You hear it said all of the time that players need to get in "football shape".
What that really means is that players must acclimate their bodies so that they can absorb the blows that result from the game's violence. That acclimation process has been stripped away by COVID-19. Expect some sloppy play in Week 2 of the NFL season as players work throught their bruised and beaten bodied. Road teams will be at a decided disadvantage.
The Ravens travel to Houston in Week 2, their longest road trip of the season.
Final Thoughts and Observations
With the expanded practice squads and the ability to carry vets on the PS, I don't expect there to be many cuts that will appeal to Eric DeCosta…Since the Ravens drafted J.K. Dobbins I've held firm to the opinion that Gus Edwards would be the odd man out. But given the uncertainty of Justice Hill, that belief now stands upon shaky ground…With the release of Earl Thomas the Ravens now have $6M more in cap availability. I'm not sure if they'll use it all as part of a bargain shopping spree. I wouldn't be surprised if they just held firm. Those cap dollars can be pushed into 2021 when such dollars will be even more valuable. Keep in mind that next year's salary cap will be down nearly 12%, to $175M. 
Ian Rapoport strikes me as a smug guy. At least that's how he comes across on NFL Network. Yesterday his smugness was in full bloom. Rapoport reported definitively that the Cowboys are not expected to make a move for Earl Thomas. When confronted about Rapoport's claim on 105.3 The Fan in Dallas, Cowboys owner Jerry Jones said, "[Rapoport] has no idea what he's talking about!" Rapoport is sticking to his claim.
*BEEF UPDATE* What can we do to mend the @RapSheet Jerry Jones relationship? pic.twitter.com/LJr0VUkYEb

— Patrick Claybon (@PatrickClaybon) August 25, 2020
Final Word
I've made my feelings perfectly clear regarding the departure of Earl Thomas. This is a classic case of addition by subtraction. The quality of his play in 2019 is grossly exaggerated. He was average and hardly performed to the level of his pay. The Ravens fell in love with a player from the past. The one in the now is not the same player. Mix in the multiple off-the-field shenanigans, some of which were very embarrassing, and saying goodbye was an easy thing for the club.
That said, it's obvious that something is wrong with Thomas on a personal level. The human is more important than the football player and Earl should seek some professional assistance. Seeking help is not a sign of weakness. It's a sign of strength. While I'm glad he's no longer with the Ravens, I do wish him well as a man and hope that his future has happier days. But it all starts with him. You can only help those who want to be helped. Here's to someone prying that need open for Earl.