Class of '18: Jackson Leads "Juniors"
Print this article
The Class of '18
Time flies, doesn't it? Two short years ago, our Ravens made a decision that would alter the course of the franchise for years to come. And yeah, four other teams drafted QBs in the first round as well. You guys might remember my "The Sophomores" series. Well, we're rebranding for this season and we're doing it in style. I'm currently lobbying to have the t-shirts printed.
Anyway, Where do our five fine young quarterbacks rank among their peers going into 2020?
Let's find out.
5. Josh Rosen (AZ/Mia/TB)
I had to double check Google to make sure that Josh Rosen was actually added to the Bucs' practice squad and I didn't just imagine it. Not a good sign.
Jokes aside, Rosen is now in the best situation he could possibly be in. Not only does he get to work with noted QB whisperer Bruce Arians, he also gets to be in a room with Tom effing Brady every day. That's a noted improvement over a linebackers coach in Brian Flores and Ryan Fitzpatrick.
In the meantime, Rosen still falls at the bottom of this list. I'm rooting for the guy. Hopefully he'll still be a Buc in year four.
Moving on to greener pastures…
4. Sam Darnold (New York Jets)
While not throwing nearly as many picks as someone else in this group, Sam Darnold is still having a hard time shedding the "turnover machine" label he got back at USC. Gang Green's O-Line was one of the worst in the NFL last year and will have a completely different starting five than they did Week 1 last season.
Darnold's receiving weapons…… aren't great. An old friend named Breshad Perriman is somehow the best receiver he has. Le'Veon Bell will be coming out of the backfield, but with questionable run blocking, I don't know how much support he will give Darnold.
With some tough defenses on the schedule for the Jets in Buffalo, New England (each twice) and San Francisco, I think the Jets are in for another long year. Darnold just doesn't have the weapons or protection he'll need to drag this Jets team to a decent record.
Besides looking good here & there against teams like the Cowboys and Raiders, what has this guy accomplished?
3. Josh Allen (Buffalo)
Now we're getting to the good ones. Josh Allen's improvement was on display during 2019 as he saw his completion percentage jump and his interceptions fall, while his team made the playoffs. What more could you want Buffalo?
One thing to keep an eye on with Allen: His brand new toy at receiver in Stefon Diggs. While I do wonder how he'll fare without Adam Thielen on the field with him, Allen's lack of reliable targets was an issue last year. Having Diggs helps everyone on the offense.
Allen has made efforts to improve himself during the Covid-19 shutdown, getting advice from Tony Romo and Peyton Manning. Allen has been working on his mechanics to improve his ball placement, so we'll see how that plays out in an up-for-grabs AFC East.
Allen has a much more complete cast than does Darnold, so I think he'll have the better 2020 season. However, don't think I've forgotten about this: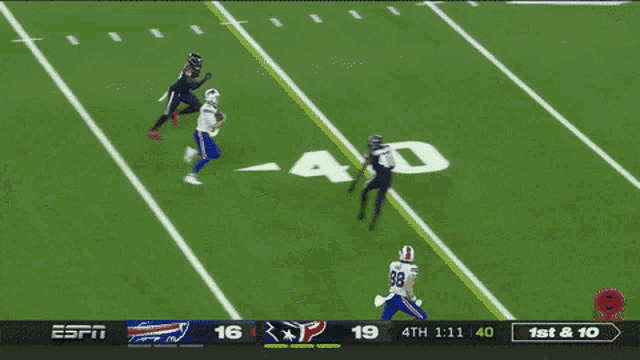 2. Baker Mayfield (Cleveland)
Ok, I'm gonna say it. I think Baker will actually accomplish something this year. The guy actually kept his mouth shut during the offseason and got into shape. The physical fitness we can see, and kudos to him for that, the maturity and decision making on Sunday? That remains to be seen. Baker Mayfield has thrown nearly 40 interceptions in his short time in the league and helped turn OBJ into an afterthought. He has an uphill battle to start cashing the checks his mouth has been writing. Having to play both Pittsburgh and the Ravens twice isn't easy, but hey, at least no one will swing a helmet at him.
Baker getting sacked 40 times was a problem that the Browns decided to address by going out and signing Jack Conklin to a nice contract and drafting Jedrick Wills Jr with the tenth overall pick.
Baker's two biggest issues in 2019 were taking sacks and some questionable decision-making. The team did their best to take care of the former, so if Baker can shore up the latter, he figures to have a pretty good year.
1. Lamar Jackson
Words can't describe how far Lamar has separated himself from the rest of the group. What can I say about Lamar Jackson as an athlete that we don't already know? Nothing. This guy already the most talked about Baltimore athlete in the last ten years, maybe ever.
And yet…
Why are people still doubting this man?
Fine guys, if you want to do this again, I'll play nice.
Jackson has visible issues with throwing deep and outside the numbers, which he has worked on during the offseason. The Ravens added a few weapons to the receiver corps in rookies Devin Duvernay and James Proche. Those additions, along with Hollywood Brown returning to full health,  should help with Lamar's continued development, so no big worries there.
I'm thinking that the Ravens will throw the ball a bit more this year. Not a lot, just a bit. With four viable weapons at running back, and coming off a record-setting season, there's really no reason to NOT run the ball a lot.
Anyway, expect another year of greatness from number 8 this season.