Print this article
My Picks
Last Week: 3-3
Overall: 3-3 (50%)
BDC Lock of the Week
Last Week: 1-0
Overall: 1-0 (100%)
Week 1 Whiffs
— I did not see the Green Bay offensive output coming by any stretch. I loved the under in that game and had little faith in the Packers putting up anything close to 43 points. I was way off.
— I either underestimated the strength of the Patriots defense or I overestimated the improvements the Dolphins had made this offseason. If you would have told me going in that New England would only put up 21 points, I would have felt even more confident in my Dolphins pick.
Well, Week 1 is officially in the books. There really weren't a ton of surprises with most of the established teams (i.e. Baltimore, Kansas City, and Seattle) performing well in lieu of any preseason games. I don't see much changing through the first quarter of the season.
Each week, I'll provide the below tidbits of information. The first will be the ATS standings. This will give you an indication as to how each team is performing ATS and provide some other data points for reference. The tiebreaker I use for the standings is average point differential.
The data you'll see below the standings gives you the count and percentages on how teams across the NFL are doing in regards to who is favorite/underdog and by how much.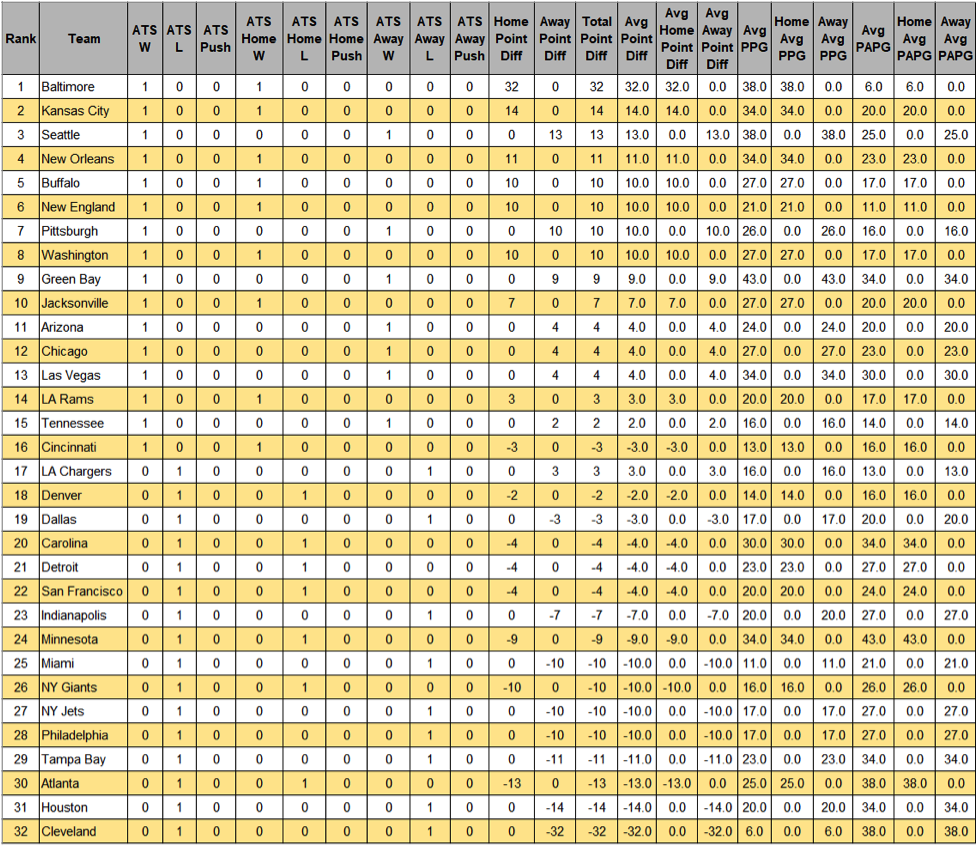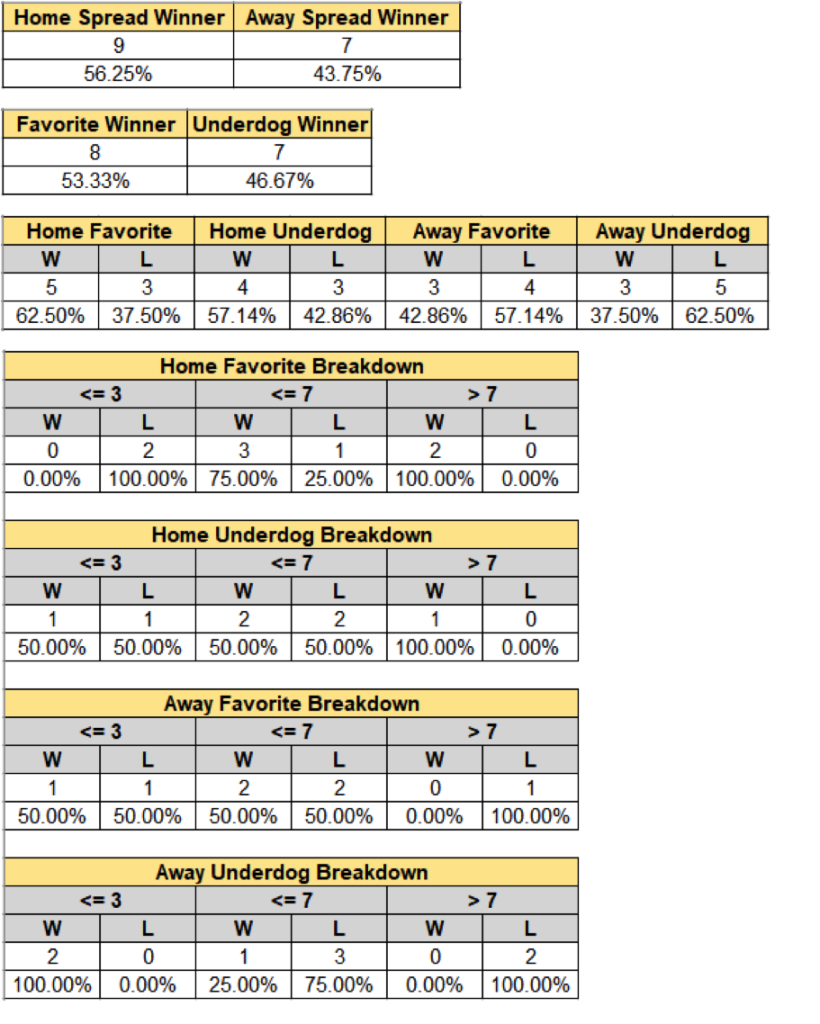 As always, the most important thing you'll read:
Disclaimer: Please do not take these picks and expect to make any real money. I enjoy picking games and the discussions they create so feel free to play along. I will provide information for each game, but please make your own decisions and BE RESPONSIBLE!
Feel free to play along, tell me where I'm wrong, post your own picks, or just enjoy the read. Week 2, here we go…
Los Angeles Rams vs. Philadelphia Eagles (+1, o/u 45.5)
Philly struggled in Week 1 and lost outright to The Football Team (I get a kick out of saying that). Carson Wentz struggled as the game went on behind a sieve of an offensive line that gets the treat of lining up against Aaron Donald this week. The 2017/2018 defensive player of the year should have himself a day.
Since 2018, the Rams have gone 10-6-1 ATS on the road with an average point differential of 6.2 points. That trend will continue as they'll force Wentz into two more interceptions this week while keeping constant pressure in his face. I like the Rams to cover.
These two teams haven't met since 2018, but the Eagles are 6-0 straight up and ATS against the Rams in their last six meetings. The Eagles are 1-7 ATS in their last eight September games. Los Angeles is 6-1 straight up and ATS in their last seven games on the East Coast.
My Pick: Los Angeles -1
Minnesota Vikings vs. Indianapolis Colts (-3, o/u 48.0)
I really botched the Vikings/Packers game last week. I thought the Vikings would be able to slow down the Packers offense. Instead, they got lit up for 43 points. They'll get a little reprieve this week against the Colts, who were embarrassed by Jacksonville in Week 1 and lost their starting running back, Marlon Mack, to a torn Achilles.
Both teams should be able to move the ball through the air, but Dalvin Cook is the X-factor for me. Minnesota has the ability to be a bit more balanced than the Colts, which will be on display this week. I like the Vikings to win outright.
Minnesota is 3-8 ATS in their last 11 games as an underdog. The Colts are 1-3 ATS in their last four games.
My Pick: Minnesota +3
Kansas City Chiefs vs. Los Angeles Chargers (+8.5, o/u 47.5)
Kansas City looked primed to defend their title in a big way in Week 1. Their biggest offseason addition may be their first round pick Clyde Edwards-Helaire, who was elusive in his debut on Thursday night, which should scare the rest of the AFC. If the Chiefs can effectively run the ball, they'll be near impossible to stop. So if you're going to be giving whoever they're playing (with the exception of a few teams) less than 10 points, I'll almost always take Mahomes and co.
Chiefs win big. Again.
The Chiefs are 6-0 straight up and ATS in their last six road games against the Chargers and are 10-0 ATS in their last 10 games overall.
My Pick: Kansas City -8.5
Baltimore Ravens vs. Houston Texans (+7, o/u 52.0)
Last week, I took the Browns plus the points against our Ravens. I'm really not sure if I thought the Ravens were going to take a step backwards or the Browns were going to take that much of a step forward to keep the game close, but either way, I was wrong. The Ravens looked every bit as dominant as they did last season and without playing a perfect game, still cruised to a 32-point victory.
Like the Chiefs, I think I'm to the point now with the Ravens that I'm going to take them, unless the line is absurd, until they prove I should do otherwise. After watching Houston on Thursday night against Kansas City, can you honestly convince yourself the Texans will cover? I didn't see anything in Houston that would push me that direction. That said, the extra few days of preparation do mean something for the Texans, but let's be honest, the one thing that Baltimore has in their back pocket is that they practice every day against a better, faster version of Deshaun Watson.
The Texans won't be able to slow down Lamar Jackson through the air and the Ravens offensive machine will keep rolling through to their Monday night matchup against Mahomes and the Chiefs.
Ravens win 30-17.
The Ravens are 10-2 ATS in their last 12 games. Houston is 4-14 straight up in their last 18 games as home underdogs.
My Pick: Baltimore -7
BDC Lock of the Week
San Francisco 49ers vs. New York Jets (+7, o/u 42.5)
If you've read this piece for the past few seasons, you know my favorite picks are good teams coming off of bad losses. San Francisco fits that bill this week. After a loss to an Arizona team that nearly always plays them tough, they'll bounce back against the Jets.
The downside to the 49ers this week is that they're getting to be pretty banged up on the offensive side of the ball. George Kittle will most likely be a game-time decision but even without him, I think the 49ers can put up enough points to cover because the Jets have their own injury concerns. Frank Gore will most likely be the lead back for New York as Le'Veon Bell went down with a hamstring injury in Week 1. That's not good news going up against a defensive unit like the 49ers.
Shortly after their loss in Arizona, I was able to get San Francisco at -6.5 before it bumped up to -7. I'm even confident at the -7 number to make this my lock of the week. San Francisco wins by double-digits and the total finishes below 42.5.
San Francisco is 7-20-1 ATS in their last 28 games as a favorite. The Jets are 1-6 ATS in their last seven September games
My Pick: San Francisco -7
Two straight weeks that I'm on board with a majority of favorites. That normally scares me, but with this early season of uncertainty, I'm going to ride the teams that have a solid foundation until that bites me.
Good luck in Week 2!