Print this article
My Picks
Last Week: 3-2
Overall: 6-5 (54.5%)
BDC Lock of the Week
Last Week: 2-0
Overall: 2-0 (100%)
Week 2 Whiffs
I think it's time for me to hop off the Vikings bandwagon. Kirk Cousins looks terrible and the defense hasn't been much better.
Kansas City had won their last 10 games ATS. No surprise they drop the one where I put them as one of my best bets. My apologies for the jinx.
Most weeks, straight up winners cover the spread at a very high clip. Week 2 was not that week. Seven of the 16 games saw the straight up winner not cover the spread.
Here are the ATS Standings after two weeks of football: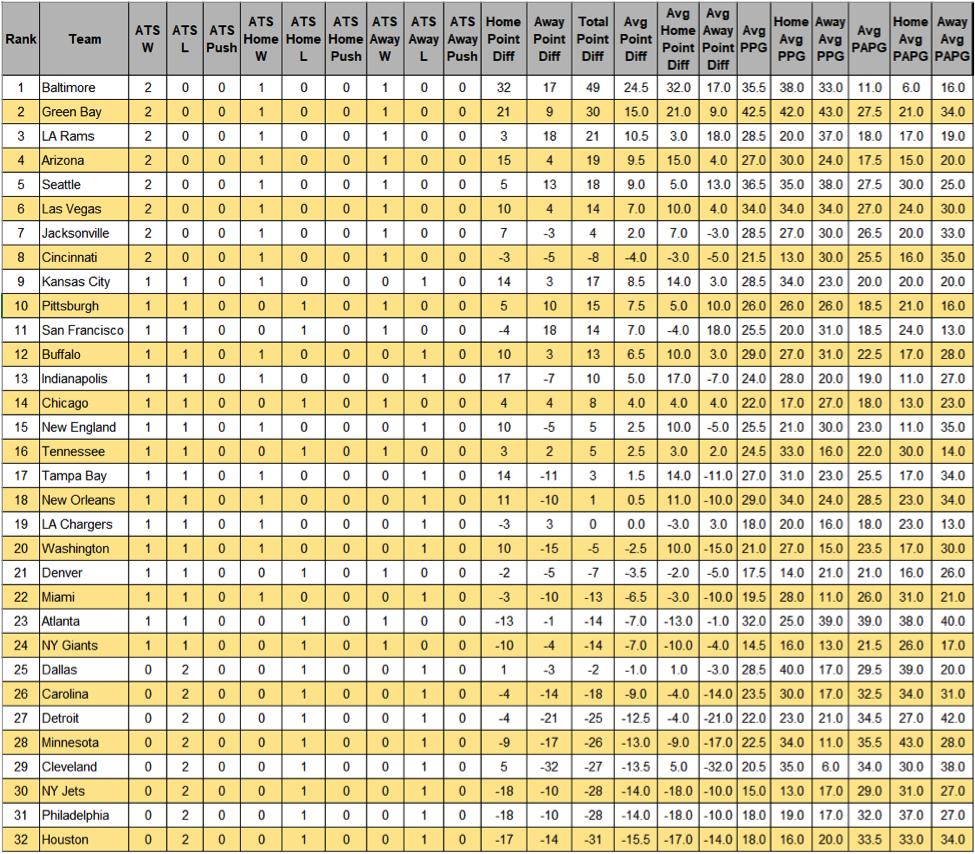 As always, the most important thing you'll read:
Disclaimer: Please do not take these picks and expect to make any real money. I enjoy picking games and the discussions they create so feel free to play along. I will provide information for each game, but please make your own decisions and BE RESPONSIBLE!
Feel free to play along, tell me where I'm wrong, post your own picks, or just enjoy the read. Let's roll onto Week 3.
New York Jets vs. Indianapolis Colts (-11.5, o/u 44.0)
I'll be honest; there aren't a ton of games I'm in love with this week. As far as confidence level goes, this one is in the middle of the pack for me, but that's better than most in Week 3.
The Jets defense is better than it's showed the first two weeks of the season, but their awful offense will have their hands full against a Colts defense that looked sharp against the Vikings. I'm just in the camp that the Colts are closer to the team that got beat by Jacksonville than the team that beat Minnesota. The Jets won't win this game, but they'll keep it within 10 points.
Since 2011, the Colts are 1-4 straight up and ATS against the Jets. New York is 1-7 ATS in their last eight September games.
My Pick: New York +11.5
Green Bay Packers vs. New Orleans Saints (-3, o/u 52.5)
Okay, one more week of doubting the Packers for me. The Saints fall into the same category for me as the 49ers did last week: good teams coming off bad losses.
There is a ton of hype surrounding the Packers after their strong start to the season, but I just don't see it continuing. They have looked phenomenal, don't get me wrong, but I don't see the talent on that team to have that kind of continual success week in and week out. They'll run into a NFC favorite this week and it'll show. The Saints have the defense (although it hasn't shown this season so far) that can slow down Aaron Rodgers' hot start and an offense that can control the ball and put up points in bunches. I like the Saints to cover and win by a touchdown.
Green Bay is 6-1 ATS in their last seven September games. The Saints are 13-4 straight up in their last 17 games.
My Pick: New Orleans -3 
Detroit Lions vs. Arizona Cardinals (-5.5, o/u 55.5)
Last week the Lions gave up 259 rushing yards to the Packers. This week won't get any easier for them when they have to contain dual threat Kyler Murray and the Cardinals offense.
It's now-pick-your poison with the Cardinals after the addition of DeAndre Hopkins. Some of the better teams in the league will be able to contain Arizona, but you won't see that this week against a porous Detroit unit. Arizona wins easily in a rout.
I almost had this one as my lock of the week as I would even reverse tease this one up a bit to touch -9.5.
Detroit is 2-11 ATS in their last 13 games. The Cardinals are 9-1 ATS in their last 10 home games against the Lions.
My Pick: Arizona -5.5
Kansas City Chiefs vs. Baltimore Ravens (-3.5, o/u 54.0)
This may be the marquee matchup of the entire season and somehow ESPN snagged it on Monday Night Football. Not only will this be a massive early season game, but this could give one of these teams a major advantage when it comes to tiebreakers come playoff time. There should be plenty of fireworks as both teams have firepower at every turn.
The major advantage the Ravens possess in this matchup is the strength of their secondary. If there's any team in the league that can slow down the Chiefs, it's the Ravens and their secondary.
From a betting perspective, I'm torn and probably staying away from this game. The Ravens have been hot going 6-1 ATS in their last seven games, but the Chiefs are equally as hot going 10-1 ATS over their last 11. I'm going to back the Chiefs here because of the extra half point. I think this will be a close game and I can see it coming down to a last-minute field goal.
Either way, this is going to be an extremely exciting game to watch and has all the makings of a classic at the Bank. Unfortunately, nobody will be there to see it.
My Pick: Kansas City +3.5 
BDC Lock of the Week
Tampa Bay Buccaneers vs. Denver Broncos (+5.5, o/u 43.0)
This spread, to me, reflects the fact that Tom Brady has struggled in Denver, losing seven of his 10 games in Mile High. However, this isn't the Peyton Manning Broncos anymore and Denver is extremely banged up. Tampa will be able to shut down the Broncos' offense led by Jeff Driskel and Brady will take advantage of a quiet Mile High stadium and cruise to a big win.
Denver is 13-3 straight up in their last 16 September home games. The over has hit in 14 of Tampa Bay's last 16 games.
My Pick: Tampa Bay -5.5
Good luck in Week 3!