Print this article
My Picks
Last Week: 2-3
Overall: 22-19-1 (53.7%)
BDC Lock of the Week
Last Week: 0-1
Overall: 5-2-1 (71.4%)
Week 8 Whiffs
The Saints just couldn't pull away from Chicago last week. I had them winning by at least a touchdown and that looked good late, but they allowed the Bears to claw back in and force overtime where I was hoping for a miracle touchdown that didn't come.
I was very high on the Ravens last week and even after an early Lamar Jackson mistake, Baltimore was looking good at the half. Then another costly interception early in the 2nd half completely turned the game, which the Ravens had dominated to that point, on its head.
Here are the ATS Standings after Week 8: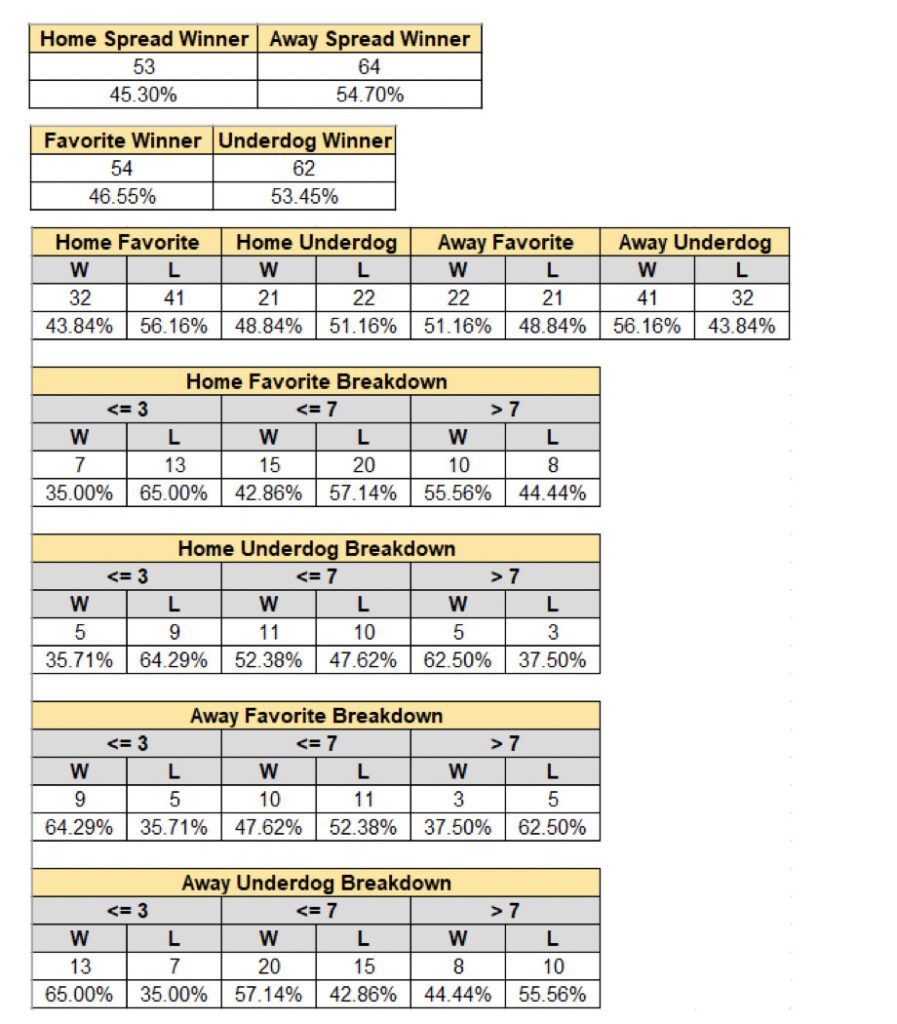 As always, the most important thing you'll read:
Disclaimer: Please do not take these picks and expect to make any real money.  I enjoy picking games and the discussions they create so feel free to play along.  I will provide information for each game, but please make your own decisions and BE RESPONSIBLE!
Feel free to play along, tell me where I'm wrong, post your own picks, or just enjoy the read. Onto Week 9.
Miami Dolphins vs. Arizona Cardinals (-4, o/u 48.0)
I think this line has been influenced a bit too much by Miami's game last week against the Rams. Their defense played extremely well, but Tua did not, going 12 for 22 for 93 yards and a touchdown. Those stats won't get it done against a very good Cardinals team coming off a bye.
Keep an eye out for the COVID report before throwing any coin down on this game though. Arizona came out and said two players have tested positive over this past weekend. If all is well come Sunday, I like Arizona to win by a touchdown at home.
Miami is 7-2 ATS in their last nine games. The Cardinals are 2-1 ATS at home this season with a 5.0 average point differential in those games.
My Pick: Arizona -4
Carolina Panthers vs. Kansas City Chiefs (-10.5, o/u 52.5)
I said earlier in the season that if you give me a Kansas City spread less than 10 points, I'm going to take it 99.9% of the time. This is close enough for me.
Carolina should have Christian McCaffrey coming back this week, but it won't do much in regards to how close they can keep this game. The Panthers just don't have the horses to keep up with a high-powered Kansas City offense. Kansas City wins 34-13.
Kansas City is 3-1 ATS at home this season boasting a 12.0 average point differential. The Panthers are 4-0 ATS in their last four games as an underdog.
My Pick: Kansas City -10.5
Seattle Seahawks vs. Buffalo Bills (+3, o/u 55.0)
So far this season, the Seahawks have had, arguably, the most prolific offense in the NFL. Russell Wilson already has 26 touchdowns and there's no reason to think that he slows down against the Bills.
I think this will be a high-scoring game, but the main reason I'm in love with Seattle here is that I think Josh Allen will have to press and will ultimately be forced into one or two key mistakes that allows Seattle to cover the three points in Buffalo.
Buffalo is 0-4 ATS in their last four games. Seattle is 10-2 straight up in their last 12 games as a road favorite. Road favorites of three points or less this season are hitting at 65%.
My Pick: Seattle -3
Las Vegas Raiders vs. Los Angeles Chargers (-1, o/u 52.0)
Los Angeles just seems to find ways to lose games. After leading 24-3 last week in Denver, they fell 31-30. The Raiders won't stake them to that advantage.
Las Vegas are coming into this game as one-point underdogs again this week. They found themselves in a similar situation last week against the Browns and won by double-digits. The weather was certainly a factor, but the Raiders' sieve of a defense held the Browns to only six points. They'll lean on that confidence and once again win outright in Los Angeles.
Raiders win 24-20.
The Chargers are 1-4 straight up in their last five games. Las Vegas is 5-1 ATS in their last six road games.
My Pick: Las Vegas +1
BDC Lock of the Week
Baltimore Ravens vs. Indianapolis Colts (+2, o/u 47.0)
So I was high on the Ravens last week…really high. Nothing about how the Ravens have played would have led me to believe they'd cover, but because Vegas seemed to be baiting you in the other direction, I loved them against the Steelers. I was wrong and the public won that round.
This week's spread looks to be a reaction to how Lamar played in that game against Pittsburgh. Two weeks ago, if you told the majority of people that the Ravens were only giving two points, I think the public would have hammered Baltimore. That doesn't seem to be the case here as the line hasn't moved much and there has actually been slightly more money coming in on the Colts.
That overreaction to a bad game is making me take our Ravens as my lock of the week.
Philip Rivers is prone to mistakes if you can put pressure on him. With him being a statue in the pocket, I see Baltimore getting four sacks and harassing him throughout the game. Even without Marlon Humphrey, the Ravens will create several turnovers and win comfortably in Indy. I'd even be comfortable reverse teasing this to 6.5 points.
I like the Ravens 31-13.
Baltimore is 11-1 straight up in their last 12 1 pm games. The Colts are 0-7 straight up in their last seven games as a home underdog.
My Pick: Baltimore -2
My two favorite picks this week are Arizona and Baltimore. I think both of the lines in those games are reactions to what you saw last week, and you should pounce.
Good luck in Week 9!