Print this article
My Picks
Last Week: 3-2
Overall: 34-31-3 (52.3%)
BDC Lock of the Week
Last Week: 0-1
Overall: 8-4-1 (66.7%)
Week 13 Whiffs
Las Vegas tried their best to give the Jets their first win of the season, but the Jets said "hold my beer" and sent seven rushers on a last ditch Hail Mary for the Raiders. Either way, I wasn't covering regardless of the outcome of that play. Not only did I miss my lock, but the result hurt the Ravens as well.
I overestimated the Cardinals defense and underestimated the Rams' offense. The Rams pulled away with a 21-point fourth quarter and cruised to a 10-point win.
Here are the ATS Standings after Week 13: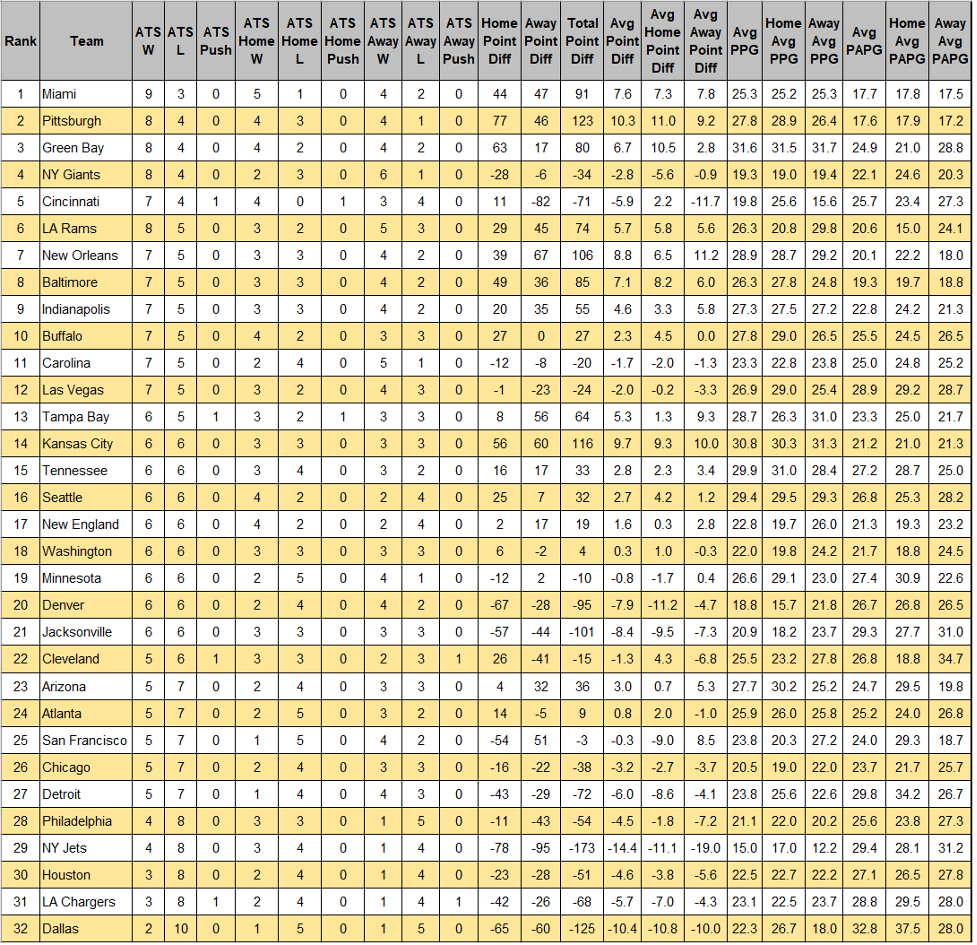 As always, the most important thing you'll read:
Disclaimer: Please do not take these picks and expect to make any real money.  I enjoy picking games and the discussions they create so feel free to play along.  I will provide information for each game, but please make your own decisions and BE RESPONSIBLE!
Feel free to play along, tell me where I'm wrong, post your own picks, or just enjoy the read. Onto Week 13.
Kansas City Chiefs vs. Miami Dolphins (+7, o/u 49.5)
Miami has had a good run recently, but they're not in the same ballpark as the Chiefs, right?
Kansas City just keeps winning, but their margins have been creeping down week in and week out which is evident by this week's spread. Now, the Dolphins defense also has some say in why this is only a seven-point spread. They've been playing lights out, but the Chiefs are a different beast.
Tua will once again start for Miami and even though he has been solid to this point, I just don't see the firepower here to be able to keep up with Kansas City. I'll take the Chiefs and the points.
The Chiefs are 13-4 ATS in their last 17 games against the AFC. Mami is 9-2 ATS in their last 11 home games.
My Pick: Kansas City -7
Washington Football Team vs. San Francisco 49ers (-3, o/u 43.5)
Washington may be one of the hotter teams in the NFL of late behind the likely Comeback Player of the Year, Alex Smith. While he hasn't set the world on fire, he's managing the game and not turning the ball over which is keeping Washington in games. I don't see that changing this week as Smith goes up against his old team.
It's a feel good story and I think it keeps rolling in Week 14. I'll take the Football Team to cover the points and potentially win outright.
Washington is 3-0 ATS over their last three games. The 49ers are 13-33 straight up in their last 46 games after a loss.
My Pick: Washington +3
Arizona Cardinals vs. New York Giants (+1.5, o/u 45.0)
Surprisingly, this is a matchup with tons of playoff implications. The Cardinals sit just outside the NFC wild card with a 6-6 record while the Giants look to continue to hold on to the NFC East lead and the 4 seed.
In what is essentially a pick-em game, I like to base a lot of my bets on the quarterback matchup. Assuming Daniel Jones doesn't return, that matchup is Kyler Murray vs. Colt McCoy. I think we all know who to lean towards there…
The Giants' defense has played well recently, but if Murray can get back to running the ball semi-effectively, that should keep New York on their heels enough to allow the Cardinals to put up some points in this one.
The Giants are 5-1 ATS in their last six games. Arizona is 2-5 straight up in their last seven games after consecutive losses.
My Pick: Arizona -1.5
Baltimore Ravens vs. Cleveland Browns (+1, o/u 46.5)
This game will be exactly as the line suggests, a toss-up. You could make compelling arguments as to why both teams could come away with a 'W.' The Ravens, however, need this game more than the Browns do. Cleveland sits in a good spot when it comes to the AFC playoff picture at 9-3. Barring a huge collapse, they should be playing in January. Baltimore isn't as fortunate. They can only afford, at MOST, one more loss and don't want to go into their last three games having to win out.
The Ravens are getting healthier and Lamar Jackson looked like he was getting closer to the MVP Jackson we saw last season in the Ravens' win against the Cowboys. As many have mentioned, he looked like he was having fun again. I think that will be bad news for Cleveland. The Ravens will continue to dominate on the ground and grind out a win in a low-scoring game in Cleveland.
Ravens 20-17.
The Browns are 2-5 ATS in their last seven games. Baltimore is 8-2 straight up and 7-3 ATS in their last 10 games against the Browns.
My Pick: Baltimore -1 
BDC Lock of the Week
Indianapolis Colts vs. Las Vegas Raiders (+3, o/u 51.5)
Last week I jumped between these two teams for my lock of the week and I chose the wrong one (Vegas). This week, they'll face off against each other in a huge game for both teams when it comes to the playoff push.
Since their game against the Chiefs, the Raiders have fallen off a bit the past few weeks. They'll get a Colts defense this week who have started to show a bit of their early-season form. Indianapolis still ranks 3rd in the NFL in terms of yards per carry allowed which will force Derek Carr to beat them.
The Colts will utilize their ground game against a Raiders defense, which is giving up 4.5 yards per carry on the season, to drive them to a victory in Sin City.
As in some of my other picks this week, away favorites of three or less points are hitting at 64% this year so I'm hitting that hard in Week 14 and making this my lock of the week.
The Colts are 3-0 ATS in their last three road games. Las Vegas is 5-1 ATS in their last six games against the AFC.
My Pick: Indianapolis -3
Good luck in Week 14!