Print this article
My Picks
Last Week: 3-2
Overall: 45-40-3 (52.9%)
BDC Lock of the Week
Last Week: 1-0
Overall: 11-5-1 (68.8%)
Week 17 Whiffs
I thought I got lucky as Seattle scored a late touchdown to put them in covering position, but then the prevent defense bites me again. Prevent prevents you from covering.
I honestly thought Cincinnati would pose more of a threat to the Ravens. They. Did. Not.
Here are the ATS Standings for the remaining teams left in the playoffs: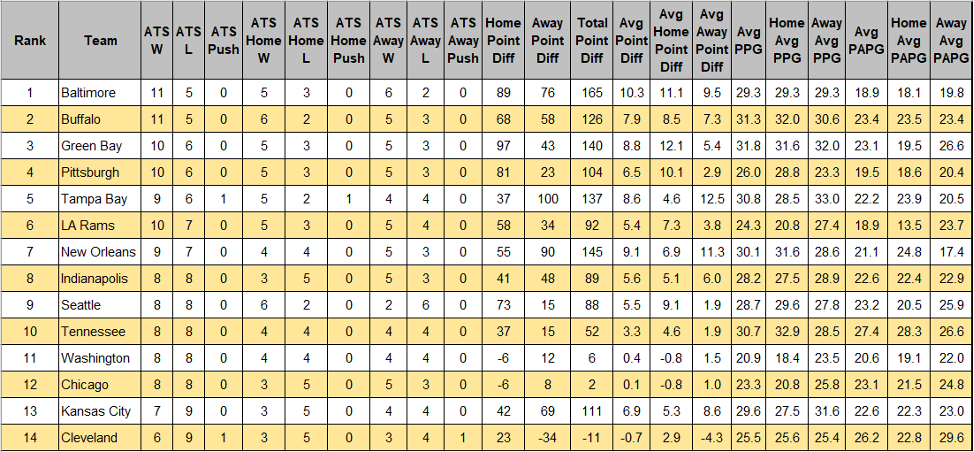 As always, the most important thing you'll read:
Disclaimer: Please do not take these picks and expect to make any real money.  I enjoy picking games and the discussions they create so feel free to play along.  I will provide information for each game, but please make your own decisions and BE RESPONSIBLE!
Feel free to play along, tell me where I'm wrong, post your own picks, or just enjoy the read. Here we go into the Playoffs!
Los Angeles Rams vs. Seattle Seahawks (-4, o/u 42.5)
This one is simple for me and that's because of Jared Goff's thumb injury. He may not play again this week, but if he does, he won't be at 100%. This game should be a defensive battle and Goff's injury should help the score stay below the already low total. In only one of Seattle's last six games has the total gone over 43 points.
As far as the spread goes, I have to lean toward Russell Wilson in this spot. Even though he's struggled by his standards as of late, he is still a top notch quarterback. With the bright lights of the playoffs, I think he snaps out of his funk and leads the Seahawks to a victory.
20-13 Seattle.
Los Angeles is 4-10 ATS in their last 14 games in Seattle. The total has gone under in seven of Seattle's last eight games.
My Pick: Seattle -4
Tampa Bay Buccaneers vs. Washington Football Team (+8, o/u 45.0)
Washington's defense is good and is the reason they're in the position they're in, but the ride ends on Wildcard Saturday. The only way I see Washington keeping this game within striking distance is if they can get to Her Majesty. I don't see Tom Brady allowing that to happen as he'll get the ball out quick and neutralize the Washington pass rush. Tampa Bay's weapons on the outside will be too much and they'll win by double-digits.
30-10 Tampa Bay.
The Buccaneers are 7-3 ATS in their last 10 games as road favorites. Washington is 4-16 straight up in their last 20 games at home.
My Pick: Tampa Bay -8
Baltimore Ravens vs. Tennessee Titans (+3, o/u 54.5)
The revenge game is finally here. The Ravens get to take out a year's worth of frustration on the team that derailed their dream 2019 season.
In last year's playoff loss, the Ravens were outcoached and outmuscled. I don't foresee that happening this year…
This Tennessee team is not the same as last year. Their defense has struggled and getting a hot Ravens team in Round 1 is probably not what they were hoping for. As long as the Ravens can keep penalties to a minimum and not turn the ball over, I think they'll win easily.
Ravens 34-23.
The Ravens are 7-2 ATS in their last nine playoff games. Tennessee is 6-22 straight up in their last 28 games as a home underdog.
My Pick: Baltimore -3
Chicago Bears vs. New Orleans Saints (-10, o/u 47.0)
I think this game is a toss-up spread wise. I'm going to stay far away from this one…
That said, I have to make a pick so I'm going to ride with Chicago and hope that their defense can keep it close against a hot Saints team. They were able to, for the most part, keep it close against the Packers in Week 17 before Aaron Rodgers pulled away late. I'll take Da Bears, but don't quote me on that.
New Orleans 24-17.
The Saints are 7-1-1 ATS in their last nine games. Chicago is 2-7 ATS in their last nine playoff games.
My Pick: Chicago +10
Cleveland Browns vs. Pittsburgh Steelers (-6, o/u 47.5)
Another game where I went back and forth. After the battle with Baltimore, Cleveland has struggled. They have lost to the Jets and struggled against the Steelers' replacement players. On the flip side, Pittsburgh hasn't played well down the stretch either so it's hard to put much faith in these teams.
I think Cleveland will come out on fire. If Pittsburgh can withstand that early adrenaline rush that the Browns will come with, they can run away with this one. However, with the way Pittsburgh has played, I can't put stock in that happening.
Ultimately, I see the Browns doing "Browns" things and finding a way to lose this game, but I do think they'll keep it close.
23-20 Pittsburgh.
Cleveland is 3-13-1 in their last 17 games against Pittsburgh. The Steelers are 7-1 straight up and 5-3 ATS at home this season.
My Pick: Cleveland +6 
BDC Lock of the Week
Indianapolis Colts vs. Buffalo Bills (-6.5, o/u 51.0)
My lock of the week is on the team that I think is most dangerous going into the postseason. Buffalo seems to be playing with a chip on their shoulder and have been steam-rolling teams.
Add to that, my love/hate relationship with Philip Rivers and I think the Bills roll again on Wildcard weekend. Rivers is always good to throw a few to the other team and if the Colts are playing from behind, he'll do just that.
I love the Bills to win, and win handily.
37-17 Bills.
Buffalo has won their last six games by an average of 19.8 points and are 8-0 ATS in their last eight games. The Colts are 2-7 ATS in their last nine January road games.
My Pick: Buffalo -6.5
Good luck in Wildcard Weekend!