Originally Published on June 17, 2010
It seems as if the goal of every parent is to give their children a little bit more than they had during their formative years. Perhaps that "little bit more" includes a better education, a more affluent lifestyle, more vacations, or better opportunities.
Maybe it's all of the above.
As a Dad I know that I subscribe to such hopes and aspirations for my children and driven, perhaps even cursed by my unconditional love it never quite seems to be enough.
Could I have done better?
Can I do better?
How did my Dad make it work?
I was raised in the Parkside-Edison part of town not far from my high school alma mater Archbishop Curley. The area isn't quite what it used to be. Some might label it a cesspool of crime and urban decay today yet it remains the home of treasured childhood memories and for that reason, it will forever be a special place for me.
Looking back, I suppose we didn't really have much but we had what we needed. You could say that we were content with what we had and not absorbed with having what we wanted. There's a difference.
My Pop was always an authority figure for me. He didn't rule with a heavy hand but instead led by example. I looked up to him then.
I still do.
Dad wasn't a scholar but even the most brilliant collegiate professor would aspire to possess his wisdom – those simple morsels of clarity, that when spoken, cut right to the chase, providing solutions.
I remember when Dad bought my first hockey stick, replacing the old worn out broom stick that I used to man the goal in the back alley during our roller hockey games; the basketball hoop in my backyard with the red, white and blue nylon that produced a wicked swoosh sound when the ball struck nothing but net; my first pair of Adidas sneakers, that were really intended to be his yet seeing my attraction to them, he happily passed the kicks along.
Dad was always there to play catch; take me, my uncle and grandfather to an Orioles game – the blue box seats just behind the O's dugout that in those days costs a whopping $5.00 apiece. We'd catch the No. 22 bus to avoid dealing with the horrific parking issues around Memorial Stadium. It became part of the ritual, part of the moment.
It became our tradition.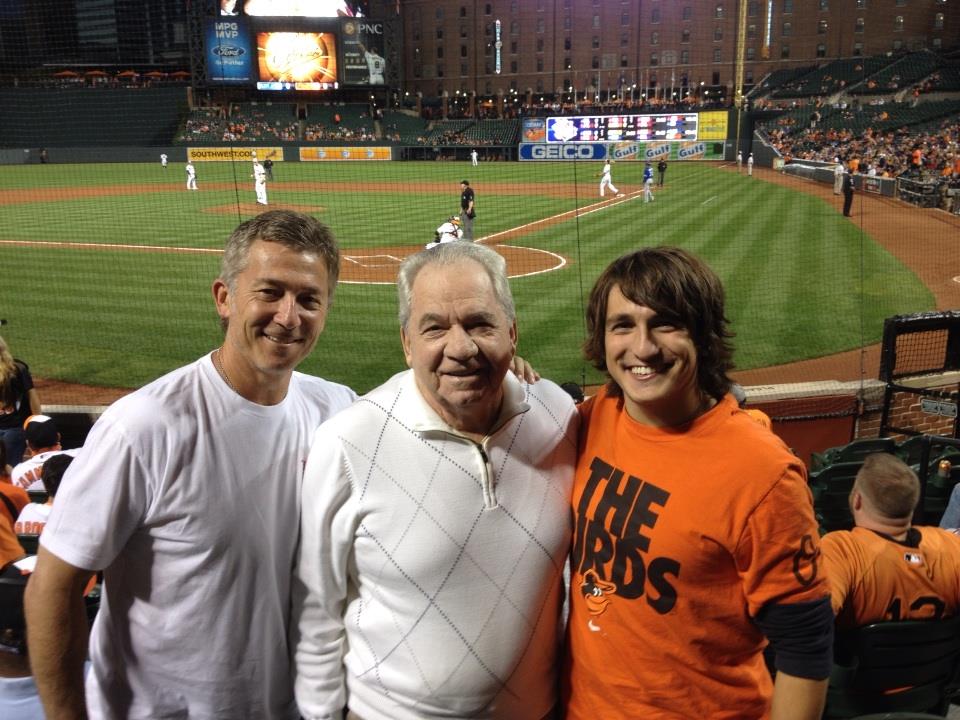 While in college I worked summers with his masonry company. I was a mason tender regularly fighting the oppressive heat and humidity while managing an often relentless and physically demanding job. Like I was schooled to do, I focused on the positives of the job: handsome pay; great workout; killer suntan.
Dad would tell me often during the grind of a work day, "This is why you go to school. You don't want to do this for a living." Strong words from a man who made a career out of that grind to provide for his family.
To this day it was probably the best job I had if for no other reason, I shared it with Pop.
As time went on our days together were fewer but those that we shared are treasures to this day and undoubtedly they always will be.
After Mom suddenly passed in 1989 we made our way down to Pinehurst, North Carolina to play golf together – just the two of us for five days. We played and we played, we laughed and reminisced. We shared stories about his silly wife and my goofy Mom. Dad became my golfing buddy and we often "hooked" to go out and get in another 18.
In 1996 the Ravens came along and together along with several friends, we purchased season tickets, tailgated, laughed, cursed and loved our new team. I was always proud of how "Mr. T." hung with my buddies and how special that was for me. For eight Sundays every year, sometimes more, we gathered and celebrated our team, celebrated our lives and put any troubles in the rearview mirror for awhile.
The Ravens were like our oasis – our 300-yard par 4 with big greens, trouble-free bunkers and flat forgiving greens with big fat miniature-golf-like cups. Our team galvanized a community and for 3 hours on a Sunday we were all brothers-in-arms drenched in a cloak of purple.
To this day the most heart-warming story I've heard as it relates to the Ravens came to me via email from one of our site visitors who shared a story about him and his Dad.
The two were estranged and had not spoken for years because of some silly argument that ended with both digging their heels in the proverbial stand – two capa tostas as Italians would say.
Foolish pride stood in the way of their fractured relationship as the father and son drifted apart.
Upon hearing of the Cleveland Browns move to Baltimore, the son decided to buy two season tickets, one for himself and the other for his Dad. The two had not spoken for years so the son opted to mail the season ticket to his Dad.
On that inaugural opening day in 1996, the son went to his seat alone not knowing if his Dad had even received his season ticket. He sat and he waited.
And then his Dad arrived.
The cold war had ended. The two were brought together again by a football team playing a kids game – an escape from reality, a cut to the chase. Their foolish pride was but a memory as they rekindled what once was.
When the dust settles, and the games are over and real life trickles back in, these beautifully simple things are the essence of life.
The rest is just window dressing.
Someone near and dear to me taught me that.
**********
If you have a story about your Dad that you'd like to share with the world, please do so below and we'll pledge to post this annually, make it a 24×7 tradition. After all like someone once told me, "tradition doesn't graduate."