The Ravens stop the run.
Raven defenders and defensive coordinators have come and gone. Even the great 52 is no longer stalking behind the defensive linemen looking for a place to make a play. Yet, the Ravens still stop the run. It's been a long time now that the Ravens defensive coaching and system has produced a run stopping juggernaut. A defense to be proud of in all categories, but particularly at stuffing running backs at or behind the line of scrimmage.
Ravens fans take it for granted on gameday – watching some of the best backs and best schemes grind to a halt against the latest Baltimore defensive linemen to grace the turf at the Bank.
For years now, the Ravens have deployed a two-gap system. This means defensive linemen are responsible for two gaps. Their job is to stay disciplined, process what the offense is attempting to do, remain stout at the point of attack and control both gaps either side of them, ultimately choosing the correct gap to get into and make a play on the ball carrier.
The Ravens ask their defenders to think about the unit and know every player's responsibility so that they can know when to play hard for the success of others, when to take away a gap so that someone else can make a play elsewhere.
This remains the same for the pass rush. The Ravens, through scheme, coverage and unselfish play, help create statistical success for others.
But the bare facts never tell you the whole story.
And the bare facts, on defense, normally convince you of  aplayer's worth based on the individual number of tackles or sacks they've accumulated.
If value on defense can only be measured by our current collection of counting stats, then you have to question why a Nose Tackle ever takes the field.
In the past four seasons Brandon Williams has been a consensus consistently good performer on the Ravens defensive line. But his 33 tackles last season, was good for 12th on the team and tied for 382nd in the NFL, yet he's widely considered better than the 12th best contributor on defense and I would venture to suggest that he's not worse than 381 other defensive players in the league.
Perhaps I'm belaboring the point, but it's an important point to make, I think, that we don't accurately measure everyone's contribution to the success of the team in our current understanding of defensive production. So my questions are…
Why don't we measure the assist? Why don't we measure the contribution of the guy who helps the sack artist/run stuffer to succeed?
Instead of waiting for an answer, I made my own.
Last week I presented LOSDA – Line of Scrimmage Defensive Assist (Here's my tweet thread on the subject and link to explainer article)
I'd like to introduce you to a new data-point for measuring defensive plays that I'm calling LOSDA, or Line of Scrimmage Defensive Assist, here's my first piece on it https://t.co/872ZVQv7E2 and a thread to explain 1/17

— James Ogden (@NflOgden) August 3, 2021
It's a simple (but labor intensive to assess) new counting stat that measures when a defensive player has significantly contributed to the success of a play. "Successful plays" for the defense I'm defining as sacks or running plays for one yard, no gain, or a loss. "Significant contribution" I'm defining as playing an assignment with a high degree of competence and close enough to the point of attack that the defender has an effect on the play.
If you watch the Ravens regularly, you'll notice these plays week in, week out. It might be Williams occupying a double team, holding firm at the line of scrimmage and keeping Patrick Queen clean to come free and make a play on the Running Back in the backfield. It might be Derek Wolfe cleaning out the Offensive Guard and Offensive Tackle on a stunt to create space for Pernell McPhee to take a clear inside route to the QB. Or it might be McPhee himself, dominating the point of attack and forcing the running back to cut back into Justin Madubuike, crashing down from the back-side.
All of these would warrant a defensive assist for the player not making the play on the ball-carrier or Quarterback i.e. for Williams, Wolfe and McPhee. These would be primary assists but I also accounted for secondary assists where the player in question still made an impact on the play but it didn't quite rise to the same standard as other plays for defensive assists.
If you want more on the process of identifying a defensive assist and my methodology, check out the link to the explainer piece in the tweet thread above. 
Here, I wanted to explore the Ravens and the valuable contributors to the defense that aren't normally seen as such from what we'll call, their vanilla statistical contribution.
And we must start with Derek Wolfe.
"Undervalued since day 1" was his tweet, as he entered free agency for their third time in his career this off-season. I don't know how anyone who studied Wolfe's tape or even just casually watched Ravens games last year, could undervalue him.
But his traditional counting stats lag behind the more heralded crowd. In 2020, he managed only one sack and his six tackles for loss ranked 93rd in the league, along with 24 other players.
According to his statistics, he was mediocre at best. I can tell you that he wasn't from watching his film in detail. But with LOSDA, I can also quantify it.
From the work I've done so far on the Ravens and a few other teams, assessing and charting LOSDA: a good, productive season in terms of assist-making, matches what you would expect to see from someone who has a productive year of sacks and tackles for loss: 10-15.
Wolfe had 20 and led the team. LOSDA was inspired by Wolfe and he didn't fail to deliver when I totaled up his assists after I'd finished the evaluation work.
Wolfe is indeed an elite defender in terms of setting up others for success.
Assists are valued very highly in other sports like basketball and soccer, maybe we should start appreciating Derek Wolfe for the work he does to hold others up, in pursuit of team excellence rather than individual accolades.
Here's the table for the Ravens: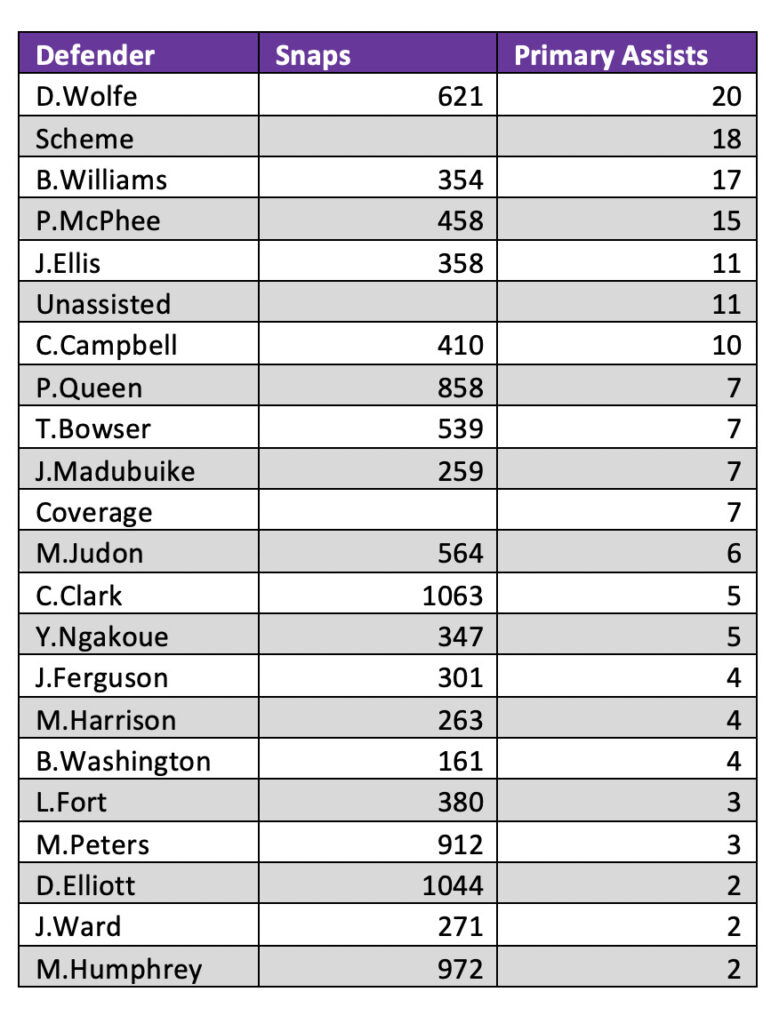 Wolfe was actually beaten on a per snap basis by Brandon Williams who, despite playing almost 300 fewer snaps, accounted for 17 Defensive Assists and is the Ravens' second elite assist-maker. Williams' play is subtle, and he makes fewer plays on the ball-carrier now than he used to, but he still plays a vital role in this defense on running downs, allowing others to roam free and make tackles, either shooting the gap or from the back-side.
In fact, Williams and his running mate at Nose Tackle, Justin Ellis, both play an important role against the increasingly prevalent outside zone running scheme. In outside zone a RB can either:
Bounce – cut it to the outside, usually taken away by Pernell McPhee setting the edge, hence his 15 assists
Bang – run into an open rushing lane – where Williams and Ellis come in at the point of attack
Bend – cut back to the weak-side of the play
Most of the time a combination of McPhee or his running mates taking away the Bounce by setting the edge, and Williams or Ellis taking away the Bang by clogging up the middle, forces the RB to cut back into the waiting arms of another Raven defender. It's not just Outside Zone that the Ravens work well against but it presents the clearest scenario for demonstrating defensive assists.
While not reaching the heady heights of Williams, Ellis himself managed double figures in assists on only 358 snaps and is a severely underrated player. I've even seen some murmuring opinions about him being a cut candidate. I think he's far from it.
McPhee had about the same level of assists per snap as Wolfe and could regularly be found blowing up one side of the Offensive Line and funneling the Running Back into traffic. It wasn't just against Tight Ends when the play went nowhere near him. McPhee consistently takes on and beats Offensive Tackles and consistently makes a significant impact at the point of attack, even when he doesn't make a play himself. McPhee was the Ravens' second most productive player (to Wolfe) when you factor in assists as well as sacks and tackles made in run stuffs too. (See table at the bottom of this article)
Though when you adjust on a per-snap basis, the team's second most productive player was Calais Campbell, who was solid both in traditional production as well as assisting others to be successful despite a lower number of snaps than he is used to seeing due to injury.
The final thing to notice, is the amount of assists I credited to scheme or coverage. This was mostly in assisting sacks and was mostly true when either: a free rusher was allowed a run at the Quarterback because of an exotic blitz package dialed up by Wink Martindale, or the Quarterback had to hold the ball long enough to go through his progressions without finding an open receiver due to excellent coverage.
Most of the scheme-assisted sacks were for second-level players and some also included a shared assist for a first-level defender, but three of Matt Judon's seven sacks were due to scheme. I only awarded scheme when the player had to play with minimal technique to come free as a rusher, if they had to win their individual assignment emphatically and nobody else helped, they were awarded an unassisted sack.
Although, to Judon's credit he, along with the other two departing pass rushers, Yannick Ngakoue and Jihad Ward, were the only Ravens who managed a fully unassisted sack in 2020.
I'm going to be monitoring LOSDA throughout the season and encourage you to check in with me on my Twitter, @NFLOgden, or anywhere else you can find me producing content to follow along with me this season. Or, to give me any helpful feedback on a methodology and a stat-line that I'm just beginning to iterate into something useful. My hope is that it can help illuminate the contribution of some of the most excellent, unselfish but often unrecognized players on the Ravens and across the league.