My Picks
Last Week: 2-3 (40.0%)
Overall: 20-19-1 (51.3%)
BDC Lock of the Week
Last Week: 1-0
Overall: 5-3 (62.5%)
Week 8 Whiffs:
— I had the Lions getting their first win of the season against the Eagles. Should have known to never bet on Detroit.
— Something is wrong in Kansas City. There is no way the Giants should have been in that game as long as they were.
Through Week 8, here are the ATS Rankings:
As always, here is probably the most important line that you will read:
Disclaimer: Please do not take these picks and expect to make any real money.  I enjoy picking games and the discussions they create so feel free to play along.  I will provide information for each game, but please make your own decisions and BE RESPONSIBLE!
Feel free to play along, tell me where I'm wrong, post your own picks, or just enjoy the read. Trying to get back on a roll here in Week 9…
New England Patriots @ Carolina Panthers (+3.5, o/u 41)
With New England coming off back-to-back solid wins, seeing them as only 3.5-point favorites here surprised me a bit. The Patriots have been perfect on the road this season and that will continue this week. One thing to watch as we move closer to the weekend is the status of Sam Darnold. He still hasn't been cleared to play on Sunday so if you're leaning towards him not playing, 3.5 points is a steal. I'll take the Patriots and run.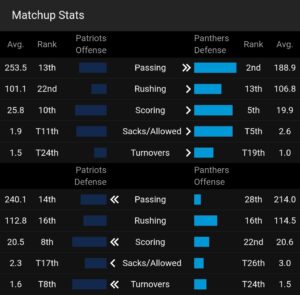 New England is 3-8 ATS in their last 11 games as a favorite. The Panthers are 4-11-1 ATS in their last 16 home games.
My Pick: New England -3.5
Los Angeles Chargers @ Philadelphia Eagles (+2, o/u 50)
The Chargers dropped their second straight last week and need to get back on track because you would have to think the Chiefs will eventually (I guess?) hit their stride. I look at this line as deflated a bit due to the Chargers' recent struggles, but if you're only asking me to give two points to an inferior team in Philadelphia, then I'm going to be all over it.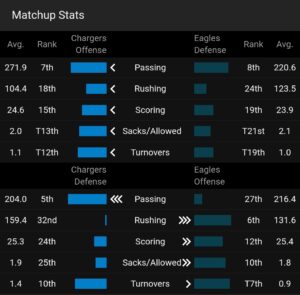 The Chargers are 6-2 ATS in their last eight games against Philadelphia. The Eagles are 1-7 ATS in their last eight games against the AFC.
My Pick: Los Angeles -2
Tennessee Titans @ Los Angeles Rams (-7.5, o/u 54)
I don't think any of us truly know what the Titans' offense will look like without Derrick Henry toting the rock on Sunday. My guess is they'll eventually be fine, but trying to figure that out against a team like the Rams isn't the easiest task. Without Henry, the Rams will be able to pin their ears back a bit and get after Ryan Tannehill who will look more like the Miami Tannehill than the one we've seen the past few seasons. I like L.A. by double digits.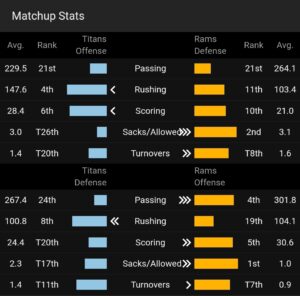 Tennessee is 5-0-1 ATS in their last six games against the Rams. The Rams are 1-7 ATS in their last eight games against the AFC.
My Pick: Los Angeles -7.5
Minnesota Vikings @ Baltimore Ravens (-6, o/u 50)
I've been awful picking Ravens games. I seem to be the reverse jinx for whichever way I lean in these games so my pick this week makes me feel a bit uneasy.
Historically, the Ravens perform very well out of the bye and they'll have to again this week against an above average Vikings' offense. For the majority of the season, the Ravens' defense has struggled to stop anyone through the air. If Minnesota can get any resemblance of a run game going, the Ravens could be in trouble against the play-action with their 32nd ranked pass defense.
With that said, I think the Ravens will come out fired up and hungry after their humbling Week 7 loss to Cincinnati. The extra week will have given them time to put in some packages that the Vikings won't be expecting and Baltimore will cover, but barely.
Ravens 27 – Vikings 20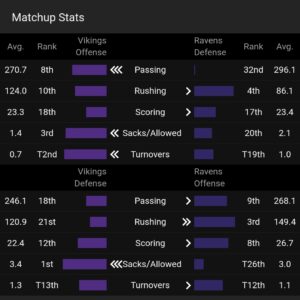 Minnesota is 3-11 ATS in their last 14 games. The Ravens are 1-4 ATS in their last five games as a favorite.
My Pick: Baltimore -6
BDC Lock of the Week
New York Jets @ Indianapolis Colts (-10.5, o/u 46)
My lock this week comes on the first game of Week 9. This one is easy in my opinion. The line here has gone down a bit after the Jets' upset against the Bengals and the Colts' loss to Tennessee. Indy needs this win and they'll stick it to the Jets.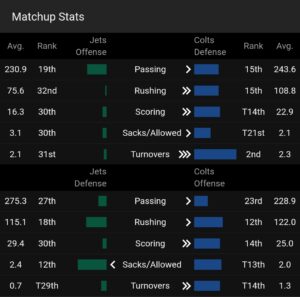 New York is 0-5 ATS in their last five road games. Indianapolis is 6-1 ATS in their last seven prime-time games.
My Pick: Indianapolis -10.5
I'm rolling with all favorites this week. Normally that's a recipe for disaster, but I see a bunch of solid lines here.
Good luck in Week 9 everybody!