Here we are Thanksgiving Eve, fully checked-out of the work mentality, getting the food ready, and mentally preparing to sit down with family later today (graciously or begrudgingly). Of course once we sit down with our loved ones and pound away at a smorgasbord of grub while reminding people that turkey doesn't have enough tryptophan to make you sleepy (fact check me, I dare you) you'll most certainly spend some time reflecting on what you're thankful for, per holiday tradition.
While most of us will point to the usual family, friends, and health? I'd like to take this moment to point out what we have to be thankful for with our Baltimore Ravens.
That's right. This is a cheesy Thanksgiving-adjacent Ravens blog. Get excited!!
Before I dig in like… well, Thanksgiving dinner… I'll point out that I'm going for off-the-wall blessings, not the obvious. After all, we all know that we're thankful for Lamar Jackson, John Harbaugh, Eric DeCosta, so on and so forth.
Let's take the deep shots in lieu of the checkdown here, shall we?
Tyler Huntley
The Ravens are not only blessed with a backup quarterback that's proven he can win a game and play big in the clutch, but he's also a Lamar Jackson clone (albeit maybe a 60% replica). We're all in great hands knowing Huntley can run the same offense as Jackson, utilize his legs when called upon, make the clutch throw, and remain poised in doing so. I'm thankful that we have Huntley and he'll be in Baltimore for a few years to come on a cheap UDFA contract!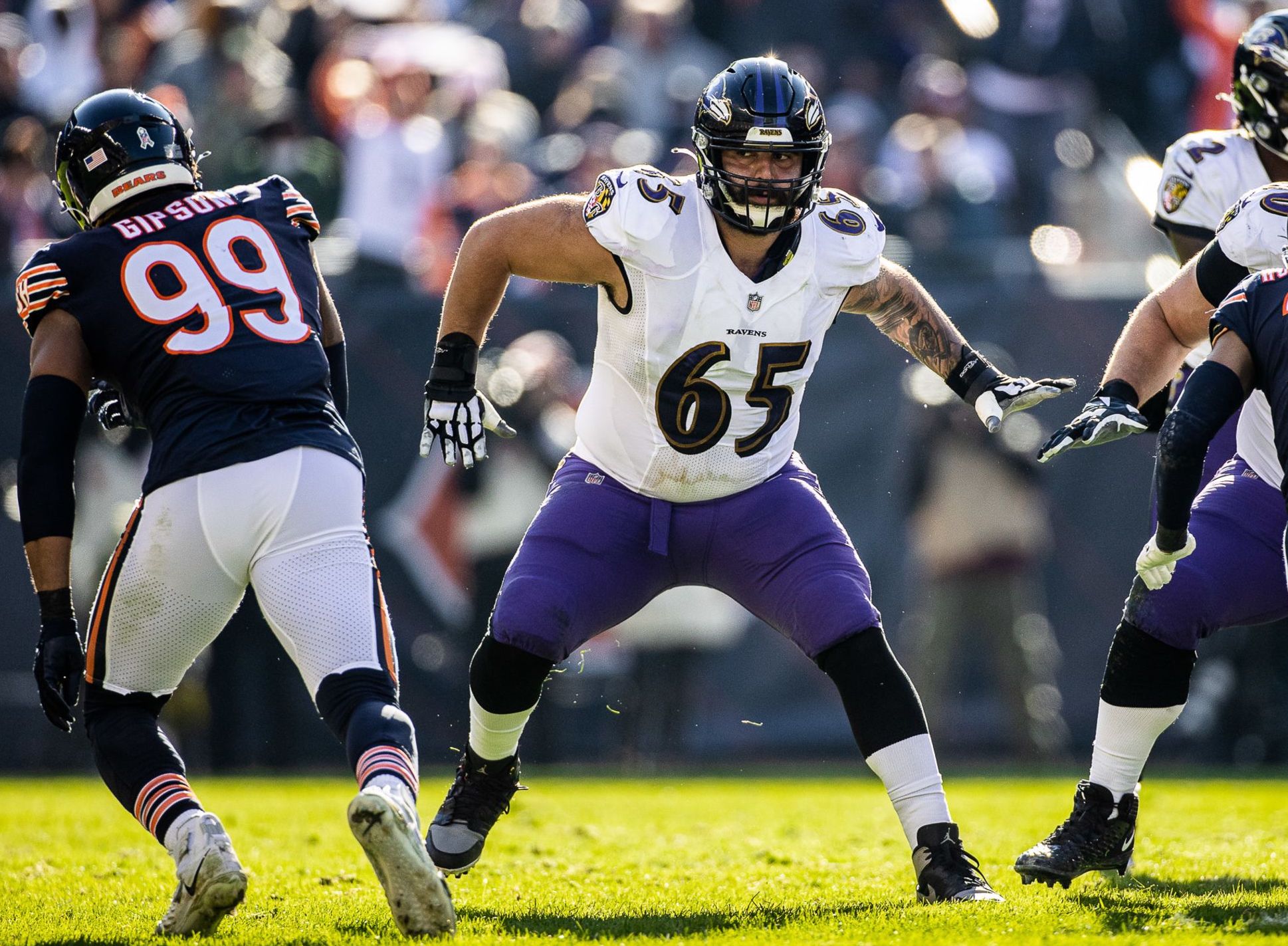 Patrick Mekari
Another UDFA in Baltimore that I'm thankful chose Baltimore over other teams after that 2019 draft. Mekari has literally been Mr. Utility on this offensive line. Need a Center in a pinch? He's got you. How about a guard for a stretch? Sure, why not! But there's no way he can be a serviceable right or left tackle… except he certainly can! Mekari has been such an undervalued piece of this offensive line and we're truly thankful for him in Baltimore.
Fans in the Stands!
Not all 'thankful' notions are player specific! We've been dealing with this pandemic for nearly two years now, and the absence of fans in 2020, we should all be extremely grateful that we can once again witness live Ravens games at M&T Bank Stadium, and all the fanfare that comes with it. There's truly nothing like a stroll down Ravens Walk before approaching the Johnny Unitas and Ray Lewis statues at the stadium entrance, and witnessing this team in person.
Pat Moriarity
There's been no secret to the fact that the Ravens are stretched thin in terms of cap space in 2021, but thanks to Senior VP of Football Operations, Pat Moriarity, the Ravens have been able to create space and fill needs on an injury-riddled roster throughout the preseason and regular season thus far. When you look at the Ravens' current 7-3 record, make sure you give a thankful nod to the hard work of Moriarity for his contributions that allowed this to be attainable.
Good Morning #RavensFlock last clue for my jersey pick this week! #6 we will never forget the day you became a Raven. Hope your Thanksgiving is filled with family, egg nog and all your favorites except Mac and cheese. 🙏🏻💜 pic.twitter.com/JUYhHhzmzG

— Lacie DeCosta (@DeCostaLacie) November 25, 2021
"If you're sitting in this audience right now and you feel like nobody cares, nobody's here to listen. I promise you, me and Nikki, we care about each and every one of y'all."

LG @BSBoze and his wife, Nikki, embarked on a cross country anti-bullying RV tour: pic.twitter.com/0yNxODUSRK

— Baltimore Ravens (@Ravens) April 21, 2020
The Ravens Families & Support System
The expression ''behind every good man is a great woman" can truly be felt within this Ravens franchise, and we are truly thankful for the families of the players, coaches, and front office here in Baltimore. Think about this for second… when you hear about the Ravens community outreach, you don't just hear the names of the players. In fact, we hear about Nikki Bozeman, Lacie DeCosta, Sara Zeitler, Amanda Tucker, and many more of the families and support systems of the Ravens personnel as much as we do the players! But don't be fooled- this is not some new initiative for these folks! In fact, the families of our beloved Ravens have been pillars of the community for quite some time now, and thanks to equal parts social media and Cassie Calvert's 'The Purple Chair Podcast,' we've simply had more insight into the aforementioned outreach.
Surely there's plenty more to be thankful for surrounding this Ravens franchise… but I promised my editor I wouldn't go crazy long with my blogs, so I leave it to you to add your own at this juncture!
Have a happy Thanksgiving, Ravens Flock!