The Ravens (8-5) host the Green Bay Packers (10-3) for a 4:25 p.m. inter-conference battle at The Bank. Baltimore currently sits atop the AFC North standings (with a one-game lead over Cincinnati & Cleveland). Green Bay is the fourth and final team the Ravens will face from the NFC North this season. John Harbaugh & Co. have already taken care of business against Detroit, Minnesota and Chicago. With a win over Green Bay, Baltimore will sweep the opposing NFC division for the third straight season (NFC West in 2019 & NFC East in 2020). Dating back to 2018, the Ravens have won 13 straight games against the NFC.
So now that we've teed things up, here are the RSR Staff Bold Predictions…
Tony Lombardi
So here we go again, "Shots in The Dark Week 15". We thought last year's COVID-dominated 2020 season was strange. This season is even wackier and moving forward, I'll predict that trend will continue. This might be the only prediction I get right.
• Lamar Jackson will not play (pretty bold of me, don't you think?). Tyler Huntley will get the call and things won't go as smoothly as last week in Cleveland for the second-year player from Utah. His carelessness with the football will ultimately cost the Ravens the game. Huntley goes 22 of 38 for 240 yards, 1 TD, 2 INTs. He'll add another 23 yards on the ground.
• Devonta Freeman and Latavius Murray will combine for 30 carries as part of an effort to take the air out of the ball and keep Aaron Rodgers on the sideline. The sledding will be tough but Greg Roman will stick with the run and it will help to keep the game close. The Ravens RBs will eclipse the century mark.
• Mark Andrews registers his first 1,000 yard season by the third quarter (he needs 74 yards).
• Patrick Queen will sack Rodgers twice. The second one aggravates Rodgers toe injury, forcing him to the sideline. He'll miss most of the fourth quarter. It will be quite a day for Queen, as the 2020 first-round pick hauls in a tipped Jordan Love pass courtesy of Odafe Oweh. It will set up the third Justin Tucker FG of the afternoon.
• Allen Lazard, not Davante Adams will lead the Packers receivers. He'll put up over 100 yards and a score. Adams checks in with < 75 yards but he will hit pay dirt courtesy of a Rodgers toss from inside the 10-yard line.
• A big special teams play also helps keep the game close. Look for Devin Duvernay to rip off a 65-yard punt return for six. Unfortunately it won't be enough. But the good news…the Ravens remain in first place. All AFC North teams will lose this weekend.
Packers 26 Ravens 23
Darin McCann
This one feels like it could — should — get ugly quick, and uglier as the game goes on. The undermanned Ravens, presumably without their star quarterback, will take on the top team in a top-heavy NFC, and the odds seem long.
But the Ravens have battled and scrapped all season long against tough odds, and I believe they'll put up a fight once again. Here are some predictions:
• Odafe Oweh "goes off" to the tune of a sack, a forced fumble and two tackles for loss.
• Devonta Freeman registers 100 yards of offense, thanks in part to a 50-plus yard touchdown on a short catch.
• The Ravens' run defense, the most consistent element of this year's team not named "Justin Tucker," gets beat a little this week, as the focus turns to trying to compensate for the loss of, well, their entire defensive backfield. Packers run for more than 130 yards.
Packers 20 Ravens 16
[Related Podcast: Running With The Pack]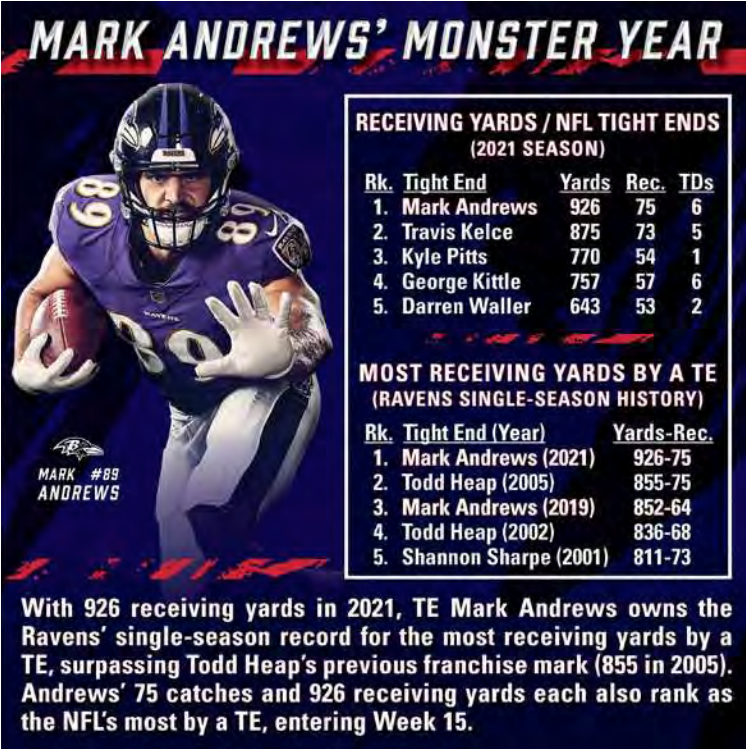 Kevin McNelis
Woof… time to put on a brave face. Every starter in the Ravens secondary is out coming into a matchup with Aaron Rodgers. To make matters worse, the Packers can clinch the NFC North with a win or a Minnesota loss, so they'll be coming in looking to put a hurting on our boys. It has the makings of a bloodbath, but these are BOLD predictions we're talking about, so:
• The Ravens D-line causes AR12 to make some uncharacteristic mistakes. He's sacked three times and throws a pick resulting in points on the ensuing possession.
• Marquise Brown finds the end zone once again, and Mark Andrews puts up enough yardage to crack 1,000 yards on the season.
• Huntley gets the start after the coaches decide to preserve Lamar. He leads the team in rushing as the Ravens register over 100 yards on the ground.
• The Packers get out to a big lead before the Ravens reel them back in. The comeback falls short, but it's a fight until the end like we've seen in so many games this season.
Packers 31 Ravens 17
Derek Arnold
My prediction WAS going to be that the suits at FOX won't be happy, as instead of getting the Lamar Jackson vs. Aaron Rodgers tilt on which they'd planned, they get Tyler Huntley against Jordan Love. However, the guy who covers the Pack for The Athletic says A-A-Ron is gonna play. That stinks worse than Rodgers' stinky broken toe.
Rodgers could have a boot on that foot, and against this Ravens pass rush and decimated secondary, he'd still light it up. I don't think the Ravens will get blown out, because, as they've shown, they're a plucky bunch no matter who suits up.
But they can't hang with Rodgers, Adams, & Co.
Packers 27 Ravens 16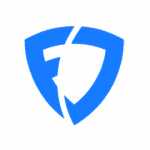 FANDUEL SPORTSBOOK
States: AZ, PA, NJ, IL, IN, IA, CO, WV, VA, TN, MI, CT
GET THE APP
NEW PLAYER BONUS
BET $1, WIN $150!


COWBOYS OR CARDINALS TO WIN!
BET NOW
Rob Shields
The last game I felt was unlikely to win was against the Chargers and the Ravens blew them out.
As of writing this, we just don't know what the injury situation is going to look like. I think Lamar should sit but if he feels up to it, it sounds like the Ravens will play him. In addition to the Lamar injury, many members of the offensive line aren't practicing so far this week, Calais Campbell seems unlikely to play and now the team has lost Chuck Clark to a COVID test. With the new NFL COVID rules, perhaps he will be able to play this weekend but we will just have to wait and see and also hope no one else gets infected.
End of the day though, I don't think it's likely they win this game either way. Rodgers and Davante Adams against the Ravens banged up secondary just isn't a good matchup. I will be looking for small victories. Can Wink's unit stop their run and can the offense put up some points? The Packers defense allowed 27 first half points to the Bears last week, so therein lies the opportunity.
Packers 34 Ravens 20
Ron Toothe
To say that this game feels ominous would be the understatement of the century. The Ravens welcome the reigning NFL MVP Aaron Rodgers to the Bank on Sunday along with his All-Pro wide receiver Davante Adams. Lining up across from them will be a secondary that has a combined 28 starts after Chuck Clark was placed on the Covid-19 list on Thursday. Given the red hot pace that the Green Bay offense has been performing at, it'll be a tall task at best just trying to prevent the dam from breaking early.
Offensively, it seems to be all but a certainty that Tyler Huntley will again take the field this week. Many Ravens fans believe that this is the smart play even if Lamar Jackson feels just healthy enough to go, as the risk of not having him under center this week pales in comparison to the risk of him re-injuring himself for the stretch run. The valuable game reps will only help Huntley in the bigger picture, but the odds of him outscoring the likes of the Packers offense are incredibly low. It's an "any given Sunday" league as we all know, but Green Bay is the type of team that almost always handles their business in December.
If the Ravens were at full strength, this would be an entirely different conversation and we'd be gearing up for one of the potential games of the year. Unfortunately, that won't be the case this week. The Ravens show some fight in the first half and keep it close heading into the locker room, but ultimately the talent across from them will be too much to handle. Huntley puts one final drive together late to keep the game a bit more respectable.
Packers 31 Ravens 23

Chad Racine
Not many people expect the Ravens to win this game. The Ravens continue to fight with the injuries piling up at a rapid rate. Now with Lamar unlikely to play it may take a miracle to pull off a win. Or maybe with Lamar's current slump Huntley is exactly what is needed. The Ravens will need to keep the ball out of Aaron Rodgers hands by running the ball and controlling the clock. The defense will have their hands full.
• Davante Adams will not be shut down but Wink will make slowing him down a major focus. He will be limited to 75 yards and a touchdown
• Aaron Rodgers will only throw for 300 yards and 3 touchdowns. That's the best we can hope for.
• Tony Jefferson makes a play in his first game back with an interception. With Chuck Clark on the COVID list that means Jefferson will get called up from the practice squad.
• Snoop will run, run, and run some more. He'll have 120 yards rushing and 250 passing yards with 2 touchdowns.
• Rashod Bateman will have another big game. Huntley's penchant for throwing to him more than Lamar as of late will be in his favor. He'll get his first touchdown. (last week was really his first)
• Josh Oliver will get his first touchdown.
Packers 24 Ravens 17
Ben Dackiw
Ok kiddies, this one isn't looking very good.
But you know what? I will be darned if I ever give up on this team.
I don't know how it will happen, but I know it has to happen.
The Ravens have always been the team that gets things done when down on their luck.
Is Lamar playing? Probably not, but I like Tyler Huntley. The Green Bay D is tough, but film on Snoop isn't exactly plentiful these days.
Davante Adams will eat. There's no avoiding that. He's the best receiver in the game and the Ravens best corner is Anthony Averrett. Not a recipe for success.
The only way the Ravens win this is if the offensive line can hold for Huntley. If they don't, the Ravens will fall to the Packers.
Ravens 20 Packers 19
Drew Kordula
This line has moved all over the place. It opened at +2, rose to +7 after the Jackson injury, fell to +4.5, and now sits at +5.5. My initial reaction was that Vegas doesn't think Aaron Rodgers is going to play. With the way Lamar has played of late and with a bad ankle surely limiting his mobility to some extent, I thought +7 is right where it should have been. So the only logical reason for that kind of movement would be centered around some questions about Rodgers' availability.
With or without Rodgers, this game screams Ravens cover. I'm not bold enough to pick them to win, but I do think they keep this game interesting. I mean, why wouldn't a Ravens game in 2021 make us bite our fingernails off?
I can see the Ravens forcing Rodgers to move a bit in the pocket to test the strength of his toe and I also see that causing a mistake or two. That will, at the very least, keep Baltimore alive.
Packers 27 Ravens 24