Already this offseason, we've debated the challenges of signing Lamar Jackson to an extension to the point of exhaustion. That said, it's a topic that won't go away anytime soon and apparently Lamar is the hold up. As GM Eric DeCosta explained, the team will operate based upon Lamar's urgency. And for the moment, reading the tea leaves, it appears that he's pushed his chips to the middle of the table. Lamar is all-in and he's betting on himself in 2022.
On the surface, that's not such a bad thing. Per his promise, Lamar's offseason work has already commenced as seen below. The optics suggest that Lamar plans to earn an elite contract on the field that will rival that of Patrick Mahomes and Josh Allen. But if Derek Carr has his way and gets his $40M per, and if the Ravens find their way into Championship Sunday next season, Lamar just might eclipse Allen's deal and possibly approach Mahomes'.
Derek Carr's upcoming extension is likely to fall in the "$40 million-per-season range", per @VinnyBonsignore pic.twitter.com/IVdfnrUNqp

— B/R Gridiron (@brgridiron) February 15, 2022
In the NFL, it's all about market value for the players. What are they getting relative to their perceived peers plus a little bump for inflation (as if generational wealth needs such stipulations). The last franchise QB who puts ink to paper almost always sets the new standard. Maybe that's Lamar's angle. We all remember how the Joe Flacco negotiations went down during the 2012-13 timeframe.
Lamar posted this on Sunday

(via @Lj_era8) pic.twitter.com/fsTpRM2zdc

— B/R Gridiron (@brgridiron) February 14, 2022
— ⚡️Garrett Ferguson⚡️ (@GarrettSprints) February 16, 2022
Gone Hollywood or Hollywood Gone?
With any offseason comes rumors and lately there's a buzz about Marquise Brown's intentions for the future which were triggered by his decision to wipe his social media feeds of any Ravens connectivity. Some of the rumors suggest that he plans to give up his NFL career to pursue a new occupation centered upon monetizing Twitch and other platforms.
Anyone buying this?
"Marquise Brown is retiring to play video games!"

A story in 4 parts pic.twitter.com/QlPLfWOWV3

— Tom Downey (@WhatGoingDowney) February 16, 2022
Brown is set to earn $2.1M in 2022 and EDC has already made it clear that the team intends to exercise Marquise's 5th year option which is estimated to be in the neighborhood of $13M. That's a nice 2023 W-2 for Brown. And he's going to walk away from all of that that to attempt to build wealth in the world of social media? C'mon man!
Earlier this offseason we were "treated" to the news that the brooding college teammate of Brown, Kyler Murray, had stripped clean any mention of the Arizona Cardinals from his social feeds. Maybe both moves are nothing more than ploys intended to bring attention to each player, elevate their respective relevance in news feeds, and in some way create greater demand. Perhaps Brown's response on Twitter (below) which has since been deleted, was intended to trigger even more offseason speculation. Who knows about the off-the-field games these players engage in but it would seem highly unlikely that Brown would walk away from over $15M.
If his long-term goal is to launch such a career, doesn't it stand to reason to build his brand as a player in the league first?
The offseason games people play…
The No-Look
Matt Stafford's effort in Super Bowl LVI wasn't flawless but in my estimation, it was better than his stat line looked. His first interception, given the net result, amounted to a 43-yard punt that bounced into the end zone. His second INT was a pass intended for Ben Showronek which caromed off 2021 7th-round pick's hands after he stopped his route — hardly Stafford's fault. If that pass falls incomplete, Stafford finishes the game with a 100.3 passer rating. Given the fact that the 2009 No. 1 overall pick lost Odell Beckham, Jr. in the second quarter, had his second favorite target, TE Tyler Higbee inactive due to injury, and the Rams inability to run the ball at all (23 carries, 43 yards, 1.9 YPC) against the Bengals defensive front, Stafford's performance is really understated.
And speaking of understated, check out this clutch no-look pass from Stafford during the Rams game-winning drive. It's a play that we would see over and over and over again had it been authored by Patrick Mahomes.
This angle makes Stafford's no-look even more impressive. 😳 (via @RamsNFL)pic.twitter.com/5eaiwZPBxv

— NFL (@NFL) February 14, 2022
It's interesting how after an accomplished career-passer like Stafford wins in the Super Bowl, the discussion shifts to whether or not he belongs in the Hall of Fame. He doesn't! The Hall should be set aside for those who were consistently dominant performers in their era. That's a description that doesn't rest beside Stafford's name. And I'd have to agree with the things Richard Sherman shared about the Rams QB and his shortfall in accomplishments that should keep him out of Canton.
👇🏼👇🏼👇🏼👇🏼 https://t.co/RuGQ524zhp

— Shan Shariff (@1053SS) February 15, 2022
An AFC North Headache
There's no denying Joe Burrow's talents. If he can stay healthy, he'll be a thorn in the collective side of his AFC North rivals for years, particularly if the Bengals' front office takes care of priority No. 1 in their offseason checklist — to fix the offensive line.
But until they do, Cincinnati achievements in 2021 just might represent the franchise's ceiling. And if history is a predictor of things to come for Burrow, the challenges of reaching the NFL's pinnacle of games — and winning it, might be daunting.
Will Joe Burrow buck this very extensive trend? pic.twitter.com/tBhfU99JW5

— NFL on CBS 🏈 (@NFLonCBS) February 16, 2022
Weddlesbeard
Many here in the Land of Pleasant Living rooted for the Rams in Super Bowl LVI due to their affinity for former Raven Eric Weddle who spent three seasons in Baltimore and has made his affection for the city and its favorite sports franchise well known. If so, count me among you.
To come off the shelf of retirement after 2 years, with the intent of providing some intelligent depth and leadership, only to participate in more defensive postseason snaps than any other Ram and then fight off an injury sustained in the big game in order to achieve something that has eluded him throughout his 14-year career, is the stuff that Disney movies are made of.
Here's to that ring and the (super) bowl of ice cream that I'm sure was part of Weddlesbeard's postgame celebration.
.@weddlesbeard sacrificed to be a Super Bowl champion 🏆

(h/t @davidcanter) pic.twitter.com/15IA0N7tWn

— ESPN (@espn) February 16, 2022
Eli's Coming (Apart)
Eli Apple talks a big game for a player who does little on the field. His play can't cash the checks that his mouth (and social media musings) writes. And really, it's a bit surprising that more teams didn't target the inviting corner more often in 2021, particularly the Ravens who do not regularly opt to exploit an opponent's weakness in a more demonstrative way. Keep attacking that weakness until it eventually cracks or in the case of Apple, until it peels. And that's what the Rams did by placing their best offensive player, Cooper Kupp, in positions to succeed against the Bengals' vulnerability.
The only player to allow multiple Pass TD as the primary defender over last 4 Super Bowls

▪️Eli Apple pic.twitter.com/wgfRDzoc9I

— NFL on CBS 🏈 (@NFLonCBS) February 14, 2022
Super Bowl LVI Halftime Show
There has been a lot of talk about the halftime show during SB LVI, some proclaiming it to be the BEST EVER. Please! Did someone say recency bias?
For me, the show was boring, but that said, I'm not a fan of that genre of music. Truth be told, I detest it, but that's coming from the lens (and ears) of a middle-aged white guy. I didn't hate it. I just didn't care. It gave me time to leave one Super Bowl viewing venue for another.
But I do get the NFL's intent and its mission to potentially expand its audience. Next year in Arizona, I would expect the league to look towards a female artist like Adele (who has refused an offer in the past). As for me, I'd prefer a long overdue appearance by the Eagles, standing on a corner in Winslow, Arizona.
Wouldn't that be such a sight to see?
What were your thoughts on the Super Bowl Halftime Show ❓❓❓ pic.twitter.com/gkBhMSnWq7

— Good Morning Football (@gmfb) February 14, 2022
Now That's Funny!
People think that's Kanye with AB but it's actually EDC going incognito mode on a recruiting trip #RavensFlock pic.twitter.com/GqyWaBMAYS

— 🅿️urple 🅿️ants 😈 (@wearpurplepants) February 14, 2022
My Single Friend
This girl just broke things off with My Single Friend just before Valentine's. She was determined to have a conversation with him about his childish behavior but My Single Friend refused to let her in his pillow fort unless she guessed the password.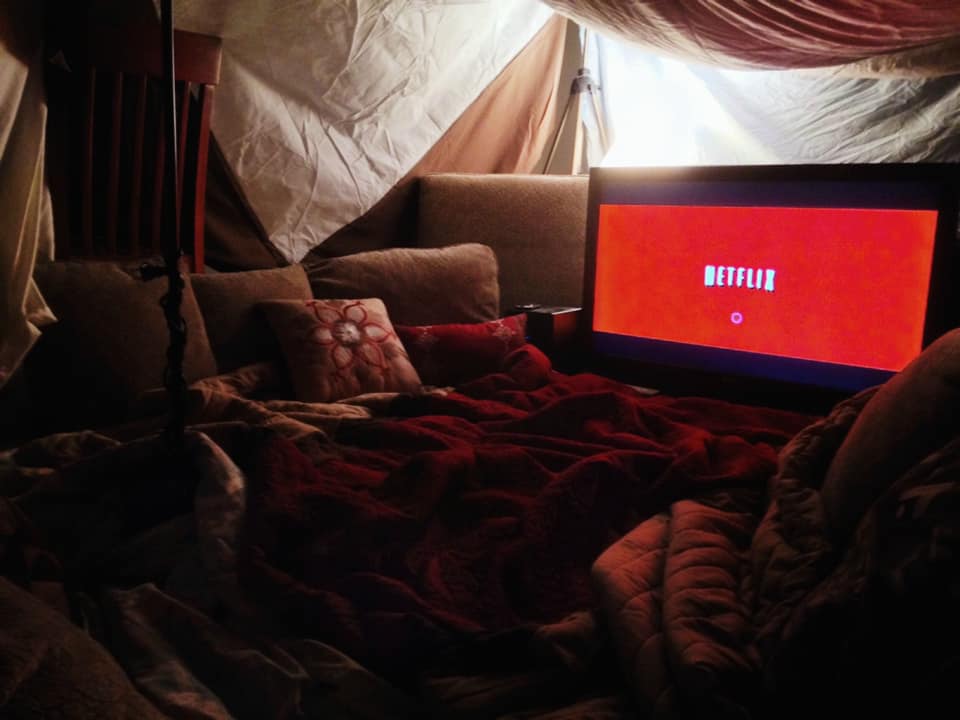 Growing Up in Fells Point
My earliest recollection of life is holding my Grandfather's hand as we walked from our home on Shakespeare Street in Fells Point down to the docks of Thames Street where the tugboats rested. I can remember looking up at my Grandfather who had a distinguished stature. That walk, which was really only a block away, was like a marathon for the legs of a toddler.
I could go on forever about those Fells Point memories but let's suffice it to say that this gem of Baltimore will forever have a special place in my heart. The fires of these wonderful recollections were stoked recently after seeing a feature from Chesapeake Bay Magazine's Cheryl Costello.
A 3-iron from my humble abode on Shakespeare Street was Tochterman's. I remember walking by the spectacular tackle store as a kid, marveling at its uniqueness, and then later during my days as a grade school student visiting as a young patron, to buy some bloodworms for our early morning fishing expedition.
Tochterman's, as Cheryl chronicles, is a wonderful slice of Americana nestled on Eastern Avenue. Businesses like these are a rarity in modern times and really, a breath of fresh air.
Losing A Friend
It has been four days since I heard of the news of Joe Sperato's passing. I'm still in shock as are many how grew up in the Highlandtown area with Joey. He was many things and I shared some of them earlier this week here at RSR. One of the things I didn't discuss was Joey's involvement in and affinity for Baltimore's beloved soccer community.
Joey's family and friends have decided to set up a fund in his name to help extend his legacy and to aid the game that in many ways put East Baltimore on the map. If this is of interest to you, please explore the link below. I thank you for your indulgence and encourage you to make time for your family and friends. Tomorrow is not promised.
Until next time…