As previously reported by Josina Anderson, the Ravens did their best to acquire free agent ILB Bobby Wagner. The 31-year-old, 8-time Pro Bowler and Los Angeles native, was coveted by John Harbaugh along with the team's defensive staff. The collective belief was that Wagner, coupled with recently acquired safety Marcus Williams, would stabilize the team's defensive nucleus and provide some needed leadership. Moreover, it was the collective opinion of the Ravens brain trust that Wagner would help to elevate the play of Patrick Queen.
Welcome home, @Bwagz!! 🙌 pic.twitter.com/zC1THHLcIq

— Los Angeles Rams (@RamsNFL) March 31, 2022
So what happened? Was it all about the money?
The #Rams give LB Bobby Wagner a 5-year, $50M contract that can be worth up to $65 million. After weeks of talking, Wagner lands back in the division as he wanted.

— Ian Rapoport (@RapSheet) March 31, 2022
Several sources have indicated that Wagner had always preferred to stay on the west coast and play for his hometown team, the Rams. That opportunity comes with the added incentive to square off against Pete Carroll and the Seattle Seahawks twice per season. But we're hearing that the Ravens offer was actually better than the Rams, and Wagner nearly accepted it.
Enter Earl Thomas, the X-factor.
Thomas, as you will recall, left Baltimore in such a dramatic way that it has completely derailed his career. Wagner and Thomas were teammates and members of The Legion of Boom for seven seasons and to this day remain friends. While the money offered to Wagner by the Ravens may have been the linebacker's more lucrative one, Thomas' uncivil departure from the Land of Pleasant Living was a big factor, if not THE factor in the undoing of Bobby Wagner to Baltimore.
More Bisciotti
Jeff Zrebiec had a very interesting chat with Ravens owner Steve Bisciotti while the two were in Palm Beach this week at The Breakers Hotel. Among the topics discussed was the stiff-arm that Bisciotti has directed towards the media as of late. The former Salisbury Seagull always has an interesting way of presenting his thoughts and his response to Zrebiec's inquiry about his lack of media availability didn't disappoint.
"I think there's a whole lot of redundancy."
Those close to Bisciotti have intimated that the owner is particularly disenchanted with 105.7 The Fan for the way they've painted him as a cheap owner managing the bottom line, much like the Bengals Mike Brown. And he's particularly perturbed by the way Jason LaCanfora and Ken Weinman have unfairly and regularly criticized DeCosta's handling of the roster – even poking fun at the well-intentioned description of the DeCosta Family by BaltimoreRavens.com as "The First Family of Football".
If you've listened in to The Fan's Inside Access show, "redundancy" is an apropos description, amongst others. Interestingly enough, I tuned in on Wednesday (a momentary lapse of reasoning) and listened as LaCanfora discussed the John Harbaugh contract extension. He opined that no one ever thought that Harbaugh was going anywhere.
Ravens and John Harbaugh headed to parting of the ways. But no in-season firing being mulled https://t.co/tzxGenSJYE

— Jason La Canfora (@JasonLaCanfora) November 11, 2018
Changes at The Bank?
Staying with Zrebiec's interview with the Ravens owner, the subject of the lease at M&T Bank Stadium was discussed and concluded with this from Bisciotti:
---
"Well, I'll get ahead of [fans opting to watch games on TV v. live] and cut 20,000 seats out of the stadium and we'll make it a better stadium at 50 than it is at 70. Maybe, we're reworking the entire thing, but reducing capacity is not something I'm opposed to."
---
We've already experienced a shift from the multi-purpose stadiums like The Vet in Philadelphia to single-sport stadiums built to enhance the fan experience. And with that shift came smaller baseball parks. Might the same happen to the NFL? And while the thought flies in the face of the behemoth stadiums that have surfaced in Dallas, Las Vegas and Los Angeles, it would be no surprise to see Bisciotti's vision realized.
Bisciotti is frank, to the point, and speaks his mind with carefully crafted messages. This wasn't just casual conversation. It was a message to The Maryland Stadium Authority and from what I've been told, these down-sizing changes will be part of the $1.2 billion renovation project that awaits the approval of the Maryland General Assembly.
The team's biggest concern will be how to handle the displaced PSL owners.
Lamar Wants Out?
Without question the contract discussions with Lamar Jackson (or lack thereof) are both interesting and unusual. Nothing is going on and when that happens it is a clear and present invitation for speculation. And the B-team on Good Morning Football has done exactly that.
On Wednesday, the GMFB split squad directed by Kay Adams' sub Rachel Bonnetta, weighed in on the unorthodox handling of Lamar Jackson's contract situation, suggesting that perhaps the 2019 MVP doesn't want to play for an extended period in Baltimore.
John Harbaugh extension ✔️
Lamar Jackson extension 🤔

The crew has an interesting discussion on the Ravens and their QB… pic.twitter.com/ZQueA1xE8d

— Good Morning Football (@gmfb) March 30, 2022
Lamar, certainly not unfamiliar with the ebbs and flows of Twitter, caught wind of the discussion and chimed in with this:
I love my Ravens I don't know who the hell putting that false narrative out that I'm having thoughts about leaving stop tryna read my mind🙄

— Lamar Jackson (@Lj_era8) March 30, 2022
And while Lamar may be perfectly content in B'more, there are rumblings that his Mom, Felicia Jones, might not be. Jones aspires to be a player agent and currently manages Lamar Jackson Enterprises, based in Pompano Beach, FL. Most of Jones' business contacts and potential clients are based in South Florida. Obviously this is a fluid situation but her business operation is a factor. It's possible that in order for the Ravens to properly say, "Bye Felicia", they may have to finance her start-up costs. Fortunately such an "investment" doesn't factor into the salary cap equation.
Bobbling
From time to time FOCO.com reaches out to us here at RSR to help them promote their newest Ravens bobblehead. And this time around they are honoring the legacy of Ravens Hall of Famer Ray Lewis. If interested, you can order yours at the link below. If you do purchase using this specific link, RSR receives a 10% rub which we plan to donate to the O.J. Brigance Brigade.
We're hearing that the next bobblehead will be in the likeness of Ravens long-snapper Nick Moore.
Ravens on The Go
I have some personal travel scheduled for the fall and I'm already anticipating issues with Ravens games and where I'll be able to watch them. So while describing my expected future frustrations to a friend, he informed me of this new product offered by Xfinity. The "This is easy, this is awesome" brand now offers an expanded sports package that features a greater array of options than their standard sports package. For those who have subscribed to Xfinity's sports package costing $7.99 per month for 1 year or more, the cable service provider will allow you to upgrade to the Super Sports Package 247 for an additional $2.47 per month. The upgrade will enable subscribers to access your hometown team anywhere, anytime by downloading the SSP247 app which is adaptable to iPhones, iPads and smart TVs. At this time there's no word on when the feature will be available to Android users.
For those who have not been Xfinity sport package customers for one-year, there's no need to worry. Xfinity will offer the SSP247 plan to non-subscribers for $24.70 per month. For more information visit XfinityOnTheGo.com.
Saying Goodbye
A couple of years ago, we received a scare here at RSR. It was brought to my attention that The Athletic had reached out to Brian McFarland and Dev Panchwagh to inquire about their availability as contributors for The Athletic. The thought of losing both was bittersweet but first and foremost, these two awesome men are friends first, so I encouraged each to do what they thought was best for them. Fortunately, both opted to stay.
Until now…
Pat Moriarty, the Ravens Sr. Vice President of Football Administration who is the team's guiding hand as it relates to the salary cap, is retiring. The soon-to-be 67-year old executive and former running back for the Cleveland Browns in 1979, will vacate his position effective June 1, returning to his Ohio roots. Filling Moriarty's ample shoes, is none other than RSR's Brian McFarland.
GM Eric DeCosta elaborates…
---
"I've admired Brian's work on RSR for some time. His obvious intelligence and understanding of salary cap nuances is unique. Both are highly desirable traits for our organization. We can't wait to embrace his vision and ingenuity as it relates to cap strategies. As for Pat [Moriarty] moving on, this is personally difficult. He has been a confidant, a collaborator and most importantly a very good friend. We will miss him tremendously. We wish Pat and his wife Lynn all the very best in their future endeavors."
---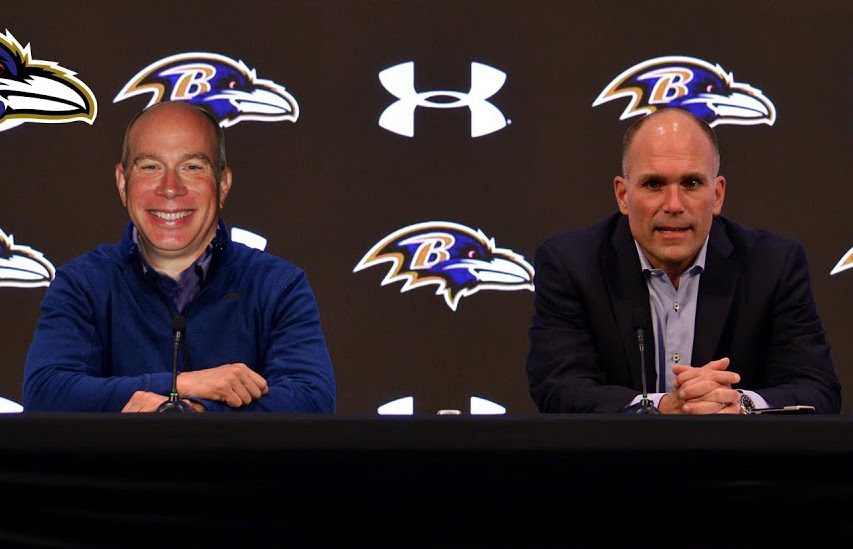 The Big Bad Morning Show
I've been very critical of The Fan's 2-6 programming since they squeezed out Scott Garceau and Jeremy Conn, but I do enjoy the morning banter on The Big Bad Morning Show between Rob Long, Ed Norris and the aforementioned Conn. But like most things in life, change is inevitable and The BBMS is no exception.
RSR has learned the Ed Norris will be moving to Sarasota, Florida to be close to his family where Ed will be the namesake of a new podcast that he'll host called, "The Mean Streets: Police Stories With Ed Norris". Replacing Norris is his nemesis and former co-host Steve Davis.
"Steve is an incredible storyteller. He combines uncanny writing skills with an innate ability to segue from topic. The result is truly, something special. Beyond that, he outworks everyone, and I mean everyone. We expect this transition to be easy and natural." ~ Pesce D'Aprile , CEO, Audacy Entertainment
Another Brick in The Wall
By now you've all heard that the Orioles have decided to reconfigure the left field wall at Camden Yards. We've heard a variety of reasons that influenced the optional expenditure – the team wants to make OPACY more attractive to free agent pitchers to limiting the potential for fan interference to adding additional charm and character to a stadium already steeped in it. But were these reasons leaked by the team to serve as red herrings?
According to a source speaking under the condition of anonymity, the driving force behind the reconfiguration is money. The Angelos brothers believe that the lost potential revenue from the removed seats will be offset and then some by the new Samsung Neo QLED 8K TVs that will decorate the new wall. The TVs will be used for video and fan entertainment mixed in with a multitude of advertisements for Orioles' sponsors. The brothers believe that those sponsors will funnel in more money than the torn out empty seats that we're accustomed to seeing over the past five seasons.
RSR News
Recently, we've been working on a few things behind the scenes as part of an effort to expand the RSR brand and provide our customers a broader platform upon which to promote their products and services.
Eric Mathias, an owner of The Horse You Came in On in Fells Point and also a partner in the Atlas Group, recently expanded his holdings and now manages Admiral's Cup and The Waterfront Hotel. Eric is a friend, sports enthusiast and long-time fan of Russell Street Report. A few months ago I approached him about a collaborative endeavor and he's accepted.
Ravens Town Tavern is now more than just a potpourri of sports and music. It's an actual tavern on Thames Street, now occupying the property where The Waterfront Hotel once called home. It will be a place where fans of music, sports and great food can collide and even place wagers on sporting events. There is nothing else like it in Baltimore. We also plan on partnering with Jimmy's Seafood to offer bus transportation to and from Ravens games. All-inclusive packages will include transportation, The Famous' awesome tailgate parties, tickets to the game and a post-game libations at RTT. More details are forthcoming.
We're also happy to report that RSR will soon be available in print form at area Royal Farms. The publication will be free and is being offered as part of a strategy to offer value to companies entrenched in print ad spending while introducing reluctant companies to benefits web advertising at no additional cost.
And as if that wasn't enough, we will soon unveil the Charles Street Report. CSR will cover all sports teams for Loyola University, Johns Hopkins University and Towson University. Bloggers wanted!
And finally, RTT usually incorporates some form of music with each of our posts so we thought it was appropriate on this particular day, to share this classic from the Doobie Brothers.
Don't be fooled!
And by all means enjoy your weekend everyone!
Maybe even stop by the Ravens Town Tavern. Drinks on us!