Welcome back to The 14, a series centered around the Baltimore Ravens' 14th overall selection in the 2022 NFL Draft. After breaking down the Ravens' positions of major need in my last article, I'll now go over their need for depth and role players in this draft. 
I'll pick up where I left off yesterday, going over the Ravens' second tier of positional need, where Baltimore needs depth players for specific roles in 2022 and the future. For each position, I'll explain what the Ravens should leave the draft with as well as a few players I like, and how that affects their first-round decision.
(Note: For obvious reasons, quarterback will not be included.)
Tier 2: Refusing to Reach, Looking for Fits
Wide Receiver
At last, the Ravens don't have a glaring need at wide receiver. They have two clear starters and a solid stable of depth options who could step up as WR3 this year, but an injury to Rashod Bateman or Hollywood Brown would nearly cripple this group. Strong wide receiver draft classes are becoming the norm, and this year is no different, with no shortage of diversity and a lot of guys I like. With Miles Boykin's departure, I'm looking for a big body who might be able to address Baltimore's 2021 red zone woes.
I would love for George Pickens – who puts the DAWG in Georgia Bulldogs – to fall to the Ravens at 45, or if they traded into the 30s at some point. Cincinnati's Alec Pierce is an excellent downfield threat with some big slot potential, so I'd snag him towards the end of Day 2. Romeo Doubs out of Nevada or ex-Clemson stud Justyn Ross would be solid fourth-round fliers.
If the Ravens want to get ahead of the exploding wide receiver market, the 14th pick wouldn't be a bad spot to invest in another elite pass-catcher. The Ravens have been linked to Ohio State's Garrett Wilson, and I'm practically the conductor of the Drake-London-to-Baltimore train at this point. Either would be a fine option at 14, while Treylon Burks might be a slight reach unless the Ravens have a clear plan to incorporate him into their offense. But options of higher need will probably be available and there's plenty of depth in the class, making receiver a fallback option at 14.
Linebacker
The Ravens have gotten a ton of production out of inexpensive veterans at linebacker in recent years, so I'm not horribly worried about the current state of the position group, headlined by Patrick Queen, Josh Bynes and Malik Harrison. Still, Baltimore's excess draft capital could allow them to make an addition here. But I want more than just a downhill run-stopper; I'm looking for some more versatility to either help out on the edge or drop back into pass coverage.
I wouldn't go after a linebacker until the third round, where Penn State's Brandon Smith would be a good coverage addition to Baltimore's defense. I'm also intrigued about the versatility and potential of Montana State's Troy Andersen. I don't know exactly what the Ravens would do with him, but I'm excited to see what Mike Macdonald can bring out of the former quarterback. Smith's Penn State teammate Jesse Luketa would be an option with some edge-rushing juice in the fourth round, while Oklahoma's Brian Asamoah would be another linebacker pick with upside in coverage.
I'm fine with Devin Lloyd at 14, even though I think there will be better players available at more valuable positions. But I'm not terribly excited about the linebacker talent in the late-first or early-second rounds; if Nakobe Dean falls out of the first, then I would consider moving up to snag him – otherwise, I'll wait for some value with the Ravens' many comp picks.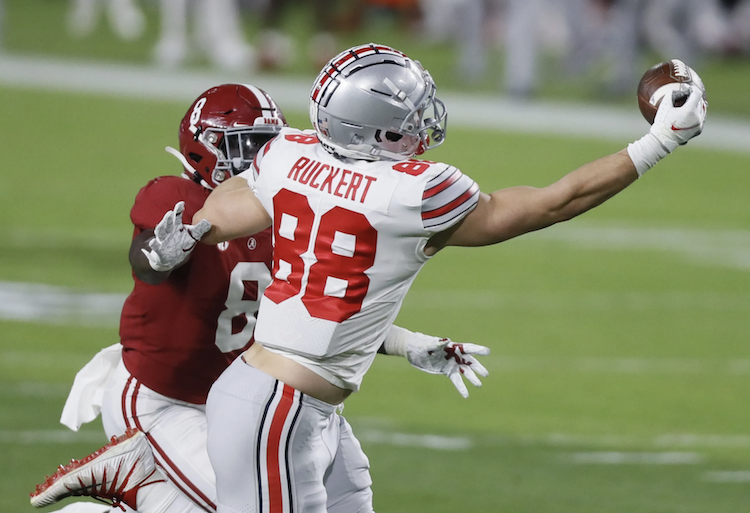 Tight End/Fullback
The Ravens have one of the best TE/FB duos in the NFL with Mark Andrews and Patrick Ricard, but the depth thins out if you don't trust Nick Boyle's knee or John Harbaugh's Michigan bias. While good blockers are always welcome in Baltimore, the Ravens need to prioritize the addition of another receiving threat at tight end in this year's draft. While the 2022 class of tight ends lacks top-end talent, there are a lot of options in the third and fourth rounds where most of Baltimore's draft capital is concentrated.
Virginia's Jelani Woods is my favorite tight end in this draft class after his insane pre-draft athletic performance. With a red star from James Ogden, he'd be my preferred third-round target, while I wouldn't be shocked with the selection of Ohio State's Jeremy Ruckert as aBoyle clone with very reliable hands. In the fourth, Maryland's Chigoziem Okonkwo and Washington's Cade Otton would offer a similar choice between a vertical threat and a blocking option, respectively, but I even like the options late into Day 3. Developmental tight ends like Jalen Wydermeyer out of Texas A&M or Nevada's Cole Turner might be worth fliers towards the end of the draft.
There is no first-round tight end in this draft. If the Ravens take a tight end in the first round, I will be very confused.
Running Back
With Gus Edwards and J.K. Dobbins working their way back from last year's injuries, the Ravens should be looking to add another ball-carrying option in this year's draft. The priority should be either a between-the-tackles fit in the Ravens' gap/power rushing scheme or a third-down pass protector and receiving option. Again, this draft fits that need well, with few true bellcow running backs but several options who could play specific roles in the NFL.
I'm not even thinking about a running back until the fourth round, where I'd take Georgia's pass-catching aficionado James Cook or Florida's gritty runner Dameon Pierce. I'm not sure either will be available, so my next choice would be Alabama's Brian Robinson as an absolute bruiser between the tackles. I'm also still high on Notre Dame's Kyren Williams despite his subpar combine; while not a scheme fit, his receiving ability and skills in pass protection would make him an instant contributor to the passing game. Later on during Day 3, I'd go after Michigan's Hassan Haskins for his solid between-the-tackles fit and impressive pass protection.
There is no first-round running in this (or almost any other) draft. If the Ravens take a running back in the first round, I can only assume that this happened in the war room.
Safety
The Ravens have all of the safeties they need at the moment, so they don't need one from this draft. If they take one, they should be looking for specific skills, specifically slot versatility or strong centerfield coverage ability. This class has several solid safeties, but only a few that merit a selection by the Ravens.
Baylor's Jalen Pitre would be a solid choice at 45 as a rookie starting slot corner who can play in the box as well. Maryland's Nick Cross has a ton of physical potential as a rangy, single-high safety in the third round. While there are other safeties whose overall skillsets I like, I don't see any as good fits or value Baltimore until later on Day 3, when Baylor's other safety, J.T. Woods, would be a nice pick for some of the best coverage instincts in this draft class.
The lack of safety need in Baltimore means that this draft's depth doesn't influence my thinking in the first round. Notre Dame's Kyle Hamilton is a generational safety prospect and a no-brainer at 14, while a trade back from 14 or up from 45 could net the Ravens a jack-of-all-trades in Daxton Hill, who would thrive under Mike Macdonald in Baltimore just as he did at Michigan.
Interior Offensive Line
The Ravens have four potential starters at guard right now, so I can't see the value in adding another guard-only player to this roster. I only want a guard if someone with a lot of value falls spectacularly, and even then I'm looking for versatility at either center or tackle. A scheme fit is also a must.
With those criteria, only Tennessee's Cade Mays comes to mind. He showed a lot of positional versatility in college, including a few starts at center, but he's nowhere near ready to snap the ball regularly in the NFL.
Clearly, I'm no fan of a first-round guard, though I do like the positional versatility of Boston College's Zion Johnson and Texas A&M's Kenyon Green. But they project best as guards, so they're only options if they fall to the end of the first round and the Ravens happen to be picking there.
Conclusion
Okay, that was a lot! The biggest takeaway I have is that the Ravens have a lot of attractive options on which they can use their many 2022 draft picks across all of their positions of need. Come back later today for my final preview of the 14th overall pick, with my recommendations and predictions for the Ravens' decision on Thursday night.