Print this article
Sunday's win over the Tampa Bay Buccaneers was a banner day in almost every aspect for the Baltimore Ravens.
The team successfully went on the road and routed its opponent, 48-17, and many of the Ravens players had their best performances of the season.
But no Raven stood above the rest quite like quarterback Joe Flacco, whose 306-yard, five-touchdown performance was the single best regular season game of his career.
Capitalizing off consistently soft and lax coverage from the Bucs, Flacco reset the NFL record books by becoming the fastest player in the modern era to pass for five touchdowns in a game, achieving the feat in a mere 16 minutes and three seconds.
Flacco's accuracy was on point throughout Sunday's contest, and he ultimately finished with 21 completions on 29 attempts, tying his highest completion percentage (72.4) on the season, which was also achieved in Week 2 against the Pittsburgh Steelers.
His performance on Sunday was a culmination of a wildly successful start to the 2014 season, one in which could justifiably be deemed the best six-game stretch Flacco has ever had in the regular season.
He's up to 12 touchdowns with just three interceptions and 1,596 yards.
Flacco's completion percentage of 63.6 has him on pace to set a career high in that department for a single season.
What made Flacco so good against the Bucs, and what made it so easy to achieve his feat of five touchdowns in such little time?
Let's take a look at some of his most impressive touchdown throws from the game.
The first two touchdown passes were simply quick drop, one-read throws to Torrey Smith; nothing spectacular, just an easy process of capitalizing on poor Tampa Bay coverage.
Flacco's final three touchdowns, though, were each impressive for different reasons.
His third touchdown pass was reminiscent of Baltimore's first touchdown in the Super Bowl two years ago.
Here, the quarterback's two most ideal options are on the left side, where wide receivers Michael Campanaro and Kamar Aiken have plenty of space to operate.
The key matchup here is Aiken on the linebacker picking up the route in the middle of the field.
With such wide safety play in the Cover 2 back in the secondary, Aiken essentially has just one man to beat for a touchdown.
Likely because he thinks he has safety help behind him, the linebacker sends Aiken off untouched.
The second this occurs, Flacco has no hesitation to fire.
As Aiken quickly slips past the linebacker coverage and toward the end zone, Flacco has already diagnosed the opening in the coverage and has cocked back to throw.
The safeties react, but not nearly quick enough, and the only thing Flacco needs to do is drop the ball over the linebackers and in a space where Aiken is free of an easy hit by either oncoming safety.
He achieves that with ease, and it's an easy pitch-and-catch for the two Ravens.
Looked a bit like Anquan Boldin's touchdown play in the Super Bowl, huh?
Flacco's fourth touchdown was more impressive, as this time he displayed his confidence in a rookie receiver to make a play on a 50/50 ball in man coverage.
To Flacco's right, he has Campanaro in the slot with Aiken on the outside. Both are facing man coverage with just one safety to help on the left side of the defense.
Off the snap, though, the safety takes off toward the line, opening two one-on-one opportunities for Flacco against zero safety help.
Campanaro takes off down the field but never really becomes "open."
The coverage from the cornerback is tight and well-played throughout, but as Campanaro approaches the end zone, Flacco decides to take a chance.
Being up 21-0 in the first quarter probably opens up the opportunities to take chances downfield more often than usual.
Campanaro – playing in his first NFL game – is tightly covered in the end zone as Flacco gears to throw.
The duo of quarterback and wide receiver both seem to notice that perhaps the best chance at a completion is a back shoulder throw.
Campanaro – known for his quick, short routes and speed after the catch in college – proves that he's more than just a typical speedy slot receiver. He effortlessly adjusts to the back shoulder throw, which the cornerback doesn't react to in time. The receiver climbs the ladder and snatches the ball out of the air for his first NFL touchdown.
A good sign for the offense, as it appears that Flacco and his rookie receiver have plenty of chemistry already, and that the quarterback trusts Campanaro.
Flacco's fifth and final touchdown allowed him to show off a little more arm strength.
What's so impressive about his final touchdown is his patience and confidence in his arm to go for the big play instead of settling for an easy but much shorter completion.
With ample protection on a rollout to the left, Flacco has two developing options downfield: wide receiver Steve Smith Sr. in a one-on-one opportunity down the sideline or tight end Owen Daniels coming across the middle of the field.
Flacco takes a peek in the direction of Daniels, who becomes open in front of the safety in the middle and is a prime candidate for an easy completion.
Executing the easy throw to Daniels is an intriguing option, but Flacco isn't going to set the record for fastest quarterback to five touchdowns in a game by settling for short throws.
Instead, Flacco waits and notices Smith Sr.'s process of gaining separation with a double move and then speed down field.
Flacco has enough protection to wait patiently in the pocket.
Smith Sr. gains a hefty cushion downfield, and Flacco's arm strength and vertical passing accuracy is on display as he hits Smith Sr. in stride for a touchdown.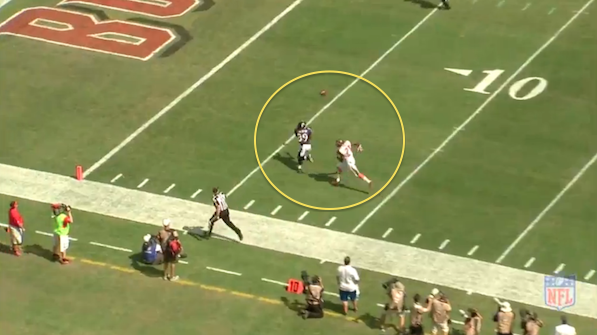 Yes, Tampa Bay's coverage was for the most part poor on Sunday, giving Flacco easy opportunities to capitalize.
But that shouldn't take away the fact that Flacco's accuracy, arm strength, anticipation and trust in unproven receivers were all on display.
It'll be tough to break Flacco's five touchdowns in just over 16 minutes. Perhaps this will be a record he never loses his hold on.