Print this article
Ravens/Titans used to be one of the fiercest rivalries in the NFL. Younger fans may not remember, but Tennessee-Baltimore back in the late 90's/early 00's was every bit Pittsburgh-Baltimore of the late 00's/early 10's. Ray Lewis, Steve McNair, Chris McAlister, Eddie George, Todd Heap, Derrick Mason (as a Titan), Shannon Sharpe, Frank Wychek and others all put their stamps on some smash-mouth AFC Central matchups, in both regular and postseason.
Nowadays, things are a bit different. With realignment, these two squads only get together every couple years or so, and while the Ravens have been a regular entrant in the playoffs, other than a blip on the radar in 2008 (another postseason run ended by, of course, Baltimore) back in '08, the Titans have fallen on hard times.
Still, the Titans lead the regular season all-time series, 9-8. The Ravens are 2-1 against the Titans in the playoffs.
Tennessee brings a 2-6 record and a rookie quarterback into M&T Bank Stadium on Sunday. And while the names have changed, those of us who remember the old Eddie-vs-Ray days will have no trouble getting pumped up when we see that baby blue take the field.
Let's take a look at the stats, quotes, and more, courtesy of Conrad's Seafood.
KNOW THY ENEMY
QUOTES OF THE WEEK
John Harbaugh following last Sunday's loss at Pittsburgh:
"We'll bounce back. The NFL season is long for a reason. You can look back on every season, and history will prove that you can get blown out and bounce back. We've done it before. Plenty of other teams have done it before. Teams have done it this year in the National Football League. That's what we've got to do. We had two tough losses on the road. We've played a lot of games on the road, but we've got to focus on [the Titans]. We have to make sure we take care of business going forward. There are still seven games left in the season. That's a lot of opportunities to win football games. That's what our focus has to be. You look back at this game to the extent that you try to get better. We have to improve. That was true a month ago. It's been true throughout the course of the season. We have to continue to get better and improve as a football team. If we do that, we'll be okay."
OLB Terrell Suggs on the impact of DT Brandon Williams:
"The emergence of Brandon Williams has a lot to do with our success and how we stop the run. I said because of Brandon, [opponents] have gone to alternative means of running the ball – reverses and stuff like that and screens. … They want to keep him off the field as much as possible. Nobody really lines up in base personnel and runs the ball anymore. With Brandon Williams, it starts right there in the center with him."
NFL.com's Chris Wesseling, naming Baltimore the NFL's most improved ground attack from 2013:
"The dynamic guard duo of Marshal Yanda and Kelechi Osemele deserve a share of the credit, but [Justin] Forsett has been a key cog in the NFL's most improved ground attack."
QB Joe Flacco on what makes TE Owen Daniels so easy to target:
"He's a big target, but the big thing is he's very defined in where he's going and what he's doing. You can see just by how he runs routes and pushes on people and gains the leverage and all that. He does a good job, and that's why he gets open. Obviously, he's caught the ball when he has gotten open. He's been big for us, and he's going to have to be big for us down the line."
Former Raven and retired nine-year NFL veteran Chris Carr on the Ravens overcoming adversity:
"With Baltimore, with that coaching staff, they've had seasons when they started off so-so but won the Super Bowl. They were up and down through the entire regular season, but they pulled it together at the end. So they can say, 'Hey, we've had adversity before, stuff that has happened to us, this year and that year, and we prevailed, and we played well.' And that gives players confidence, too."
CAN'T RUN HERE
LET'S GIVE THANKS…THAT NOVEMBER IS HERE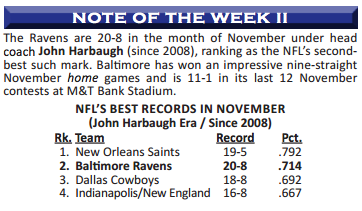 GETTING TO KNOW YOU ~ Q&A with Brandon Williams
What do you think is the most challenging part about entering the NFL from a D-II school?
"The most challenging [part] is the speed of guys, and also coming in, learning a new playbook. You're not the big fish in the small pond anymore. You're more of like the same size fish in the ocean. It's a lot to get used to, just the speed of it. And also, you're going against guys the same strength as you, the same size."
In which areas do you think you've improved the most since your rookie season?
"Personally, I got my weight down. My body composition is a lot better than last year. Another thing is I learned the playbook. It's a lot slower on the field now instead of last year with me having to think about what I had to do, plus what the opponent was going to do to me. So, you have a split second to react to what the guy in front of you is going to do and also know your play."
Which NFL player – past or present – do you model your game after?
"I've always loved Warren Sapp since I was a kid. Watching him and his motor, his aggression, his toughness and his physicality is amazing. I know that back in the day, he was one of the most disliked players in the world, but he was so funny, and especially now with stuff he does on TV. He's a great, outgoing guy, but between the lines, he's [a] beast. So, that's how I try to be – humble off the field, a great guy and fun-loving, and then on the field, it just clicks."
You're known for being a really good singer. Whose team would you like to be on for The Voice if given the chance?
"Probably Blake Shelton. It's between Blake Shelton and CeeLo [Green]. I love country music, and I'm trying to learn how to play guitar. But I like CeeLo Green's crazy and eccentric [personality]."
Describe the following people in one word: John Harbaugh:
"Energetic."
Haloti Ngata:
"Awesome."
Chris Canty:
"Wise."
Terrell Suggs:
"Out there. But he's energetic, awesome, eclectic."
Favorite board game:
"I love chess."
Favorite musical artist:
"I can't pick one, because I like all types of music. I love country. I like techno. I like rock. I like metal. I like rap. I like R&B."
Favorite TV show:
"The Walking Dead. I just love zombies."
HEY, YOU LOOK FAMILIAR! ~ Key Connections
Titans head coach Ken Whisenhunt began his NFL coaching career in Baltimore, serving as the Ravens' TEs coach from 1997-98. Whisenhunt was also Cleveland's TEs coach in 1999, when Ravens D-line coach Clarence Brooks held the same title with the Browns.
Titans T Michael Oher was originally selected by the Ravens in the first round (23rd overall) of the 2009 NFL Draft, spending five seasons (2009-13) with Baltimore, including its Super Bowl XLVII campaign. Oher never missed a game during his Baltimore career, seeing action in 80-straight contests (all starts).
Titans TEs coach Mike Mularkey was Jacksonville's head coach in 2012 when Ravens T Eugene Monroe (2009-13) and ILB Daryl Smith (2004-12) played for the Jaguars. That same season, Titans RBs coach Sylvester Croom served as Jacksonville's RBs coach.
Titans RBs coach Sylvester Croom was Ravens secondary/assistant head coach and former Rams head coach Steve Spagnuolo's RBs coach in St. Louis from 2009-11.
Titans O-line coach Bob Bostad (2012-13) and QBs coach John McNulty (2013) held the same titles in Tampa Bay during Ravens C Jeremy Zuttah's (2008-13) time spent with the Bucs. Zuttah also played with Titans DL Al Woods in Tampa during the 2010 campaign.
LAUGH OF THE WEEK AT EXPENSE OF RAVENS' OPPONENT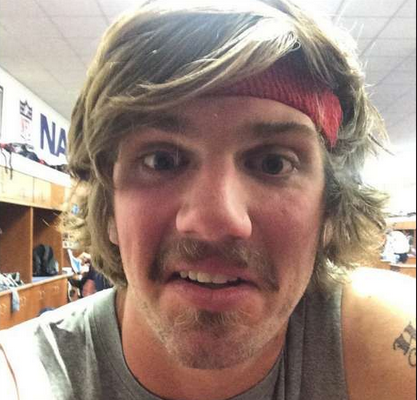 Yep, that's Titans QB Zach Mettenberger.
And, not so much a laugh…but some smiles, for Ravens fans: