Mechanical Flaws Slow Flacco
Print this article
Things are going well for Baltimore Ravens quarterback Joe Flacco these days. Thanks to improved play from the signal caller compared to last season, the Ravens offense has helped catapult the team to a 6-4 record at the bye week, keeping the squad in the playoff hunt.
With improved offensive line play, a better run game and more talented skill position players this season, Flacco is having a career year. He's on pace to finish with over 4,000 passing yards for the first time in his seven-year career, is set to greatly improve his interception total after throwing a career-high 22 last season and with 17 touchdown passes so far, he is on pace to break his career high of 25, which was set in 2010.
After a dismal 2013 season, Flacco and his 62.4 completion percentage has been hardly the root of many problems for the team. He's had his typical "Bad Joe" games at Indianapolis and Cincinnati, but for the most part, he has been as efficient as ever in offensive coordinator Gary Kubiak's quick-hitting passing game.
With six games to go and little room for error in order for the Ravens to sneak into the playoffs for the sixth time in Flacco's career, Number 5 will still have to make some late season adjustments in order to elevate not only his play but the entire offense.
While efficient, Flacco could be much better given some of his tendencies this season. He's been completing passes at a favorable rate, but not at the rate which he should be. In almost every game this season, Flacco's inconsistent accuracy on simple throws has been frustrating. This is almost solely due to mechanics, and it is something he must work on in the final six games if he wants to keep the offense rolling into January.
How have his footwork and mechanics led to unnecessary incompletions?
Let's go back to just last Sunday's game against the Tennessee Titans (although these tendencies have been apparent in most games).
When faced with pressure – and even in some instances when not faced with much pressure as you'll see – Flacco's footwork discipline evaporates.
This season, he has often lost the tendency to stand in the pocket, plant his foot forward and make a throw. Instead, he resorts to awry footwork and the aptitude to fall away from the intended target.
As the pass play develops, Flacco stands tall in the pocket and identifies tight end Owen Daniels coming across the middle.
While Flacco originally has a clean pocket, that soon deteriorates.
He becomes flustered, which throws him off balance and has him leaning back as he readies to throw the ball.
Flacco goes airborne as he braces for the hit, and by the time he throws the ball, his weight is not only shifted away from Daniels, but Flacco's left foot isn't even on the ground.
This leads to a soft, wobbly throw which gives the defender trailing Daniels ample time to recover and position himself to defend the pass.
With the ball still in the air, the defender blankets Daniels and prevents the tight end from a clean attempt to catch the ball.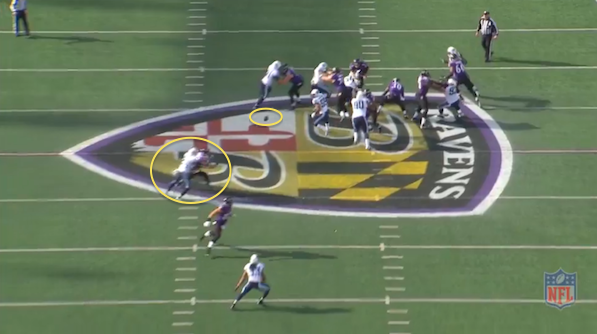 The end result is, of course, an incompletion.
Had Flacco planted his left foot forward and drove the ball downfield to Daniels, it likely would have led to a completion, or would have at least given Daniels a chance to make a play on the ball.
Instead, Flacco's off-balance throw led to a missed opportunity.
There is the argument that Flacco drifted away to avoid being hit, however he was still taken to the ground anyway on this play.
On the very next offensive play, Flacco did essentially the same thing.
Here, Flacco has a clean pocket to begin with and his eventual intended target Steve Smith Sr. is running across the field.
He faces some pressure both from the right and the middle, but nothing too alarming compared to the previous play.
However, the pressure is enough to make Flacco decide to lean back and ready his throw in an awkward stance.
Unsurprisingly, Flacco's poor mechanics and inability to step into his throw leads to a weak pass.
The ball falls about three yards short of Smith Sr., who was open on the play but was simply caught watching the ball bounce in front of him.
Flacco's worst throw on Sunday, and perhaps one of the worst of the season thus far, came on a swing pass in the flat to running back Justin Forsett.
As Flacco readies his pass, it looks like it will be a simple completion to Forsett out of the backfield.
Inexplicably, with little pressure to justify what Flacco does, the quarterback falls away from Forsett and decides to jump as he prepares the pass.
Here, both of Flacco's feet are off the ground as he makes the pass to Forsett.
Spoiler alert: the throw is nowhere near the wide open Forsett.
Flacco's poor mechanics leads to a pass too far ahead of Forsett, who is caught watching the ball fall to the ground.
Quarterbacks in high school aren't expected to make these throws, let alone a seven-year NFL veteran.
Simply an inexcusable throw that luckily didn't have an effect on the outcome of the game. But in tightly contested match ups which could decide Baltimore's playoff fate, missing easy completions such as those in all three plays above, simply can't happen.
Flacco has always had iffy footwork, but this season it has been painfully obvious.
Even when Flacco faces almost no pressure he is still mechanically flawed at times.
If you need one lasting image when it comes to Flacco's troublesome tendencies in the pocket, use this:
I think you can correctly guess whether or not Flacco completed this throw.
For a player who is having arguably the best regular season of his career, Flacco could be much better. He's missing way too many throws he should be easily completing, which has stalled the offense during unnecessary times.
The Ravens are still 6-4 despite these breakdowns.
If Flacco cleans them up so too will the Ravens' path to the playoffs.