Is Brown Ready to Step Up For Ravens?
Print this article
What did we see from Arthur Brown in the first preseason game?
Arthur Brown is currently 2nd on the depth chart behind CJ Mosley. Against the Saints, the former 2013 second round pick played a majority of the fourth quarter. According to profootballfocus.com, Brown was on the field for 21 plays. Let's take a look at some memorable plays and see if Brown is ready to be in the defensive rotation this season.
Run Defense
While Brown was on the field, he played Run Defense for only 6 plays. His most memorable play was a tackle for a loss in the 4th Quarter. On this play, the Saints ran an Outside Zone Run to the right. The outside zone play is a common run against a 3-4 defense. On an outside zone run, the Running Back presses the ball to the edge of the OL and runs outside or cuts back inside.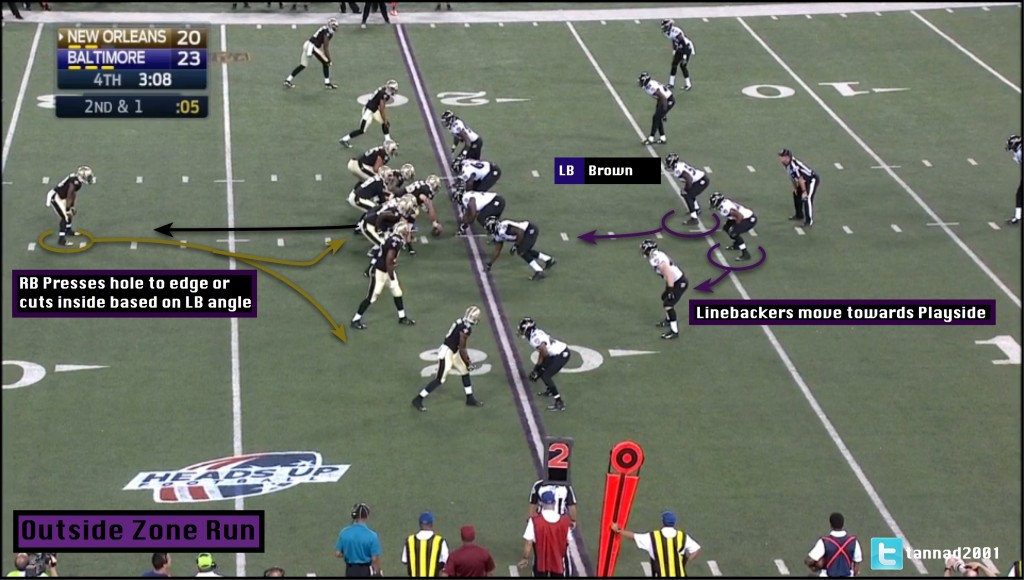 Brown does an excellent job of diagnosing the play at the snap of the ball. Without hesitation he moves toward the Running Back. In previous years, we've seen Brown hesitate and wait for the play to unfold. Brown uses his speed and eludes the Lineman trying to block him.
Brown wraps up the Running Back for a loss of 1 yard.
Pass Defense
Against the Saints 2nd and 3rd string offense, Brown really struggled in pass defense. He seemed unsure of himself. On one play, Brown took a poor angle in coverage and was forced to grab a receiver briefly to keep him close. The NFL allows contacting a receiver within 5 yards of the LOS. However, Brown grabbed the receiver to prevent him from becoming open. This is not good pass defense.
Brown was also flagged for Pass Interference. On this play Brown makes contact with the receiver without turning his head towards the ball. This is a classic mistake by defenders in coverage.
Conclusion
Arthur Brown had a pretty forgettable night against the Saints. He played primarily against 2nd and 3rd stringers. He should have dominated the competition to prove that he is capable of being inserted into the defensive rotation. Zachary Orr and Albert McClellan were on the field for twice as many plays as Brown. Even though Brown is listed as a reserve on the Ravens' depth chart, it is clear that he is the 5th Linebacker.